Exhibit A: the poster for Pirate Radio.
First, consider the original poster for The Boat That Rocked, when it was released in Britain with its original (superior) title.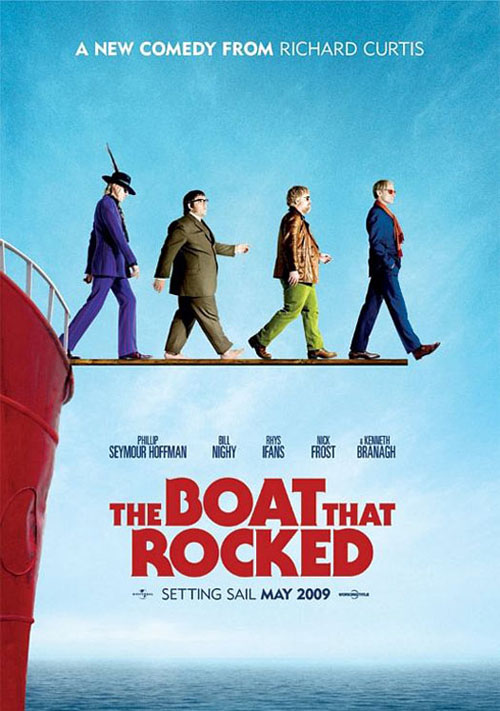 This is a pretty clever poster. Obviously, it's a reference to the cover of the Beatles' Abbey Road, but smartly combined with the walking-off-a-plank motif which both suggests the pirate nature of the radio station as well as a hint to how things are going to end (it is not a spoiler to say that, yes, eventually the British government did manage to get the pirate stations shut down). It's simple. It doesn't try to do too much, and as a result it's still a bit enigmatic without being obscure.
But apparently that wasn't enough!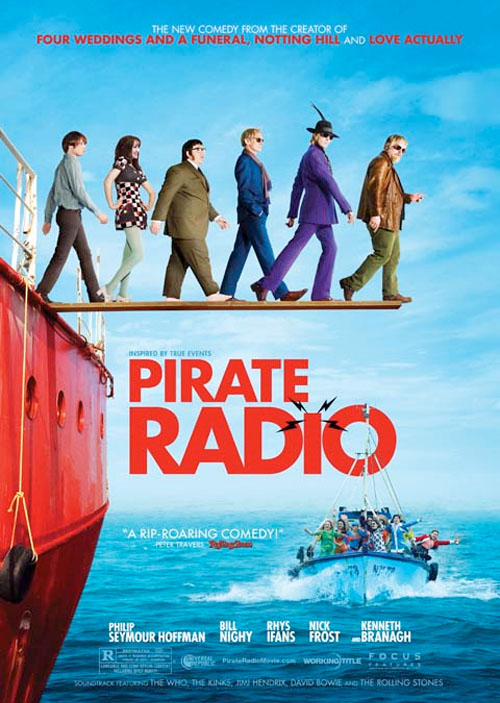 Now, this isn't, one supposes, a bad poster. Certainly there are worse. But come on: this is lame. You completely lose the Abbey Road reference by shuffling around the order of the four principal actors and then adding the young but mostly unimportant male viewpoint character and the female character who is in the movie for maybe seven minutes tops (because young audiences don't care about boring old Bill Nighy and Philip Seymour Hoffman!). Hoffman and Rhys Ifans have their heads cocked towards the camera acknowledging the viewer for absolutely no reason. And just in case you didn't see the trailer and in case the young pretty fellow and the pair of tits did not convince you that these are actually for reals cool people, I guess we'd better add a boat full of screaming fans! That way you, as the viewer, know that Philip Seymour Hoffman is playing somebody cool for once, rather than boring old Lester Bangs who listens to records at three in the morning, or a possibly-gay priest who feuds with Meryl Streep.
AND IT'S THE SIXTIES Y'ALL SO LET'S MENTION THE SOUNDTRACK!
Honestly. Sometimes I am amazed that Hollywood actually ever manages to make a great poster anymore.
EDIT TO ADD: I think what really turns me off about the second poster is its rank desperation. 'Look at me," it says, "I got pretty young people, just like you like! They're even English! I tried to get Robert Pattinson, I know how you like Robert Pattinson, but he wasn't available. And don't you like this boat? Full of screaming teenagers! You like that, right? Whyyyyyy don't you liiiiiiike meeee?"