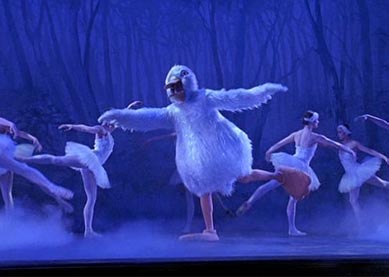 Brain Donors is one of those movies that I routinely inflict upon my friends. Unlike other overlooked movies I have previously mentioned, Brain Donors is not necessarily a movie everybody will love. Because Brain Donors can be explained in one simple sentence: it is a remake of a Marx Brothers movie with a young John Turturro in the Groucho Marx role.
"No?" Flakfizer doesn't know the MEANING of the word "No!" We're also a little fuzzy on "panaglutin" and "viscosity."
Actually, come to think, everybody
should
love
Brain Donors
precisely because it is a remake of a Marx Brothers movie (specifically
A Night At The Opera,
their finest, except with ballet instead of opera) with John Turturro in the Groucho role. And let me assure you that Turturro is full-on manic in what I consider to be his finest pure comedic performance ever. Yes, better than any Coen brothers film he's ever been in. Yes, better than his freak turn in
Transformers
, where he was the best thing about a pretty marginal movie. As Roland T. Flakfizer (
Brain Donors
enthusiastically embraces the silly-name traditions of the Marxes), Turturro chews up the scenery then regurgitates it as cud to digest later.
"Charity work. I gather these for those less fortunate than myself who can't afford pornography."
Still, the Groucho role is only one of three in a Marx flick, and luckily Turturro has compatriots as game as he is: Bob Nelson, a more-or-less unknown standup comedian, takes on the Harpo role with exceptional gameness (and turns out to be a splendid physical comedian), and Mel Smith turns the Chico role from Italian-American to illegal-British-immigrant, matching Turturro word-for-word in often-dizzying dialogue.
"I could make love to you right here."
"Roland, let's keep this professional!"
"Fine, I'll charge you fifty bucks a pop."
Brain Donors
is old-school, a finely-tuned romp with an enthusiastic love of silliness for silliness' sake. Every single element of this movie is dialed up to eleven (except for Turturro's performance, which I would estimate to be dialed up to around thirty-six). And the best thing is that it builds, and builds, and
builds
, starting with Turturro chasing an ambulance (literally) and slapping an inflatable rotator cuff on an opportunistic little kid while encouraging said kid to sue his parents ("I sued mine!"), and ending with one of the funniest extended sequences in film comedy ever, a twenty-minute sequence with the three numbskull-heroes deliberately sabotaging a performance of
Swan Lake
so that the evil ballet dancer (yes, there's an evil ballet dancer) and the evil rich guy get their horrible comeuppances.
"And that spells cash with a capital…"
"K!"
"You should go back to school."
"I hated teaching."
I won't pretend that
Brain Donors
is going to be everybody's cup of tea; even a modernized take on the Marx Brothers isn't going to appeal to everybody no matter how much I think it should. But it has John Turturro shooting at a large man in a duck costume onstage in the middle of a ballet, and if loving that is wrong then I don't want to be right.