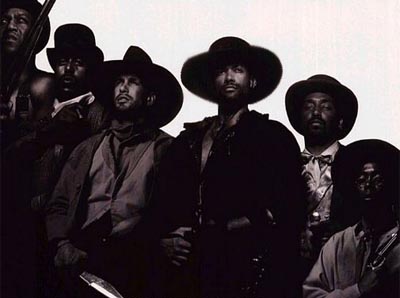 I have taken, in my time, a lot of grief for unapologetically loving Posse. I am not sure as to why.
It certainly can't be because the movie isn't entertaining. With a wealth of excellent performances from Mario Van Peebles, Big Daddy Kane, Tiny Lister, Billy Zane (as the crazy evil white dude) and Stephen Baldwin (as the crazy good white dude) and many others – including the usual Peebles brigade of former blaxploitation stars, this time around casting Pam Grier, Isaac Hayes and Peebles' father Melvin – the acting in this Western is definitely up to snuff. (Amusing: current Black Panther writer Reginald Hudlin shows up as an extra.) The action sequences are excellent (as can be expected from Peebles's direction), and the plot is perfectly decent. Okay, maybe the bits with the golden bullets are a touch melodramatic, but they also add a pleasant larger-than-life, mythic aspect to the movie.
Plus – and this cannot be underrated – the movie addresses a major complaint I have with Westerns, which is to say their whiteness. There were a lot of black people headed west during the post-Civil-War period, but in just about every Western movie you find a dearth of black people – short of Morgan Freeman's turn in Unforgiven I'm hard-pressed to think of any offhand. This sort of thing is forgivable in earlier westerns like High Noon, but it's something that continued way longer than it should have; even when movies like Silverado and Tombstone had token Mexicans (mostly because sloppy-looking banditos in sombreros with guns are a staple of the Western, for good or ill), there was always a conspicuous lack of black people. And that is lame.
Some have criticized Posse for being an overreaction to this, in the "oh so you're not going to have black people in your Westerns well I'll make a Western with all black people, how do you like them apples" variety. They have a tiny bit of a point, but given the cinematic situation with westerns and blacks, it's not a very big point, and moreover it's just plain harping considering that Posse isn't just cinematic affirmative action but a damned entertaining movie in its own right. When Stephen Baldwin's crazy white boy points out, quite reasonably, that "I ain't ever personally enslaved nobody," Peebles gives him ups that the argument doesn't necessarily even deserve. That's because Peebles, in addition to writing a damn fine oater, also wants to be fairminded.
But so what if he is? This is a movie with black cowboys quoting poetry and Scripture while they shoot the bad guys, with Stephen Baldwin throwing knives at people (this long predates Stephen Baldwin's born-again phase, for those wondering), and Billy Zane wearing an eyepatch because he is EEEEEEVIL. It is good goddamned fun. I can understand not liking Westerns as a genre, because not everybody likes cowboys. But if you do like Westerns, why you would not like Posse is beyond me.