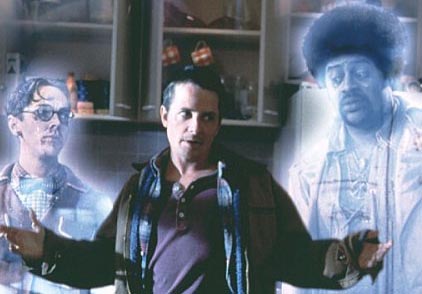 The Frighteners. Six years or so ago, it was slightly more obscure, but those movies with the hobbits in them mean that Peter Jackson's earlier movies have received more attention. Of course, most of that attention went to Heavenly Creatures, which is excellent and deserves it and that's all right, but The Frighteners is a pretty goddamned solid movie in its own right, and just right for Halloween viewing (hence this post, you see).
In its way, The Frighteners is delightful. Yes, it's a bit uneven, starting out as an off-kilter supernatural comedy then shifting to a horror flick and finally culminating in balls-out sci-fantasy action. But it's good comedy followed by good horror followed by good action, so if it's uneven in tone it never really varies in quality, and the special effects are just choice to boot, the entire way through.
This is one of Michael J. Fox's last onscreen film roles before he permanently migrated to television and the occasional voice-acting job, and it's worth noting just how fucking good an actor Fox is, not just as a comedian (and during the funny parts of this movie, his timing remains as choice as ever), but as a dramatic actor too and even as a believable action star in the "normal guy forced to crank it up" ouevre of action. Fox just has chops a mile deep. It's uncanny how talented he was in his prime, and a further reminder of how much Parkinson's Disease really goddamn sucks ass.
Fox of course completely commits to the role of Frank Bannister, a man with deep emotional scars who can see the dead (and uses it for personal gain in the least satisfying of ways). But he's matched by a cast that commits to their roles in turn. Trini Alvarado, whose career never really took off – and that's a shame, because she pairs up Andie McDowell-esque looks with the actual acting talent Andie McDowell never had – works the love-interest/co-hero mode excellently, and her contributions to the final fight scene are wholly exciting. Chi McBride shows up (really, once I type the words "Chi McBride" you know at least part of whatever I'm talking about will be good) along with John Astin as an elderly ghost, and I am not quite sure how that works particularly. (Along with a lot of the other elements in this movie – The Frighteners is a movie that requires wholesale commitment from the viewer and a willingness to think things like "well, ghosts, that's why" a lot.) Jake Busey's crazy-ass baddie is just fantastic – utterly psychotic and well worthy of his eventual ghostly asskicking – and yes, he really is the spitting image of his dad, and all the moreso in this flick. And Jeffrey Combs' crazy-ass FBI agent (there is a lot of crazy in this movie, but it mostly works because a movie that is about people who deal with ghosts should be weird as all get out) is hilarious.
And, again, it's Peter Jackson, and that means one thing: inventive visual genius married to an action sense that equals top-notch entertainment for all concerned. Well, not all, maybe, because this is a movie where a guy's head explodes and rotting things fall apart at times. But if you like that, or at least can get past it, then by all means, catch this.
P.S. Go with the director's cut, which adds both fifteen extra minutes and 150 percent better flow in the action sequences. Trust me on this one: Peter Jackson films are always more coherent in the director's edits.