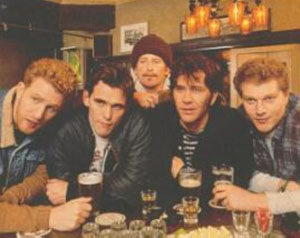 Beautiful Girls is something of a rarity, because it is a guy movie.
By this, I do not mean it is an action movie, which for some reason has become the accepted definition of "guy movie," despite the fact that women can enjoy a good action movie just as well as men can. (Men, to be fair, are probably better at enjoying shitty action movies. Eighteen million opening gross for Rambo, baby!) It doesn't mean "stupid gross-out comedy" either – thankfully, society's notions of gender have evolved to the point where a boy fucking a pie is considered hilarious entertainment for both sexes, and honestly, aren't we all slightly better for that?
No, Beautiful Girls (a great film in the fine and too-short career of the late Ted Demme) is a guy movie in that it is the equivalent of a "bonding"-style chick flick, except instead of being about women, it is about men. This is a dreadfully rare commodity in Hollywood; Diner and About A Boy are probably the only other two major entrants in the field, and the latter is also about single parenting and the definition of family, so let's say it only counts as half. The simple truth is that, at some point, Hollywood decided – and probably not entirely without justification – that movies about men confronting their fears and anxieties, men bullshitting, and men being, well, guys, were not box office mojo in the working. So this is a rare example of it.
And it's a good example, of men supposedly in their prime, their early thirties – and societally, we're all conditioned to accept that men in their early thirties to mid-forties are expected to take the lead in any problematic situations, there has been science done on this and everything, trust me – and, like most men in their early thirties, not really happy about it. In your early thirties, you're not definitively not a kid any more, you're an adult – but oftentimes, you still don't know what you're doing with your life, where you're going; and if you're very, very lucky, maybe you understand women a bit.
Willie (Timothy Hutton), a piano player, comes home early to his small hometown for his high school reunion, his girlfriend (Annabeth Gish) due to arrive a couple of days later. His brother Mo (Noah Emmerich) is (mostly) happily married. His best friend Tommy (Matt Dillon) plows snow and landscapes for a living, and relives his high school football glory days by cheating on his girlfriend (Mira Sorvino) with his former head cheerleader (Lauren Holly). Paul (Michael Rapaport) is trying to fix his relationship with Jan (Martha Plimpton).
Floating around these guys are Max Perlich as "the sidekick," Pruitt Taylor Vince as "the other friend done good," Uma Thurman as "the unattainable dream girl," and Rosie O'Donnell as, well, mostly herself really, but this was long before she got annoying, back when she still did excellent standup. All of these performances are excellent; Emmerich allows his calm, placid demeanour to occasionally reflect the anxiety every dad who doesn't understand why he's a dad already, Holly's brittle exterior lets us see her need to not just become another suburban wife, and Hutton's everyman character is universal without being generic.
And then, on a whole other level, there is Natalie Portman, playing an intelligent, nigh-luminous thirteen-year-old girl named Marty, who immediately develops a deep (but, do not worry, PG-rated) relationship with Willie. The script and Portman's performance play this absolutely right; Willie laments (and you can understand why) that he's actually jealous of some punk 13-year-old kid because that kid gets to be thirteen at the same time as Marty – and it's obvious that Marty is equally jealous of Willie's girlfriend for exactly the same reason in reverse. Every time Portman is on screen, the sense that there's this amazing life ahead of Marty is strong without ever being forced or obvious. This could have been a plotline that wrecked this movie, simply because the temptation to eroticize it for shock value would be obvious, but it's played respectfully and intelligently throughout – although Willie and Marty both wish things were different, they just aren't. And they have to deal with that.
This is a movie about guys being guys. About guys playing video games (and cheating when their friend's back is turned), about guys getting drunk and having a singalong, about guys stupidly not understanding that they have a good thing going with a given girl, about guys not understanding when they've fucked up a thing with a given girl for good, about guys swearing at each other, about guys having a tendency to want to fight things out to solve them even when they know it's stupid and won't help, about guys thinking with their dick and about guys managing to not think with their dick, about guys wanting to live the dream and about guys learning to settle for a pretty good thing instead. And you should see it. Because it's pretty damn good.