At one point, a long time ago, Dabney Coleman was the king shit.
You have to understand that at this time, Dabney Coleman was the definition of irascible authority figure. If you needed a tough bastard who deep down (often very very deep down) had a heart of gold, Dabney Coleman was your first and only choice. (Well, unless Howard Hesseman was available, but let's face it, Howard Hesseman carries with him a streak of anti-authoritarianism that sometimes fails to work in establishment roles.)
But sometimes, you gotta stretch a bit.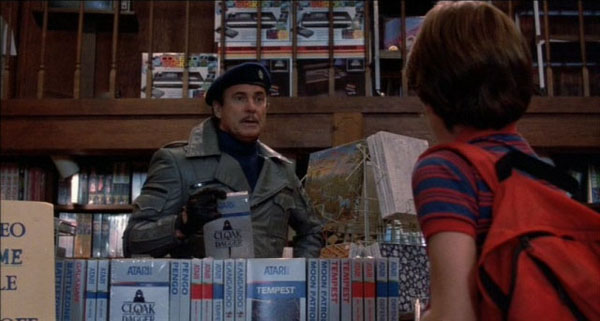 Cloak and Dagger
is perhaps one of the biggest stretches of all time in another sense, seeing as how it is loosely –
very, very
loosely – themed around the Atari arcade game of the same name. You might be thinking that making a movie after a popular game is no big deal, what with this being the era of
Doom
and
Resident Evil
and presumably other video game movies, possibly some of which don't even have zombies in them. However, again, I feel the need to stress that this was an
Atari
video game, and it's not like they made a movie out of Asteroids or Donkey Kong.
Wait, they made Super Mario Brothers, and that's kind of like a Donkey Kong movie. I retract my previous statement.
Regardless. Considering that the Cloak and Dagger videogame did not, as such, have a plot, the screenwriters basically went apeshit and put the actual video game in the movie as a plot element, using it to smuggle important spy document sorts of things. Henry Thomas (Elliot in E.T.) stars as the kid hero who daydreams of being a super-spy, adventuring alongside his hero, super-spy (and star of both roleplaying game and video game) Jack Flack. And of course, his ludicrous adventures turn awry when he actually stumbles upon a real spy conspiracy – and of course nobody believes him.
And Coleman – Coleman plays a double role, and it's a brilliant turn – as both the boy's father and as his fantasy of Jack Flack. The two roles play off each other perfectly, the sober responsibility of the father contrasting in just about every way with Ideal Boyhood Companion (and pretty much insane) Flack; Coleman switches roles easily and smoothly, never letting Flack and Dad coincide, even for a moment – which works out perfectly when Flack turns out to be, unsurprisingly, pretty much useless for anything serious and Dad has to go full-on enraged papa bear to save his son from the actual real terrorists.
It's an excellent family movie, and one of the few good family-appropriate thrillers extant period. (It's not exactly a genre that gets a lot of play, after all.) It's exciting on its own merits, frequently a little bit scary (and I am a firm believer that there is nothing wrong with family movies being a bit scary). And it has Dabney Coleman in it. What more could you ask?