When 24 first debuted, everybody was making a huge deal about it being a story told in real time (well, except for Keifer Sutherland never having to go to the bathroom or anything like that), because it was, in fairness, something of a novelty.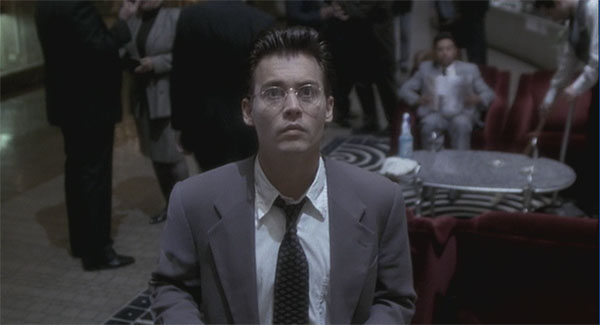 Mostly because nobody had seen
Nick of Time.
It absolutely bombed in theatres and didn't do much better on home video, which is a shame because it's a really good little thriller which nowadays should be something that gets more notoriety, seeing as how it stars Johnny Depp at a point after Depp was a name but slightly before Depp became a bona fide leading man for action movies.
And it has Christopher Walken as the crazy-ass bad guy. This is good Walken, the sort of Walken role where in addition to being some variety of kooky there's also weight to the role. All too frequently, Walken's oft-stated tendency to take absolutely any script that comes his way in order for the paycheque comes to the fore: consider Balls of Fury, Domino, Click, or Man of the Year (and that's just the lowlights of the last three years). However, every so often Walken gets to be in a decent movie where he can be heartwarmingly off-kilter (Hairspray, Catch Me If You Can) or freaky and otherworldly (The Prophecy, Sleepy Hollow), or, at best, terrifyingly and criminally strange (True Romance, Things To Do In Denver When You're Dead).
In Nick of Time, Walken gets to be a completely amoral mercenary who likes to tell stories. I am sure your appetite is now whetted.
The plot of Nick of Time is quite simple, if contrived: Walken, representative of a shadowy conspiracy, selects Depp at the train station when he sees Depp with his young daughter to kill the Governor of California (a totally awesome Marsha Mason). Walken and his partner (played with equal badassedness by Roma Maffia) take the girl hostage. If, in ninety minutes, the Governor isn't dead (with the gun they give him), they kill his daughter.
It's a ridiculous premise, of course, but director John Badham (who these days, after having directed classics like Saturday Night Fever and WarGames, is apparently just directing episodes of second-tier television programs, sad to say) plays it absolutely straight and never lets the viewer lose suspension of disbelief – making sure that clocks are near-constantly in frame to remind the audience that time is ticking away (and the fact that the movie is in real time just reinforces the tension), regularly framing the action through video cameras (held by operatives of the shadowy conspiracy, who plan to use the tape of Depp running around looking frantic and nervous as proof that he was clearly a crazed assassin), and using the narrow halls of the hotel where practically the entire film takes place as befits the paranoid feeling of the film.
The dialogue between Depp and Walken crackles; Depp plays desperate straight man to Walken's crazy rant master. And although the plot is ludicrous, the payoff at the end is tight with not an ounce of narrative flab. Plus, you get to cheer for Charles S. Dutton, and who wouldn't want to cheer for Roc?