Another film that got overlooked in theatres, and although most who have seen it sing its praises (and given the subject matter that is kind of a bad pun), it still hasn't found the audience it rightly deserves on DVD as of yet. Right now it's mostly a cult flick.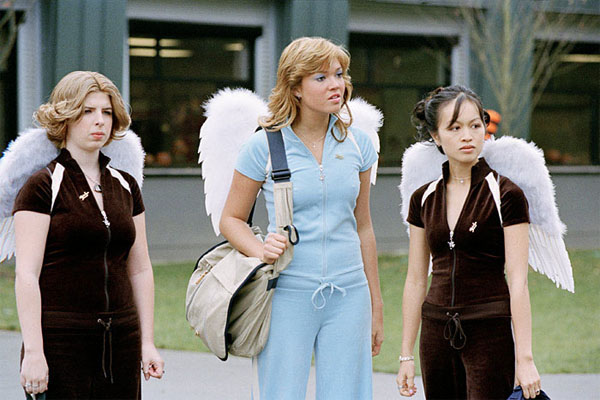 Saved is an excellent film about the troubling and fascinating power of faith, which takes very little for granted. As such, predictably, conservative Christian movie review sites hate it. The movie is a liberal one, but it is most certainly not an antireligious film; its conclusion lies firmly in the pro-faith side of the argument. I personally think this is part of the reason it fell under the radar – its target audience of tolerant faithful, while much larger than anybody gives it credit for, is not nearly so outspoken as the conservative religious and liberal non-religious camps.
It's a movie with a number of nuanced performances, all uniformly excellent. Mandy Moore started off her penchant for playing hilarious psycho bitches with this movie. Her Hilary Faye is a terrific villain, but not unsympathetic – her nervousness and obvious lack of self-generated self-esteem turn what could have been a total cariacature into a compelling downward spiral. She might be bad, but she's never one-note and she's always understandable.
Jena "was Ellen Page before Ellen Page was Ellen Page" Malone plays the lead – a devout girl who becomes pregnant as a result of trying to "cure" her gay boyfriend's homosexuality. She's excellent – watching her faith shatter, then reform on her own terms is fascinating. When she hits bottom and stares at a church and just starts swearing, daring God to strike her down for blasphemy, it's both sad and at the same time slightly funny. She's not any good at blasphemy, so she just utters a few basic swear words like they're the text of the Necronomicon, but Malone makes it work and then some. You can feel her devastation thoroughly.
The rest of the cast are uniformly terrific. Macaulay Culkin – of all people – contributes a gentle, understated and clever performance as Hilary Faye's crippled brother. Patrick Fugit (who, I am informed by girls I have seen this movie with, has grown up all dreamy-like since Almost Famous) plays Malone's love interest, a returning missionary who rides a moped. Heather Matarazzo (Welcome to the Dollhouse) contributes a brief turn as Hilary Faye's lackey. Martin Donovan's conflicted Father Ted is well done, and Mary-Louise Parker (whom I will watch in anything) is fantastic as Malone's mother.
It's a damned good movie, and a reclamation of religious faith for liberal values; the two are not incompatible and anyone who says different is simply wrong. And it's funny. Especially when Mandy Moore runs Jesus over.