Comedies, as a rule, do not age well. Good comedies are plagarized endlessly until nobody laughs at the gags because they've already seen them on The Simpsons, and if not, simply become dated as senses of humour shift. Bad comedies are just bad and remain bad. It takes a truly timeless comedy to remain funny decades later – A Night At The Opera, Some Like It Hot, A Shot In The Dark, Animal House – and they are few and far between.
However, comedies, over time, can transform. The Apartment, for example, hasn't aged particularly well in terms of its humour, but its romantic aspect is strong enough that now it works better as a lighthearted, clever romance (as opposed to a laugher with a romantic plot). For most comedies, this is the eventual goal: redefinition into another genre or success on grounds other than the pure hilarity they can't, for whatever reason, manage.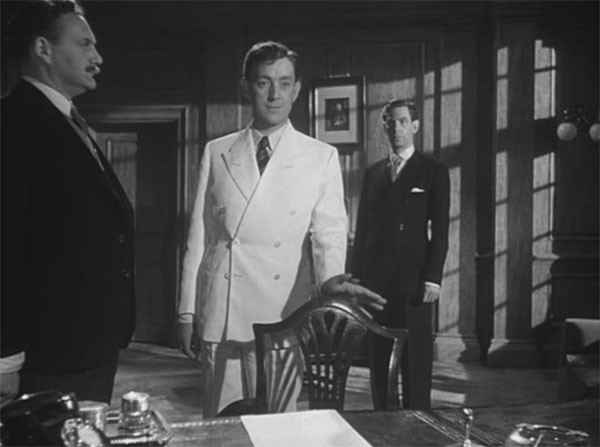 The Man In The White Suit, made in 1951, is an excellent example of a comedy redefining itself as time passes. Modern audiences, honestly, won't find it particularly funny – but it's smart, and engaging, and clever.
The story of the film is that of an inventor named Sidney Stratton, played by Alec Guiness (yes, that Alec Guiness – he started out as a comedic lead). Sidney is obsessed with a mysterious discovery, so much so that his demeanour at times becomes almost sinister as he pursues his goal. Eventually we learn that Sidney's plan is to invent a superstrong fabric that never wears out and repels dirt. And one day, he finally does it – and promptly has a white suit (he can't figure out how to make the fabric hold dye) made from the fabric. (Which he has to cut with a blowtorch.)
All of this would prove decent enough comic fodder, but the reason The Man In The White Suit works is because everybody in the movie except for Sidney has an admirable degree of common sense as regards their own livelihoods. The textile mill owners want Sidney's invention suppressed because they can't make enough money off suits that never wear out. The textile mill workers want Sidney's invention suppressed because they realize once everybody has enough clothes made from the new fabric, they'll all be out of work. (This actually leads to one of the best plot developments in the movie, as Sidney desperately manages to escape from the owners holding him hostage only to be caught by the workers, who think the owners are going to screw them – until everybody realizes what page everybody else is on.)
Guiness plays Sidney perfectly, a near-Aspergin' level of obsession and lack of social experience without any hint of malice or bad manners; for most of the movie Sidney honestly hasn't any idea why everybody is so panicked about his invention. He's focused on the big picture: when everybody has indestructible clothes, Life Will Be Better. And in the long run he's right, of course, but nobody is going to be comforted by the long run and he can't understand that, and Guiness brilliantly makes it obvious that his lack of understanding has nothing to do with arrogance or stupidity but simple innocence.
So thus we have a movie, originally a comedy, but now far more of a low-tech sci-fi movie, or alternately a parable about progress and science; it works on both levels. The performances remain intelligent and nuanced, the story remains engaging. It's just not as funny as people once found it, and the ending doesn't quite match the tone a modern viewer will find in it (although it's not completely off, either). But that doesn't mean it's not still relevant, in its way.