So rumour has it that Senator Evan Bayh is the hot pick for Barack Obama's vice-presidential candidate. And hoo boy is this a bad idea. It's a bad idea for so many reasons: his wishy-washy DLC conservatism, his singleminded hawkishness on foreign policy, his essentially boring nature, the potential for depressing Obama's activist base by picking a candidate who's emblematic of Washington-as-usual, the fact that he has a stupid name. But most importantly is this:
Evan Bayh has a really punchable face.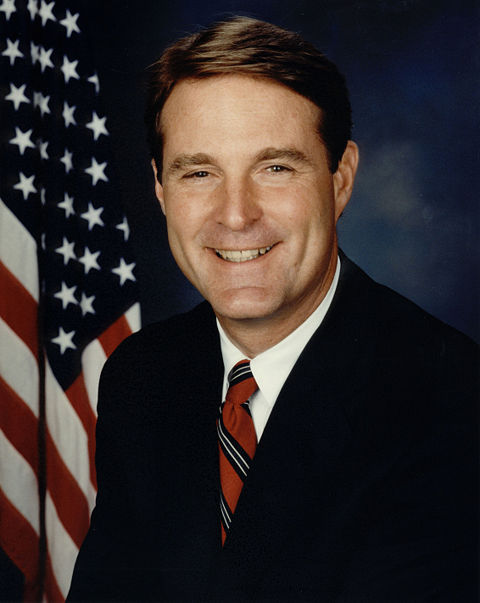 Now, before I continue, I would like to make it perfectly clear that I do not endorse or suggest, in any way, that people should punch Evan Bayh in the face. Even though he's a DLC Democrat, he probably doesn't deserve to be punched in the face. (Joe Lieberman probably does, though, if you're looking for a comparison to work from.)
But look at this happy asshole, will you? The dead-eyed stare mixed with the shit-eating grin mixed with the perfect, corporate hair. Evan Bayh has the face of that bank manager, the one who's foreclosing on your home, telling you "it's just business" but deep down, you can tell fucking someone over like this gives him a bit of wood. I'm not saying Evan Bayh is that guy – well, possibly he is, he's a Washington veteran and that doesn't come without some deadening of the soul – but he looks like that guy. And you want to punch that guy in the face.
Now that we've established that Evan Bayh looks like a guy you would want to punch in the face, the next question to ask is this: do you want to vote for a guy you'd like to punch in the face? Generally speaking, people do not want to vote for face-punch guy. Stephen Harper has an exquisitely punchable face and it's at least forty percent responsible for the Tories not getting a majority back in the last Canadian federal election. Do you want Evan Bayh's facepunchability dragging down the Obama campaign?
Because it will do so. Imagine Joe Voter getting into the voting booth. Joe Voter is your typical voter: follows one or two issues closely, relies on the media to tell him about the others, votes more strongly on character issues than he would like to admit. He gets into the booth and thinks, "Well, I like Obama's positions, but what does it say about the guy that he picked this guy I want to punch in the face for vice-president? I mean, does Obama not want to punch him in the face? Or maybe he does, but he's a cynical politician who's willing to work around that because he's just another cynical politician trolling for votes. I'm not sure which is worse. I'd better vote for John McCain. He'd punch that guy in the face. Maybe shoot him, too."
Thus, I recommend joining the "no Evan Bayh for VP" Facebook group. I would join, except that I am Canadian and do not wish to imply that my endorsement or lack thereof for a VP candidate should particularly matter. I am just saying: punchable face.