Barack Obama's race has been discussed practically to death in this last year – what it means that a black man can be elected President, what it means that white people will vote for him, what it means that white people won't vote for him, and did his wife call someone "whitey"? (Answer: no.) But ultimately that hasn't driven his campaign, historic as his candidacy might be (and it is). What has fundamentally driven his campaign is this: people decided, by and large, that this was a decent man.
This is not small potatoes. About the best we can ever hope for in politics, anywhere in the world, ninety-nine percent of the time, is to get somebody in charge about whom one can say "well, he might be a son of a bitch, but he's our son of a bitch," and make do with that. We have, as a whole, largely divorced ourselves from the idea that political leaders can be upstanding, moral citizens; we expect them to be bastards because the process demands that they be bastards to win.
The idea that Barack Obama could be a genuinely decent human being and win the Presidency – be a person capable of making the hard choices required of the job but nonetheless doing so while maintaining, as best he can, a state of moral grace – is exciting, and terrifying, and awe-inspiring. Contrary to what people might tell you, it takes more than just saying "we need change" to move people; you need to say it and then make people believe you can do it, and cracking the fundamental cynicism of a First World electorate is nearly impossible.
But Obama did it, and he made it look goddamned easy. And he did it while creating a campaign funding model that has the potential to essentially end large-donor corruption of election campaigns.
Either Obama has managed the greatest trick in the history of politics, or he's the real deal. I am genuinely unsure which is more staggering in its implications.
—
But of course it is about race, too. It's always been about race, which is the unspoken focus of American public life; nobody likes to admit that racial politics and its related implications have defined American society since its very beginning (right from when abolitionists "compromised" with slaveowners in a deal that, in retrospect, was Never Going To Work, but can you blame them for trying?).
It is the fact that it is about race that makes Obama's election all the more noteworthy. By this point you've probably read about the 109-year-old daughter of slaves voting for Obama, or the elderly seventy- and eighty-year-old black people who drank at coloreds-only water fountains breaking down in tears after they got to vote for a black man for President, or seen the pictures of young black children at rallies staring at him in wonder. These are all good stories, of course.
But that is nothing compared to what comes next – a generation of people who will grow up without the automatic preconception that "President" automatically means "white guy, probably also old." That's really going to change things in ways you and I, with our blinkered, limited-by-our-experiences-and-upbringing vision, can't begin to imagine.
And it couldn't have happened anywhere else. Obama said as much early in his campaign, and liberals outside of the United States all started immediately complaining, but he wasn't wrong. It couldn't have happened anywhere else; no other country has both the sufficiently diverse population and the (relatively) free electoral system to manage the trick. (The Canadian equivalent would have been electing a First Nations prime minister, which, if I – and for that matter all Native Canadians – get very lucky, might happen sometime in my elderly years.)
I said once, a long time ago, that America is not a nation which can be content to keep pace with the progression of the rest of the world; it is one that continually wants to lead the pack and ultimately to lap it, and that is one of the great things about the American character. Electing Obama is an example of that.
—
The challenges that lie before him are nigh unbelievable. It is not hyperbolic in the least to say that the world faces financial ruin; it is no less overdramatic to suggest that the viability of the human species as a whole is at serious, even critical risk thanks to our environmental negligence. There's that whole forthcoming oil emergency supply to worry about, too. Let's not forget that natural resources we take utterly for granted – the honeybee, the seedless banana – could become extinct before I hit retirement age. In the face of all this, it might seem that something as relatively simple as creating a workable healthcare system for the American public would be comparatively easy, but that alone could be the major job of a Presidency – and accomplishing only it would be impressive.
For Obama, it is not enough and it will never be enough. People suggesting that he needs to be the Jackie Robinson of politics miss the point; Jackie Robinson's metaphorical level of accomplishment is something Obama will need to shatter in his first hundred days. Obama needs to be the Michael Jordan, the Wayne Gretzky, the Tiger Woods of politics; he needs to be consistently great from his very first day, his very first hour to simply keep his country's head above water, to say nothing of the wider world. He needs to destroy all expectations and mobilize the citizenry of his country to take part in an orgy of civic reconnection so amazing and uplifting that it would put the fear of God into Mao Zedong.
It seems almost impossible. The rationalist in me thinks that he will try valiantly and ultimately fail, that the world is likely due for a very long night and that no leader, no matter how skilled, can prevent this. The nature of the challenge that he faces – that we all face – is just that daunting.
But when I become depressed, I consider that just over forty years ago, in Guess Who's Coming To Dinner, Sidney Poitier's character conceded that a black president within his lifetime was impossible and that he would "settle for Secretary of State." That is how entrenched social attitude was: even a fictional liberal black man, educated and proud, could not bring himself to believe that a black man could become president. It was impossible. Everybody knew this.
But here we are.
Guess Who's Coming To Dinner debuted in 1967. Barack Obama would have been six years old at that time. In just under forty-one years since, we've gone from impossibility to reality. It took mankind nearly fifteen hundred years to learn to fly once we started trying, two hundred and fifty to circumnavigate the globe, one hundred sixty to generate and manage electric current; it took only forty-one years to overcome millenniae of racial suspicion and fear.
And if we can overcome ingrained hatred that quickly – perhaps not to utterly conquer it, but at the very least to put it firmly in check – then what can't we do?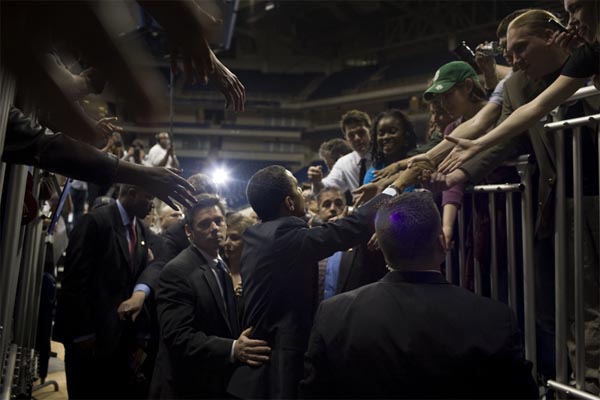 Today was a very good day. For now, we can worry about tomorrow when tomorrow comes.