Igor Panarin's breakup scenario for the United States has been getting play in the media lately. It's not particularly new; I remember reading about Panarin's crackpot bullshit a couple of years ago. But it's still extremely stupid. Seriously, take a look at this map: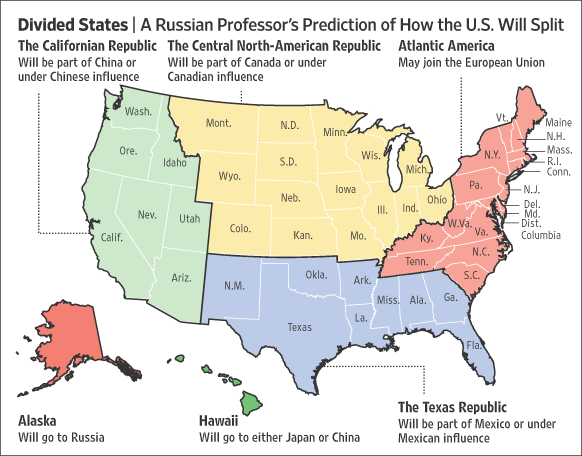 That is some seriously stupid crap right there.
Okay, first off – the "Californian Republic" will be under Chinese influence? Really? Is this because of the teeming Chinese hordes along the Pacific coast who will no doubt rise up and demand the Pacific states swear fealty to the secret elder mandarins who run all China behind the scenes? (For some reason, they will also want Utah. Presumably Chinese people just love Mormons.) It's not entirely unrealistic to suggest that Hawaii might revert to Japanese control (seeing as how it used to be under Japanese control, way back in the day), but there's a reason Hawaii is American rather than Chinese: it's twice as far from China as it is from the United States. Which is why the whole "Chinese control" idea is so ludicrous: the Pacific Rim states are over seven thousand kilometers away from China, so China can't reasonably control or hope to protect them via conventional arms.
Secondly, I really love how he groups redneck conservative Appalachia – Tennessee and Kentucky and West Virginia – into the same condensed political grouping that includes Massachusetts, Connecticut and Vermont. That is what we call planning. And, of course, these states will join the European Union, which is only five thousand kilometers away as the (very tired) crow flies.
Thirdly, speaking as a Canadian, I didn't realize we had any influence over Kansas, Colorado or South Dakota. However, this gives us Mount Rushmore, so I totally approve and we will re-carve it so that it displays John A. MacDonald, Wilfred Laurier, William Lyon Mackenzie King and Pierre Trudeau. Then the NDP will complain, so we will replace Laurier with Tommy Douglas and everybody will be happy! Except Americans, but they won't be Americans any more so hah on them, that's what I say.
Of course, given that Panarin openly fantasizes about Russia reclaiming Alaska and that's really the entire point of the article (yes, I'm sure they'd want to come back to Mother Russia, Igor), it doesn't take a lot of smarts to recognize that this is nothing more than the academic equivalent of jerking off. What's more worrisome is that this twat and his back-of-the-napkin pontifications are actually being taken seriously by far too much of the Russian political establishment. I just hope they have better things to do then to wait around for the collapse of the United States so they can actually pretend to be a superpower again.