So yesterday there was a very big protest here in Toronto, as Tamil protestors trying to get Canada to intervene in the Sri Lankan Civil War closed down the Gardiner Expressway for about five hours. The protests were certainly illegal in that they obstructed traffic without a permit, but were almost wholly nonviolent. (The police later announced that they arrested three people out of over three thousand.)
The following comments are taken from the CP24, Globe and Mail and National Post coverage.
IF YOU WERE REAL MANLY MEN YOU WOULD HAVE STAYED BEHIND AND GOTTEN SHOT BUT YOU DIDN'T DO THAT SO FUCK YOU

WHY CAN'T YOU BE LIKE THOSE OTHER BROWN PEOPLE?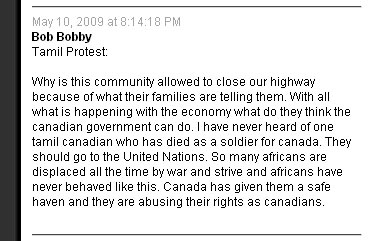 MY HAVING TO TAKE LOCAL ROADS IS JUST LIKE WHEN YOU GOT YOUR VILLAGE BOMBED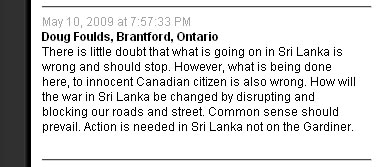 IT'S ALSO LISTED IN MY HOMEBREW ANNOTATIONS TO THE FOURTH EDITION "IMMIGRANT'S RULEBOOK"

CATS AND DOGS SLEEPING TOGETHER

ALSO BANNED: THE SWASTIKA, THE FASCES, AND THE… THINGY THAT AL-QAEDA USES ON THEIR FLAG, WHATEVER THEY USE
THEY HAD LOTS OF GEARS AND A PLACE TO PUT A WATER BOTTLE SO YOU KNOW THEY MUST HAVE BEEN EXPENSIVE BIKES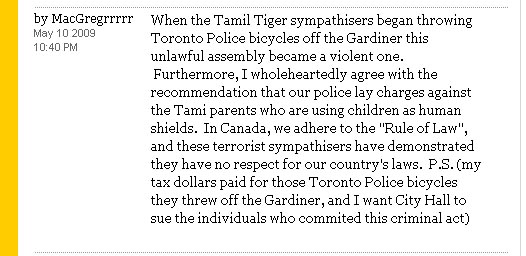 THE CANADIAN WAY TO ACCOMPLISH THINGS IS TO WHINE REPEATEDLY UNTIL YOU GET WHAT YOU WANT – ER, BUT NOT HOW YOU'RE DOING IT

AND THEN THE OPPRESSED MASSES OF BMW DRIVERS WILL HAVE THEIR REVENGE

NOTHING SAYS "FREE SOCIETY" LIKE RANDOM SPOT CHECKS!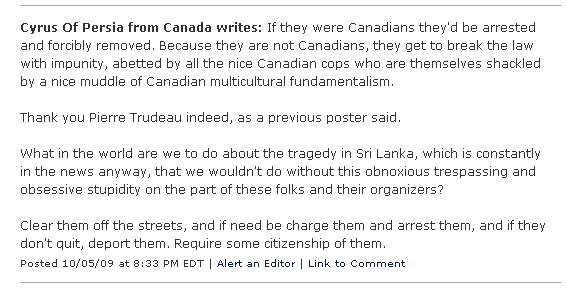 I GOT A SUR-GRIP ™ ON IT AND EVERYTHING
THOSE DARN PROTESTERS ALWAYS DRIVING DOWN PROPERTY VALUES

WHY AREN'T THEY PROTESTING ABOUT HOW THE NEW STAR TREK MOVIE DESTROYS THE VISION OF WHAT TREK IS SUPPOSED TO BE? I COULD GET BEHIND THAT

BROWN PEOPLE ARE LAZY!

SO, SO LAZY!1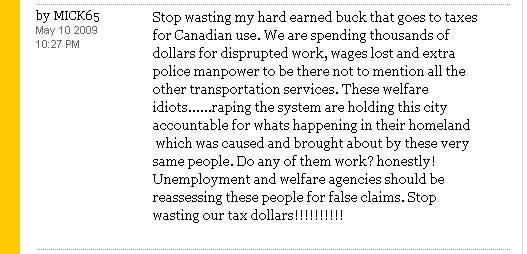 AND BY "ENFORCEMENT" I MEAN "POLICE BRUTALITY"

SEE, IT'S FUNNY BECAUSE SOME BROWN PEOPLE ARE ALSO ARABS AND ARABS HAVE TOTALLY CRAZY NAMES LIKE KLINGONS OR SOME SHIT2

IF YOU WERE REAL MANLY MEN YOU WOULD HAVE STAYED BEHIND AND GOTTEN SHOT OR MAYBE YOU WOULD HAVE GOTTEN SHOT IN AFGHANISTAN BUT YOU DIDN'T DO ANY OF THAT SO FUCK YOU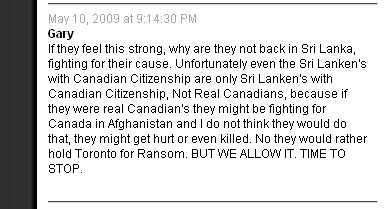 NO I MEAN IT
THAT'S WHAT YOU GET FOR LETTING PEOPLE HAVE THE RIGHT TO PEACEABLY ASSEMBLE, DIPSHITS

SHE DEFINITELY SAW ONE OF THEM WAVING A SIGN AND IT HAD SHARP EDGES AND MAYBE SHE COULD HAVE GOTTEN A REALLY NASTY PAPERCUT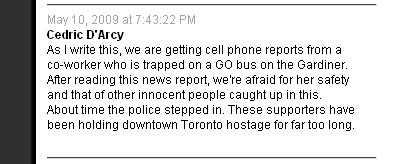 AND MY POINT IS THAT… UH… WE HAVE THE RIGHT TO PEACEFULLY PROTEST, I GUESS
IF YOU WERE REAL MANLY MEN YOU WOULD HAVE STAYED BEHIND AND GOTTEN SHOT BUT YOU DIDN'T DO THAT SO FUCK YOU AND ALSO FUCK THE PEOPLE WHO LET YOU INTO MY COUNTRY

NO REALLY I'M TOTALLY NOT SOME WHITE GUY SPOUTING OFF ON THE INTERNET

YOU EXPRESSING YOUR OPINIONS AND BELIEFS MAKES RACISTS MAD AND THAT IS ONYOU, BUDDY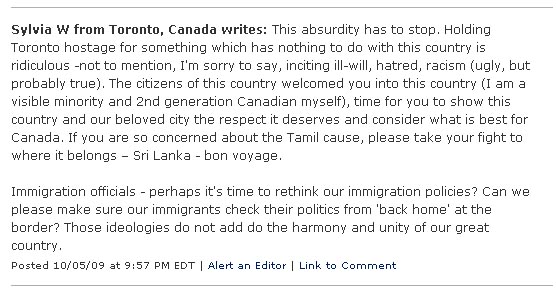 BECAUSE WHEN I THINK "LENGTHY CONFLICT BETWEEN TWO RIVAL FACTIONS ON A SMALL ISLAND OVER THE RIGHT OF GOVERNANCE," I CERTAINLY DON'T THINK OF THE IRISH

UH, WELL, TECHNICALLY AMERICA IS THE MELTING POT AND CANADA IS THE MOSAIC OF CULTURES, BUT I NEVER READ MY THIRD GRADE SOCIAL STUDIES TEXTBOOK SO NEVER MIND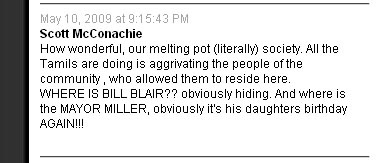 CANADA IS POWERLESS TO INTERVENE IN INTERNATIONAL AFFAIRS… "PEACEKEEPING?" WHAT THE FUCK IS THAT?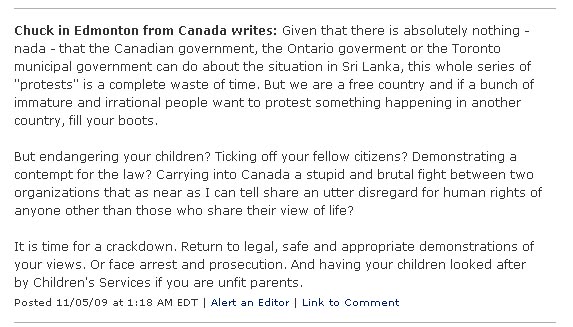 WE TOTALLY KICKED SOME HEY-HOW-ARE-YA HEY-HOW-ARE-YA ASS! GOOOOOO WHITE PEOPLE!

I, TOO, AM UPSET THAT WE ARE NOT DISCUSSING STAR TREK

RACE IS IRRELEVANT SO STOP PRETENDING TO BE WHITE SO I CAN LOUDLY NOT CARE ABOUT WHAT COLOUR YOU ARE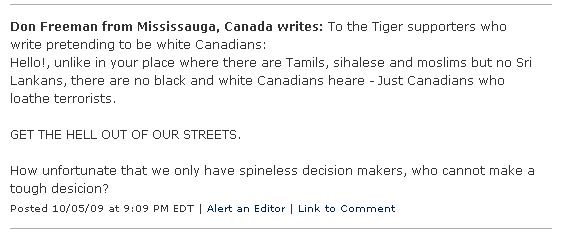 THERE IS TOO MUCH TOERANCE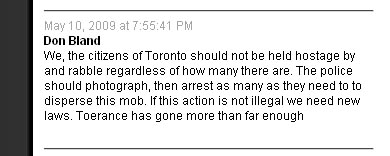 JUST LIKE THE IRISH!

IF CITIZENS TRY TO INFLUENCE HOW CANADA CONDUCTS ITS RELATIONS, IT MIGHT GET A SOCIAL DISEASE

ALSO THE SHEEPLE REFUSE TO RECOGNIZE HOW IMPORTANT IT IS THAT WE GET BACK ON THE GOLD STANDARD

ALL THESE BROWN PEOPLE MAKE ME NERVOUS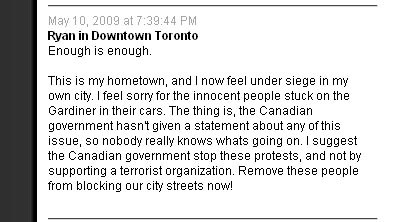 THERE IS NO DIFFERENCE BETWEEN USING CHILDREN TO PROTECT ONESELF FROM BOMBING RUNS, AND BRINGING CHILDREN ALONG TO A RALLY, BECAUSE IN BOTH CASES YOU CAN EXPECT TO HAVE THE AUTHORITIES VICIOUSLY ATTACK YOU. FARTLEBERRY HAS SPOKEN!3

"THEY'RE LIKE CHILDREN! LIKE LITTLE MONKEY CHILDREN!"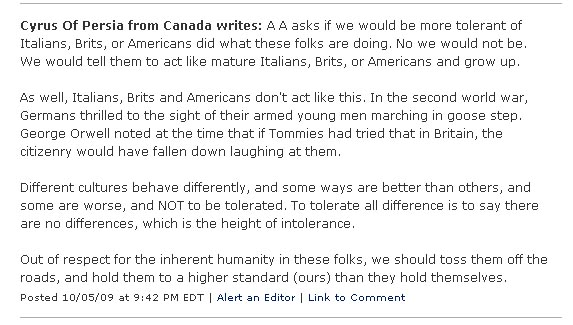 I WAS ONLY INTO THIS SCENE BEFORE IT GOT POPULAR ANYWAY; NOW IT'S, LIKE, METALLICA'S "BLACK ALBUM" OR SOMETHING
TAMILS CONTROL THE MEDIA! THE JEWS SOLD THEM THE MEDIA AND NOW THE TAMILS HAVE IT!

(UM, DUDE, MAKING FUN OF YOU PEOPLE USING ALL CAPS IS MY SHTICK, QUIT PRE-EMPTING ME)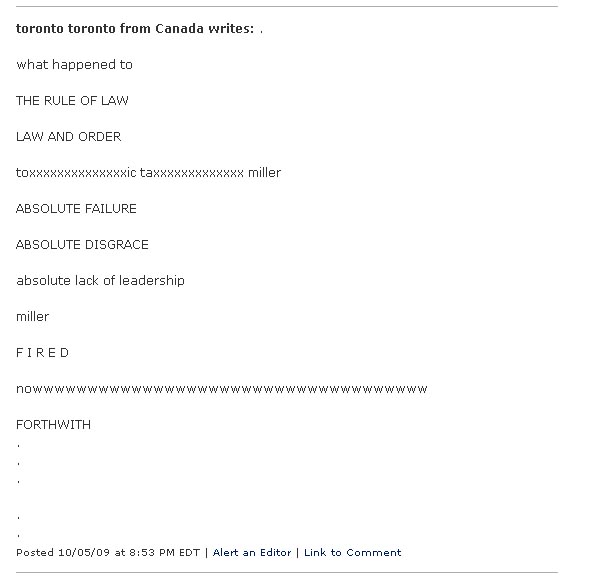 YES, WHAT WE NEED TO DO IS FOLLOW THE SANE, SOBER EUROPEAN IMMIGRATION POLICIES THAT HAVE CAUSED SO LITTLE ETHNIC STRIFE AND ABSOLUTELY NO RIOTING OR ANYTHING LIKE THAT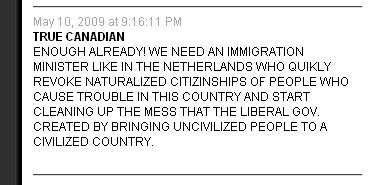 I JUST WANT TO SEE THEM USE THE WATER CANNONS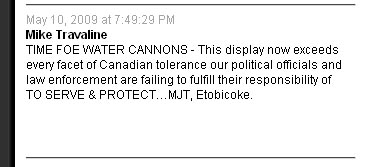 I JUST WANT TO SEE THEM USE THE WATER CANNONS WHILE ON HORSEBACK

YOUR OCCUPYING A HIGHWAY ON LATE SUNDAY EVENING AND ACCUMULATING A NUMBER OF MISDEMEANOUR CHARGES OUTRAGES ME BEYOND ALL EXTENT FOR REASON

AND FINALLY…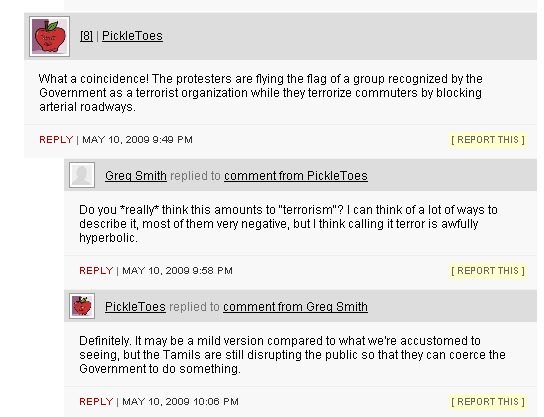 Top comment: No real Canadians were inconvenienced by these protests, because as everyone knows, REAL Canadians ride their horses everywhere, hitch them up outside their igloos, and go eat their poutine and Timbits in polite silence.
My hat (made of real Canadian beaver fur, from real Canadian beavers) is off to all those brave men and women in their cars on the Gardiner protesting the presence of the Tamil protestors.
I myself plan to immolate myself (or at least develop a very inconveniencing sunburn) in front of the Eaton Centre to protest this protest. — Slab Beefbroth
See, what's ironic is that one of my former roommates is a professional chef. He's whiter than I am, and he speaks Tamil, because he has to, because Tamils are as to Canada as Ecuadorians, Peruvians, Salvadorans and Cubans are to America – they're the backbone of restaurant and kitchen staff in every city in the country, because they can cook anything and they don't mind working the crazy hours. Tamils work ridiculously hard, and not just in the culinary industry where they dominate either. But of course they're brown people so naturally somehow they must be scamming welfare. [↩]
Which – I mean, come on, if there are funnier names in the world than Tamil names, which even they admit are long and elaborate to the point of craziness… [↩]
I could have posted dozens more comments like this, and it particularly bothers me that there's this expectation that brown people should expect to get clubbed down by police for peacefully protesting. [↩]