"What's the most important thing in life?"
"Respect."
"Too dependent on other people."
"Love?"
"A little Disneyland, isn't it?"
"God's will."
"Close."
"What is it then?"
"Necessity."
"As in?"
"As in people do what is most necessary to them at any given moment."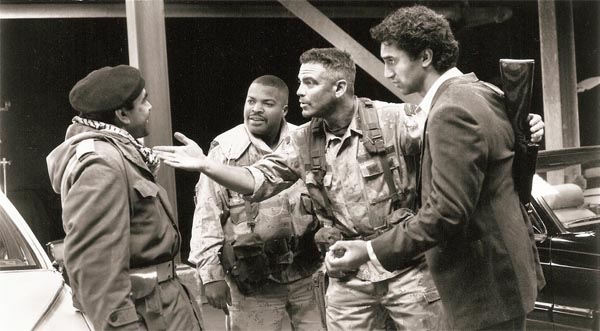 The 90s were actually a pretty damn good decade for movies, but even given the richness of the decade there have been any number of overlooked gems. Three Kings is probably the biggest. I went looking for top ten lists of 90s movies and after an hour on Google, Three Kings does not show up on a single one of them. For the sake of comparison, Kingpin shows up twice; Titanic, four times. American Beauty, Sam Mendes' overwrought and overblown tribute to the spiritual death of suburbia, appears on countless lists of this sort despite it being rather crap. So does Saving Private Ryan, a movie which is technically brilliant at portraying battle but hardly one that says anything especially profound. ("Hey, did you know war is hell? And it's violent?") Dances With Wolves makes a lot of lists, and I wouldn't say that's a bad movie but it's not exactly top ten list material, you know? And of course the usual suspects – Goodfellas, Schindler's List, Unforgiven, Fargo, Pulp Fiction and The Silence of the Lambs – make sure that top ten slots are hotly contested.
Three Kings won no major awards; it made about $60 million at the box office, which was sort of respectable in the break-even sense, but far from noteworthy. It tends to float under the radar, and out of top ten list range – and as time progresses I'm discovering more and more people who haven't seen it.
"What would you feel if I bombed your wife?"
"Worse than death."
"Yes, my friend. Worse than death."
All of that having been said, there is no reason this should be the case. Three Kings is one of the unsung masterworks of the Nineties; morally and ethically complex, and similarly astute without being preachy. The setting (the first Iraq War) is one that hasn't been overused in the slightest (the only other Gulf War movie I can think of is Courage Under Fire, and that one kind of sucks). The plot (a small group of American soldiers try to steal some of Saddam's gold and get caught up in the Shi'ite rebellions in the southern tip of Iraq) isn't cookie-cutter, the cinematography (giving everything a washed-out feel) is bleakly apropos, and the dialogue clever and well-tuned.
"Are we shooting?"
"What?"
"Are we shooting?"
"…are we shooting?"
"That's what I'm asking you!"
"…what's the answer?"
"That's what I'm trying to find out!"
And the performances are uniformly excellent. George Clooney turns in what was one of two game-changing performances for him (the other being Out of Sight) as Archie Gates, a guy who really wants to be an amoral mercenary just this once, but discovers – much to his obvious chagrin – that he just can't step aside. Mark Wahlberg's everyman corporal is exactly right, and as his hysteria and exhaustion ramp up through the course of the film you can really get a sense of someone who never had it that easy to begin with finally finding out how desperate life can really get. Ice Cube's Chief Elgin is Ice Cube being a moral, upright, total badass, which is what Ice Cube does best. And Spike Jonze – who hasn't acted in a movie since – absolutely steals the fucking movie as the stupidly gentle redneck Private Vig. Jonze is so good it makes you wonder why he doesn't act more, and the only answer I've ever figured that makes sense is that he wanted to try it out and see what acting was like.
"Lord knows what kind of vermin live in the butt of a dune coon."
"Why do you let this cracker hang around with you, man?"
"He's all right, man. He's from a group home in Dallas. He's got no high school."
"Don't tell people that…"
"I don't care if he's from Johannesburg. I don't want to hear "dune coon" or "sand nigger" from him or anybody else."
"Captain uses those terms."
"That's not the point, Conrad. The point is that "towelhead" and "camel jockey" are perfectly good substitutes."
"Exactly!"
The four soldiers drive the film's action, but every performance in this film is dead-on. Jamie Kennedy's dumbass grunt and Nora Dunn's veteran journalist are both great little performances, and Judy Greer turns in a wonderful little cameo as a slutty TV reporter, but the real meat of the supporting cast comes from two of Hollywood's go-to Arab-looking guys: Cliff Curtis (who's actually a New Zealand Maori, but has played so many Arab characters it's kind of crazy) as the Shi'ite rebel and Said Taghmaoui (a genuine for-real Arabic person, albeit one born in France) as the Iraqi army interrogator. Curtis matches Clooney (one of the truly great movie stars of our time) presence for presence whenever they share the screen; Tahgmaoui's scene with Wahlberg when the two talk about their respective baby daughters (one living, one not) never lets the viewer go.
"Any questions?"
"Yeah, is it true to be special forces, you gotta cut off an enemy's ear?"
But what really sets Three Kings isn't its great performance or story; it's the fact that this is the rare movie that just about perfectly blends drama and action. Most movies that attempt to combine the two end up being dramas with a soupcon of action (No Country For Old Men) or are action movies that have a stronger than average dramatic core for the genre (Saving Private Ryan). Three Kings, in comparison, shifts gears from action to drama (with occasional sidereels into comedy) repeatedly without ruining the tone or feeling schizophrenic; it does this by diving deeply into the surreality of war and using its weirdness to accomodate everything David O. Russell wanted the movie to do.
"What happened to the Jesus fire, Doc?"
"It's around you right now, man. It works on this side or the other side."
"You never told me that part. I guess I could go to one of them shrines that erase the bad you did…"
"We made the right choice today, Conrad."
"We did good, right?"
"We made the right choice."
In short, it should be on more top ten lists.
Top comment: Said Taghmaoui is actually Berber, not Arab. — Distantfred