So I've been getting email after email after friggin' email from nerds who have decided that this blog is the official "government policy for nerds" blog and who want me to talk about healthcare again. Which, cool that I have a niche and all, but yeesh, how much can you talk about healthcare really?
Seriously. At this point anybody who cares at least knows the base statistics that inform the health care debate, and those that don't can be easily pointed to those facts if they care to read them. This is the problem: the debate – like so many debates in the United States nowadays – has come down to people who care about facts, and people who care about the scary fantasies they pretend are facts. That the second group is fed these scary fantasies by self-interested parties is really besides the point.
Are you disappointed that Obama has publicly said that there might not be a public option in whatever healthcare bill gets passed? Not unreasonable, but what the fuck did you expect? The American governmental system is one that is fundamentally designed to preserve the status quo: there are dozens of checks and balances, all of which allow one side to stop the other in its tracks. Massive seismic shifts in public policy can only happen with enormous shows of public support.
This is what the teabaggers and birfers and socialist-criers understand: being willing to shout in public matters. Yes, discussion of facts in a rational matter is good; it would be wonderful if human nature universally led us all to appreciate sober contemplation as being of the utmost merit in civic debate. Unfortunately, we live in the real world where this has almost never been the case, and wishing that it were so doesn't change the fact of the matter.
Lemme change track for a second. Look at these guys here.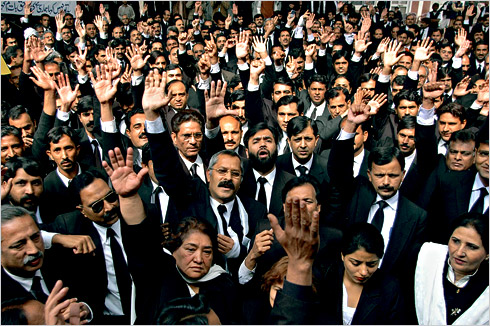 These are lawyers in Pakistan. In 2007, when Pervez Musharraf suspended the Chief Justice of the Supreme Court, the lawyers in Pakistan saw that this was the potential end of the rule of law, which was A) bad for their careers but more importantly B) disastrous for the stability of the country and the rule of law. So the lawyers went out in the streets and rallied and shouted, and things changed. Not to say that Pakistan became a dreamy place or anything, but those lawyers managed to get a result. Oh, and they did it on the definite risk of death. Not the "some crazy militia guy might shoot at me maybe possibly" risk. The "soldiers WILL shoot at me oh yes definitely" risk. So really: you don't have an excuse.
Where's the massive pro-health-care rallies? Where's the Million Single-Payer Supporter March? Okay, so that's a shitty name, but come on: there's got to be somebody reading this who might be able to start organizing something like that. And if there isn't, there should be – and by that I mean not that there should be someone of that caliber of organizational ability reading this, but that there should be someone reading this who should be able to discover said talents. Far stupider people than the average reader of this website have managed organizational feats that are not insignificant.
(I sometimes think that internet social media have seriously harmed any chance that people have of effecting real change because it's so easy. You join some social cause group on Facebook and get to feel like you've made a difference – but you haven't. You've just gotten the warm glow of activism without any of the work. I understand the appeal – I mean, I'm lazy too – but people have to realize that Facebook's uselessness is actively pernicious and that elected officials have learned that 150,000 people on a "WE WANT THIS THINGY MISTER GOVERNMENT" Facebook group will result in exactly zero changed votes on election day.)
And the thing is that Obama told you all this in advance. Remember right after the election? He specifically said "you're going to have to keep on me to make sure I hold up my end of the bargain." He wasn't talking about people pushing him – he doesn't really need to be told that governmental delivery of care is to the general good. He was talking about making it clear to the Kent Conrads and Ben Nelsons and other assorted corporate Democrat cockwads of the world that he was riding at the front of a thunderstorm. Unfortunately, there was no thunderstorm. There was barely a brief summer squall.
The lunatic right-wingers disrupting town hall meetings understand – on some level, perhaps not consciously – that they hold the minority viewpoint.1 That's why they shout so loudly. Volume is passion, and elected-type people understand that for every person who stands up, there are ten or twenty more who share their views and will act when led in that direction. (Of course, in the case of the townhallers, this is actually not the case, but usually it is.)
That's what's needed: a massive rally or series of rallies. And I mean big. Civil rights marches big. And they need to be focused on the issue at hand, which is health care. No "FREE MUMIA" signs. No talking about climate change, much as I would like that to be important too. Have your rally be ONLY about health care, and the need for a comprehensive system, be that Canadian-style single payer or French-style multiple regulated risk pools or German-style health funds or British-style actual socialized medicine. Yes, some of the media will try to ignore such a rally, but the important thing is that this isn't 2002 and the bulk of the United States is not expressly devoted to a bad idea.
The anti-reform crowd have a morally bankrupt message; in terms of health care the United States is rapidly progressing to third world country status. Use that: if they want to talk about the evils of Teh Socializm, you talk about the needless suffering and death caused by the current healthcare system in the United States. If they want to talk about rationing, you talk about the rationing that already exists. If they want to talk about taxes, you talk about selfishness, because that's what the free-trade-health-care movement is: it's institutionalized greed.
And for crissake, if you want something to happen, don't just talk about it on your blog.2
I would dearly love the opportunity to debate some right-wing talking head about government care. Come on, it writes itself: "On this side, Glenn Beck. On the other side, an honest-to-god Canadian." [↩]
Which, I know, but I'm a foreigner and therefore it would look bad if I organized a rally for you. Although my rally would have Rex the Wonder Dog logos. [↩]