"Sylvester Stallone in a comedy" should rightly raise warning bells. Warning sirens. Some loud noise of some kind, indicating danger. After all, Stallone's track record for comedies is dismal, to say the least. (Six words: Stop! Or My Mom Will Shoot!) But every so often, the stars align just so, and what should be a disaster is surprisingly non-disastrous and even pretty entertaining.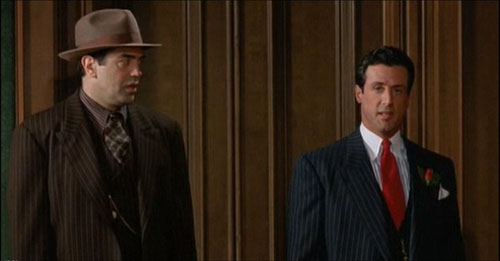 This is not to say that Oscar is a perfect comedy. It isn't. It's broad. It's not exactly subtle. And while Sly tries his best (and doesn't do badly), he's never going to be Groucho Marx or even Chico, and a comedy like this – a farce, a comedy of errors with a strong emphasis on wordplay – is not really his forte. Plus, there are a couple of supporting performances that just kind of make you wonder things. Like "how did Marisa Tomei ever make it when she started out so poorly?"
"When I took over, your books were a mess."
"They don't sound like they're in no great shape now! …damn, that's a double negative."
But it's just a likable little movie. It has Tim Curry in it, before he was seemingly permanently exiled to play villains for video games, being Tim Curry and therefore completely awesome. It has a great performance from Chazz Palmintieri as a big goon mobster. (I defy anyone to not laugh when Stallone demands he shed all his weapons, and Palmintieri gives sad puppy eyes as he leaves a pile of weapons on a counter, culminating in a spiked ball-and-chain.) It had a whole horde of great character actors at their best: Peter Reigert as a smart-mouthed mobster-turned-butler, William Atherton as a snooty banker, Kurtwood Smith as a moral but not-too-bright cop, Harry Shearer as one half of a pair of quirky Italian tailors, and the late, great Eddie Bracken as a police snitch. It's got a great cameo by Kirk Douglas and an appearance by Don Ameche in one of his last roles. And it's got a remarkably clever plot.
"Even in the old days he was known as an honest crook."
"That's an oxymoron."
"Gee, you shouldn't oughta said that, Doc."
"Yeah, leave Connie alone. He does the best he can."
Stallone plays Angelo "Snaps" Provolone, a mobster who promises his dying father he'll go straight. To this end, he has liquidated his criminal enterprises and plans to buy his way into a bank partnership. However, on the day the papers are to be signed, his young accountant (Vincent Spano, who for a while in the late 80s and early 90s was looking like a big thing, but unfortunately fizzled) comes to him and requests the hand of his daughter in marriage. However, his daughter is in love with the chauffeur, Oscar, and is a bit of a brat who wants to get her way. The cops, suspicious of Snaps' sudden cessation of criminal activity, are suspicious, and watching his house like hawks. So is a rival gang, looking to muscle in on Snaps (who now appears weak).
"I got it! Your daughter's not your daughter, and the cash that used to be the jewels is now your underwear!"
And then it all starts to get complex. Because the young accountant hasn't actually ever met Snaps' daughter. And things rapidly start to spiral out from one misunderstanding; that's how a comedy of errors works, see, little things ball up into bigger things and bigger and bigger and then – pow, the payoff. And the good thing about Oscar is that the comedic payoff is an excellent one, all things considered. It's a fun, hammy comedy, the sort of film Hollywood genuinely doesn't make anymore because it's gloriously, unapologetically pre-ironic and we live in a post-ironic world.
Plus, Tim Curry as an elocution teacher. Come on.