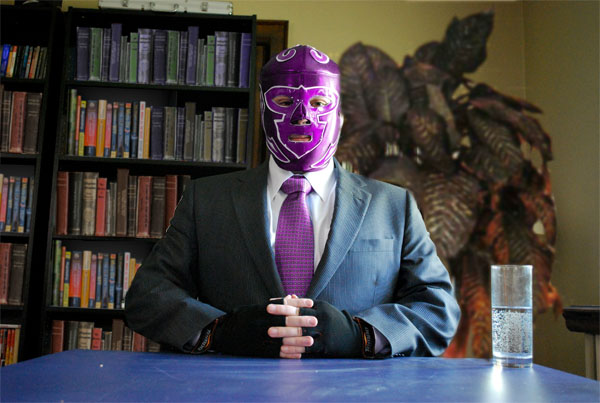 Hola, amigos! It is once again that time of the week where I, El Tyrano Magnifico, the greatest of all luchador lawyers, will read and examine your pleas and questions with the detail demanded of a true champion. Much as the time I fought El Hijo del Santo in a Five-Way Mexican Dance of Death, remembering each of his three primary weaknesses and planning my attack, so shall I carefully consider each of your questions. That is the eternal pledge of El Tyrano Magnifico!
Jaime Muniz, who it says in the letter is nine years old, writes to ask:
Dear El Tyrano Magnifico: I was wrestling at school and one of my classmates had me in a rattlesnake leglock. I was slapping the ground to give myself the will and the strength to reach the bottom rope, but the referee said that I had tapped out and thus lost the match, even when I had clearly not submitted! Is this not improper?
Dear Jaime: Sadly, you have no recourse. Ever since Shamrock v. Hart was dismissed for appeal in 1998, it has been a matter of settled international law that slapping a mat, floor, ground, or any other horizontal surface qualifies as a submission, even if the words "I give up" are not uttered. In future, you may wish to consider slapping a wall or human face instead in order to deal with the grueling pain of a rattlesnake leglock. If these are not available, consider filing an injunction with your local judge.
Now, Arina Ortega writes:
Dear El Tyrano Magnifico: My papa works very long hours at the butcher's, but lately he complains that he is not getting paid for the extra hours he must work. Surely there is some recourse for us? I am very hungry and would like to eat something other than pinto beans, which give me abdominal pressures.
Dear Arina: Your papa is deserving of overtime, but if he has signed a contract forced upon him by the rudo butcher shop manager, he may have unfortunately ceded his right to overtime payment. But all is not lost! If your papa – or a designated counsel working on his behalf – can force the butcher shop manager into a sleeper hold, when the manager passes out from lack of blood to the brain, he will be deemed to have agreed to a rewriting of the terms of the contract! For maximum legal security, I recommend putting the butcher shop manager in a sleeper hold while he is in a police station, local notary's office or steel cage.
Also, dear Arina, you may qualify for pro bono legal representation by El Tyrano Magnifico, or perhaps by one of the Tyranitos, my assistants here at the firm of Magnifico, Gomez and El Terror. Contact me immediately and we shall set up an appointment! Now who is the next letter from…?
Dear El Tyrano Magnifico: Fool! While you address the questions of simpering children in your pathetic mailbag, I have stolen your precious Legal Society Championship Belt! I wear it now and it glistens around my midsection! HA HA HA! Do you hear my laughter, El Tyrano Magnifico? I laugh at your respect for law and order! HA HA HA! Your gleaming belt is nothing more than a trophy of my success!
Sincerely, Vampiro Ultimate X
My fists quake with rage! Damn your eyes, Vampiro Ultimate X! Your misdeeds have gone unpunished for far too long, even as you have exceeded the villainy of Vampiro Ultimate IX and Vampiro Ultimate VIII, and indeed all the previous Vampiro Ultimates with the possible exception of IV! And now you steal the Legal Society Championship Belt? Without ever having passed a bar exam? Without ever having had proper schooling? The duty of a luchador lawyer is to serve as counsel to the utmost degree, Vampiro Ultimate X, and that is something you cannot understand for you do not know the secret martial paths of the courtroom!
This time is for me to read mail from all my little amigos who seek legal knowledge, Vampiro Ultimate X, and you have trespassed upon sacred ground, at least metaphorically! For this there can be no forgiveness! I challenge you to a barbed wire match, Vampiro Ultimate X! In the deadly tangle of barbed wire, I shall call forth many witnesses, who will testify as to your inadequacy when I place you in my patented1 Hyper Dragon Armbar! You will cry for mercy, Vampiro Ultimate X, but no mercy will be forthcoming so long as no one believes you are reasonably deserving of mercy! That is the promise of El Tyrano Magnifico!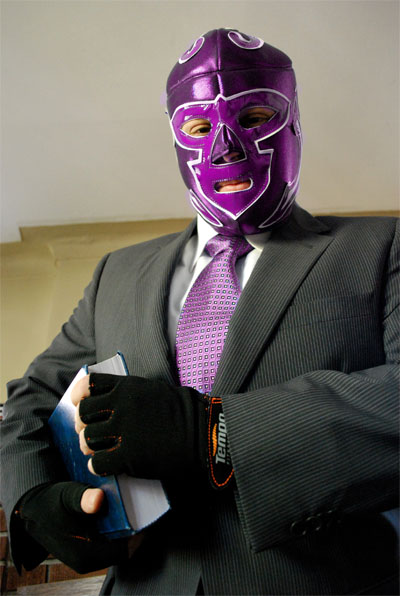 Patent filed 1989, patent no. 89326-032. [↩]