Christmas movies mostly suck. Miracle on 34th Street gives me hives. It's A Wonderful Life is a depressing story told the wrong way. About half of the Christmas Carol adaptations completely miss the point (the exceptions: Muppet, Disney, Sim and the recent Zemeckis). Even a A Christmas Story gets more treacly and unbearable every year. (I will admit to a fondness for Love Actually, but what makes the film bearable are the bitter moments where things don't work out. Plus Rowan Atkinson's cameos.)
This is because Christmas is equal parts joyful and depressing. The good Christmas movies understand this, which is why most of the good Christmas movies are dark: black comedies about the human spirit's capability for love even under the most degraded of circumstances, like Bad Santa, or hyperactive Dickens-on-crack stories like Scrooged, and Gremlins, which isn't really a Christmas movie per se but come on, it's Gremlins.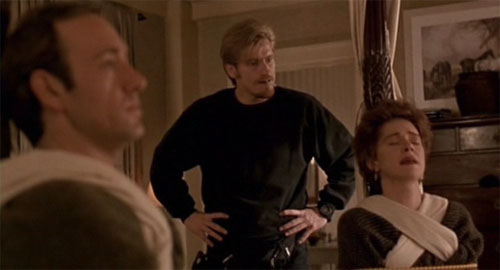 "I had this dream -"
"Do we have to do dreams?"
"I'm in this restaurant, and the waiter brings me my entree. It was a salad. It was Lloyd's head on a plate of spinach with his penis sticking out of his ear. And I said, 'I didn't order this.' And the waiter said, 'Oh you must try it, it's a delicacy. But don't eat the penis, it's just garnish.'"
"Lloyd, what do you think about the dream?"
"I think she should stop telling it at dinner parties to all our friends."
But my favorite Christmas movie is far and away The Ref, because The Ref manages to be a very funny Christmas comedy without needing a super-ridiculous dose of silliness or lunacy beyond the everyday mundane madness of human life.
The plot is simple: Judy Davis and Kevin Spacey are married, and they hate each other. But they don't just hate each other. That would be simplistic. They each hate what they've become – a suburbanite couple stuck in Fuckall, Smugachusetts, essentially living off his mother's largesse – and they're both depressed as all hell. And there's nobody else to blame it on except themselves and each other, so naturally, as many couples do in these situations, they've opted for both. They're miserable and planning a divorce.
This is when Denis Leary shows up. At this point in his career, Leary was already starting to transition away from his well-known "asshole" standup persona, most likely because it obviously bored the shit out of him. He goes on a couple of Learyesque rants through the picture because it's expected, but he's not playing Denis Leary – he's inhabiting his character, a tired aging burglar who hates his life nearly as much as Spacey and Davis hate theirs.
"From now on, the only person who gets to yell is me. Why? Because I have a gun. People with guns get to do whatever they want. Married people without guns – for instance, you – do not get to yell. Why? NO GUNS! No guns, no yelling. See? Simple little equation."
And so, a hostage situation – starting with the married couple, and extending to their son, home from military academy for the holidays – gradually becomes both an extended drier-than-brut-champagne farce as Leary pretends to be a couples counsellor at Davis and Spacey's family Christmas celebration, and the trigger event for a series of long-overdue bouts of honesty. Ted Demme (who never made another movie as good as this one, although Beautiful Girls came close) builds up tension slowly until Davis and Spacey finally just blow both their stacks and explode at one another in a way you know they never have, and the genius of their respective performances is that you really get that these are two people who really love one another despite everything, and who've completely lost how to tell the other that.
But just summing it up like that makes the movie sound boring. And it's not boring. It's fucking hilarious. There is an evil dog and a drunk Santa and a useless sidekick and inept small-town deputies. There are more killer performances in this movie than many movies have cast members – not just Davis and Spacey and Leary (every one excellent), but also one of the great Glynis Johns' last (and most memorable) roles, plus ever-reliables like Christine Baranski and J.K. Simmons. And, as a special bonus, you get to see a great pair of underappreciated character actors – Robert Ridgely, the king of smarm, and Raymond Barry, normally stuck in "military advisor" gigs – use their chops in what's arguably the best scene of the entire movie.
"That's not the spirit of Christmas. The spirit of Christmas is either you're good, or you're punished and you burn in hell."
Someone, I forget who, once said that family are the only people who can tear you down and build you up at the same time. This movie's all about that. Which is why it's a classic.