Wizards of the Coast/Hasbro's remarkable ability to use excess packaging on their primary gaming product – Magic: The Gathering – has gotten truly ridiculous in the last couple of years, and every new product just seems to get worse. My favorite until recently was this "premium deck" of foiled Slivers – take a look at it and then realize that, given the contents within that clamshell, one could fit in four copies of all contents in the volume taken up by that plastic case. Maybe five.
But apparently the Sliver deck wasn't wasteful enough, because now there's this: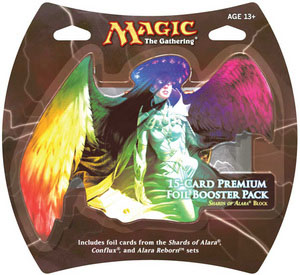 This is the "premium all-foil" special edition Shards of Alara booster pack. Looks innocuous, but this is the thing: it contains one booster pack of cards. For those unfamiliar with the concept, here is a picture of a nerd (or possibly a hipster being ironic) holding up a booster pack next to his head.
And where is the actual booster pack (which, needless to say, comes wrapped in its own booster pack wrap within the larger amount of packaging)? Why, here it is!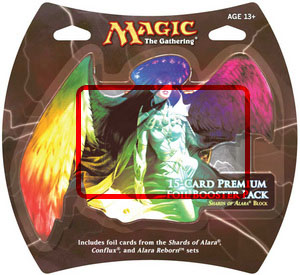 Imagine how much less space just shipping a boxful of the booster packs would take. And in turn, less energy and cost.
However, I understand that Wizards has its smartest people over in the creative department, where they come up with amazing new worlds that all happen to have goblins and merfolk and elves.1 So, really, can you blame them for putting all this extraneous crap on one lousy booster pack? Of course you can't.
Their latest one is "world with goblins and merfolk and elves where there are giant floating rocks, and the giant floating rocks are magical." [↩]