NOTE: This was the first of these, written back for my Livejournal back when I was still on Livejournal. However, it does not appear to have been web-archived, and besides, I might as well rewrite it now. So this is a revamped version of the original article.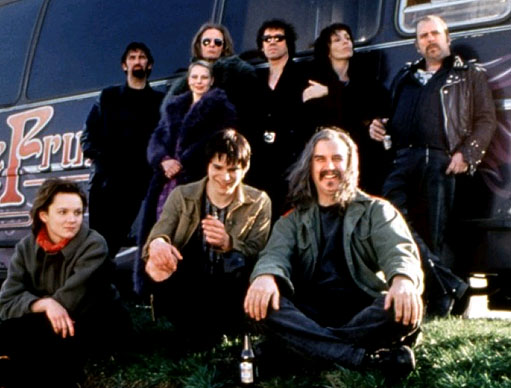 Still Crazy came out in 1999, did mediocre box office at best (I checked Boxofficemojo and it made less than half a million dollars in the USA, and not much more in the UK), got good reviews and a couple of Golden Globe nominations (for best comedy/musical and best original song) and then faded into relative obscurity. This is a pity, because Still Crazy's main sin as a movie is that it apparently came out at the wrong time.
After all, it has Bill Nighy in an extremely Bill Nighy sort of role, but five years before Bill Nighy really broke through as Bill Nighy in Love Actually (and whatever you may think of that film, it let Bill Nighy be Bill Nighy), and in Still Crazy Bill Nighy basically plays the same character as in Love Actually except this time he's not a cariacature. It's about 70s glam rock, but came out one year after Velvet Goldmine, a wildly overpraised and overly serious take on the same subject. (Still Crazy also has original songs – and good ones – rather than a pastiche soundtrack that sounds like somebody's mixtape.) It's a comedy about getting old, maybe six or seven years before Boomers really started realizing that they were getting old and made Nancy Meyers rich as a result.
And it's really a great little movie, chock-full of great performances from Nighy, Stephen Rea, Timothy Spall, Juliet Aubrey and Billy Connolly. See, Strange Fruit were really big in the 70s, but twenty years later, like so many other bands, they're a musical footnote, just another band which feuded endlessly and collapsed under its own weight. But when a nostalgic music exec who's putting together a memorial show of a famous 70s concert – the concert where the Fruit broke up permanently – spots Stephen Rea's former keyboardist Tony working in a resort, he suggests an appearance by the Fruit at the memorial concert, and of course that means Getting The Band Back Together.
Except, of course, it's never that simple in real life, and one of the nice things about Still Crazy is that although it's got plenty of the requisite old guys' reunion/on-the-road wacky comedy, it never lets things be simple or cut and dry. Brian, the former lead guitarist, is missing and presumed dead, so the band has to recruit a new young guy to replace him because Ray, the lead singer, can't really both sing and play lead guitar at the same time. Tony's been carrying a torch for Karen, the former roadie and now manager, for practically ever, but she's still in love with the memories of Brian and can't shake them. Les, the bassist, still resents Ray because Ray came over after the band's original singer Keith died of an overdose, and because Les never got to sing any songs back in the day. Les and Beano, the drummer, are still both nostalgic for Keith and can't shake the idea that the band died with him. Ray's quietly terrified that, despite being the richest of the Fruit thanks to a reasonably lucrative singles career, he's only ever going to be a musical footnote. Oh, and Beano is being pursued by the revenue service for unpaid taxes, because it is still a wacky comedy.
And throughout the movie, death is an omnipresent force. These guys are old now, in their minds if nothing else – they're on the road trying to rock out in their late forties and early fifties. They can't help but feel slightly ridiculous, and worse they've got dead bandmates hanging over their shoulders. They're grabbing desperately at their one last chance for real musical relevance and to be remembered, and they know it's desperate and they're doing it anyway, because it really is their last chance, not just to be musical stars but to grow old on their own damn terms, which is something many people never get to do at all. And because this is something we all want for ourselves in our own way, that's why it's good –
– along with the songs, which are excellent.
– and the performances, which are great.
– and the gags, which are really funny without being forced.