A couple of people asked for:
The age old debate of Ameritrash v Euro.
Which, even for a nerd site like this one, is definitely getting into esoteric territory, so explanation is in order. Among serious boardgamers –
– No, wait! If you're not a boardgamer, stick around! I promise something at least slightly profound by the end! –
– ahem. Anyway. "Ameritrash" and "Euro" are the names for the two major "serious" styles of boardgame design.
Here is Battlestar Galactica: The Board Game. It is considered "Ameritrash."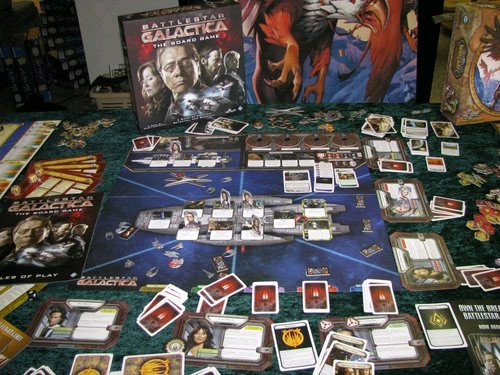 "Ameritrash" is code. It means, roughly, the idea of a game as a thematic experience first and foremost. Battlestar Galactica is a board game that positively drips with theme: it mirrors the show by having the players be important humans on the Galactica, like Adama and Tigh and Roslin and Baltar, and they're playing a cooperative game to get to Earth before the Colonial Fleet starves to death or runs out of water or fuel or commits collective suicide or get blown to shit by the Cylons, just like in the show, and secretly some of the players, randomly selected, are actually Cylons bent on making sure the humans lose.1 Thus, the actual mechanics of the game are twofold: there are the rules which explain how you fight Cylons and jump from star system to star system, but there's also the real game, which is figuring out who at the table is a Cylon and who isn't, and who's lying and who isn't. If a Cylon can manage to stick an innocent human player in the brig, they often win.
To further aid in immersing players in the theme, Battlestar Galactica has bits. Lots of bits. It has umpteen different decks of cards to randomize all the events that could possibly happen. It has little plastic Vipers and Cylon raiders to fight in space. It has dials to measure how much water and food and fuel the fleet has left. It has rules for the extra advantages the President and the Admiral get, and the chain of command among the players for each position to descend. The rulebook for this game is thirty pages long. There are, so far, two additional expansions, which introduce the Pegasus and New Caprica and the Ionian Nebula as additional playable elements of the game and heaps more rules and characters and options.
All of this makes for the quintessential Ameritrash game. Lots of attractive bits. Lots of rules to cover every possible fiddly little idea the players can come up with. Lots more bits. A theme that's usually either fantastic or epic if not in fact both. And lots of bits. "Ameritrash" isn't a derogatory term: it's one spoken with affection.2
And then, at the other end of the spectrum, there is Caylus. Which is a "Euro."3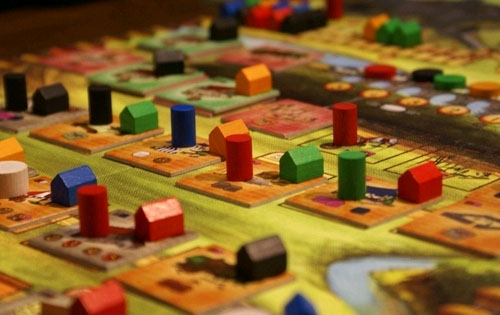 Caylus is ostensibly a game about building a castle and its surrounding town for a king, but really, that is crap and everybody knows it. Caylus is a supremely complex mathematical problem in game form. The game's victory condition is simple: who has the most points at the game's end. You can get those points in a variety of ways: by building the castle, by building buildings other players use, by getting the "royal favour" again and again and again and using it every time for points, and so forth. But while you're getting points, you're also trying to set up the board to ensure that you have what you need to get more points as the game progresses. And so is everybody else.
The theme is besides the point: what matters is the gameplay, and Caylus is a brainburner of first order as you sort out your moves in order to generate best advantage. The idea that you're collecting food or dye or stone or gold in order to build the various buildings is entirely besides the point: they're just wooden cubes in various colors and combinations that you require. This is the quintessential Euro.
Of course, both Ameritrash and Euro can commit sins of excess or laziness. With Euros, gamers have coined the phrase "JASE" ("Just Another Soulless Euro") to describe Eurogames that rehash the same old variety of mechanics all over again – worker placement, auctions, area control, role selection – for no purpose other than to get victory points in a slight variation on the formulae other, superior games already used the first time through.4 Ameritrash games can concentrate so deeply on their theme that they can forget to have an actual game be present, turning the whole affair into a boring slog because without some decent mechanics at its heart, a game's play just becomes a joyless exercise in mental calisthenics.5
Despite this, however, plenty of gamers have taken up the banner of nerd supremacy (or, if you like, competitive geekery), proclaiming the innate superiority of Ameritrash or Euro. Which is silly, really, because a game is a game is a game and I believe what we come to play games for is not the actual exercise of the game – although that's important – but the rituals inherent in playing that game. There's a reason gamification theory has become so prevalent in modern marketing: we love ritual, we're trained to love it, and every game has its own set of rituals.
As a longtime patron and occasional part-time employee at Snakes and Lattes, Toronto's boardgame cafe, I can safely say that despite the staff's best attempts to get people to adventure a bit and play more advanced games like Power Grid6, the most popular games are stuff like Jenga and Hedbanz. Hedbanz is really just a game manufacturer's clever method of getting people to spend money to play Twenty Questions, but the ritual of putting on the silly plastic headband is one that people find endlessly entertaining. It doesn't matter that there are better block-stacking games than Jenga (for example, the always-awesome Bausack) – people love the ritual of stacking up the pieces almost as much as they enjoy playing the game itself.
Ameritrash and Euro enthusiasts each begin with a starting premise I think is false, which is that they downplay ritual in favour of a specific experience. For Ameritrashers the allure of ritual is obvious: the thematic games they play are steeped in it, and lend themselves to injokes, traditions and unique ways of approaching each game. Eurogamers might want to pretend that their games are less ritualized, but that's crap. The most abstract strategy games like chess and go have their own sets of rituals, and just because they're less overt doesn't mean they're not there. Go to a chess tournament sometime and watch people playing "serious" chess and you'll see it. Using one hand to simultaneously move your piece and capture your opponent's piece. Hitting the timer on your clock with the piece you just captured. The ceremonial tipping over of the mated king. The Eurogaming experience is no different, if more varied in how it's approached because of the variety involved.
In the end boardgaming, whether it's Ameritrash, Euro or Hedbanz, is about socialization. It may offer different rewards (mental immersion into a setting, challenge of brain calisthenics, or the opportunity to wear a plastic headband), but the method of offering them is ultimately the same. All we can do is extrapolate our social selves and put them into the game. Otherwise you might as well just be doing sudoku on your couch.