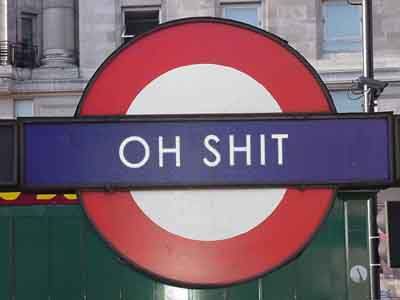 Image blatantly looted from the always excellent flashboy
It's been a while since I exercised my guest-blogger privileges here. I figured that since I was on the scene, I might write a bit about the shit that's currently going down in my town– although my neighbourhood, Lambeth, is fairly quiet so far.
I am only an adopted Londoner, but I've inhaled enough urban grime to have acquired a certain patina of Londonness for my soul. One of the characteristics of the species is that we do not let shit faze us. In times of crisis, a Londoner feels an instantaneous connection to the survivors of the Blitz. Our shoulders square, our bosom swells, our accent becomes ten degrees more clipped, and suddenly you could use our upper lip as a backboard to practise your Wimbledon serve.
To be honest, the unflappability of the current generation probably has more to do with the plethora of attacks by various Irish maniacs during the Troubles, which carried on intermittently into the mid-'90s (long enough for even a late arrival like me to become blasé). Still, when the July 7th bombs went off in '05, we went straight into Blitz mode. Out into the street we strolled with a generalised air of "Terror? No, sirs; it's been tried before by bigger bastards than you."
(We're kind of like Captain America in that respect. Our comeback to everyone, up to and including Galactus, is "Oh yeah? Well, I fought Nazis. And won, so there. Nazis, dude.")
But then there's the other Britain. If we're Five Go Mad In Dorset, we're also Mr Jolly Lives Next Door. (First link rife with overstated tweeness; second link definitely NSFAnyone.)
I mention this because shopkeepers on my street were told at around 3.30 today to close up and go home. This has happened in several neighbourhoods around town today, but there were enough attacks nearby last night to have people worried. It's already clear that this isn't your grandparents' looting spree; shops in central areas, on busy streets with plenty of CCTV cameras, have been hit. The local tiny, cramped grocery shop was full of panic buyers– and someone more panicked than me had already bought all the Brita water filters. Damn.
On the other hand, the two theatres on my street both have performances tonight, and the kebab shop where all the police always go is still open. So there's that.
The socioeconomic ramifications of all this have already been done to death by wiser heads than mine. The consensus seems to be that yes, of course the people doing this are repulsive– but they're contextually repulsive; and if the top tax bracket can get away with practicing the Tao of Fuck You Got Mine, then are we really surprised when their low-end counterparts raise the ante?
I would not in any way defend the scrotebags doing this, obviously; but nor would I join the uniform chorus of string-'em-up that seems to be erupting on Facebook. A blanket judgement would miss the point, since it's such a heterogeneous lot: there are kids out for a thrill, there are the angry ones out to destroy, there are the chancers out to grab stuff, and then there's a hard core of professionals who are much more efficient at this whole stealing business. Only the first group will be delighted if you photograph or film them.
At any rate, it's now 9pmish and the sky is going dark. Two ways tonight could play out:
Nobody turns up. There are 10,000 more police on the streets tonight than last night, they're empowered to use plastic bullets, and both these facts are well publicised. Those who were in it for the adrenalin may well have had enough.
Everybody turns up for a series of enormous pitched battles and even more of the city gets trashed.
I very much hope it's the first.  Over the past two nights, however, the violence seems to have spread to other UK cities including Manchester, Bristol, Liverpool and Birmingham, so even if London is quieting down, it's definitely not over– although I think a night or two of heavy rain would end it.  Even British looters don't have the commitment to hold an umbrella in one hand and a flatscreen TV in the other for the entire bike ride home.  Also, their new designer sneakers would get all soaked and squeaky.
Top of the list of Fictional Characters That I Wish Were Real right now:  Sam Vimes.  A good policing strategy for the Met might be:
Figure out what Sam Vimes would do
Do that.
Questions as to whether Vimes would be caught dead working for Boris Johnson I leave to the experts.
10.30ish and all's well so far.  I don't want to invoke Sod's Law by saying something stupid like "It looks like we might be okay," since it's not even pub-chucking-out time yet, but still:   a safe night to you all, wherever you may be.