NOTE: This was the third of these, written back for my Livejournal back when I was still on Livejournal. However, it does not appear to have been web-archived, and besides, I might as well rewrite it now. So this is a revamped version of the original article.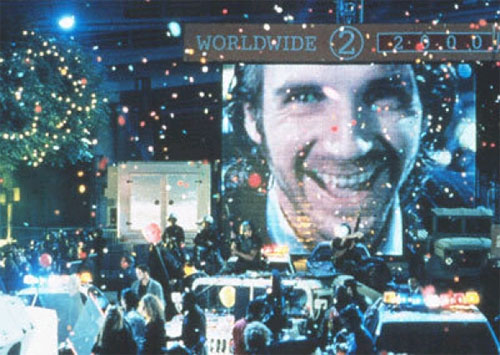 Have you ever jacked in? Have you ever wire tripped? No? A virgin brain. Well, we're gonna start you off right. This isn't like "TV, only better." this is life. Yeah, this is a piece of somebody's life. Pure and uncut, straight from the cerebral cortex. You're there! You're doing it, seeing it, hearing it! You're feeling it! It's about the stuff you can't have, right? Like running into a liquor store with a .357 magnum in your hand, feeling the adrenaline pumping through your veins.
Strange Days foresaw a lot about the future when it first came out.
Not the "jacking in" thing, where people get addicted to reliving copies of brainscanned memories on laserdisc – although in 1993, people didn't really have an idea of what net.addiction was just yet, and in some ways Strange Days's conceit of becoming addicted to living somebody else's life presages, in many ways, World of Warcraft, Second Life and similar online pursuits, and heck let's just toss Youtube on there as well while we're at it because you know there are people using it to relive old memories they probably shouldn't. So hell, let's count that as a prediction for Strange Days. But let's also count its prediction of the rise of a Tupac Shakur-like rapper with similar cult following after his violent death, its depiction of a society with the killer mix of ever-growing social stratification combined with ideological and cultural divisions in the underclass, its recognition that the growing fusion of hip-hop, pop and metal would only continue, and its understanding that Tom Sizemore looks really freaky and awesome in a wig. Okay, that last one isn't really a prediction, but come on. He looks freaky and awesome in a wig.
You know how I know it's the end of the world? -Everything already been done, every kind of music's been tried, every kind of government's been tried, every fucking hairstyle, bubble gum flavors, you know, breakfast cereal… What are we going to do? How are we going to make another thousand years? I'm telling you, man, it's over. We used it all up.
But Strange Days is great for reasons other than its often impressive precognitive abilities. It's got Angela Bassett in what I would argue is her definitive movie role and one of the baddest-ass female action hero roles ever, which by itself makes the entire catalogue of Angelina Jolie look wussy. It teaches us the secret of making Juliette Lewis tolerable, which is to have her sing rather than speak (seriously: the movie's major flaw is that Lewis' appeal to Ralph Fiennes is only evident when she's singing). It has a killer supporting cast: Sizemore, Michael Wincott, Vincent D'onofrio, William Fichtner, Glenn Plummer. It has an absolutely fantastic soundtrack that sounded in 1993 like what the future of music would sound like, and to an extent still does. It has one of the most beautiful and heartfelt endings I've ever seen in a movie, and begins with what I still hold up to be one of the greatest cold opens in film history (which, lest we forget, was filmed long before lightweight digital cameras were available, and thus had to be filmed entirely on full-sized Steadicams):
You're just calmly backstroking along in the big toilet bowl and somehow you never let it touch you. I mean, between working vice and your current so-called occupation, you must have seen every kind of perversion. But you're just like… some teflon man, you still come out this goofball romantic.
And it has Ralph Fiennes as Lenny Nero, the protagonist, and this is great because Ralph Fiennes rarely gets to be the hero of a story that isn't staggeringly tragic – seriously, almost all of his major roles have been either villains (Voldemort, Amon Goth, Hades, Harry Waters in In Bruges) or heroes who have to suffer unimaginably (see The English Patient, Sunshine, The Constant Gardner, The End of the Affair – one could go on). Lenny, on the other hand, is a straight-up hero. Maybe a flawed one (after all, he is an ex-cop who's also the future-equivalent of a drug dealer who is obviously obsessed with his ex-girlfriend), and certainly not your traditional action lead (Lenny openly admits he's a talker rather than a fighter – he oozes good-natured smarm in a way that just makes you root for him), but he's the hero here, and it's just so great to see Fiennes for once straight-up play the good guy and do it so well. (Of course, shortly after Strange Days Fiennes unfortunately signed on to play John Steed in The Avengers, and although he was the best thing about that movie, it basically killed him as a heroic lead. So in Strange Days we are essentially seeing Fiennes in a position he would never be in again.)
This tie cost more than your entire wardrobe. It's the one thing that stands between me and the jungle.
I am shying away from discussing the plot, and this is not because the various plot twists (and yes, of course there are plot twists) are so crucial to enjoying the film that being spoiled of them would ruin the film. (At least one of them most viewers, I expect, will see coming their first time out.) I'm refraining from discussing it because, although the plot is perfectly good, Strange Days relies on character and performance to see it through to the end, and does so with skill and grace. Kathryn Bigelow was decades away from her long-deserved Oscar at this point, but she's always been a muscular presence behind the camera and this film is no exception: there's nothing wasted in this, not for a second, and the direction never bores nor grows incoherent. She's too good to let that happen.
One man's mundane and desperate existence is another man's Technicolor.
Strange Days is a wonderful mix of pessimism and optimism, of action and drama and mystery and sci-fi (and some truly funny bits, although it is by no means a comedy). It is also an extended analogy about the Rodney King riots and the sometimes tenuous bond between police and society as a whole. And while it does very few things perfectly, it does many things very well.
And did I mention that soundtrack?