I've been meaning to do a lengthy post about train boardgames for some time, but never quite get around to it. Partially it's because novice boardgamers equate train games to Ticket To Ride. Now, don't get me wrong: Ticket to Ride is a fine game. But it is barely a train game. Ticket to Ride is actually just a variant on rummy: you collect sets of cards, which you turn into sets of tracks, and the right sets of tracks earn you points. There's a small amount of route-competition to Ticket to Ride, which makes it at least slightly a train game. But it's a train game like, say, Carcassonne is a civilization-building game: only in the loosest and most tangential sense.
So what qualifies a train game? I think the fundamentals of a true train game are as follows:
1.) They are about building routes. In a train game, part of the strategy should be making sure you can lay your track to where you need it to go. You will have destinations you need to reach – either forced upon you by game fiat (as in Ticket to Ride) or as a result of your own strategies.
2.) They are about making money. Proper train games are primarily economic games, because everything that is really interesting about trains is as follows: they go places and they carry cargo. That's really all that is interesting about trains in an abstract sense. (Maybe you like train-spotting, but that's a specific sort of thing.)
2a.) Part of the way train games are about money should be about delivery of cargo. Because, again, this is what trains do.
2b.) Part of the way train games are about money should be about the fact that they were corporations. Again: train games are economic games. The pick-up-and-deliver aspect of train games should matter, but there should be more to them than simply "go here, drop off that, do it again."
3.) They are about improvement. The expansion of trains led to economic development not only of the train networks themselves but of the regions to which they laid track. Therefore, in a sense, a good train game also has aspects of civilization-building and/or exploration to them.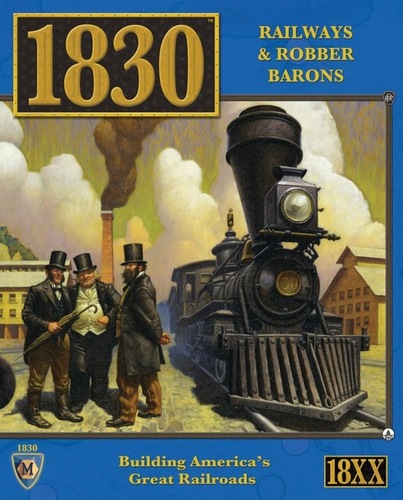 The granddaddy of modern train games is 1830, designed by Francois Tresham (who also designed the original Civilization board game that Sid Meier took inspiration from when designing his same-name video game, which in turn has spawned not one but two boardgame spinoffs – the second of which is honestly pretty good in its own right). 1830 is a meaty, meaty, meaty game, by which I mean it takes fucking forever to play: with people who really know what they're doing, a good game of 1830 lasts at least four hours and usually goes into the five-hour mark. With people who don't quite know what they're doing, it can go six or more. 1830 is a cruel, unforgiving mistress: you have to know it to truly appreciate it, and it's always been a bit of a niche within the boardgaming community because most people aren't willing to take on a six-hour learning game to decide if they like something – not even nerds, generally.
(Experienced 1830 players can tell you that a big timesaver is replacing the paper money that comes with the game with poker chips. Really, this is a good idea for any game where players make a lot of money transactions, because chips handle so much faster than tiny paper bills. But in 1830, it is essential.)
Luckily, the new and gorgeous edition of 1830 published by Mayfair Games (which finally showed up a month or so ago after being promised for literally the better part of a decade) includes rules for a "starter game" which lasts about sixty to ninety minutes. The starter game teaches players the basics of 1830: how to lay and upgrade track, how to upgrade trains, how to manage a company. It's actually pretty interesting in its own right, but it's like true 1830 as a Coles Notes reader is to a novel.
This is because the genius of 1830 isn't laying and upgrading track: it is the buying and selling of stock. See, in the "true" version of 1830, you don't own a company: instead, you are a money-man who invests in numerous rail companies, and the bulk of the game's strategy lies not in laying down track but in buying and selling stock at the right time. Expand that company you just made extremely profitable and which you control the majority of stock, dividend out all of its stockpiled earnings to the shareholders (e.g. mostly you), then sell the shares? That's a basic stock strategy in 1830. But the game can get more complex than that quickly, because there's usually two or three times as many railways on the board as players, and with that many railroads come more options. Use that small railroad you own a majority share in but is never going to be profitable to block out that potentially profitable railway you don't have a stake in, watch as other players shed their stocks – then buy the shares on the cheap and rebuild the railway to profitability.
You see how this can get addictive, inasmuch as anything that takes four to six hours for a single play can get addictive.
What's more, 1830 is just the tip of the iceberg. There is an entire family of "18XX" games out there, published by numerous different companies (many of them print-and-play games or self-published). I myself own three: 1830, 1856 (set in Ontario) and 2038 (set in the asteroid belt of our solar system and applying the train mechanics to space-liners). But there are many more, and most offer their own tweaks on the basic formula established by 1830.
"But I'm not sure if I want to devote that much time to a game," you say. Well, fine.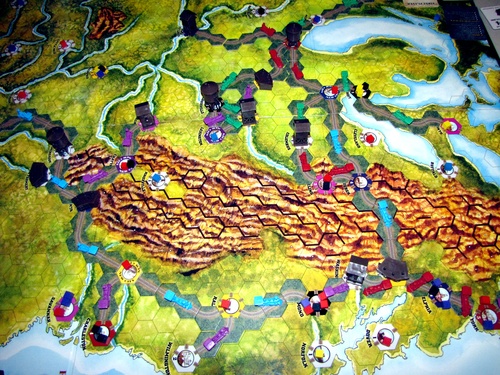 Esteemed game designer Martin Wallace has designed not one but three train games for those looking for a less intense experience than 1830: Age of Steam, Steam, and Railways of the World. (Railways of the World, pictured above, was formerly marketed as "Railroad Tycoon: The Boardgame" before the publisher lost that license and was subsequently rereleased.)
All three of these games have the same basic set of rules, which is one where money is streamlined and players are trying to accumulate victory points rather than simply having the most cash at the end (well, the VPs are sort of like money, but…). However, the core of what a train game should be remains intact. You're still trying to expand your line, competing for space, generating money (well, victory points, but whatever) by performing cargo deliveries, and upgrading your line capacity. And the neat trick that all of Wallace's train games have in common is that you're financing your train company with debt: you start the game with exactly zero dollars and you initially have to pay for things by issuing shares. Only later in the game – if you don't screw up and take on too much debt – will you actually start earning a profit based on your line's operating capacity.
Of the three, Age of Steam is the least forgiving (you can go bankrupt and be eliminated). Railways of the World and Steam are remarkably close to one another in gameplay: Steam is more complex but I actually like ROTW's pace as a game much more. (That having been said, ROTW has gigantic enormous boards that often do not fit on many tables.) All of the games have expansions. In Age of Steam's case, lots and lots of expansions. However, ROTW and Steam have both been expanded to create a different game out of their component rules (ROTW by Railways of England and Wales and Steam by Steam Barons) wherein instead of owning a single rail company, you…
…wait for it…
…are a rich mega-money-man who invests in rail companies. Yes, ROTW and Steam now both give you the option to convert them into a sort of faux-1830. It's not quite the same thing as 1830, to be sure – it's not as rewardingly deep – but it gives newer players a taste of that delicious 1830 experience without the full initial commitment. And that's something.