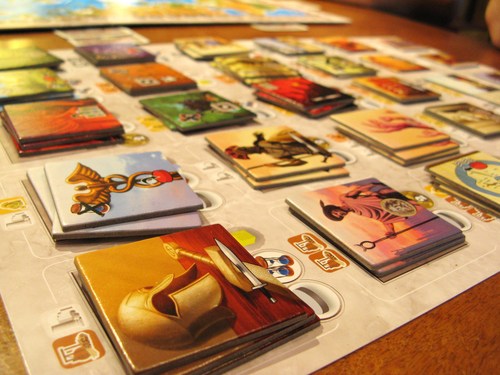 5.) Olympos. A ninety-minute civilization/conquest game is practically impossible to manage, but Olympos does so quite well. Its "time" turn-making mechanic (lifted from games like Thebes) gives the game a modular feel – clever players can figure out how to set up their plays so as to take multiple turns in a row and gain advantage that way, but then again sometimes going for a big single turn is the right play. The scarce resources force you to fight other players for tactical advantage (particularly when it comes to the Zeus heads which give you religious bonuses at the right time – and timing the gain of these bonuses is another aspect of the game that lends itself to strategic thinking). Olympos is simply a well-designed area control game with a lot of nifty tweaks to it, and a good fight-it-out area control game is always worth my time.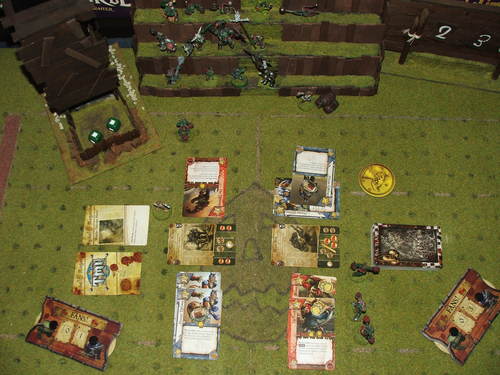 4.) Blood Bowl Team Manager. Oldschool nerds are all familiar with Blood Bowl – Games Workshop's last truly funny property since Warhammer 40K and even Warhammer Fantasy seem determined to suck all the joy out of their respective settings – but this is a different twist on the idea, abstracting the idea of football with elves and dwarves and orcs into a season at a time, and doing so quite successfully. Sometimes a good game is more about communication of its theme, and BBTM is an excellent example of this: it's a game that's about giving you the feel of playing a whole lot of Blood Bowl without actually having to play a whole lot of Blood Bowl. And it's funny, with some clever mechanics (the mandatory cheating is my favourite) and nice art.
3.) Airlines Europe. Last time we discussed board games, I was talking about 18XX games, which are about creation of rail networks and manipulation of the stock market. Airlines Europe is an entry-level stock game, and sort of the equivalent to 18XX in stock manipulation in the way that, say, Ticket To Ride is sort of the equivalent to 18XX in route building. (Both games were designed by Alan R. Moon, so this is doubtless no coincidence.) The result is a fun game that isn't too time-consuming and is very enjoyable for new players, but offers quite a bit of fun for experienced boardgamers as well. My only criticism of the game is that the route-building aspect of the game is too wide open for experienced players, but the recent Flight Ban expansion (which one should soon be able to get very cheaply online) seems to fix that quite nicely.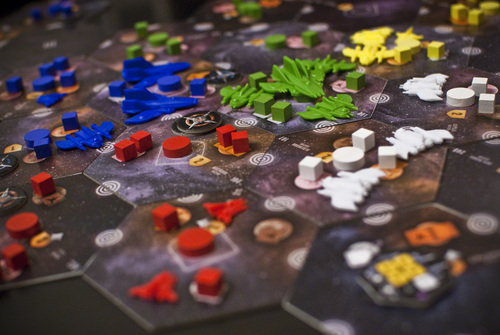 2.) Eclipse. A stupendous achievement and naturally short-printed in its initial run, so you'll have trouble getting a copy (and even then this one is 'spensive). But it is well worth the effort to pick up, as this game is simply superb. Boardgame versions of Master of Orion have been a holy grail of design in the hobby for years, and mostly they fall into "light fun, but not meaty enough" games like Terra Prime or Ascending Empires, or "I hope you like LOTS AND LOTS OF FLOWCHARTS" games like Throneworld. Eclipse straddles the boundary between these two neatly: it is a game that only takes half an hour per player, but remains a true 4X game (explore, expand, exploit, exterminate) and has so much customizability that a big part of the game is designing your own spaceships. It has a comprehensive tech tree research system, a brilliant economic engine, a solid combat system, rules for diplomacy, a half dozen variant alien races, and best of all the rules are simple enough that they will not overwhelm players who want to avoid the aforementioned flowcharts: the action-selection mechanic the game uses is inspired. Really, every single aspect of this game's design is inspired, and the production value is excellent. There is simply nothing that is bad about this game.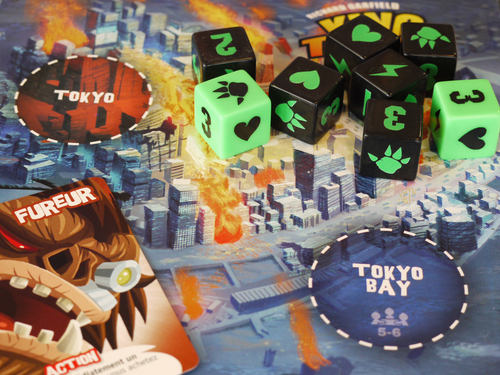 1.) King of Tokyo. This one was designed by Richard "Magic: The Gathering" Garfield, and Garfield is a designer who has only gotten better over the years. The game is best described as "Yahtzee, except you are a giant monster." Of course it's more than that, as roll-and-keep dice games have gotten more sophisticated over the years, with Roll Through The Ages being the most complex of the genre and one of the most popular. But where Roll Through The Ages offers players a complex set of upgrade options, King of Tokyo offers wilder and more chaotic gameplay – but also more tactical than RTTA, since that game is more of a point-scoring race with some minor options for interaction while KoT is all about beating the other players up, as a giant monster game should be. Every turn is filled with important decisions: do you chase points or try to beat up other monsters? Heal yourself, or save up to buy upgrade cards to make yourself a more efficient giant killing machine? (Or, if you like, a Friend to Children Everywhere, as the game will offer you that option.) It plays fast and furious, is tons of fun, only takes about twenty to thirty minutes, and also this is a game where you are giant monsters beating each other up. Nothing else comes even close to being the best game of 2011 for me.
Other games in 2011 that were good: A Few Acres of Snow, Pastiche, City Tycoon, Ankh-Morpork, Skull and Roses.
Other games in 2011 that were not so good: The Star Trek TNG Deckbuilding Game, Quarriors, Dungeons and Dragons: Wrath of Ashardalon, Urban Sprawl, Cargo Noir.
Most welcome reprint in 2011: Montage.