A lot of board games come out every year. Some of them are really great. Many of them are okay rehashes of what has come before. Some are crappy. And some are just sort of there. This post is dedicated to the last category.
Tobago came out a couple of years ago and was immediately very popular; it's a weird puzzle game where players gradually winnow down the number of possible sites where treasure can exist on an island, and then race to get the treasures. It has an interesting set of mechanics and is reasonably interactive (which is key for me, because I hate multiplayer-solitaire games like Agricola – seriously, I could write a thousand words easily on how much I fucking hate Agricola, but that is for another day). But when it is suggested, my response is always "eh." Tobago doesn't really feel very competitive to me – in a three- or four-player game, it's far too easy for a player to scavenge wins based on little more than turn order and a bit of luck. It's just sort of there. The pieces are cute and I suppose it's a good gateway game to get people to heavier stuff, but there are plenty of good games to get people to heavier stuff that are better than Tobago – not least because Tobago isn't really like anything else. That should be a plus in its favour, but it isn't, because it feels so inessential to me. I mean, when I teach Stone Age – another light game I don't particularly like – I can at least try to push people to try Caylus eventually, or one of the other half-dozen really good worker placement games out there. But Tobago doesn't really link to anything.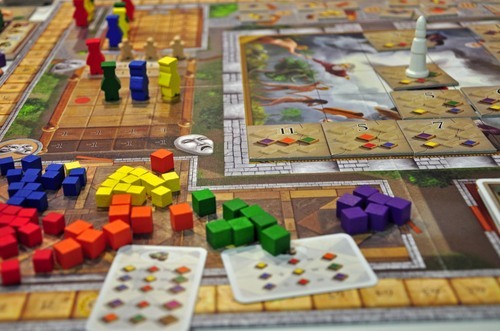 Fresco is a worker-placement game that can at least lead to better experiences, but I dislike it. It has one clever mechanic – "waking up" your workers earlier means you get initiative for the best slot placements, but it makes your workers less happy which in turn means you gradually get less actions. That's a clever initiative system and I wish it had been better implemented in this game, where I rarely see worker happiness matter overly – and that's really my beef with Fresco, which is so very straightforward a game. You get cubes, you turn them into other (more important) cubes, and then you trade in the cubes for points. Too many modern Euro-style boardgames are about trading cubes for other cubes. (In this game, the cubes are supposed to be paint. But really. They're cubes.) Fresco fails for me, because in attempting to be accessible it fails to really be a game. It's just a pretty straightforward expanding economy game – get A to get B to get C.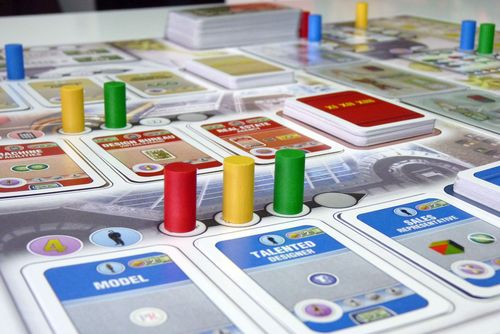 But what's worst are the ones I really, really want to be good. I was waiting eagerly to play Pret-a-Porter because the theme is so awesome – you're competing fashion design moguls! Come on, that is a great theme for a boardgame. If I play one more game where I am a merchant in historical Europe I may shoot myself. (Or, more practically, I might shoot other people. I mean, come on. There is only one of me, and so many other people. This is logical, see.) But Pret-a-Porter did not live up to my hopes. It's a worker-placement game with an economic theme – you're buying buildings and hiring employees to get more clothing designs and materials so you can present the biggest and best collections at fashion shows.
In practice, the game is a very complex set of steps – buy business resources (A) to assist you in getting designs (B) and raw materials (C) so you can complete sets of clothing (D) which generate you money (E) and victory points (F), the latter being determined by special categories of attributes which you can also earn from the buildings and employees as well as other areas on the board (G) but the victory points also earn you money (back to E) and you need the money to buy the resources and materials in the first place (back to A and C). Furthermore, the game has not one but TWO different ways to borrow money – the "on purpose" way which is reasonably easy and straightforward for a player to play back, and the "emergency loanshark" way which is not. The employees and buildings all do appropriate things (for example, the PR person gives you additional VPs when you come in third or fourth in a category). Really, this game has a ton of clever ideas.
But they don't work. Because the employees and buildings – which are really the core of the game, as you need them to build your efficiency engine – show up randomly every turn and initiative shifts on a preset order, there is no real way to sacrifice to guarantee to get what you want or need. Which means that the essential parts of the game are essentially doled out to players at random, which would be fine in a lighter game, but this is a game with at least four levels of mental accounting. Which means that you're brainburning on a game which doesn't reward you for it. I have no problems with four levels of mental accounting if the game respects the work I'm doing to make it work, but Pret-a-Porter just doesn't. And that sucks, because I really wanted this to work.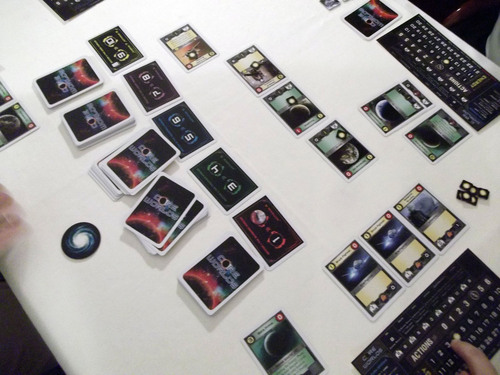 See also: Core Worlds. I'm kind of burned out on Dominion lately, and I'd really like to see a great deckbuilding game take Dominion's ideas and run with them. None of the wannabes have done so – most have not even come close. Core Worlds was advertised as Dominion with space-empire building, which seemed like a slam dunk. I love Eclipse, but want a quick-and-dirty space game. Something that does what Race For The Galaxy does, except in a deckbuilding context. Core Worlds seemed like that thing! Except, of course, it wasn't.
See, Core Worlds is another game where turn order is determined by the first player changing every round (the person on your left is first player next round). And you draw replacement cards into the pool randomly from the deck. These cards are either troops and ships, who can earn you the two types of "currencies" in the game (ground-fighting and space-fighting, basically) which let you conquer planets. Simple – except that since the planets are also dealt out randomly, it is quite possible to, for example, have a situation where all of the planets need starfighters, and you never get a starfighter because on your turn to go first there are no starfighters and on other people's turns they buy the starfighters before you get a chance, so you basically sit there having lost the game in the first couple of turns and that is that. Core Worlds is an example of terrible game design, because when a game can assfuck you on a totally arbitrary basis from the very start of the game, that is a bad idea. Many deckbuilders have also made this same mistake, but their mistake has been to incorporate more complex ideas than the deckbuilding mechanic can handle. Core Worlds is relatively simple and still fucked it up.