This is a picture my mate Jason Hinchcliffe took of me recently at the quarterly Toronto boardgaming convention playing Virgin Queen: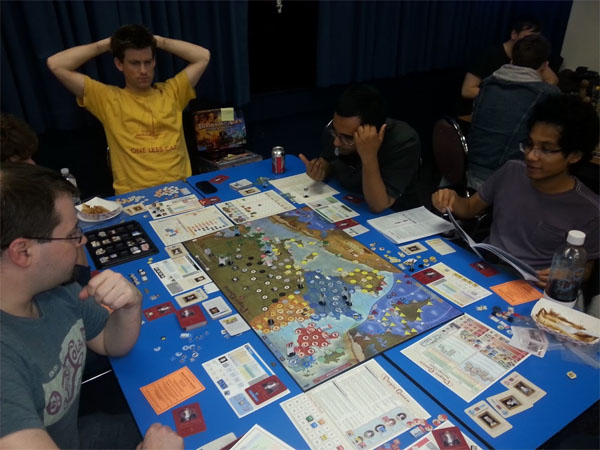 (That's me over on the left – managing to stay around "not too fat" but unfortunately it is going on top. Stupid aging.)
This was my fifth play of the game (four in person and one via the VASSAL engine). Virgin Queen is a very, very long game. When I say "very, very long," I mean a full play of it, with experienced players, takes anywhere from six to ten hours. Virgin Queen is deeply asymmetric – each of the six powers (Spain, England, France, the Ottomans, the Holy Roman Empire and the Protestants) has their own strengths and weaknesses, special rules and unique victory conditions. It is a stellar example of wide-open game design because there are simply so many things you can do: go to war, of course, but there is also ways to earn points through religious conversions, piracy, exploration, arranging state marriages, patronizing the arts and sciences, spying and assassinations, and so much more.1 Every power is carefully balanced against the others: the Turks spend most games dividing their time between naval battles with Spain and land battles with the Holy Romans, while the English explore, set up colonies, and generally want the Protestants to do well (but not too well), and France just wants to earn a lot of points in a hurry before it gets the crap kicked out of it by everybody else.
Virgin Queen is epic in a way most games can't be – not just because of its length but because the game wisely uses that length to become immersive. I was brought into "serious" boardgames when I was young, which means the late Eighties and early Nineties, and I played Avalon Hill and Games Workshop boardgames that had heft – games like Britannia, Fury of Dracula, Diplomacy, Republic of Rome and of course the granddaddy of all super-gaming, Civilization (i.e. the one Sid Meier drew inspiration from for his mega-enormous computer game series, and which eventually spawned a decent boardgame spinoff of its own after several false starts). These were "you aren't going anywhere soon, are you" types of games, but by their very nature they made you want to stick it out – simply because the longer you play a game, the more you care about it. Not necessarily winning, but seeing it through to the end. It becomes a simulation-esque experience – you inhabit your power or country or character as if you were in the middle of an epic RPG session, because assessing your risks and strengths isn't just about board-reading in a game such as this – it is about knowing the table, reading your fellow players. And it might be hard to set up a session, but it's always worth it in the end.
Virgin Queen is also somewhat special in that it is not only a long game but a long card-driven game. Card-driven games are traditionally a subset of wargame (although VQ is not a wargame, really, even though it is published by GMT, probably the foremost wargame publisher still going strong); the idea is that you have a hand of cards, and those cards are both events and also action points, and generally – depending on the game – you play a card each turn for either action points or the event or sometimes both at once. Twilight Struggle, the current #1-ranked game on Boardgamegeek, is a card-driven game, and although it is classified as a wargame it really bears a lot more similarity to many area-control Euros because instead of using the cards to move around your armies, you're instead using them to gain influence around the world as either the USA or USSR.2 But I don't think that's why Twilight Struggle is the voted-best game on BGG; I think it has that honor because card-driven games are also, in and of themselves, immersive. Whenever you play a card, you are effectively re-writing history in your side's favour – either using the event so that it helps you as much as possible (or hurts you as little as possible – a core element of many CDGs is that sometimes you have no choice but to play a "bad" event), or refusing to play it and instead get points. "No, there will be no invasion of Czechoslovakia today. I am going to use those points to firm up Soviet influence in India instead." (Personally I think 1989 is actually even better at doing what Twilight Struggle does than TS does it, but that's a bit of a minority opinion.)
The combination of card-driven mechanics with an epic game just makes Virgin Queen all the more enthralling; you just don't notice the time rolling by until somebody checks their watch and you realize you have been playing this game for four hours already and you're only just wrapping up turn two. That's the sign of a great game, to me.
(Also I was France and I totally won for the first time.)
England earns VP every turn that Elizabeth I remains unmarried. [↩]
And it is three hours long so it is also fairly epic in its own right. [↩]