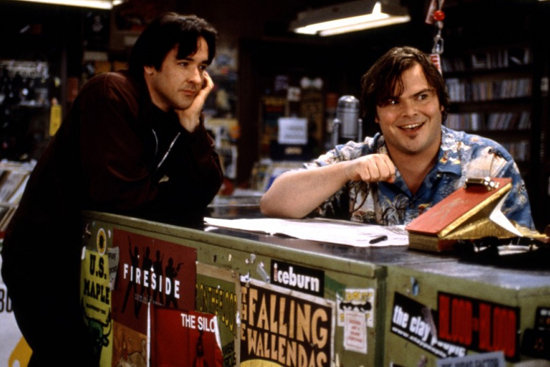 This image is from High Fidelity because top fives and also now it is a running theme for this week's posts.
Gravity. People complain that it loses a little oomph the second time through because the second time through all of Alfonso Cuaron's brilliant direction isn't a novelty any more, but whatever, it's still brilliant. And I take issue with people who complain about Sandra Bullock in this movie; she's the anchor of the film because her fear and panic are normal, human reactions to the insanity that is going on, and Sandra Bullock does "normal person overcoming fear" better than just about anybody else. She grounds the film and gives it the weight it needs; the most amazing shot in the movie is not any of the staggering Things Happening In Space shots, but the triumphant final shot of Bullock that closes it. So to sum up, Sandra Bullock is pretty good in this. So is George Clooney. (The dialogue is average at best, but so what.)
12 Years A Slave. It's not an entertaining movie by any means – this is really a movie you have to endure rather than enjoy – but it's simply a masterwork on so many levels (the acting, the direction, the dialogue, the cinematography – there is not one aspect of this movie that is not auteur-level work) that the endurance is worth undertaking. When the biggest complaint people have is that Brad Pitt's character seems like a deus ex machina when those events are actually what exactly happened in Northrup's actual life, then you know you have a fine movie on your hands – it deserves to win Best Picture in a walk, and even if it doesn't we all know what the actual best picture of 2013 is.
Frozen. Tangled was the first sign that modern audiences actually still did want to see Disney Fairytale Musicals ™, the relative failure of The Princess and the Frog notwithstanding. (Did Frog make only a middling amount of money because of a black cast or because it was hand-drawn rather than CGI? Either way, it was a good movie, so this is further proof of my never-wrong theory that Audiences Are Often Stupid And Wrong.) But where Tangled is an solid B+ entry into the Disney musical canon, Frozen is an A; better songs (the weakest song in the movie, "Love Is An Open Door," is silly and light until you realize, later on, it's the villain song, not the love song), better characters, excellent and very active subversion of standard Disney "princess movie" tropes, numerous animation sequences that are absolutely breathtaking and all of the gags hit. Just staggeringly good and entirely deserving of the immense mountain of money it's making.
American Hustle. There is so much about this movie that shouldn't work: Christian Bale's horrible combover and Noo Yawk accent would in any lesser movie scream out "I'M ACTING!" but in Hustle it fits because it's a movie about liars. Multiple voiceover narrators should never work ever but in Hustle it makes sense because it's a movie about liars. Gaudy filters to make the movie look "70s" should be mockworthy but in Hustle it works because it's a movie about liars. Hustle's commitment to its own con mirrors its protagonists' commitment to their cons and their desperate belief that their cons are morally acceptable; the entire movie is a justification. And it's brilliant. Also it's a really funny movie ("you don't put metal in the science oven!").
The World's End. A lot of digital ink has been spilled recounting how meticulously Edgar Wright put this together; much more has been spilled trying to tie together the "Cornetto trilogy" as if that were a thing for real instead of Wright, Simon Pegg and Nick Frost just bullshitting their audience endlessly that three basically unrelated films made by the same guys are in fact a thematic sequence of some kind. (SPOILER: they aren't really.) But The World's End is smart, and affecting, and definitely a movie made by guys in their early forties because as you approach that age the whole "what happened? Wasn't I young?" thing gets more and more prominent and you start to understand why assholes buy sports cars even if you'd never buy one yourself. In this movie, the promise of being an immortal robot is the sports car, and so is the idea of a drinking marathon, and although those two things are in conflict they're also not, and that's the genius of it. And they behead a lot of robots and that's good too.
Next five: Kon-Tiki, The Wolf of Wall Street, Before Midnight, The Croods, +1