Well, sort of. This is just a canvassing-interest post.
One of the things we've been considering as a bonus for the collected edition of Al'Rashad – and the collected edition only – is the use of greywashing to make pages more dynamic. It's not too complex but it can really make pages pop sometimes. As a comparison example, here is Book Four, Page Eighteen, both the original and a rough greywash applied: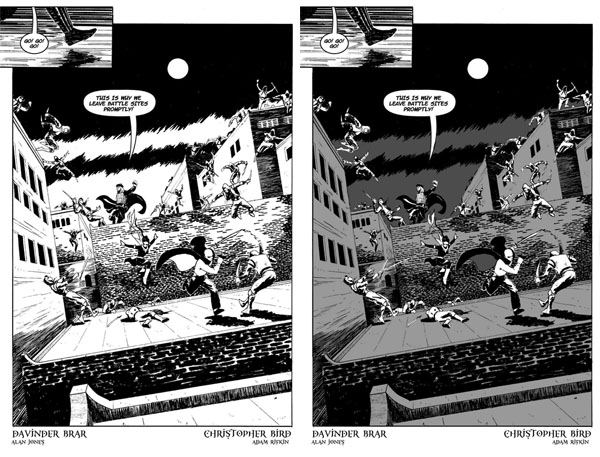 Click on thumb for larger version
Greywashes like this can work as a semi-replacement for colouring in black-and-white comics (and truthfully, unless someone throws a truckload of money at us, colour is probably prohibitively expensive at this point given the number of pages that would have to be reworked). The effect can be quite useful on pages like this one to make individual figures "pop."
So, comic readers: is this a value-add for you, or are you thinking "man, this is like Lucas and the Special Editions all over again?" Feedback appreciated.
UPDATE: So right now it appears that the majority of comments so far favour the greywash, but people who hate it really hate it. A few notes here:
1. Like I said: this was an extremely rough greywash, using two tones (a 60 percent grey and a 30 percent). I did it in about 45 minutes in Photoshop and I'm still not sure about the values – I really like that 60 percent to flesh out the night sky on this page, for example, but would want to test lighter greys for the buildings. If we end up using greywash in the collection, we'll be putting a lot of thought into individual pages and consider using three tones or even one tone rather than two on a page by page basis (you have to be careful with three tones, though, since three distinct greys can muddy the page; the third tone has to be used very sparingly). More to the point, there will be plenty of pages (the tunnel sequences in Book Four, for example) where the greywash simply isn't necessary or desirable.
2. There's no question that greywashing changes the reading experience of the book; it simulates, to an extent, the effect that color has on the reading experience, and what color does to a reading experience is create greater emphasis on the individual elements of the scene. (It should be noted that Davinder's inking style means that the other major method of creating greys in black-and-white art – stippling and linework – isn't really available to us as an option.)
3. If we ultimately decide to go with the greywash, we'll find a way to collect the original edition as well – most likely bundling a digital version of it along with the digital version of the greywash, maybe include a coupon for the digital with the physical collection, etc.
Anyway. Right now we're leaning towards it, but I'll do some tighter greywashing on a few more pages next week so we can get a second round of opinions.