I just recently managed to codify my theory about how pro wrestling is unique as an art form – not just Max Landis' thingy about why pro wrestling is special, which is notable largely because it is one of the few times where Max Landis is not entirely insufferable, and because it (correctly) connects pro wrestling to performance art. But performance art still exists; pro wrestling is just a commercially successful version of it, and that is not unique.
What is unique about pro wrestling is this: it is the only creative endeavor where the audience affects the work in real time. A long time ago some smart aleck described pro wrestling as "a LARP where the wrestlers are playing athletes and the audience is playing the audience, and everybody's in on it." And that's exactly true. Now, of course, pro wrestling is still a scripted affair and on a case-by-case basis the audience doesn't usually change the outcome of a story as it happens – although this is something that can happen in retrospect, with the most obvious example being Batista being obviously scripted to be a triumphant returning hero at this year's Royal Rumble and the crowd instantly turning on him because they had believed they were finally getting the Daniel Bryan push they had demanded – which eventually led to the "Boo-tista" movement, Batista turning into an arrogant heel (because it was the only way to get a crowd reaction they could use) and WWE eventually writing Bryan into the World title match as the fans demanded. But it's more than just simply cheering for the guys you like and booing the guys you hate; the crowd is an integral part of wrestling now.
Consider, if you will, the Bray Wyatt entrance.
Bray Wyatt is a great character with a great hook, but booing him as a baddy doesn't exactly work because he's supposed to be creepy and scary; booing him would, in a way, reduce him, make him something less than the figure of awe he was supposed to be. This tied into his entrance: a slow, creepy walk in darkness, lit by his lantern, with Mark Crozer and the Rels playing in the background. The crowds at first tried to figure out how to properly express their appreciation for this character, because you couldn't just boo him. An early attempt was slow, measured claps in time with the music, which worked reasonably well but still somehow lacked gravitas. At WrestleMania the company tried to amp up that atmosphere by having Crozer and the Rels perform live, which was certainly a glorious one-off but obviously not replicable on a regular basis.
At some point, though, fans gradually figured out that when their cellphones were on in the darkness during Bray Wyatt's entrance, they kind of looked like fireflies, and fireflies are nothing if not thematically appropriate for a southern cult leader's entrance, so they ran with it. And it worked absolutely perfectly – and WWE responded very smartly by rapidly moving to sell very cheap little Bray Wyatt lanterns at their events, so fans would have something to sway with, and so WWE could make a little side money off this phenomenon, and perhaps have light sources which might look a tad more ghostly and spooky on television.
Which led to what we now have every time Bray Wyatt comes out: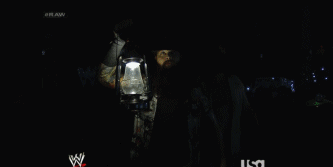 This is the thing: no other art form does this. None of them come even close. This is not to say that, say, makers of movies and television and books and comics and every other art form with a narrative bent do not interact with fans, or consider their desires, or even change course if they think they have made a mistake due to fan response. But no other art form engages with its audience at this rate or changes their story and presentation based on fan input in mid-course – not even most other forms of performance art, frankly (a field that can be shockingly static in its presentation and conservative in its refusal to deviate from original intent).
That's why wrestling is unique, and only one of the reasons it is great.