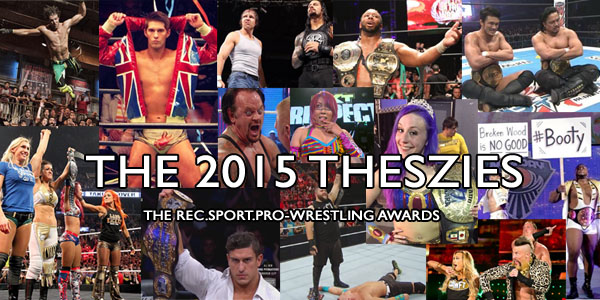 Welcome to the results of the 2015 Theszies / Rec.sport.pro-wrestling Awards.
Anyway. Here, we present the "best" Awards – those Awards which celebrate the greatest things in wrestling of 2013. If you would rather be a Negative Nancy and go read the "worst" Awards, they're over here.
This year we had 753 voters participating – less than last year, but that was largely because last year we had a large flood of voters from With Spandex and this year WS felt that they didn't want to campaign overly for the Awards so they limited their linkage to one post. Which meant less voters from them – but more voters coming in from other sites. As always, for next year we encourage all of you wrestling media people to nominate yourselves and your favorites, and try to get your fans out to vote for you. Fair is fair!
As always, thank yous to Justin Henry, Christopher Robin Zimmerman, Herb Kunze and all those who have previously run the Awards and contributed to their legacy; everybody who chipped in to promote the awards; all of you voters, of course; and finally and most importantly an extra-double-sized thanks to mgkdotcom's Tech Guy, James Young, without whose invaluable assistance these Awards would almost certainly have failed to be anywhere near as successful and user-friendly as they in fact were.
And without further ado…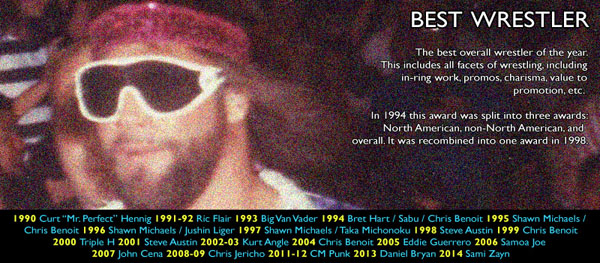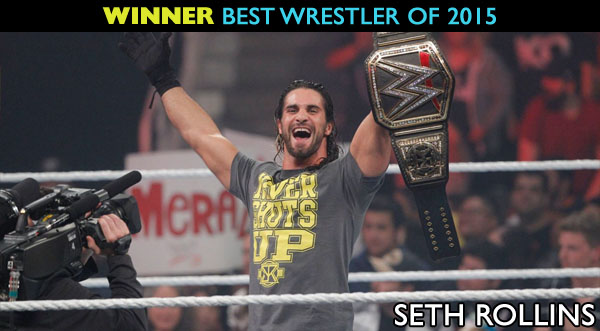 | NOMINEE | 1st | 2nd | 3rd | TOTAL |
| --- | --- | --- | --- | --- |
| SETH ROLLINS | 177 | 77 | 53 | 1222 |
| Sasha Banks | 112 | 97 | 57 | 965 |
| Kevin Owens | 78 | 81 | 84 | 801 |
| AJ Styles | 60 | 44 | 54 | 540 |
| Shinsuke Nakamura | 49 | 52 | 38 | 477 |
Full results here.
R. MANNING: I never thought I'd give him a vote in this category, but John Cena, since stepping away from the main event, has become consistently one of my favorite parts of WWE programming; his U.S. Title Open Challenge angle, for example, resulted in at least one damned good match on Raw every single week, and gave new stars instant credibility by having them take him to the limit. (The fact that the company then pissed that credibility away in just two weeks by terrible booking of just about every one of those new stars is beside the point…)
TAYLOR SAUER: In my honest opinion, Kevin Condron has been a standout performer for Chikara Pro. He has transformed himself in the past year while managing to stay incredibly charismatic and true to character. I believe 100% in what he is doing always, and he is one of the few wrestlers that can actually do that for me.
I.S. CHRISTIE: I think Kalisto's been paired with newest Sin Cara to give him a platform to show him off to the crowd, but by all means he's proven to be the better performer out the pair. He'll hold a singles belt within 12 months if WWE don't injure/ruin him. (Good prediction. — MGK)
SPNA: Shingo Takagi has had a banner year. His early run in the year was overshadowed by other things in Dragon Gate, but the booking leading up to his eventual heel turn was fantastic longterm storytelling while he was still killing it in matches. Once he turned heel and became Dream Gate champ in the last half of the year, nobody has come close to Takagi in terms of workrate, mic work, character work, and the booking of his reign has been a fantastic four month storyline of him crushing each Dragon Gate first-generation veteran at their own game. This in addition to MOTYC after MOTYC. Nobody comes close.
TENKEN: Kevin Owens added tremendous value to not one, but two separate television shows in 2015, easily dominating as one of, if not the, top heel in the industry. All that said, Bayley just killed him in terms of raw storytelling throughout 2015, culminating in the tremendous Sasha Banks feud and getting solid matches out both newbie Nia Jax and perennial worst wrestler Eva Marie.
J. STARR: As the stand out of the Four Horsewomen, Sasha Banks delivered three of the best matches of the year, AND gave us the heeliest move of the decade when she stole Izzy's headband.
MR. JOSH DUDE: Kota Ibushi. Should totally have been a nomination: he had incredible matches over the course of the year in New Japan and DDT. Won the KO-D title in DDT and the New Japan Cup and was in some high profile matches throughout the year. Is potentially the number 1 top prospect going forward in Japan and maybe the world.
PAPAGUY: Seth Rollins will be overlooked because of his injury, but who was having a better year before that? He was really carrying the company – as a heel – in a way that hasn't been done in some time.
CHRISTOPHER BIRD: My vote went to Kazuchika Okada, who has been New Japan's top draw this year and constantly outstanding in the ring, to the point of managing to create a truly classic match with Genichiro Tenryu, of all people. But my heart is with Sasha Banks, because she is The Boss and the single biggest reason that women's wrestling has become a viable enterprise for WWE again.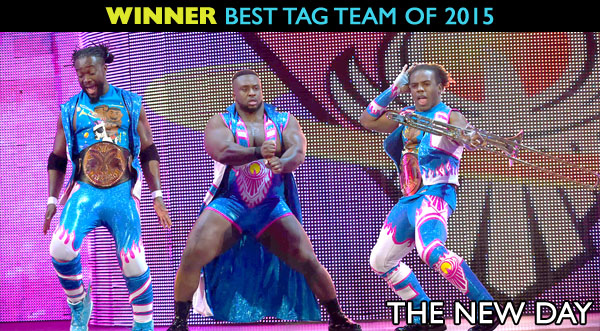 | NOMINEE | 1st | 2nd | 3rd | TOTAL |
| --- | --- | --- | --- | --- |
| NEW DAY: KOFI KINGSTON AND XAVIER WOODS AND BIG E | 390 | 118 | 65 | 2434 |
| Chad Gable and Jason Jordan | 88 | 118 | 112 | 1018 |
| Young Bucks: Nick and Matt Jackson | 88 | 93 | 48 | 815 |
| Cesaro and Tyson Kidd | 22 | 39 | 89 | 405 |
| Realest Guys In The Room: Enzo Amore and Colin Cassaday | 20 | 57 | 53 | 377 |
Full results here.
CAP'N ANDY: I've never actually seen Devastation Corporation wrestle. I just wanted to vote for a guy named FLEX RUMBLECRUNCH.
R. MANNING: I feel bad for leaving the Bullet Club out of this, but the NXT tag team division is *so* good right now that I had to give all three nods to it. Gable and Jordan are like the second coming of Team Angle/World's Greatest Tag Team, but *better* than Benjamin and Haas ever were, as frightening as that is; they are silky-smooth in the ring and have incredible chemistry–a team that is truly more than the sum of its parts (and the sum of its parts is pretty damned awesome, too). Meanwhile, Dawson and Wilder are exactly what the announcers describe them as–an old-school gritty heel team that grinds you down and loves every second of it. With them having added the slingshot suplex and the gourdbuster to their arsenal, they're now quite clearly Brain Busters 2K15. Enzo and Big Cass, while not as great in-ring as the others, again have really gelled well as a team, with loads of charisma and real skill on the mic, while still being entirely fine as wrestlers–plus, I don't think I've seen a tag team that's as over as they are since the New Age Outlaws were the hottest team in the business. Keep them together, and they'll be a license to print money on the main roster.
SPNA: YAMAdoi are the current twin gate champs and the most successful tag team in Dragon Gate history. In a promotion that makes tags and multimans a priority, the presence and match quality of YAMATO and Naruki Doi still manages to shine above everyone else. Can't think of another tag team that I would recommend every single match of theirs to an interested party.
LEWITT: I love everything about the Vaudevillians. I would marry them. Both of them.
RAPTORS G.: This is the Bucks' award every year until one of them spontaneously combusts, probably. But I've never seen a team be so good so fast like American Alpha.
PAPAGUY: As people have noted, The New Day have made more out of less than anyone in recent memory (excusing Mizdow). They are phenomenal at getting their characters over in and out of the ring.
CHRISTOPHER BIRD: Has anybody else pointed out that it's weird to call them "Dash and Dawson" since that's using Dash Wilder's first name and Scott Dawson's last name? Just me? Okay, never mind.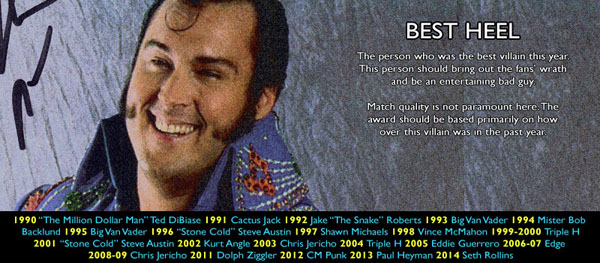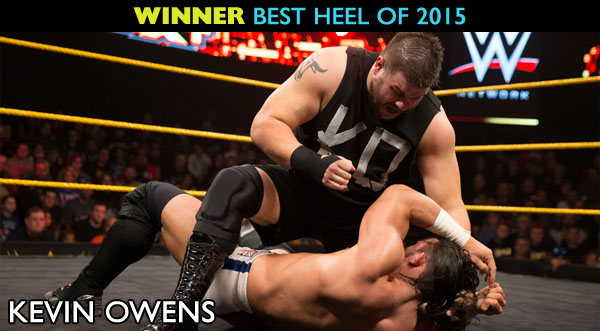 | NOMINEE | 1st | 2nd | 3rd | TOTAL |
| --- | --- | --- | --- | --- |
| KEVIN OWENS | 286 | 127 | 74 | 1959 |
| Seth Rollins | 109 | 101 | 56 | 960 |
| Sasha Banks | 61 | 80 | 60 | 665 |
| Dario Cueto | 57 | 25 | 33 | 426 |
| Pentagon Jr. | 28 | 43 | 24 | 317 |
Full results here.
AULAYAN: I can't believe I'm giving this one to Alexa Bliss, but she not only drew a huge reaction with her heel turn, she got one from me. She became the person on the screen I loved to hate (rather than just hated, or just loved) which is a great quality for a heel. I'm sure Kevin Owens is going to win this, but for me there's no hate there. Just love, so I can't put him #1.
R. MANNING: Lucha Underground takes the cake here; I could have easily put five or six names from there for any of the spots. Of course, despite awesome performances by Mil Muertes and Pentagon Jr., El Jefe has to be the top choice–there's nobody else in the business anywhere near as good at making you ENJOY wanting to punch them in the throat! Honorable mention has to go to Kevin Owens; if I could put in a "tie" vote for third, I would, just to get him in there.
CAP'N ANDY: Really the New Day as a unit deserve this, but if I've gotta pick one of them, it's Xavier Woods. Of all of them, he's the one you most want to see get beat up. And then he gets beat up, like, all the time, except he comes back next week whining about being beat up until you want him to get beat up AGAIN, and it's amazing. Also he plays video game themes on the trombone to distract opponents. That's important too.
CORONA: RUSH in CMLL is such a smarmy prick – but he's so damn good that you can't do anything about it.
DIAL N FOR NINJA: Such is the power of Lucha Underground that Owens could have the kind of year he did and still place behind the master of the "unique opportunity" and a crazy skeleton ninja who will light you on fire.
DUCK ALMIGHTY: Woods, Big E, and Kofi Kingston are, to my mind, in a 3-way tie for 2nd; the Hew Day collectively have been the most frustrating, irritating, maddening, and wildly entertaining heels on WWE main roster all year. Still, Woods gets the placement here because he's the truest "mouthpiece" of the stable – and of course for that trombone.
EVAN J. ROSS: How great of a heel is Kevin Owens? He managed to convince the super-smarky NXT crowd to give red-hot face heat to ALEX RILEY. Owens is the type of bastard you might know in real life.
EWING THEORY: Sasha Banks legit made a kid cry as part of a match. I can't think of anything more heelish.
J. STARR: I am a grown man and I am legitimately afraid of Pentagon Jr.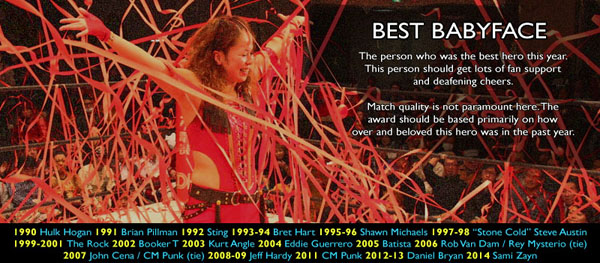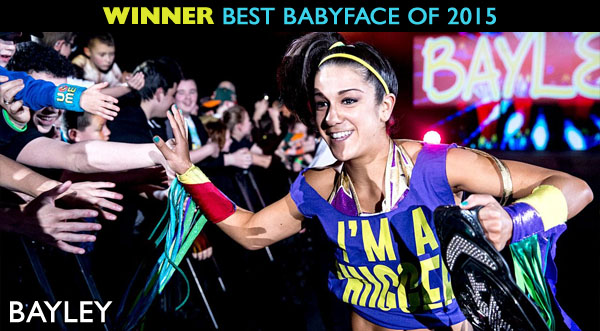 | NOMINEE | 1st | 2nd | 3rd | TOTAL |
| --- | --- | --- | --- | --- |
| BAYLEY | 427 | 75 | 63 | 2486 |
| Sami Zayn | 57 | 123 | 70 | 794 |
| Finn Balor | 45 | 71 | 48 | 534 |
| Dean Ambrose | 26 | 54 | 47 | 386 |
| Prince Puma | 20 | 45 | 35 | 305 |
Full results here.
ANDY AKEKO: Bayley's so over as a babyface that even the smarks adore her.
DIAL N FOR NINJA: My wife suggested the possibility of Bayley turning heel and I literally screamed "Nooooo!" so repulsive was the idea to me.
DUCK ALMIGHTY: Bayley is Bayley, so my #1 need not be explained further. A wrestling fan who doesn't like Bayley is not only a poor excuse for a wrestling fan, he or she should be regarded warily – keep a safe distance, as you would a growling dog.
TONYA HUDSON: Could not be anyone but Bayley this year. The unbridled joy I felt when she finally won the NXT Women's Championship had no equal in 2015. Was damn close to tears.
CHRISTOPHER BIRD: Bayley had over eight times as many first-place votes as the next highest vote-getter, which is a landslide of epic proportions. And yes, I voted her first-place too. I mean, come on.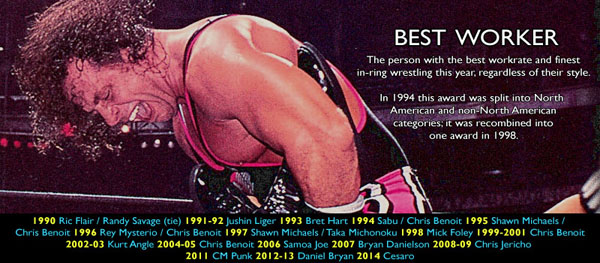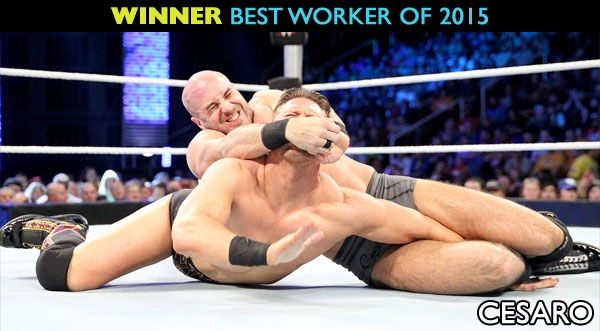 | NOMINEE | 1st | 2nd | 3rd | TOTAL |
| --- | --- | --- | --- | --- |
| CESARO | 168 | 81 | 82 | 1247 |
| Seth Rollins | 88 | 86 | 53 | 804 |
| Sasha Banks | 66 | 67 | 47 | 625 |
| AJ Styles | 73 | 47 | 52 | 610 |
| Kevin Owens | 53 | 47 | 52 | 510 |
Full results here.
EVIL WRAITH: It burns me to have to vote for Cena in this category but the man carried WWE on his back for almost the entire year with consistently good matches.
DUCK ALMIGHTY: Bayley carried Eva Marie to a passable match. C'mon. That's Herculean work right there.
PAPAGUY: Maybe it shows American bias, but it's hard for me to imagine what else AJ Styles could have done to have a peerless year.
AULAYAN: I think Cesaro'll repeat this year. His matches with Cena were fantastic and it feels like him, as well as Neville, have become the WWE's go to for "We want a good match outside of any feud."
R. MANNING: Another tough call. In the end, I went with the three workers who I thought looked the most believable at what they were doing this year. Thus, the "do-anything-for-a-title" viciousness of KO, the lightning-fast stiffness of Asuka, and the sheer Australopithecus brutality of Brock.
CHRISTOPHER BIRD: My vote went to Pentagon Jr. because he is the only person other than Brock Lesnar who genuinely looks, at all moments, like he is for-reals trying to murder his opponents. Maybe that's because he's dressed up like a ninja skeleton, that's entirely possible, but regardless: this is one luchador who raised the bar for vicious brawling this year.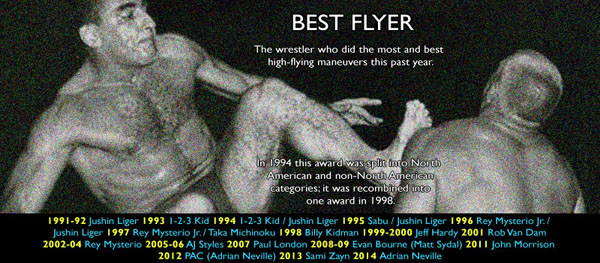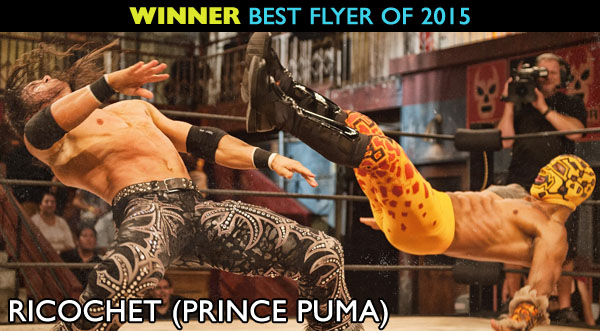 | NOMINEE | 1st | 2nd | 3rd | TOTAL |
| --- | --- | --- | --- | --- |
| RICOCHET (PRINCE PUMA) | 195 | 87 | 57 | 1350 |
| Neville | 148 | 106 | 74 | 1206 |
| Kalisto | 78 | 91 | 85 | 833 |
| Angelico | 72 | 53 | 38 | 595 |
| Fenix | 49 | 33 | 48 | 440 |
Full results here.
PAPAGUY: I want Ricochet to win this award every year until he decides not to. I struggled to get into Lucha Underground, but each appearance I saw him make as Ricochet was special. No one else can quite copy all the things he does, and his style is inexplicably clean for the risks he takes.
W. BROWN: Is there a "the entire Lucha Underground roster" option?
SPNA: Flamita isn't the most spectacular flyer I've ever seen – that title still probably goes to Ricochet – but he is by far the smoothest. He just, like, swims gracefully through the air, and it's a sight to behold.
R. MANNING: First place goes to Neville, who's probably the crispest, cleanest high-flier I've ever seen. I don't think I've ever seen him botch a highspot unless it was intentional. Second place goes to Angelico–not only does he fly with grace and ease, but if nothing else, the man deserves mention for doing *THAT* CROSSBODY~! and *THAT* DROPKICK~! and *THAT* *OTHER* CROSSBODY~! (you know the ones I mean!) and not dying in the process of any of them. Third goes to Apollo Crews, who reminds me of Mike Awesome in that he flies like a man of his size has NO business doing.
CAP'N ANDY: They don't really let him jump off of stuff when he's a bad guy because it's awesome and makes people cheer, but when he does it, there's still nobody better than Seth Rollins.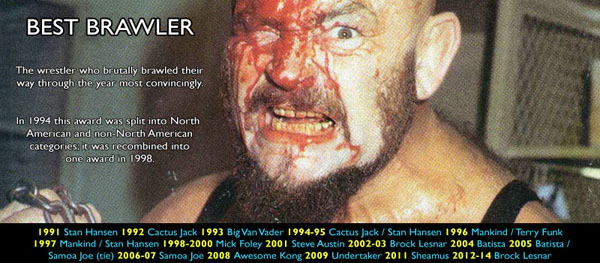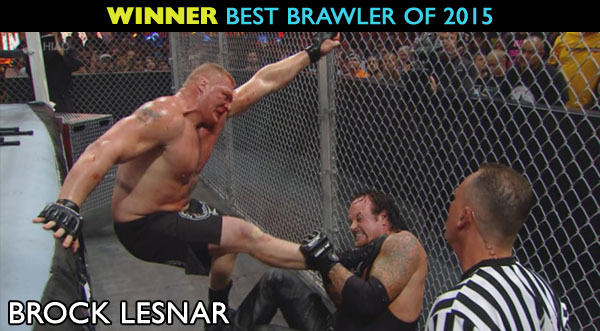 | NOMINEE | 1st | 2nd | 3rd | TOTAL |
| --- | --- | --- | --- | --- |
| BROCK LESNAR | 249 | 82 | 63 | 1617 |
| Kevin Owens | 143 | 129 | 77 | 1256 |
| Tomohori Ishii | 63 | 39 | 21 | 474 |
| Samoa Joe | 26 | 36 | 59 | 356 |
| Dean Ambrose | 30 | 35 | 50 | 355 |
Full results here.
R. MANNING: Well, until Brock officially retires, I think we can pretty much pencil him in for this one every year; there's nobody in the business better at having you look at him and just think, "NOPE! Nope, nope, nope, NOT gonna do ANYthing to piss HIM off!" Luke Harper remains the closest thing we have to Bruiser Brody today, but doesn't quite have the same level of intimidation factor as Brock. And Pentagon Jr. gets my nod for third because, after dismantling everyone who got in his way, he proceeded to beat the PISS out of Vampiro in a most horrific manner at Ultima Lucha, which is certainly something I can get behind.
DUCK ALMIGHTY: Lesnar, Ishii, and Owens: 3 guys who, when they appeared, made you yell, "NEVERMIND THAT SHIT! HERE COMES MONGO!" Honorable mention goes to Baron Corbin; if things keep progressing as they have for him, he'll likely make my ballot next year.
PAPAGUY: It seems uncharitable to call Nakamura a brawler, but his physical style is surpassed (in my mind) only by Ishii. Ishii seems to go to war in every match, and his offense and toughness genuinely make it hard to believe he could take damage or lose.
CHRISTOPHER BIRD: I expected Brock to win this again – and he did – but I was surprised that Kevin Owens, for most of the voting period, made it respectably close.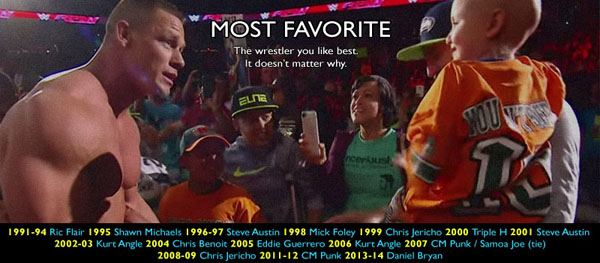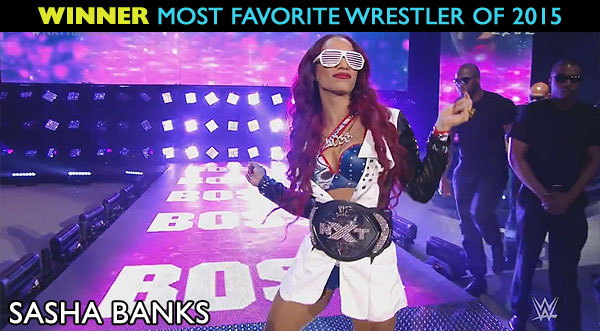 | NOMINEE | 1st | 2nd | 3rd | TOTAL |
| --- | --- | --- | --- | --- |
| SASHA BANKS | 91 | 62 | 42 | 725 |
| Bayley | 88 | 48 | 52 | 688 |
| Kevin Owens | 70 | 76 | 52 | 682 |
| Cesaro | 51 | 52 | 53 | 517 |
| Daniel Bryan | 53 | 21 | 30 | 388 |
Full results here.
AULAYAN: Giving this to Becky Lynch. I have all-but-stopped watching RAW, but I heard she had a good match on January 4th, so I went to Hulu and watched only that match. That's a sign someone is a favorite, when you will watch a program (or portion) just for them.
ERIC LINGENFELTE: Mil Muertes – the zombie wrestler who gets stronger every time he dies. What's not to love?
RAD KAZOOIE: Stardust. Nobody embraced their gimmick more. He was up for anything, and that made me feel like a kid again.
AMANDA ILYES: Jervis Cottonbelly is a ray of positivity in the really negative world of wrestling. The nicest person I have met through wrestling in and out of the ring; he connects with everyone and makes them feel special. If there's a heart of Chikara, it's Jervis.
NERD SOONER: You guys put Eva Marie on here as an option just to see if the trolls would push her up to #1, right? (We abide by the nomination process as strictly as possible. Someone nominated her, so…)
W. BROWN: OH MY GOD IT'S TYLER (how was he not nominated? Was there some glitch? Was he deemed ineligible for having too many seasonal residences?)
TAYLOR SAUER: Rarely have there been times when a wrestler has made me truly happy, and not only that, but completely suspend my disbelief – at least, for a little while. Jervis is one of those guys.
MBKERRDOG: Dario Cueto. I don't care if he isn't a worker, he's my bae. My slimy, backstabbing, bull-testicle sculpture stroking bae.
JASON MEYER: After all the back stabbing, hand smashing and crying kids… her grit and determination to set the bar for women's wrestling would make any fan want to cheer for Sasha.
SPNA: Akira Tozawa is the most charismatic man in wrestling full stop. While many guys feel like they're trying really hard to be cool and likable, Tozawa just feels like himself, and his connection with crowds is instantly noticeable. He also has amazing matches. And BxB Hulk will always be champion of my heart.
TONYA HUDSON: Drago has the coolest mask in all of wrestling, a super character and he's great to watch. The hidden gem of LU.
CHRISTOPHER BIRD: He was injured for most of this year so we all forgot how much we love Sami Zayn, and right now, we're only just getting to remember why we love him so much, and it's like Christmas all over again, it really is. Oh, and speaking of "right now," right now Grado is doing the "character gets banned from a promotion so he comes back under a mask and an obviously fake identity" bit in TNA, and it's so good.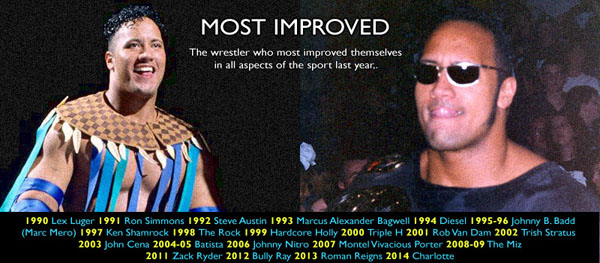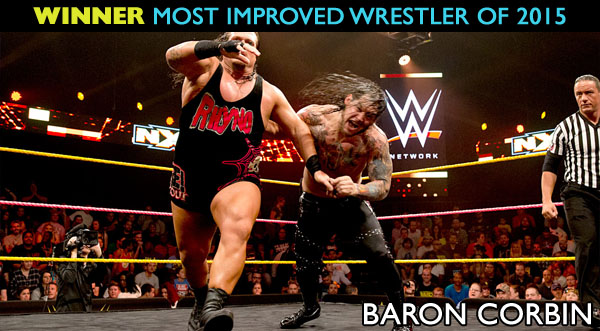 | NOMINEE | 1st | 2nd | 3rd | TOTAL |
| --- | --- | --- | --- | --- |
| BARON CORBIN | 74 | 56 | 63 | 664 |
| Xavier Woods | 44 | 47 | 48 | 457 |
| Bayley | 60 | 33 | 27 | 453 |
| Roman Reigns | 42 | 28 | 34 | 362 |
| Alexa Bliss | 30 | 39 | 45 | 357 |
Full results here.
CAP'N ANDY: Hey, remember last year, when New Day won Worst Gimmick? And how this year they're going to win Best Tag Team and Best Gimmick? Isn't that, y'know, literally the most improvement possible?
D. GLIDE: Write-in for Mil Muertes. The improvement that he's seen as Mil Muertes in Lucha Underground is remarkable, when compared to his work as El Mesias in AAA. More than just the gimmick making him seem cooler, the degree of effort he's putting into the matches has been a huge step up.
A BOY NAMED ART: Pentagon Jr. went into Lucha Underground a midcard stalwart and emerged as AAA's breakout star — a far cry from his dad's original gimmick of "evil Octagon."
KING STILYAGI: 2015's most improved wrestler's gotta be Grado, doesn't it? In his match at Fear & Loathing with Drew Galloway he proved to everyone that he's finally developed the in-ring skills to back up the rest of his package.
CHEN ARBEL: For years and years, Naito's lacked a certain edge to him. Unfavorably compared to Tanahashi on one hand and Ibushi on the other, he's finally found the missing ingredient in 2015. INGOBERNABLE!
DUCK ALMIGHTY: Corbin has gone from groaner twenty-second squashes and staring off into bright light being his only character trait to being a very good wrestler, brawler, and classic F-you heel. I'm looking forward to seeing him progress further in 2016.
DEFENEGREG: John Cena's character transformation from overgrown toddler to mid-card superworker is one of the best things that's happened in WWE this year.
RAPTORS G.: I savaged Xavier Woods as the worst wrestler in the world during last years awards. Now, I'm wearing socks with his logo on them. Life is weird.
CHRISTOPHER BIRD: Samoa Joe hasn't been Samoa Joe for the better part of half a dozen years or even more. In 2015, he finally became Samoa Joe again – that nearly-unbelievable mix of brutal brawler and super-agile flyer who blew our minds in 2005. It's so good to see that happen.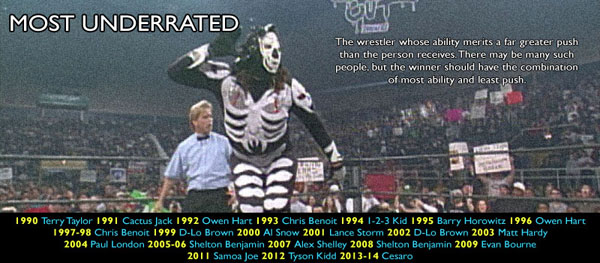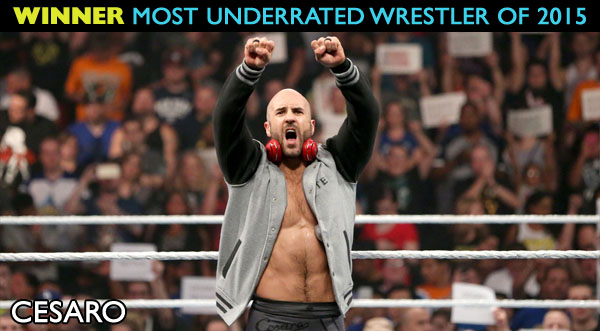 | NOMINEE | 1st | 2nd> | 3rd | TOTAL |
| --- | --- | --- | --- | --- |
| CESARO | 253 | 73 | 62 | 1608 |
| Luke Harper | 53 | 87 | 44 | 614 |
| Stardust (Cody Rhodes) | 59 | 63 | 43 | 570 |
| Damien Sandow | 35 | 41 | 40 | 378 |
| Becky Lynch | 33 | 41 | 37 | 362 |
Full results here.
D. GLIDE: Lucha Underground books Pentagon Jr. as a fairly big deal, but in AAA he's still treated as middle card or lower, and is often lost in multi-man clusterfucks when it comes to PPV. He's kept under older hands like Chessman and Electroshock, when he could be a much bigger deal than he is. He could be in position for a better push there, now, but unfortunately that seems mostly due to injuries and people dropping out of the company.
JASON MEYER: For future reference, we should call this award "the Cesaro."
TENKEN: Cesaro was so close to actually getting something going this year, but Emma is probably the single most underrated talent in all of professional sports.
DUCK ALMIGHTY: Rusev is an absolute beast, is athletic as all get-out, and has done some great character work this year. For some damn reason (speculations abound), he has gone from riding a tank into Wrestlemania to throwing a fish up the Raw entrance ramp this summer, and ended the year stuck in the DOA "League of Nations" stable. And speaking of the League of Nations… I was legitimately excited about the revival of King Of The Ring, and for Wade Barrett's victory. That excitment was wholly misplaced, as it turned out. Poor Barrett.
CAP'N ANDY: Does Cesaro have literally every belt at the same time yet? No? Well, that was an easy vote.
EVAN J. ROSS: I'm frankly amazed how poorly WWE has treated Neville compared to how well NXT treated him. He could be a perennial IC/US champ instead of the "occasionally-appearing curtain jerker" that he is.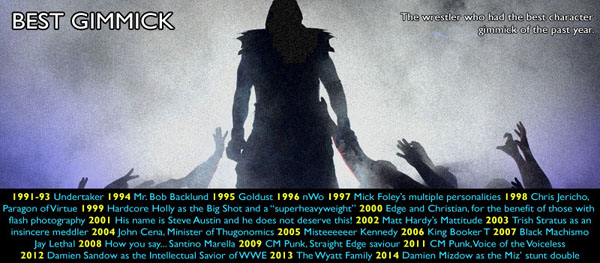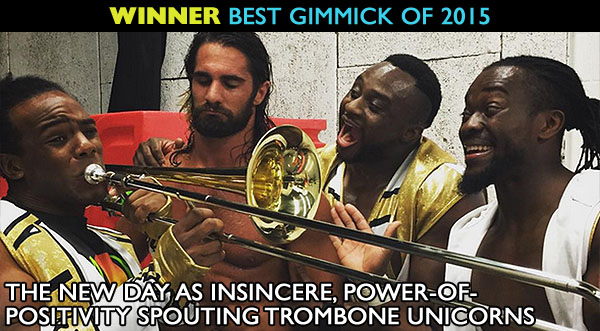 | NOMINEE | 1st | 2nd | 3rd | TOTAL |
| --- | --- | --- | --- | --- |
| NEW DAY AS INSINCERE POSITIVITY-PREACHING TROMBONE UNICORNS | 203 | 97 | 43 | 1392 |
| Kevin Owens as a horrible person | 53 | 73 | 53 | 590 |
| Bayley as inspirational underdog | 62 | 53 | 49 | 567 |
| Asuka as adorable and possibly crazy person who will kick you to death | 34 | 36 | 77 | 432 |
| Sasha Banks as The Boss | 33 | 53 | 34 | 392 |
Full results here.
AULAYAN: I was going to give this to Emma because her gimmick is fantastic, but no. Jervis Cottonbelly eats and breathes his gimmick. He was the reason I subscribed to Chikaratopia. His posts on Wreddit are fantastically written and always in character. Such a fantastic individual. Even if his mask is a little creepy.
SPNA: Kotoka was a nobody before turning heel. He's really found himself in his new gimmick. Since turning heel, he's become the world's biggest shitbag, cutting annoying promos and screaming BLEEEEEHHH into people's faces. When he first pulled out the bleh thing, he was greeted by a confused and awkward silence from the crowds, but now he's one of the most hated men in Dragon Gate, and its done wonders for his career.
TENKEN: Blue Pants' gimmick is that she doesn't have a real name or gimmick and people don't even know if she actually works in NXT, and everyone loves her.
CAP'N ANDY: I know I already mentioned this, but hey, remember when New Day won Worst Gimmick last year? It's almost like taking away the restrictive scripting and letting dudes be themselves works or something.
OFFICIAL CALEM: The Boss is the BEST. They need to let the egocentric heel who backs it up in the ring and rubs it in her opponent's face shine on the main roster. The way she taunts the other women's mannerisms when she has her victim reeling not to mention her Izzy reaction is part of what makes her the BOSS.
CHRISTOPHER BIRD: In 1995, Goldust acted a little-bit-sorta-gay with a side order of flamboyantly weird and he was instantly the biggest heel in the company. Twenty years later, Dalton Castle is doing almost the exact same goddamn gimmick, except he's the biggest face in the company. That has to make you feel good about wrestling and the world.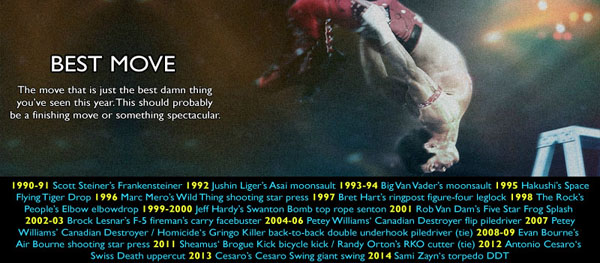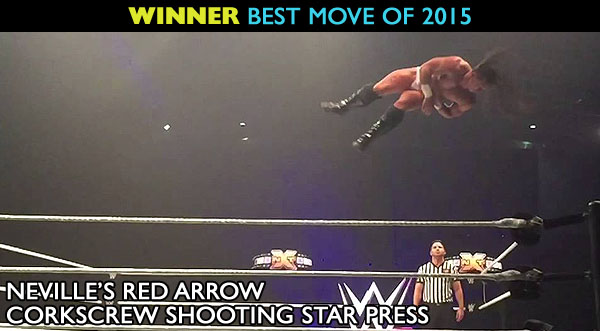 | NOMINEE | 1st | 2nd | 3rd | TOTAL |
| --- | --- | --- | --- | --- |
| NEVILLE'S RED ARROW CORKSCREW SHOOTING STAR PRESS | 88 | 59 | 44 | 705 |
| Angelico's flying crossbody off the balcony | 89 | 29 | 38 | 608 |
| Sasha Banks' Bank Statement backstabber-into-crossface | 37 | 52 | 38 | 417 |
| Chad Gable and Jason Jordan's Grand Amplitude popup into bridging belly-to-back suplex | 45 | 35 | 42 | 414 |
| Cesaro's flying springboard uppercut | 44 | 27 | 51 | 403 |
Full results here.
W. BROWN: It's a little unfair to even have Angelico's dive on this list. That's not a thing that seems like it's even a human possibility. I have watched that GIF upwards of a hundred times.
DUCK ALMIGHTY: The Red Arrow is downright majestic, and you can see it in the faces of kids when Neville hits it. However, it's also proof that Gravity never actually forgets Neville. Were it ever to do so, Neville would be stuck corkscrewing, helpless, into the rafters.
CHRISTOPHER BIRD: The Shatter Machine more or less got the Mechanics-now-they're-the-Revival over all on the basis of it being an awesome tag team finisher which perfectly fit their "roughhousers but still wrestlers" characters. It looks brutal and impressive and emphasizes tag wrestling. It's great.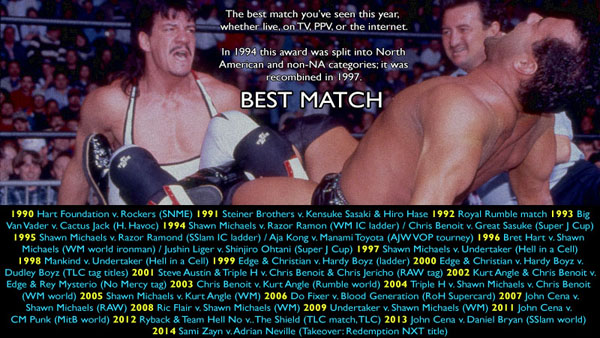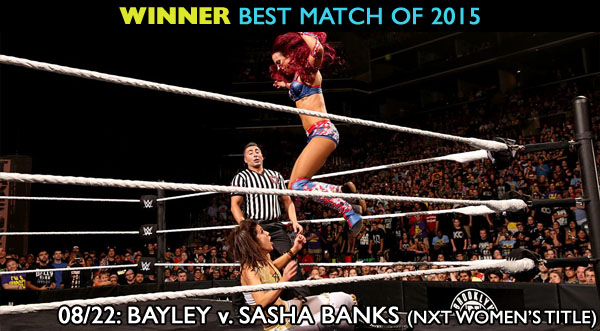 | NOMINEE | 1st | 2nd | 3rd | TOTAL |
| --- | --- | --- | --- | --- |
| 08/22: BAYLEY V. SASHA BANKS (NXT WOMEN'S) | 286 | 122 | 35 | 1866 |
| 01/25: John Cena v. Brock Lesnar v. Seth Rollins (WWE title) | 69 | 86 | 101 | 805 |
| 10/07: Bayley v. Sasha Banks (ironman NXT women's title) | 52 | 68 | 35 | 534 |
| 01/04: Shinsuke Nakamura v. Kota Ibushi (IWGP IC title) | 56 | 44 | 45 | 502 |
| 01/25: Fenix v. Mil Muertes (Grave Consequences match) | 45 | 50 | 41 | 457 |
Full results here.
R. MANNING: There were a HUGE number of excellent candidates this year. Mil Muertes and Fenix managed to prove that casket matches DON'T have to suck, while Bayley and Sasha Banks proved that, when handled properly, women's wrestling CAN be as good as anything the guys put out. However, from a simple standpoint of what the single best match I saw all year was, I still have to go with one that happened just four days into the year, when Nakamura and Ibushi stole the show at Wrestle Kingdom 9.
A BOY NAMED ART: Nakamura made Ibushi in a classic not unlike the first Flair/Sting encounter. But Bayley and Banks both turned themselves into even bigger stars in their Brooklyn classic, and paid off a story years in the making in the process.
TAYLOR SAUER: I've watched KimberLee/Jervis versus Taylor/Cassidy repeatedly on YouTube, and for good reason. It is a fun match in typical Chikara style, full of hilarious shenanigans (Orange kissing Chuck's hand? Priceless. Bryce Remsburg chopping them both? I marked out a little. Orange juice to the eyes even though Jervis wears a mask? I don't think I need to say anymore) – but it is also an excellent wrestling match at its core, with several exciting spots and move combinations.
SPNA: Shingo Takagi vs Masaaki Mochizuki was not only the best match I saw all year but rather one of the best matches I've ever seen, full-stop. The two men beat the hell out of each other, with Mochizuki putting on the performance of a lifetime as the outclassed veteran standing up against the newly dominant top heel, and just refusing to stay down. A perfectly worked match with perfect psychology, and even though it wasn't one, it had all the emotion of a retirement match. This is wrestling at its highest as an art form, perfectly telling the stories that only wrestling can.
TODD KOGUTT: Sasha/Bayley 1 tends to get the nod for the feels, but I think Sasha/Becky was THE match after all the many many years I've watched wrestling that I really understood the idea of ring psychology.
LEWITT: You can vote for things beside the NXT Women's Title iron man match, but you are wrong.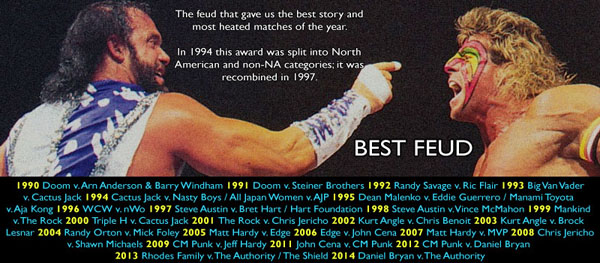 | NOMINEE | 1st | 2nd | 3rd | TOTAL |
| --- | --- | --- | --- | --- |
| BAYLEY v. SASHA BANKS | 320 | 102 | 77 | 2060 |
| Kevin Owens v. Sami Zayn | 108 | 154 | 81 | 1164 |
| John Cena v. Kevin Owens | 54 | 98 | 72 | 708 |
| Fenix v. Mil Muertes | 41 | 43 | 37 | 408 |
| Undertaker v. Brock Lesnar | 42 | 33 | 41 | 391 |
Full results here.
R. MANNING: Too damn many to pick, again. Between NXT showing just why old-school NWA booking worked and LU hitting it out of the park every week, how can you choose just three?
SPNA: Jimmyz vs. Mad Blankey/Verserk. A feud that ran throughout the year, starting in spring with the Jimmyz trying to end the Zombie Veterans of Mad Blankey before ending in the late fall with the Jimmyz becoming the Summoz in order to fight the unit Verserk that had taken Mad Blankey's place. Included in this feud is the always great six-way cage match at Dead or Alive, my #4 match of the year (the Jimmyz vs. Mad Blankey unit disbands match), and several of the best tag matches of the year between YAMAdoi and Susumu/K-Ness.
MR. JOSH DUDE: Bullet Club vs Kazuchika Okada. Okada having to fight his way through Bad Luck Fale whilst going through his slump to get to a rematch against AJ was great. His two matches with AJ were phenomenal too – particularly the one at Dominion.
LEWITT: I tried a bunch of time to concisely explain why I liked Sami Zayn v. Kevin Owens so much, but what it really boils down to is the mad homoerotic undertones. I can't help it, I'm a simple woman with simple tastes.
BEACHTOWN: Write in for "WWE vs. Its Fans." I know the awards try to stay away from abstract nominations like that, but it's the one feud that truly defined pro wrestling in 2015.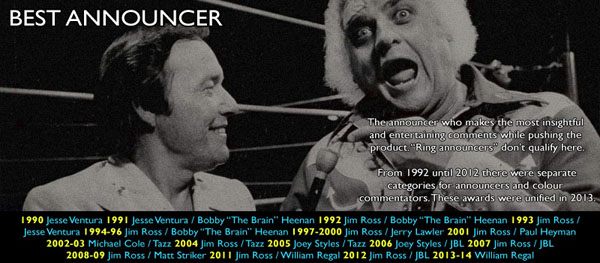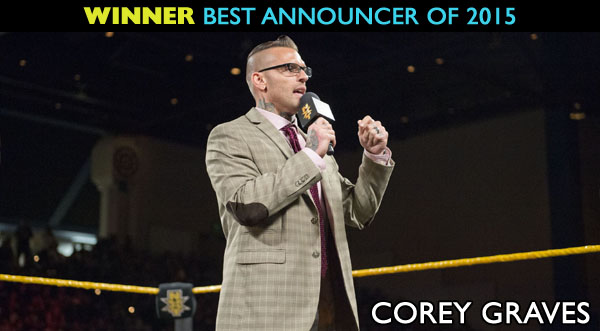 | NOMINEE | 1st | 2nd | 3rd | TOTAL |
| --- | --- | --- | --- | --- |
| COREY GRAVES | 232 | 109 | 61 | 1609 |
| Mauro Ranallo | 133 | 65 | 35 | 930 |
| Renee Young | 65 | 62 | 49 | 609 |
| Jim Ross | 71 | 38 | 53 | 575 |
| Matt Striker | 28 | 55 | 29 | 363 |
Full results here.
R. MANNING: As long as he stays on-task calling matches and not trying to banter and joke around, Matt Striker is as good as anyone in the business today. Corey Graves went from a mediocre heel wrestler to one of the best heel commentators I've ever heard, up there in Ventura and Heenan territory. And Rich Brennan has just been a stable, steady voice of reason calling matches in NXT.
DUCK ALMIGHTY: Jim Ross only did one show this year, but it was the best work of the year. Why? Because Jim Ross, that's why.
ALYSON GRIMM: Vampiro gets my top spot because Drunk Vampiro at the Lucha Libre World Cup was hands-down the most entertaining thing that happened this year in wrestling.
NOSSIE: I just put Michael Cole and JBL on there because I apparently hate all life.
DIAL N FOR NINJA: Commentary is WWE's biggest weakness (in a year of big weaknesses), so hiring Ranallo might be the best move they made all year.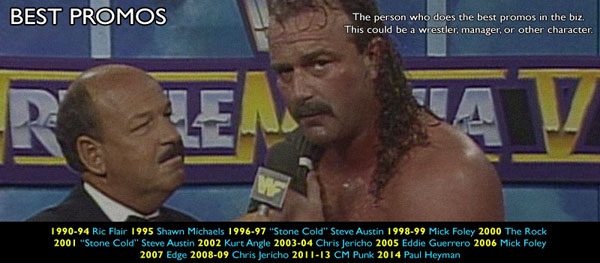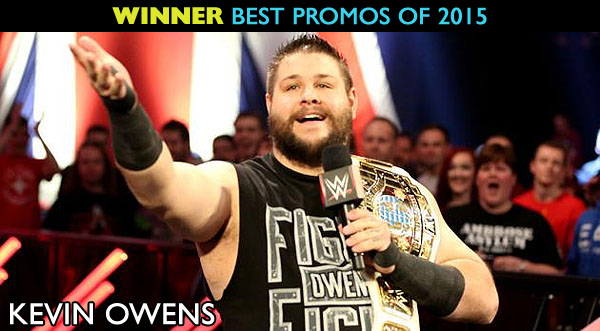 | NOMINEE | 1st | 2nd | 3rd | TOTAL |
| --- | --- | --- | --- | --- |
| KEVIN OWENS | 163 | 153 | 87 | 1448 |
| Paul Heyman | 219 | 78 | 32 | 1393 |
| Xavier Woods | 83 | 104 | 63 | 853 |
| Enzo Amore | 51 | 59 | 68 | 568 |
| Big E | 33 | 45 | 53 | 406 |
Full results here.
AULAYAN: I will be surprised if Kevin Owens does not run away with this award. (In fact, if anyone else wins it, he will probably take it, powerbomb them, then run away with this award.)
R. MANNING: John Cena has demonstrated, on multiple occasions, that when he goes off-script and cuts a promo off the cuff, playing off the crowd, he's a master on the stick. Bray Wyatt gets my third-place vote just because I love the style of his promos; they're so unlike anyone else's, which is why he gets over. But when it comes time to do the hard sell for a match, to get people to open up their wallets and pay their money to see it? There remains NOBODY even CLOSE to Paul Heyman at cutting that money promo.
W. BROWN: Rusev is forever #1 just because of "Dog Ziggler."
DIAL N FOR NINJA: It seems wrong to pick just one member of New Day, but they're probably at their best with Kofi and E in the ring and Woods on the outside, just yelling insane garbage.
SPNA: "IT IS FISH. TAKE THE FISH. TAKE IT."
KING STILYAGI: Kenny Omega is very much fluent in both Japanese AND English and yet he chooses to speak like a poorly translated anime villain because he's a shithead and I respect that.
MBKERRDOG: Has anybody yet mentioned that Dario Cueto is a fantastic character played by a professional actor? Because he is.
HOMERCUTIO: Pentagon Jr., because I don't speak Spanish and I still find the guy completely compelling on the mic. You can't look away from his promos.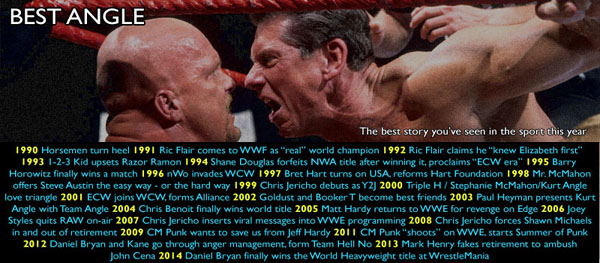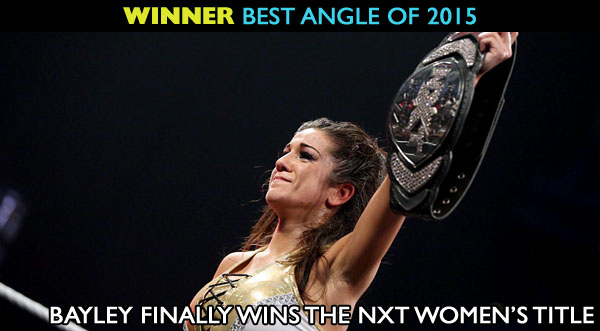 | NOMINEE | 1st | 2nd | 3rd | TOTAL |
| --- | --- | --- | --- | --- |
| BAYLEY FINALLY WINS THE NXT WOMEN'S TITLE IN THE BIGGEST NXT SHOW EVER | 259 | 93 | 98 | 1770 |
| Seth Rollins cashes in Money In The Bank at WrestleMania | 109 | 79 | 59 | 900 |
| John Cena begins the John Cena Open Challenge for the US Title on RAW | 70 | 88 | 76 | 766 |
| Kevin Owens beats John Cena in his first WWE main roster match | 51 | 74 | 54 | 585 |
| Kevin Owens all but murders Sami Zayn in their two matches together | 28 | 64 | 46 | 424 |
Full results here.
KING STILYAGI: Naito never turned on us. We turned on him.
AULAYAN: It was a little thing. Nothing revolved around it. But Archibald Peck's time travel plot still being paid attention to for this final epilogue was perfect. Chikara knows continuity.
MR. JOSH DUDE: Okada fails to beat Tanahashi at the dome and cries his way out. He then gets beat clean by Big Smoke Fale. He has to spend the first half of the year fighting his way out of the rut he's fallen into, eventually beating AJ for the title and preparing himself for his final challenge for redemption against Tanahashi at the dome again. THIS is how you book a story long term, absolutely excellent.
DUCK ALMIGHTY: Heels getting face pops is certainly not unheard-of, but how cheered were we all when Seth Rollins came down the ramp and we realized that Roman Reigns wasn't going to be coronated that night?
CHRISTOPHER BIRD: I was actually at NXT Brooklyn live, and afterwards Bayley fans were hugging people, as is appropriate. One dude came up to me and my girlfriend, hugged us both, and said joyfully "we did it! We did it!" It was clear he had been crying a little. That's what truly epic wrestling stories do to people.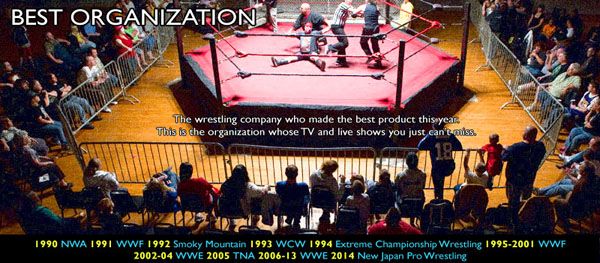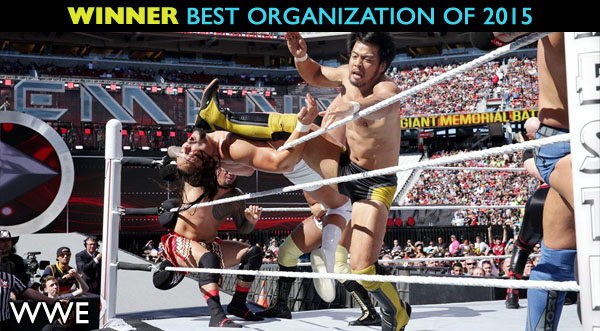 | NOMINEE | 1st | 2nd | 3rd | TOTAL |
| --- | --- | --- | --- | --- |
| WWE (incl. NXT) | 298 | 152 | 92 | 2130 |
| AAA (incl. Lucha Underground) | 156 | 137 | 99 | 1389 |
| New Japan | 137 | 132 | 122 | 1325 |
| RoH | 16 | 45 | 71 | 357 |
| Chikara | 36 | 32 | 38 | 352 |
Full results here.
GARAGE DUMP: ROH hasn't been a "cool" promotion in forever but they had a sneaky-good year and with NJPW and WWE falling a little from the previous year (in my estimation), I found myself most invested in ROH.
BRYAN GEHLEN: WWE and AAA make the list strictly on their secondary offerings being absolutely great. EVOLVE delivered consistently and deserves top spot as a result, despite being below NXT and LU on an individual show basis.
SPNA: Dragon Gate is the best booked promotion in wrestling. Storylines and characters are logical, and feuds have natural progression while still veering into the wackiness that makes pro-wrestling fun so as not to become to self-serious.
NATHAN KOSMIN: In reality, the ranking should probably be "NJPW, NXT but not WWE, LU but not AAA." AAA was a mess this year and the main WWE roster had some down points. Meanwhile ROH had, on a low-key basis, their best year maybe since Bryan Danielson was still there.
R. MANNING: You guys REALLY need to consider separating LU/AAA and NXT/WWE in the future; while they're both cases of two brands from the same company, in both cases, they provide DISTINCTLY different (and superior!) products from the parent company. In terms of presentation, it would be as if a 1987 version of this stated "National Wrestling Alliance (incl. Jim Crockett Promotions)", on the grounds that JCP/Mid-Atlantic and the NWA were one and the same… (We've considered that analogy, but it doesn't really work, mostly because the NWA didn't fund the various territories. For its second season, Lucha Underground has clearly delineated itself from AAA in a corporate sense – in a way that wasn't applicable for its first season – so we will likely treat it as a separate promotion in future; however, NXT is still WWE, and obviously so. Deal with it. — MGK)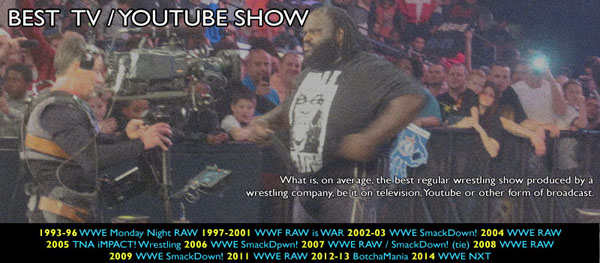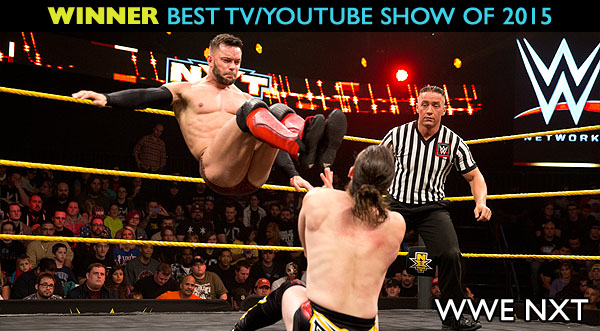 | NOMINEE | 1st | 2nd | 3rd | TOTAL |
| --- | --- | --- | --- | --- |
| WWE NXT | 358 | 182 | 58 | 2452 |
| Lucha Underground Weekly TV | 219 | 141 | 44 | 1606 |
| UpUpDownDown | 26 | 44 | 82 | 426 |
| NJPW on AXS | 23 | 59 | 64 | 420 |
| WWE Breaking Ground | 16 | 62 | 72 | 410 |
Full results here.
CAP'N ANDY: Does any televised wrestling program have Miz using his formidable mic skills to unnerve his opponents until they collapse at Madden, Rusev noting "I beat him with my super move" during Street Fighter, or Xavier Woods and Sasha Banks nerding out about anime for 20 minutes while they play Sailor Moon on Super Nintendo? No? UpUpDownDown wins, then.
INTENSE INTEREST: Lucha Underground is worth hunting down no matter where they put it. RoH is just behind that.
AULAYAN: Lucha Underground runs away with this for me. A show that felt different than anything I've ever seen, and decided to trust in the fans and embrace the weird they wanted to do.
CHRISTOPHER BIRD: Lucha Underground is more creatively daring and original, but NXT is the best traditional wrestling show since probably Paul Heyman's run booking Smackdown. Possibly better.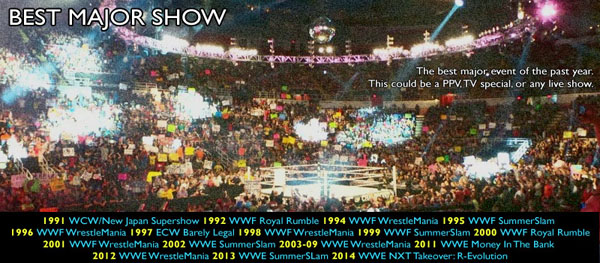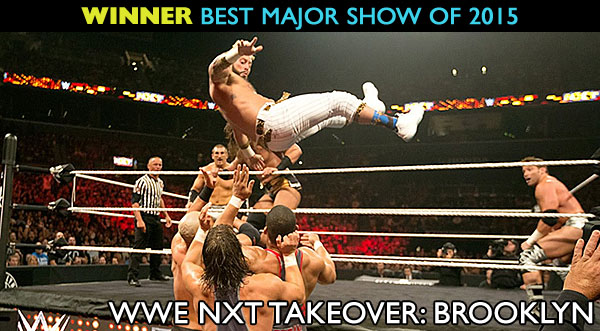 | NOMINEE | 1st | 2nd | 3rd | TOTAL |
| --- | --- | --- | --- | --- |
| WWE NXT TAKEOVER: BROOKLYN | 290 | 140 | 78 | 2026 |
| WWE WrestleMania 31 | 86 | 111 | 80 | 923 |
| NJPW Wrestle Kingdom 9 | 112 | 69 | 70 | 907 |
| Lucha Underground Ultima Lucha | 67 | 83 | 59 | 702 |
| WWE NXT Takeover: Respect | 35 | 55 | 62 | 464 |
Full results here.
AULAYAN: Not a single WWE pick from me? Not even an NXT one? Wow. Well this is the year I fell for Chikara and Lucha Underground. And as much as I'd love to give it to Ultima Lucha, I feel Top Banana was a fantastic show, especially the ending.
NATHAN KOSMIN: Top Banana was the best CHIKARA card in the past three years. They managed to get people to pop for the payoff to angles that half the crowd didn't even understand coming in, and the bell-to-bell stuff was finally at the quality that it was back before Quack blew all the company's cash on joshis.
W. BROWN: As much as I wanted to do to Takeovers here, you've got to give WM 31 credit for creating a legitimately great show, and an unreal main, out of such a shitty build. If someone shoots themselves in the foot, then runs and wins a marathon, you reward their achievement even if you question their decision-making.
CHRISTOPHER BIRD: NXT Takeover: Brooklyn was a truly special show not just because of the excellent wrestling but because it was essentially the first "indie" show (even if produced under a WWE banner) to truly act as a major WWE production, and everybody knew it and felt it. As good as the other Takeovers have been and even though London was as "big" an audience, I don't think Brooklyn's magic will ever be replicated in quite the same way ever again.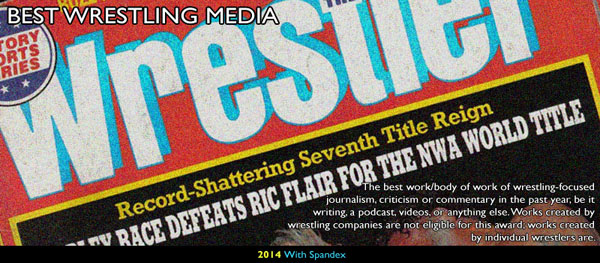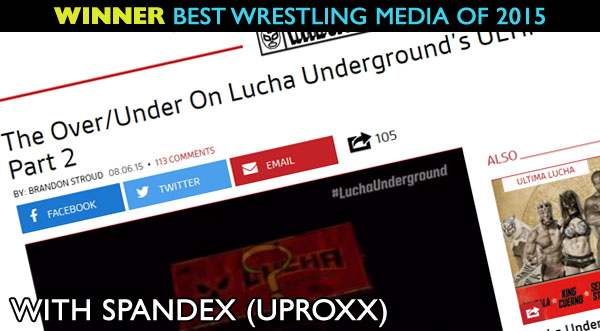 | NOMINEE | 1st | 2nd | 3rd | TOTAL |
| --- | --- | --- | --- | --- |
| WITH SPANDEX (UPROXX) | 249 | 56 | 39 | 1491 |
| Botchamania | 44 | 92 | 76 | 648 |
| The Steve Austin Show / Stone Cold Podcast | 24 | 62 | 53 | 412 |
| UpUpDownDown | 18 | 43 | 51 | 321 |
| Cheap Heat | 29 | 42 | 16 | 303 |
Full results here.
AULAYAN: Wreddit? That's where we go to complain!
DIAL N FOR NINJA: There's no beating Stroud and his team's quality or volume of work, but I will say that How 2 Wrestling is an absolute delight every episode.
SPNA: The Wrestling Observer/Figure 4 Online, because I gotta go with the guys everyone else steals their shit from.
TV'S BRENT: The Live Audio Wrestling series of podcasts supported by TSN and The Fight Network in Canada. Bauer and Pollock in particular is a can't-miss.
OFFICIAL CALEM: Brandon Stroud and the rest of WithSpandex are awesome. I also like WhatCulture with Adam Blampied. Botchamania is addictive and I love the music from N64 games.