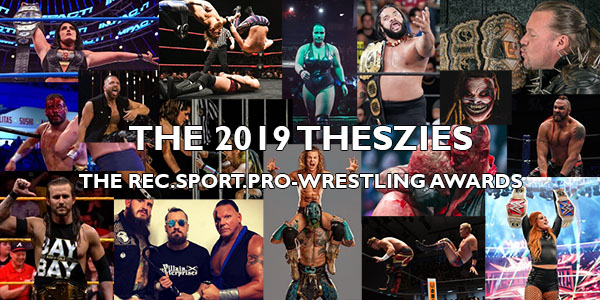 Welcome to the results of the 2019 Theszies / Rec.sport.pro-wrestling Awards.
(Editor's note: Some of you may be wondering "what took so long?" The answer is: 1.) Immediately after the voting period ended, my wife and I went on a previously-scheduled vacation to Italy, which was great, and 2.) then when we got back we had to get screened for Covid-19, which took a while. Don't worry, we're fine.)
Anyway. Here, we present the "best" Awards – those Awards which celebrate the greatest things in wrestling during 2019. If you would rather be a Negative Nancy and go read the "worst" Awards, they're over here.
This year we had 385 voters participating. As always, for next year we encourage all of you wrestling media people to nominate yourselves and your favorites, and try to get your fans out to vote for you. Fair is fair!
As always, thank yous to Justin Henry, Christopher Robin Zimmerman, Herb Kunze and all those who have previously run the Awards and contributed to their legacy; everybody who chipped in to promote the awards; all of you voters, of course; and finally and most importantly an extra-double-sized thanks to mgkdotcom's Tech Guy, James Young, without whose invaluable assistance these Awards would almost certainly have failed to be anywhere near as successful and user-friendly as they in fact were.
And without further ado…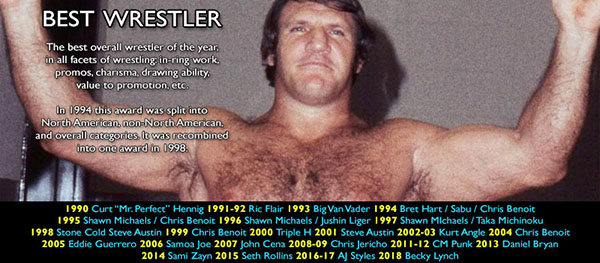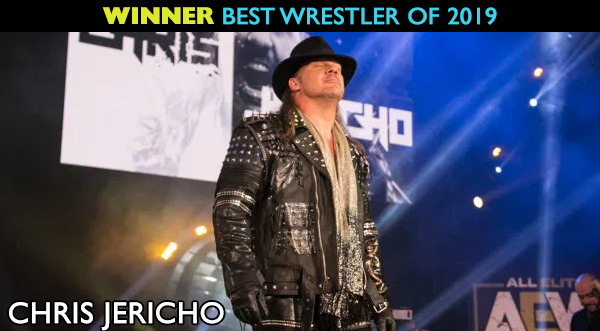 | NOMINEE | 1st | 2nd | 3rd | TOTAL |
| --- | --- | --- | --- | --- |
| CHRIS JERICHO | 56 | 46 | 28 | 474 |
| Adam Cole | 47 | 38 | 43 | 435 |
| Kazuchika Okada | 39 | 30 | 15 | 315 |
| Cody Rhodes | 29 | 29 | 25 | 282 |
| Will Ospreay | 35 | 14 | 10 | 237 |
Full results here.
BLOODSPIKE: There aren't many wrestlers whose music hitting make me RACE from the kitchen to make sure I don't miss anything, but Tommaso Ciampa is the head of that short list.
RALF HORNY: The fact that Shayna Baszler is not on this list is mindboggling to me. No other performer inhabits their character the way she does in every little facet of her work inside and outside of the ring. Combine that with consistently strong performances in matches and I don't know how to pick anyone else.
WILLIAM PAUER: Nobody had a year like Adam Cole. Angle to angle, feud to feud, match to match, Adam Cole had a career year. He showed why his brand of heeldom and his style of wrestling put himself above the rest, from simple run-ins to brutal spots in grueling matches. Moxley put himself through a similar hell, and burst out of his doldrums with a killer run in both New Japan and AEW, while 2019 was the year that Keith Lee finally exploded into the spotlight worldwide and showed everyone what they've all been missing: the best big man in the business.
LUVVERLY: Cody is bringing back old-school high drama to wrestling and god, have I missed it.
O. COURT: Kento Miyahara is almost single-handedly forcing western wrestling fans to pay attention to All Japan. He's carried the promotion on his back with an other-worldly determination to get every single fan in every venue he wrestles in to get excited. His success on Match of the Year lists like the GRAPPL 100 proves that despite having such a limited platform, he's making as big a noise as anyone in bigger companies.
JOHN A. SAWYER JR.: The best compliment I can pay Jon Moxley is that he's the first wrestler to get me genuinely emotionally engaged in a hardcore match since Mick Foley retired.
SHUNK: For me, the best wrestler is always going to come down to "who was the most consistently entertaining this year," whether that means matches or angles. If angles and promos are more important to you than matches, the answer is clearly Chris Jericho. But if you're like me, and appreciate a great angle or promo but ultimately want great matches finishing them off, Will Ospreay was the man this year, which is why he gets my vote.
PSYCHO GOLDFISH: Chris Jericho has hit his fourth or fifth wind in his career, and it's just as good and enjoyable as everything else. He's not lying when he calls himself the GOAT.
PETER MONK: Wrestling is more than just cool moves and technical ability – every match needs to be sold, championships need to feel important and opponents need to be (dis)respected to fuel the story; even jobber squashes have more to tell than, " look at me, I'm good at my job"; the best wrestler is the complete package, from promo to post-match. Nick Aldis is simply the best in the business right now at creating compelling logic and character build for everything that he does, using twisted heel logic that makes him seem reasonable; Becky Lynch has been handed some absolute trash in the past year but has still managed to elevate bargain basement opponents to watchable levels, and when she lit the touchpaper on Asuka it was magnificent; Chris Jericho continues to demonstrate the art of the pure heel, with consistent stroytelling, a unrivaled use of history and call backs to past events that matter to what is happening right now. These three also understand ring psychology and can go in the ring, continuing telling the story through their matches; they represent the pinnacle of how champions keep themselves and their titles relevant in a crowded market.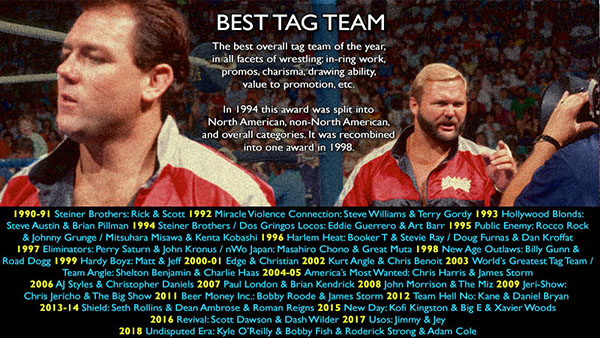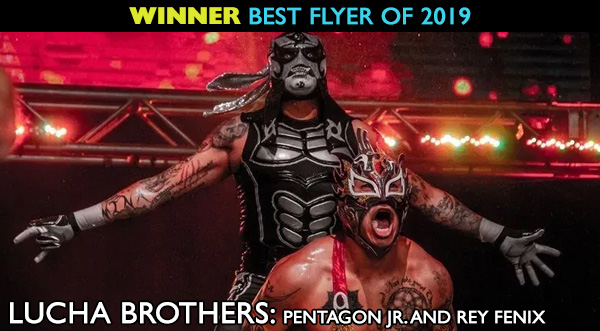 | NOMINEE | 1st | 2nd | 3rd | TOTAL |
| --- | --- | --- | --- | --- |
| LUCHA BROTHERS: PENTAGON JR. AND REY FENIX | 92 | 62 | 38 | 722 |
| Undisputed Era: Kyle O'Reilly and Bobby Fish | 95 | 50 | 27 | 679 |
| Young Bucks: Nick and Matt Jackson | 34 | 49 | 40 | 397 |
| Kabuki Warriors: Asuka and Kairi Sane | 24 | 26 | 34 | 266 |
| New Day: Kofi Kingston and Xavier Woods and Big E | 26 | 25 | 19 | 243 |
Full results here.
GIGGA B.: No tag team wrestling this year felt in the league of what AEW has done since Dynamite started, so it was just a matter of ranking their three top teams. I gave the edge to Private Party for putting themselves in the same conversation as the Young Bucks and the Lucha Bros. in less than five matches. That's a hell of a thing.
DES INMAN: Aight, I didn't vote for them in my top three, but the fact that the Rock n' Roll Express can be legitimately considered to be up there in the best tag team of 2019 blows my mind…
DAN FITTPALMER: If there's any justice in the world, AXIZ will win this in a landslide. Nakajima should avoid honourable strike exchanges forever, and Shiozaki should play Clark Kent in the next Superman movie.
WILLIAM PAUER: The Undisputed Era is the best heel faction in WWE since Evolution, and possibly the best western heel faction since the nWo. They back up all their smack talk with amazing matches, they can work an angle and have good matches with literally anyone, and the mixture of dead serious Bobby Fish and sleazy Kyle O'Reilly proves entertaining every night. GoD kept up their reign of greatness over New Japan's tag world, beating down just about everyone who crossed their paths, and the Lucha Bros gave America something new and excellent to propel AEW into the spotlight.
DMJ: The Young Bucks have superkicks, but the Kabuki Warriors have Kairi Sane cackling while Asuka screams in Japanese. Sorry, guys.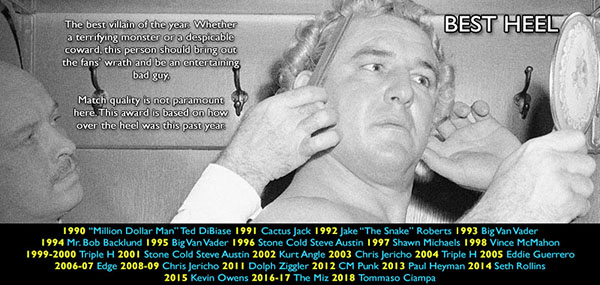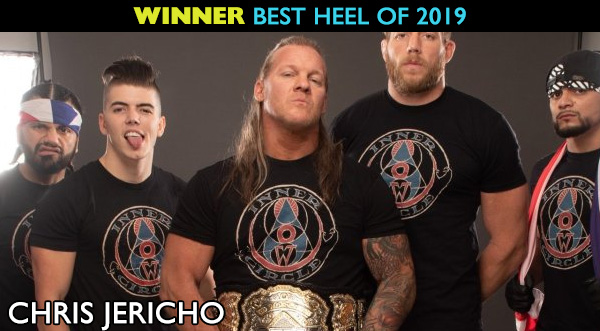 | NOMINEE | 1st | 2nd | 3rd | TOTAL |
| --- | --- | --- | --- | --- |
| CHRIS JERICHO | 132 | 47 | 35 | 871 |
| Maxwell Jacob Friedman | 60 | 56 | 46 | 560 |
| Shayna Baszler | 26 | 37 | 34 | 309 |
| Jay White | 27 | 25 | 19 | 248 |
| Adam Cole | 19 | 28 | 21 | 221 |
Full results here.
D.F. SOMAAVILLA: PAC: finally, a heel who is a credible threat for the top title without resorting to cheating and who is capable of airing grievances in promos more nuanced than "these people."
VANDAMDAZ: Jay White is so spectacularly great at making you want to hate him. The fact he can get the usually much more polite and respectful Japanese crowds to boo him is a testament to that.
M.B. KERRDOG: In a toss-up between Jay White and MJF, it comes down to a matter of philosophy – if you want a heel that you love to hate, it's MJF. If you want a heel who you just straight-up HATE, it's White.
JOHN A. SAWYER JR.: The only thing separating MJF from true 80s Southern territory heel heat is the fact that none of the fans have tried to murder him yet.
TONYA HUDSON: When ELP was announced as the newest member of Bullet Club, I was unimpressed? That happy-go-lucky babyface from the British indies? How is he going to work in a stable of heels? Then the Best of the Super Juniors rolled around and El Phantasmo was stealing hats from fans, raising his middle fingers at distressed children and punching guys in the nuts. He became such a natural and effective heel that it's now hard to think of him as a babyface.
SHUNK: Shayna Baszler is so utterly unconcerned with whether fans like her or not that she's the most effective heel around. She doesn't try to be funny, like Jericho or MJF. She doesn't try to be cool, like Adam Cole. She just ultra-commits to being an asshole and remind everybody of that one girl in high school that nobody fucked with. It's great.
CHRISTOPHER BIRD: "Jon Moxley, Cody Rhodes, Young Bucks, Papa Buck, Uncle Buck, Buck Owens, Moxley, Hangman Page, Diamond Dallas Page, Paige, Moxley, Scorpio Sky, 2 Cold Scorpio, any member of the Scorpions, Moxley, Michael Nakazawa, Kenny Omega, Kenny Ortega, Kenny Shields, Kenny Chesney, Kenny from South Park, Moxley, the chubby guy over here with the popcorn in the fifth row, the ugly guy with the dumb glasses over here in the third row, Moxley, Darby Allin, Rick Allen, Allen Jones, Moxley, Evil Uno, Angry Dos, Hateful Tres, Moxley, Marty…"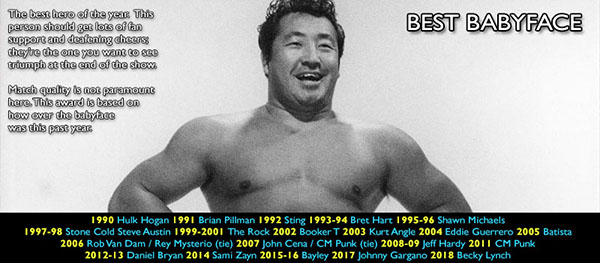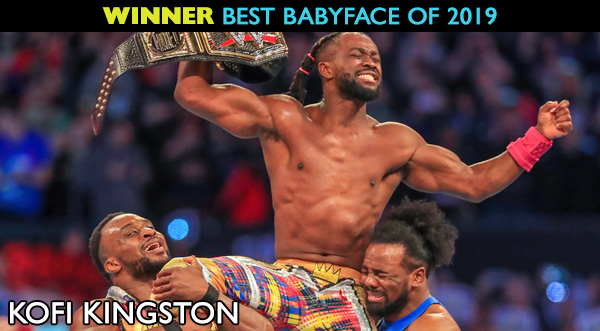 | NOMINEE | 1st | 2nd | 3rd | TOTAL |
| --- | --- | --- | --- | --- |
| KOFI KINGSTON | 99 | 28 | 23 | 625 |
| Cody Rhodes | 69 | 46 | 24 | 531 |
| Becky Lynch | 22 | 29 | 23 | 243 |
| Orange Cassidy | 19 | 26 | 23 | 219 |
| Johnny Gargano | 26 | 14 | 14 | 200 |
Full results here.
D. SCOTT: First African-born WWE Champion, enough said.
D.F. SOMAVILLA: I don't know if there's been a better baby face spot than Darby Allin's blaze of glory with his hands duct-taped together. And audiences just consistently lose it for Orange Cassidy's special blend of skill and laziness. Maybe people just don't like hands anymore.
RAGNAROK: Tim Storm has been a massive revelation: an old-school, sympathetic babyface who is amazing on the mic, and the most easy-to-like personality in wrestling right now, but can also absolutely GO in the ring for a man of his (or any) age.
LUVVERLY: Cody is so good at this he manages to be a sympathetic babyface while also being the onscreen authority figure at the same time. That shouldn't even be possible!
TONYA HUDSON: How can the best babyface be anyone other than Orange Cassidy? He gets the biggest pops of the night and does so without actually doing a lot. He chooses what he does perfectly for maximum effect and has become a star in the process. A half-hearted thumbs up, sir!
PSYCHO GOLDFISH: Poor Kofi. He hit such heights this year, got absolutely everyone behind him, and seemingly changed the nonexistant Wrestlemania plans in what seemed like weeks. But then he got thrown on the ground in a few seconds by Brock Lesnar, and he's back to where he was last year. He deserves so much more.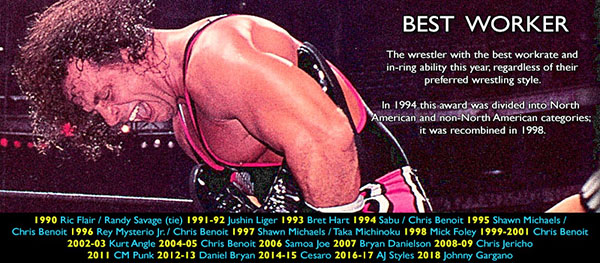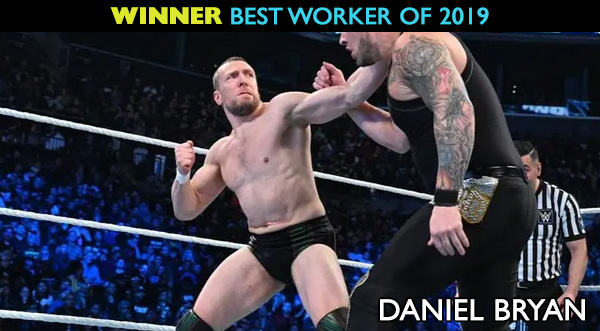 | NOMINEE | 1st | 2nd | 3rd | TOTAL |
| --- | --- | --- | --- | --- |
| DANIEL BRYAN | 43 | 38 | 23 | 375 |
| Adam Cole | 39 | 26 | 20 | 313 |
| Will Ospreay | 48 | 17 | 10 | 311 |
| Kazuchika Okada | 33 | 31 | 16 | 290 |
| Johnny Gargano | 27 | 26 | 25 | 263 |
Full results here.
PSYCHO GOLDFISH: Come on, it's Daniel Bryan.
M.B. KERRDOG: In a medium where razzle-dazzle and gloss is more celebrated than storytelling and pacing, it seems that Jay White's in-ring work is the most overlooked and undervalued in the medium. The slow-burn psychology that this young man's matches display is consistently tremendous and he deserves props for it. That said, I'd be the biggest fool if I didn't admit Will Ospreay managed to put on nigh perfect matches with both Lance Archer and Amazing Red this year, a feat that should by all rights be impossible.
SHUNK: Okada has been so consistently great for so long that we sort of take him for granted. According to Meltzer's ratings, the man wrestled four 5-star matches this year, plus another ten that were four-and-a-half or better. He did about the same in 2018. And 2017.
MITCHELL: I was blown away by EVIL this year, particularly in the G1 Climax. The potential of everyone in LIJ is amazing, but he's the one who really raised my eyebrows.
WILLIAM PAUER: Naito never stops trying to put on the best match of his career. His technique in the ring and ability to go past exhaustion into personal sacrifice keeps popping crowds and sending folks home happy. Adam Cole does the same, but not quite to the degree that Naito does, and Ishii constantly puts everything he has into his personal brand of strong style.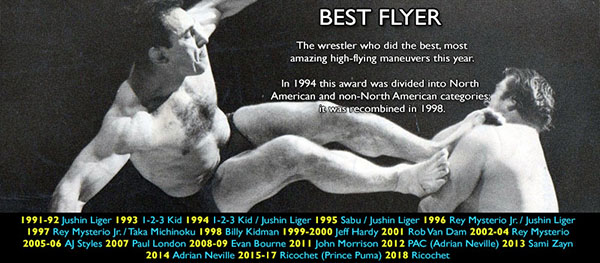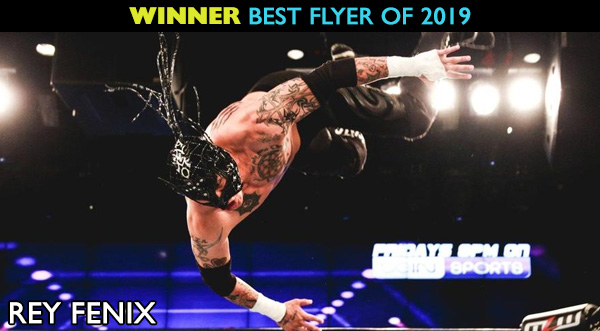 | NOMINEE | 1st | 2nd | 3rd | TOTAL |
| --- | --- | --- | --- | --- |
| REY FENIX | 89 | 47 | 24 | 634 |
| Will Ospreay | 85 | 32 | 23 | 567 |
| Ricochet | 55 | 54 | 42 | 521 |
| Io Shirai | 27 | 28 | 27 | 273 |
| PAC | 17 | 30 | 27 | 229 |
Full results here.
TONYA HUDSON: Seriously, how has Will Ospreay not won this award before? Some of the things he does not only look like they shouldn't be possible, but instead he always makes it look so effortless.
WILLIAM PAUER: It's Ospreay and it's not even close. Mysterio is in the middle of sort of career renaissance, and Ryu Lee… well, just watch his matches and you'll know what's up.
D. SCOTT: Ricochet has slowed his style down to fit WWE, but he still pulls a few amazing moves out of his back pocket – but Rey is changing the game every time he gets in the ring.
B. SEISON: Fenix does something every match, either on purpose or by happy accident, that requires instant replay to believe what you just saw.
DAVE MORGAN:Darby Allin is bringing something new to the high flyer game and I am here for it.
P. TRAIN: KEITH LEE, YOU COWARDS!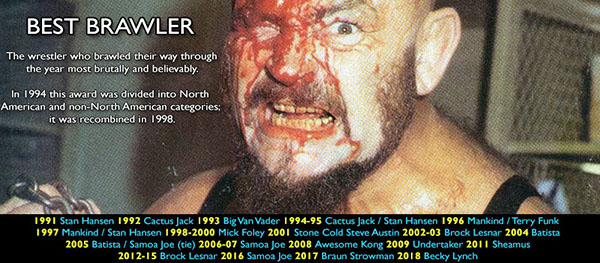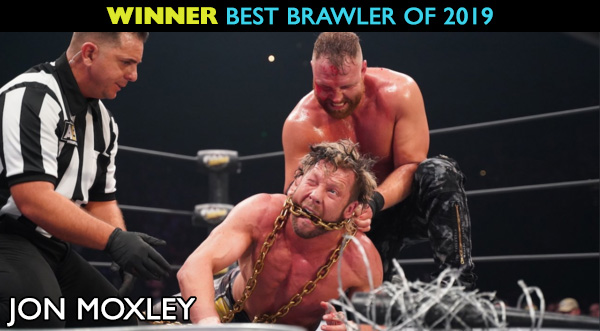 | NOMINEE | 1st | 2nd | 3rd | TOTAL |
| --- | --- | --- | --- | --- |
| JON MOXLEY | 120 | 49 | 33 | 813 |
| WALTER | 37 | 31 | 25 | 328 |
| Tomohiro Ishii | 29 | 30 | 16 | 267 |
| Aleister Black | 29 | 19 | 12 | 226 |
| Keith Lee | 18 | 21 | 21 | 195 |
Full results here.
TENKEN: I consider striking different from brawling, so WALTER gets my nod over a couple wrestlers who maybe had a better 2019.
D. SCOTT: A write-in for PCO, who is not human.
JOHN A. SAWYER JR.: I would like to propose an amendment to the rules of these awards so that I can vote for Moxley three times.
JAMES HIRSBY: Ishii is my top vote, but shoutout to Drew McIntyre in second, who can approach "most underrated worker in the world" status when he's allowed to cut loose in a brawl.
PSYCHO GOLDFISH: Look, I want Ishii to win. Badly. But Moxley is finally free from his creative prison, murdering people with tables and looking like he broke Darby Allin's neck with an Avalanche Paradigm Shift. It's great to see him back in his element.
WILLIAM PAUER: Baszler always looks like she's about to take it from a work into a shoot, and does it so well that you feel every shot. Ishii is the quintessential strong style bruiser, and Strowman is a freight train every time he gets into the ring, with his technique improving every year.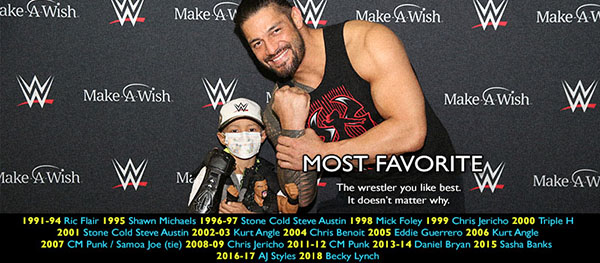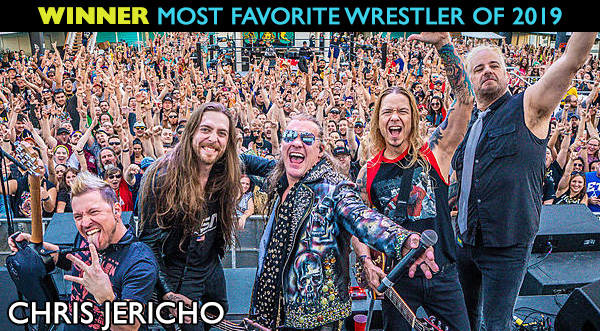 | NOMINEE | 1st | 2nd | 3rd | TOTAL |
| --- | --- | --- | --- | --- |
| CHRIS JERICHO | 34 | 26 | 16 | 280 |
| Orange Cassidy | 30 | 12 | 18 | 222 |
| Daniel Bryan | 24 | 20 | 11 | 202 |
| Jon Moxley | 16 | 18 | 5 | 144 |
| Keith Lee | 13 | 13 | 17 | 138 |
Full results here.
DF SOMAVILLA: Ultramantis Black. My compulsion to follow this character after watching a random Chikara video years ago ended up reinvigorating my love of wrestling, and so he shall have my vote for this category for time immemorial.
DESINMAN: Sami Zayn deserves some love, even when he's been on the sidelines most of the year. With Sami for Syria, standing by his word and generally being an awesome dude, he deserves praise.
JOHN A. SAWYER JR.: This really can't go to someone other than Cody this year, if only for the fact that he's the heart and soul of the biggest new wrestling promotion in a generation.
RYAN TAYLOR: I mean, a wrestler makes an off-the-cuff remark, which turns into a T-shirt, and then into A SPARKLING WINE. Not even Ric Flair can claim that – he & the rest of the Four Horsemen have to make do with vitamins & chewable wafers!
TONYA HUDSON: David Starr simply has it all. One of the best promos in the business, a cavalcade of terrific nicknames and fantastic between the ropes, he has also become an outspoken voice for wrestlers' rights in an industry that can often treat the workers callously. In 2019 he truly took his place as one of the most important wrestlers on the planet.
RAGNAROK: My write in for 3rd place is fitting, for he is also a 3rd degree black belt AND a 3rd degree National Champion, the great chickenshit heel Aron "Shooter" Stevens. And he earned this vote with… KARA-TAY!
DMJ9798: With a lot of wrestlers who I love, there's always something about them that isn't my favorite, but it's usually not a big deal. With Keith Lee…there's nothing. He has everything I like in a wrestler and more. The best.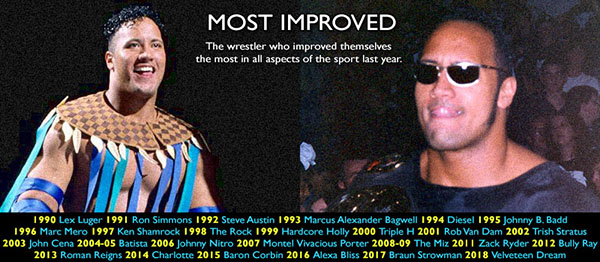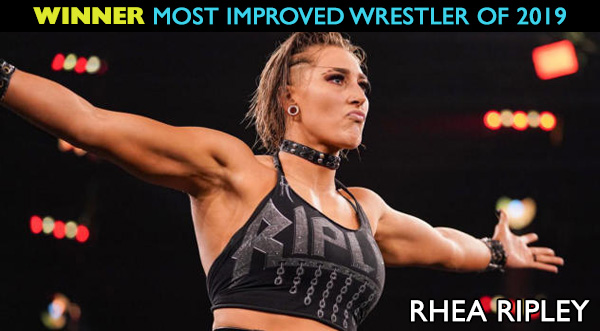 | NOMINEE | 1st | 2nd | 3rd | TOTAL |
| --- | --- | --- | --- | --- |
| RHEA RIPLEY | 57 | 26 | 19 | 401 |
| Jon Moxley | 48 | 29 | 29 | 385 |
| Lance Archer | 30 | 18 | 15 | 234 |
| Bray Wyatt | 31 | 17 | 11 | 228 |
| Buddy Murphy | 23 | 27 | 13 | 222 |
Full results here.
STEW ADAM: After ages in NXT, Angelo Dawkins really put it together. In 2019, he had his first TakeOver appearance, won his first championship in NXT, got promoted to the main roster, and won a Raw main event in his first televised main roster match. And he was ready for all of it, finally.
DAVE MORGAN: Lance Archer was the shocker of G1 this year. Everyone just kind of assumed he was there to fill a spot and maybe draw a pop in Dallas, but damn if he didn't go out there and impress every time and he was rewarded for it.
B. SEISON: It seems like an insult to throw performers like Moxley, Shirai and KENTA in the "most improved" category. But changes in company and attitude have meant the world to their careers this year.
SHUNK: Sometimes I wonder if I overrate the improvement of talents like Rhea Ripley or Velveteen Dream (who got my vote in this category last year) because they're so good and so young, but then I went back and compared Rhea Ripley in last year's Mae Young Classic to Rhea Ripley wrestling Shayna Baszler this year and no, no, she really did get so much better in such a short period of time.
PSYCHO GOLDFISH: Lance Archer went from, "Wait, that's the guy with the tramp stamp from TNA, right? I'm supposed to be scared of him?" to one of the best brawlers the company has.
JOHN A. SAWYER JR.: Dustin Rhodes' return to wrestling prominence, after so many years of hardship, is genuinely heartwarming. I'm so happy that he's in such a good place, and that he's still got a lot to give back.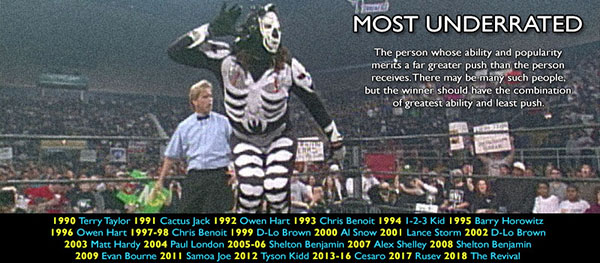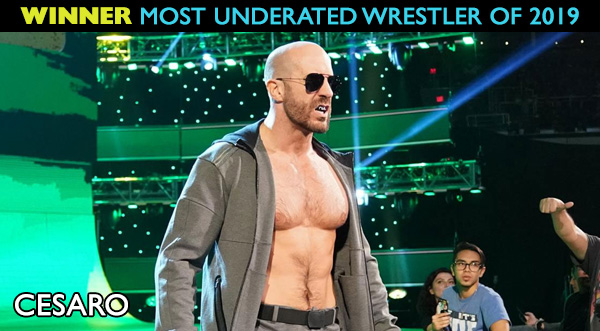 | NOMINEE | 1st | 2nd | 3rd | TOTAL |
| --- | --- | --- | --- | --- |
| CESARO | 66 | 47 | 28 | 527 |
| Sami Zayn | 47 | 31 | 22 | 372 |
| Chad Gable | 40 | 25 | 20 | 315 |
| Buddy Murphy | 30 | 24 | 23 | 268 |
| Asuka | 26 | 22 | 19 | 234 |
Full results here.
JOHN A. SAWYER JR.: And this year's RSPW Cesaro Award for Most Cesaro'ed Cesaro goes to…
TENKEN: Imagine having Luke Harper under contract and just… forgetting about him. Imagine it.
STEW ADAM: First of all, Fire and Desire should have gotten a much higher profile run with the new WWE Women's Tag Team Championship. Secondly, Sonya deserves so much more than being basically the sidekick of a lower mid carder.
GIGGA B: Chad Gable with a surprise appearance in the Cesaro Awards this year, for getting pushed in such a way that WWE couldn't hide how good the guy is, but somehow it felt like punishment.
JODORISIO: Vince apparently thinks a now-healthy Sami Zayn is more useful as an obnoxious heel manager than one of the best babyface wrestlers of his generation.
MITCHELL: Writing in EVIL again and just pissing my votes up the wall. I don't care. HE'S GOOD, FOLKS!
THE RINK: Cesaro hasn't really been appropriate for these awards the last couple years because he was spending all that time in The Bar, who were appropriately a top-of-the-card tag team the entire time they were together. But this year Sheamus was injured, so Cesaro went back to doing dick-all and being glorified enhancement talent despite being arguably the single most talented worker in WWE. It is genuinely amazing that he stays on there and hasn't pulled a Neville.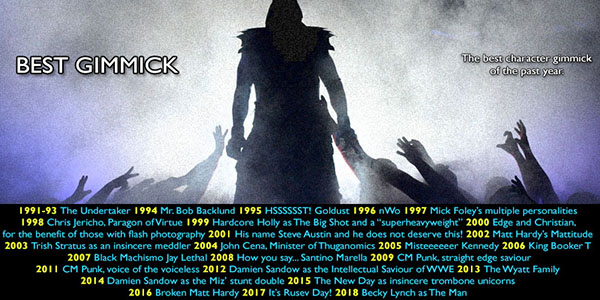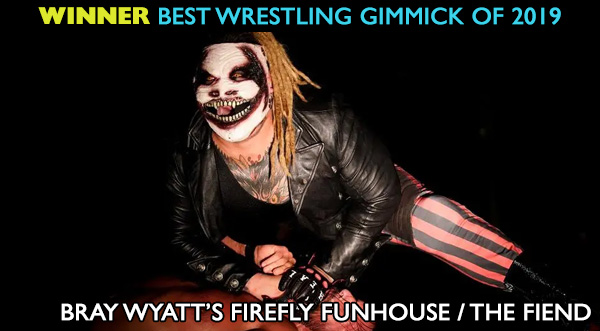 | NOMINEE | 1st | 2nd | 3rd | TOTAL |
| --- | --- | --- | --- | --- |
| BRAY WYATT'S FAMILY FUNHOUSE / THE FIEND | 99 | 39 | 29 | 670 |
| Chris Jericho as Le Champion | 82 | 59 | 38 | 663 |
| Orange Cassidy as the Sloth of Professional Wrestling | 68 | 52 | 44 | 584 |
| The New Daniel Bryan | 16 | 20 | 31 | 202 |
| R-Truth as 24/7 European Television Champion | 15 | 13 | 27 | 168 |
Full results here.
LIAM COLES: You're 47 years old, past your supposed "prime years." A new championship is created, designed to act as nothing more than filler segments throughout shows. How do you draw sufficient attention to the segments such that they not only overshadow most of the other title programs but also provide genuine comedy that is unmissable within programming notorious for awful features in that area (Old Day, Lashley's Sisters etc.)? Be R-Truth, a man who will never get the plaudits he deserves for taking a throwaway concept and exceeding even the most optimistic of expectations.
WILLIAM PAUER: Bray Wyatt's third gimmick is even more over than the last two, and that's saying something. A monster heel who glues your eyes to him every time he comes out. Orange Cassidy's satire always pops the crowd, turning AEW into a game of Where's Waldo, and Keith Lee's amazing big man angle puts a smirk on everyone's face.
T. DORNEY: I love how not even y'all know exactly what Velveteen Dream's gimmick is, but we all know we like it.
JAMES HIRSBY: I can't believe my first place vote isn't going to Orange Cassidy (funniest gimmick in years) or Jericho's latest great character reinvention, but I have to give kudos to Bray Wyatt. His second great gimmick was so impressive that even WWE (eventually) had to break down and give him a long-deserved run on top.
CHRISTOPHER BIRD: The Environmentally Friendly WWE World Championship was so much better looking than the standard WWE title belt that it's kind of sad that they got rid of it.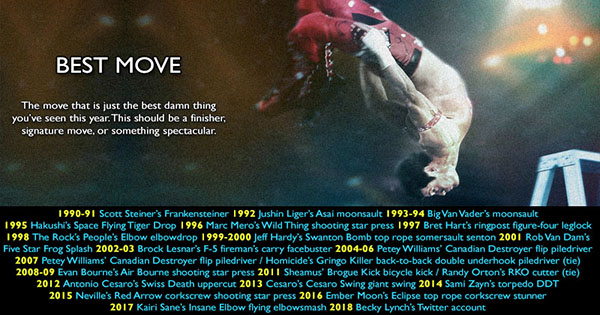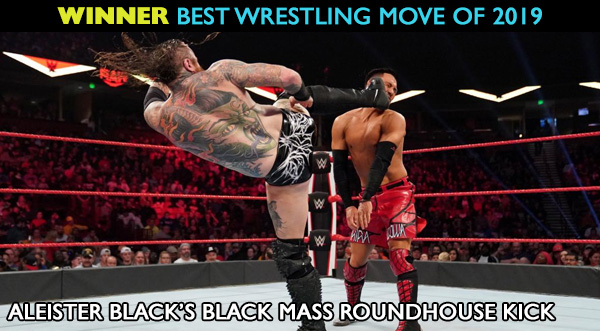 | NOMINEE | 1st | 2nd | 3rd | TOTAL |
| --- | --- | --- | --- | --- |
| ALEISTER BLACK'S BLACK MASS ROUNDHOUSE KICK | 48 | 26 | 19 | 356 |
| Orange Cassidy's devastating kick combination | 34 | 26 | 37 | 322 |
| Darby Allin's Coffin Drop top rope trustfall | 28 | 29 | 19 | 265 |
| Keith Lee's Spirit Bomb sitout powerbomb | 22 | 23 | 20 | 219 |
| Private Party's Gin And Juice top-rope hurricanrana into cutter | 19 | 20 | 21 | 197 |
Full results here.
M.B. KERRDOG: Lest we forget – WALTER left a perfect handprint on another human being's chest, complete with striations between the joints.
TONYA HUDSON: The Black Mass has all you could possibly want from a finishing move: looks like it legitimately could knock someone out for the count, can be hit at any time and on any opponent. Brilliant in its simplicity.
MITCHELL: The fact that a move as simple as the Rainmaker continues to evolve, and tell new stories, and thrill is testament to what Okada can do.
DESINMAN: It's a shame that the One-Winged Angel will never top the fury that is contained in Orange Cassidy's kicks.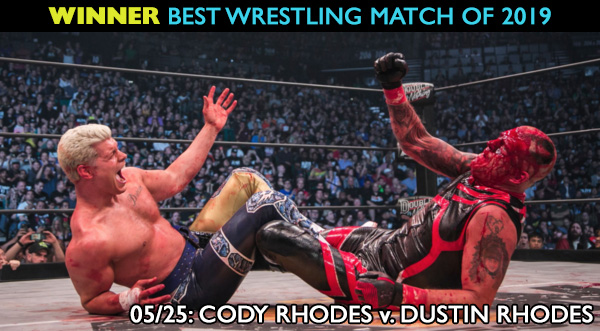 | NOMINEE | 1st | 2nd | 3rd | TOTAL |
| --- | --- | --- | --- | --- |
| 05/25: CODY RHODES v. DUSTIN RHODES | 69 | 38 | 30 | 519 |
| 04/05: Adam Cole v. Johnny Gargano (NXT title 2/3 falls) | 50 | 21 | 17 | 347 |
| 04/07: Kofi Kingston v. Daniel Bryan (WWE World title) | 25 | 30 | 22 | 259 |
| 08/31: Tyler Bate v. WALTER (NXT UK title) | 29 | 13 | 14 | 212 |
| 06/05: Will Ospreay v. Shingo Takagi (Super Juniors) | 21 | 18 | 11 | 181 |
Full results here.
HACK-MAN: This was the first year in a long time where it was hard to narrow this down to three choices. That is a Good Thing!
TENKEN: We got spoiled this year, but Bate vs. WALTER told an all-time great story in a wrestling ring. Bate emptying the tank on that final kick-out is probably the coolest spot I've ever seen.
TUC: Rush & Dragon Lee vs. Briscoes: This war went down at the 2300 Arena in Philadelphia, living up to the bloody legacy that ECW has left behind. It was instant carnage as both teams of brothers brawled to the outside, pounding each other to the roar of the crowd. Mark Briscoe was bleeding profusely, but that didn't slow him down. As a matter of fact, whenever there was a pin attempt, someone's partner crashed the mat for the save, breeding a sense of urgency. There were deafening blows and jaw-dropping tag team maneuvers, plus Dragon Lee leaping over the rope and hitting Mark with a hurricanrana off the apron to the floor. After everybody emptied their arsenals, RUSH ultimately picked up the win. A standing ovation followed as all of us in that crowd realized we had just experienced a classic.
JOHN A. SAWYER JR.: I've become a zealous evangelist for Cody vs. Dustin for a whole laundry list of reasons, but I'd like to focus on one in particular. Specifically, Cody vs. Dustin is the reason why blood in wrestling is a good thing. In the right match, with the right story, and the right people, it can add just that little bit more. The match would've been magnificent without blood, but WITH blood, it became a masterpiece. Dusty would be proud.
GIGGA B: There were a lot of great matches last year, but the only one that got me off my seat with excitement was Dasher vs. Boomer, mask vs. mask. Boomer Hatfield is just starting his career and already has that inimitable babyface fire, and when the stakes were highest he and Pops tore the house down.
ART GSD: It's tough to argue that any non-Mania match drew as much attention as Cody v Dustin. And it was remarkable in and of itself. But in terms of overall impact to its promotion and arguably to wrestling as a whole, I can't vote for that fight in good conscience over the climax to the Devlin/Starr war in OTT; that story roped in friendship, betrayal, hate, glory and — even more remarkably — real-world politics in a way that no other program last year had. Watching a crowd turn on its hometown hero for an avowed Democratic Socialist and listening to those fans be called an "army of incels" by the unimpeachable Aonghus McAnally was a singular scene.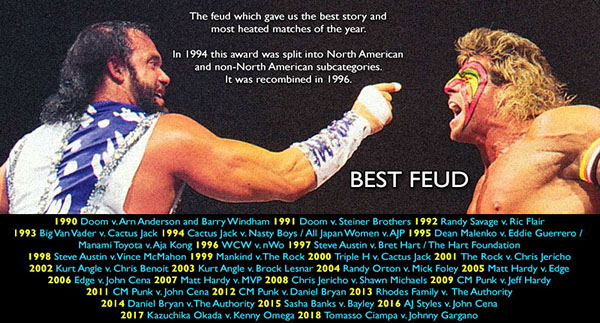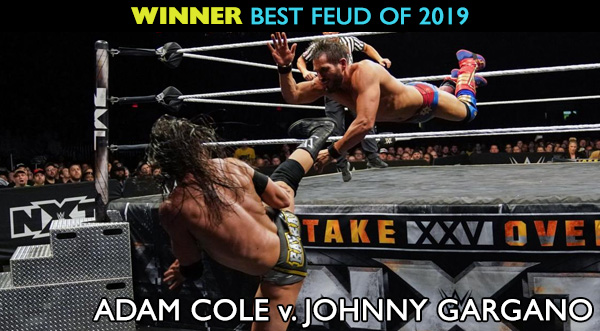 | NOMINEE | 1st | 2nd | 3rd | TOTAL |
| --- | --- | --- | --- | --- |
| ADAM COLE v. JOHNNY GARGANO | 62 | 38 | 18 | 460 |
| Cody Rhodes v. Chris Jericho | 50 | 24 | 24 | 370 |
| Kofi Kingston v. Daniel Bryan | 41 | 28 | 18 | 325 |
| Keith Lee v. Dominik Dijakovic | 23 | 35 | 18 | 256 |
| Jon Moxley v. Kenny Omega | 7 | 29 | 20 | 162 |
Full results here.
TONYA HUDSON: A feud years in the making, executed to perfection at every step of the way. Helped by some of the best hype packages in wrestling, Starr vs Devlin became so much more than a simple falling out of friends. It became a morality tale. Good vs Evil. The independents vs the machine. Utterly captivating and culminating in a fantastic match and double turn in front of a white hot crowd.
LUVVERLY: Lee/Dijakovic, because more feuds need three-hundred-pounders doing top rope Spanish Flies.
DAVE MORGAN: Yeah, I voted for R-Truth vs. Drake Maverick. I hate myself for it, but it was far more entertaining than about 90 percent of what WWE was putting up there.
TENKEN: Daniel Bryan has now been on both ends of a true hero-making WrestleMania moment. How many other guys can say that?
SHUNK: Sometimes the best feud is just the feud that has a ton of great matches involved and decent enough character work to carry it all along. That's what Adam Cole and Johnny Gargano did this year, and that is Just Fine.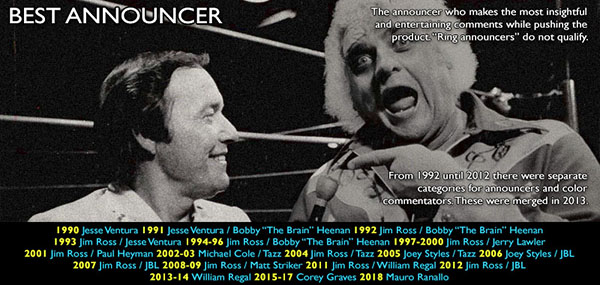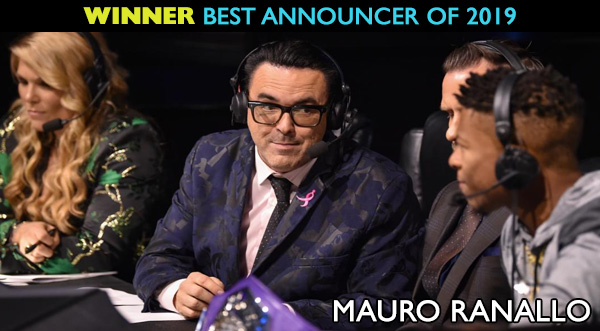 | NOMINEE | 1st | 2nd | 3rd | TOTAL |
| --- | --- | --- | --- | --- |
| MAURO RANALLO | 106 | 49 | 27 | 731 |
| Excalibur | 70 | 68 | 27 | 608 |
| Tony Schiavone | 36 | 37 | 41 | 373 |
| Nigel McGuinness | 30 | 34 | 42 | 336 |
| Kevin Kelly | 27 | 23 | 22 | 248 |
Full results here.
TENKEN: Nigel has started doing so many great, little things, like explaining pinfalls and kickouts, or covering for moves that don't quite go the way performers want. It really adds a lot of dimension to the matches.
SHUNK: Excalibur is so great and so positive and so fun as an announcer, even if we aren't getting enough "nobody kicks out of the Falcon Arrow!" calls any longer.
DAVE MORGAN: Tony Schiavone calling matches on a Turner network just feels right, and maybe, just maybe, shows me that the world might just turn out okay after all.
B. SEISON: I feel like announcing got worse across the board this year, but Samoa Joe's brief run as an announcer on Raw was a bright spot.
ALTERNATE KEY: Byron Saxton gets a write-in from me, solely for his great work in selling Kofi Kingston's run to the WWE title
CHRISTOPHER BIRD: Mauro Ranallo winning was predictable because Mauro Ranallo is the best announcer in pro wrestling, so of course we all talk about all the others so as not to be predictable as well. But he's the best announcer in pro wrestling and it's not particularly close.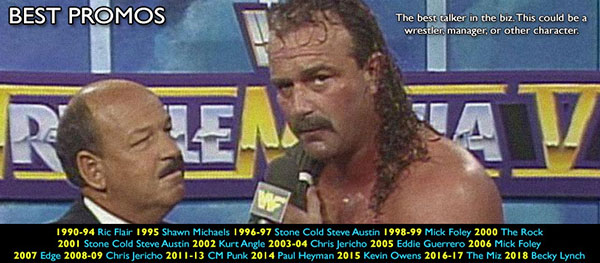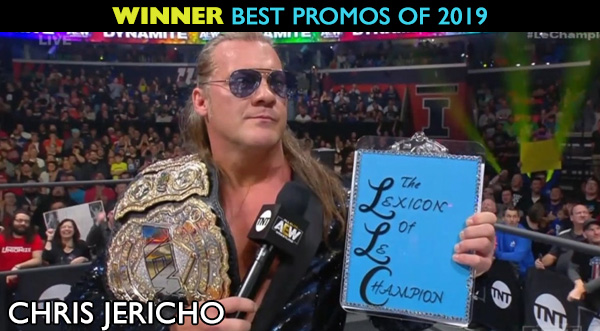 | NOMINEE | 1st | 2nd | 3rd | TOTAL |
| --- | --- | --- | --- | --- |
| CHRIS JERICHO | 114 | 60 | 33 | 816 |
| Cody Rhodes | 66 | 36 | 19 | 476 |
| Maxwell Jacob Friedman | 25 | 34 | 45 | 317 |
| Bray Wyatt | 32 | 15 | 18 | 241 |
| Daniel Bryan | 17 | 20 | 27 | 199 |
Full results here.
GIGGA B: It was only the last three months, but 2019 was somehow still the Year of Jericho. If he keeps reinventing himself this well, we're going to have to start calling Madonna "the Chris Jericho of music."
RAGNAROK: My write in for 2nd place is Mama Storm's Baby Boy, Tim Storm. Seriously, how the hell has he never been picked up by a major promotion until Billy Corgan came around?
PETER MONK: I'd put Samoa Joe in this list if he'd had more to do this year. Every time he speaks you believe that he would come to your house and mess with your family. Wendy.
LUVVERLY: When did Cody become this great a promo? Because for a long time he was strictly average, and we all know it.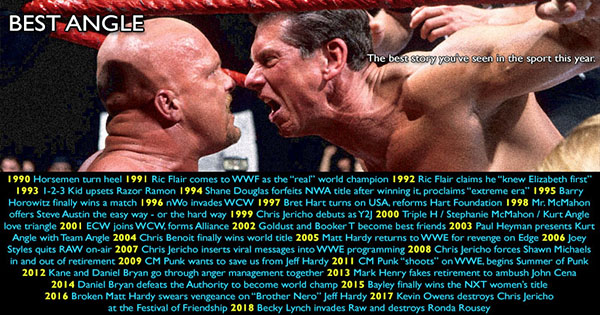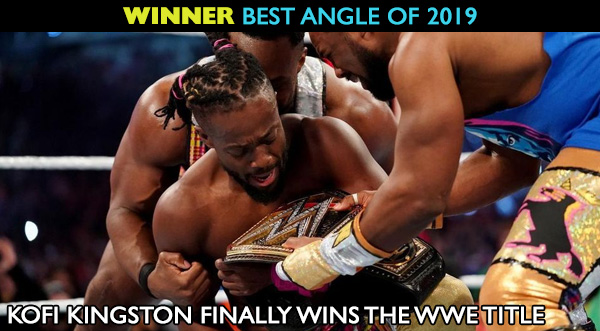 | NOMINEE | 1st | 2nd | 3rd | TOTAL |
| --- | --- | --- | --- | --- |
| KOFI KINGSTON FINALLY WINS THE WWE CHAMPIONSHIP | 115 | 31 | 22 | 712 |
| Bray Wyatt returns in the Family Funhouse | 56 | 32 | 22 | 420 |
| Daniel Bryan reveals the new environmentally friendly WWE title | 22 | 26 | 33 | 254 |
| Chris Jericho forms the Inner Circle to dominate AEW | 28 | 24 | 16 | 244 |
| KENTA turns on Katsuyori Shibata and joins Bullet Club | 32 | 15 | 18 | 241 |
Full results here.
TENKEN: Until he lost the belt to Brock, Kofi Kingston had a perfect 2019, telling the greatest story in professional wrestling this year.
KEVIN LEE: Dowie James' heel turn at MCW New Horizons was special. He was the Ace of Melbourne City Wrestling for so long and always got resistance from a section of the fanbase. On this night he ruined the Adam Brooks vs Slex title match and was booed for 10 minutes straight before he could cut his promo. And on that night, the disrespectful fans in the Thornbury Theatre deserved everything they got from Dowie.
DYNAMITE KID: Moxley befriending Umino somehow added an extra element of fun to the G1 multi-man tag matches, and honestly helped get both guys more over with the New Japan crowds.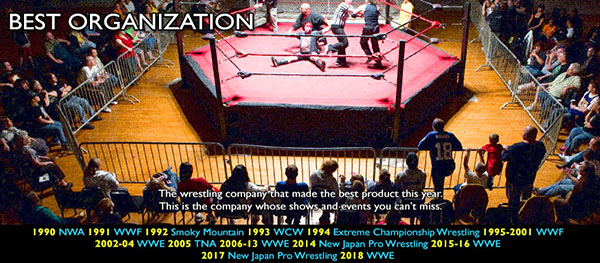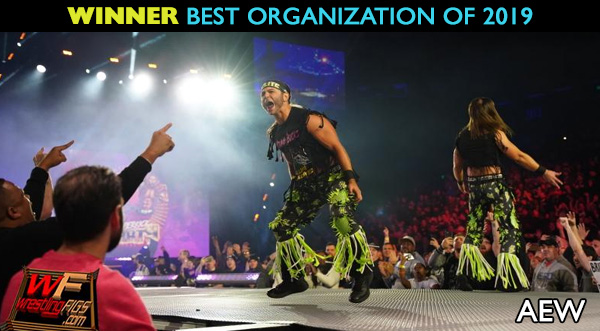 | NOMINEE | 1st | 2nd | 3rd | TOTAL |
| --- | --- | --- | --- | --- |
| AEW | 141 | 114 | 38 | 1123 |
| New Japan | 95 | 77 | 49 | 804 |
| WWE | 76 | 53 | 57 | 653 |
| NWA | 15 | 25 | 41 | 232 |
| STARDOM | 4 | 5 | 14 | 63 |
Full results here.
STEW ADAM: Will Stardom get the same editor's note next year? (EDITOR'S NOTE: Maybe, maybe not. NXT gets the note because it has become an integral part of WWE's ecosystem that routinely crosses over with the main roster, which has only been emphasized by recent events like the three-brand Survivor Series and Rhea Ripley/Charlotte Flair feud. STARDOM and New Japan, while owned by the same parent company, have no real integration at this point and are not acting as a unit. If STARDOM were to become New Japan's women's titles in all but name and appear regularly on New Japan cards – as opposed to a single dark match at Wrestle Kingdom – we'd consider adding the note there as well, but right now it's still pretty distinct.)
O. COURT: Without wanting to be elitist (this is absolutely elitist and I really don't care), but if you've voted for WWE as the number one promotion, and you have an internet connection, you're not using your money, time, or emotional investment very wisely. Almost every one of the promotions nominated has a streaming service, many of which offer free trial periods. If you're in a perpetual cycle of frustration with WWE, the escape route has never been more easily accessible.
PSYCHO GOLDFISH: I am so happy that the wrestling business seems to be in a boom period again. It was actually pretty difficult to choose my three picks, with the amazing amount of professional wrestling easily available now. I didn't even vote for the global company that is usually the only one on TV! With AEW, Impact, MLW, NJPW, and NWA in such big booms, maybe things will start changing for the better.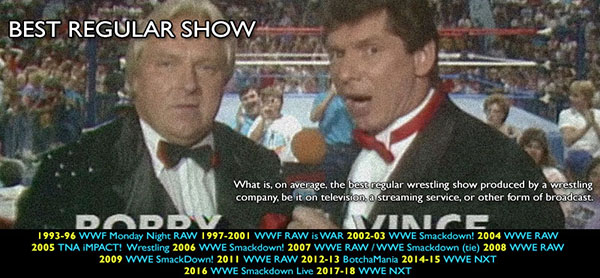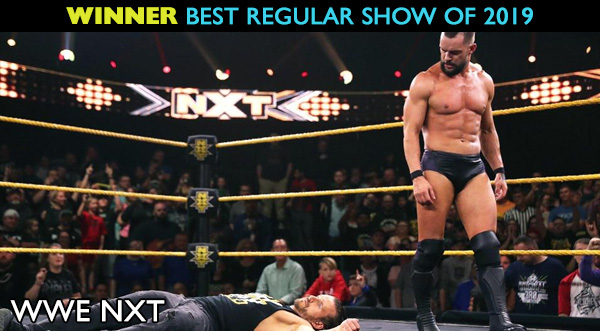 | NOMINEE | 1st | 2nd | 3rd | TOTAL |
| --- | --- | --- | --- | --- |
| WWE NXT | 136 | 86 | 46 | 1030 |
| AEW Dynamite | 121 | 102 | 43 | 997 |
| NJPW G1 Climax | 41 | 25 | 20 | 320 |
| NWA Powerrr | 27 | 24 | 44 | 295 |
| Being The Elite | 5 | 11 | 21 | 100 |
Full results here.
DMJ9798: Gonna guess that the vote differential between Dynamite and NXT is gonna be miniscule. I'm giving the edge to NXT here, but man was it tough.
DESINMAN: NWA literally blindsided us with Powerrr and we all love it.
TONYA HUDSON: The G1 Climax is always the pinnacle of what pro wrestling can be and this year was no exception. Every night guaranteed at least one absolutely stellar match and it never failed to deliver.
PETER MONK: This is truly a time to be alive as a wrestling fan – so much content is available in so many different forms and there really is something for everyone. Whether this is sustainable in the long term, who cares? Enjoy it now whilst you can.
PSYCHO GOLDFISH: I love NXT and I love Dynamite. But NWA Powerrr makes me nostalgic for something that I wasn't even alive to watch. The studio setting is amazing, the commentators and interviewers feel just as real as the wrestlers, and the unscripted promos really show you how, if they are given the proper tools, wrestlers can get themselves over. I hope it continues to grow and have impacts on the other major companies for years to come.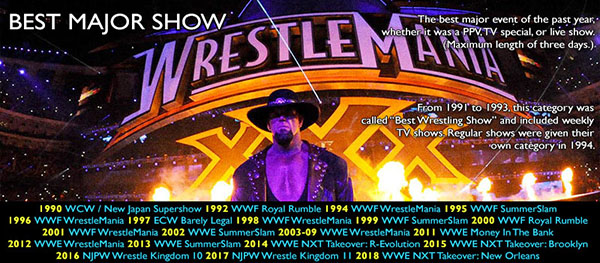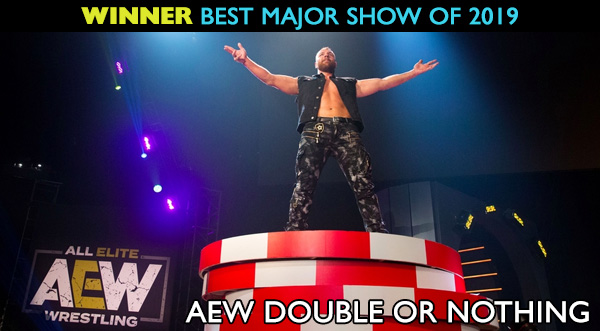 | NOMINEE | 1st | 2nd | 3rd | TOTAL |
| --- | --- | --- | --- | --- |
| AEW DOUBLE OR NOTHING | 69 | 46 | 31 | 545 |
| WWE NXT Takeover: New York | 59 | 41 | 28 | 474 |
| WWE NXT Takeover: Wargames | 50 | 38 | 35 | 434 |
| NJPW Wrestle Kingdom 13 | 45 | 32 | 22 | 365 |
| AEW All Out | 22 | 32 | 23 | 252 |
Full results here.
KEVIN LEE: EPW Hell or Highwater was the best show top to bottom on the Australian scene in 2019. Featured my number 1 and 2 Australian MOTYs in Davis Storm vs Michael Morleone and Damian Slater vs TJP.
SHUNK: Double Or Nothing was a great card, but ending with Jon Moxley standing high on that stack of giant casino chips over an unconscious Kenny Omega was like a statement of intent from AEW that we all co-signed damn fast.
TENKEN: Cardiff was such an amazingly good show. NXT UK isn't always the best TV show, but their two Takeovers have really demonstrated what the roster is capable of.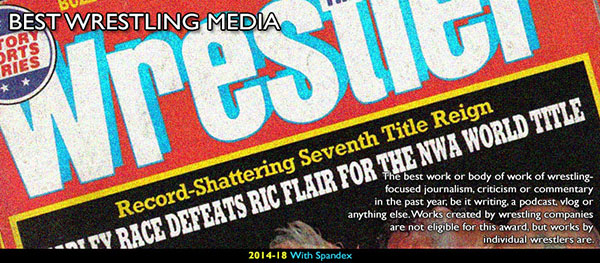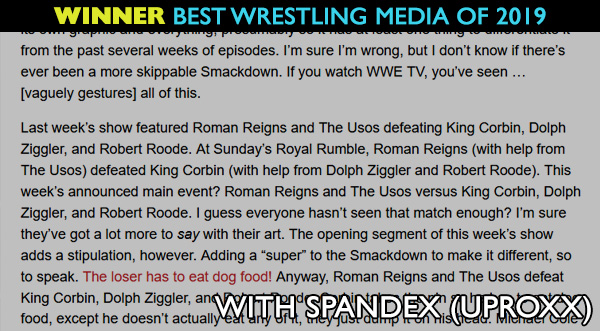 | NOMINEE | 1st | 2nd | 3rd | TOTAL |
| --- | --- | --- | --- | --- |
| WITH SPANDEX | 134 | 22 | 11 | 758 |
| Botchamania | 21 | 32 | 34 | 269 |
| The Wrestling Observer (incl. Figure Four Online/Dave Meltzer podcast) | 15 | 21 | 17 | 172 |
| Scott Keith's Blog of Doom! | 18 | 17 | 8 | 157 |
| OSW Review | 15 | 12 | 8 | 127 |
Full results here.
(EDITOR'S NOTE: Almost a quarter of all votes cast requested that this award not be discontinued, citing reasons like "dominance doesn't mean irrelevance" and "the award lets me know about other wrestling-related media that people recommend." We're going with what you're saying, folks: the award stays for now.)
DON BECKER: Nobodies Watching Wrestling is fun just to track how into wrestling Ariel Italic and Lady Bearica Andrews have gotten over the years. It's still the same campy, catty fun show it always was but for never having watched much wrestling until DJ Accident Report started making them watch it with him, Ariel and Bearica have better insights than most jaded long-time fans.
DMJ9798: Sorry, Brandon…With Spandex is great, but this year, Kanachan TV has a Japanese Murder Lady making YouTube vids of her walking through Japan, eating food, and getting excited over rice and pressure cookers. You can't compete with that.
TUC: The Wrestling Estate's coverage of the Northeast independent scene is reminiscent of PWI in its heyday. They do a great job previewing upcoming events, interviewing promoters and wrestlers, providing live coverage and breaking news stories. For example, The Wrestling Estate broke the news regarding the 2019 Super 8 participants.
KEVIN LEE: Voices of Wrestling deserve this just on the back of the NJPW Year in Review ebook which is the most comprehensive guide you will find on any 1 promotion. The site and podcasts cover a diverse array of global wrestling.
HGEPACK: Larry Csonka at 411Mania is the hardest-working reviewer in wrestling. He's constantly putting out new content, and seems to have his finger on the pulse of what's good and where wrestling is headed. His reviews are consistently insightful and paint a wonderful picture of wrestling. If it weren't for Larry, my wrestling knowledge would be leagues more insular. Add in the hardships he's experienced this year (losing a leg and rehabbing his way back) and there's no doubt in my mind that Larry Csonka has earned this award.
DJ VINEYARD: My #1 is Some Kind of Sidewalk Slam (usually just known as Sidewalk Slam) of 2 guys not known for wrestling who love it and just talk about all of the story lines. They have a guy who knows very little running tech and he chimes in with weird questions as someone who doesnt know wrestling and it is great. It's on the LoadingReadyRun YouTube channel.
PSYCHO GOLDFISH: I've been a big fan of OSW Review for the past two years. They're finally starting to make waves, recently hitting the big 100k subs landmark, and covering one of the weirdest eras of wrestling, the New Generation era. If you like quality commentary over older wrestling, these Irishmen will give it to you. Also, my Boy Stable is Chuck Taylor, Elias, Drew Gulak, Glacier, and Gangrel.
WOODSY: Botchamania should get this for the Bohemian Rhapsody ending to episode 400 alone.
JOHN A. SAWYER JR.: I know y'all talk about retiring this award all the time. I hope you don't, but on the off-chance that you do, I'd like to plug Nobodies Watching Wrestling at least one last time. It's important to have LGBTQ+ representation in the wrestling community, especially when it's that much fun to watch / listen to. They're wonderful, and if you haven't been watching them, it's not too late to fix that for yourselves.