Reaction to the previous wash samples was generally in favour, with a contingent strongly holding out for unaltered original pages.
Well, this may change attitudes. Because here are some more greywash samples. But this time around, rather than me doing the washes, Davinder is doing the washes. And as you may have noticed, Davinder is better at this whole "art" thing than I am.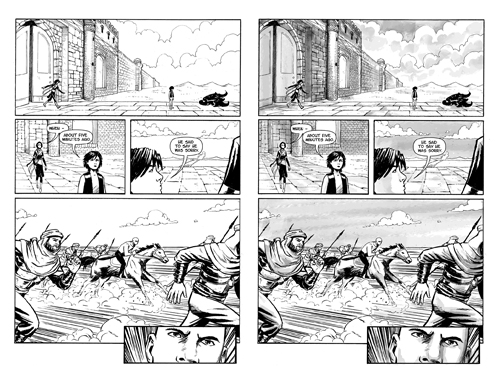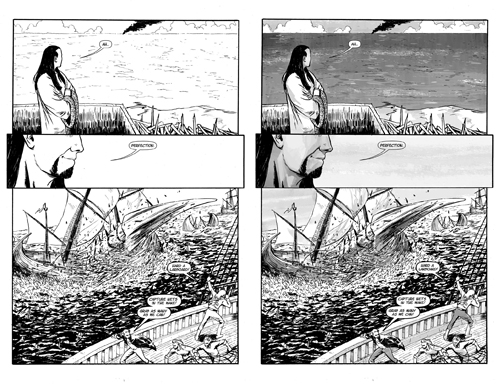 The difference, I think, is apparent.
EDIT TO ADD: In comments, Murc dissents:
Dalakhra and Kahal's faces in particular just look WRONG.
This is where we have to disagree especially, because I speak for both Davinder and myself when we say that one of the main attractions of greywashing to us both is the fact that we can really visually emphasize the fact that most of the cast of this comic isn't white.
That matters. Yes, from context the alert reader can tell that Kahal is black-skinned rather than Arabic-toned, and that Fezay is probably darker-hued than Dalakhra or Rayana, and that Alric is whiter than all of them by far. But it's not immediately visually apparent on the page, and we both think that it absolutely has to be for numerous reasons, not all of which have to do with storytelling.
I also think it's important to stress that although Davinder is much better than I am at this, what you're seeing here are still roughs. (Kahal's skin tone in the first sample is mostly untouched and we're experimenting with ways to really bring it out.)
But: we also realize that there are some people who really love the stark white lines of the original art. We get that and we appreciate it, and we're going to explore ways to bring an "original edition" into print eventually.