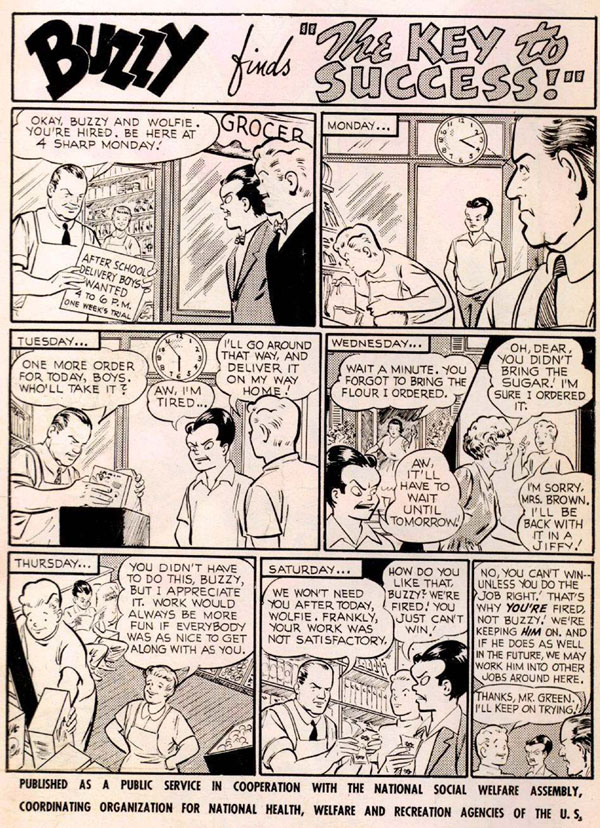 1.) Wolfie's forehead is frigging enormous. Is he a Klingon? Does the store manager loathe Trekkies? Is this anti-nerd discrimination?
2.) FUN AT HOME PROJECTS: Guess what ethnic group Wolfie is supposed to represent! Pick one of: Jewish, Italian, Hispanic, or "Asian." Is it not shameful how lazy Wolfie is compared to the heroically Aryan Buzzy? Write an essay about how you wish you were Buzzy. Girls who do not wish to mystify their own genders may instead write an essay about how they wish they could marry Buzzy.
3.) Note that this advertisement was presented by the National Social Welfare Assembly. National Socialism. And you thought I was joking about Buzzy's heroic Aryan nature!
4.) How much would you hate Buzzy if you had to work with him every day? Be honest. You would hate him a lot, wouldn't you?
5.) HOMEWORK: If Dwight Schrute got into a knife-fight with Buzzy, who would win? Explain your reasoning.