Now that Barack Obama is the Democratic candidate for president in all but name, the nation turns to consider his nominee for Vice-President. Who should fill the role? There are, of course, many possibilities.
John Edwards
PROS:
– shared message of change and battle against entrenched corporate interests in Washington
– leading progressive figure in the Democratic party
– strengthens Obama's support with white males
– helps in North Carolina, a potential swing state
– nice hair
CONS:
– track record of not quite, like, you know, winning elections
– suffers in the vital "people who hate sons of millworkers" demographic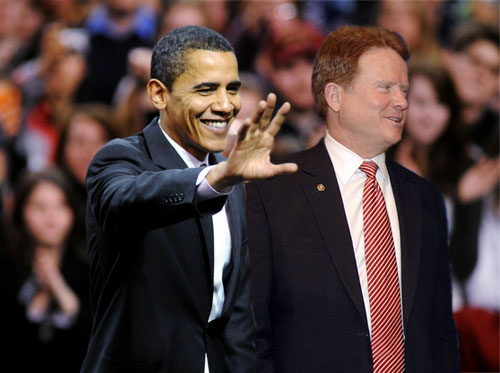 Senator Jim Webb
PROS:
– helps in Virginia, a large swing state
– also helps with white males
– will energize Democratic fundraising across the board when he asks Veronica Lodge for help in the election
CONS:
– not exactly a pro-women's rights candidate
– seen by many as too conservative a Democrat for such an important position
– will attract the attention of notable political dirty trickster Reggie Mantle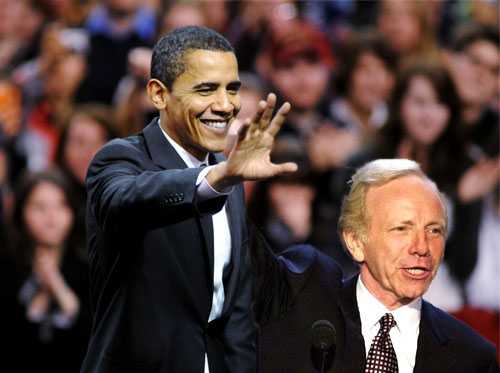 Senator Joe Lieberman
PROS:
– makes Obama look much, much taller
– theoretically helps with independent voters
– reassures voters that unpleasant-but-survivable status quo will remain essentially untouched
– his nomination would ensure that David Broder, David Brooks, George Will, and Mickey Kaus would all get such massive erections that they would die of lack of blood flow to the brain
CONS:
– is Joe Lieberman
– no, seriously, is Joe Lieberman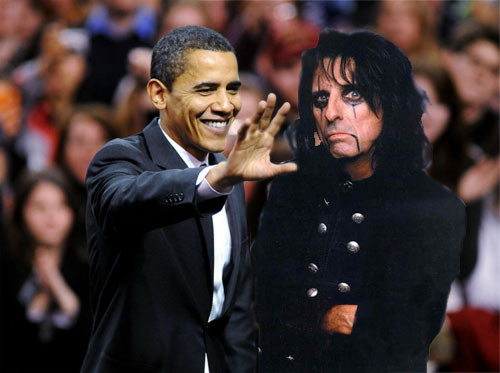 Alice Cooper
PROS:
– will introduce America to desperately needed alternative diets, IE, eating a snake live on stage
– no way in hell anybody tries to assassinate Obama now
– campaign will be the first campaign in history to have good theme music
CONS:
– campaigned against John Kerry in 2004, could depress base
– "School's Out" evidences dangerous potential for interest in school privatization, which could hurt campaign with teacher's unions
– may steal Michelle Obama's mascara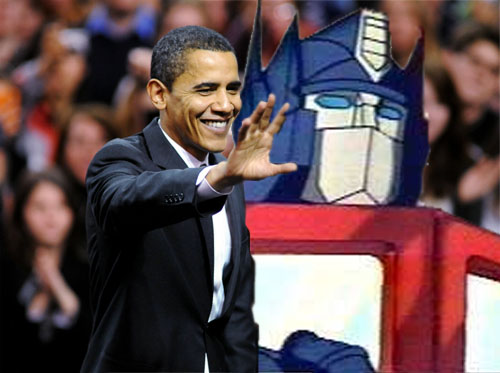 Optimus Prime
PROS:
– heroic
– beloved by millions of people
– doesn't need his own Secret Service detail, as he is a giant battle robot
– can voice over his own ads and it will be awesome
CONS:
– Energon needs may betray problematic views on energy policy
– although technically able to assume presidency on grounds that adoption of current big-rig transformed form counts as a "rebirth" and it happened on American soil, expect a court challenge to his viability
– predictable target of negative ads: "How Do We Know He Will Not Go Insane And Try To Exterminate Humanity?"
– likely Megatron endorsement of John McCain in response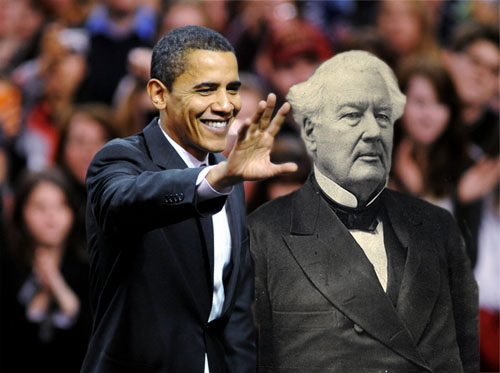 13th President of the United States Millard Fillmore
PROS:
– adds disaffected Whigs and Know-Nothings to Obama's crossover appeal
– counters Obama's perceived weakness with white males by appealing to vital slave-owning demographic
– has already taken over from one President, so ready on day one should Obama die of "hypothermia" (wink wink)
– "Millard Fillmore" one of the rare names which makes "Barack Obama" sound downright normal
CONS:
– has been dead for 134 years
– probably smells pretty bad now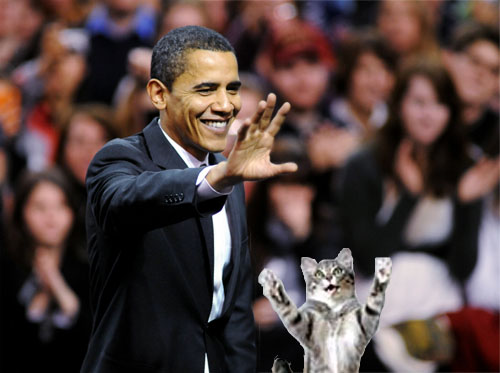 A Kitty
PROS:
– Awwwww! Lookit da kitty!
– KITTY KITTY KITTY KITTY KITTY
– Whosagoodboynow? Whosagoodboynow? YOU are! Yes YOU are!
CONS:
– no, you can't have any of my tuna
– seriously, get away from my food, cat
– aw, dammit, I thought we litterbox-trained this little bastard already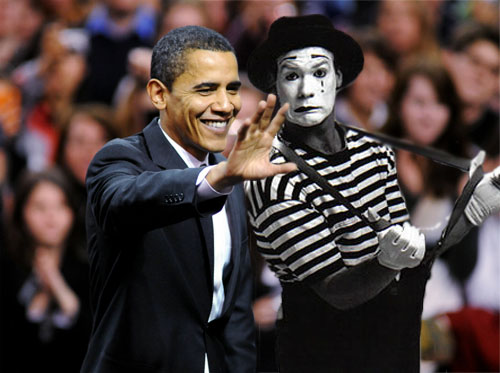 Monsieur Ting!, Mime Extraordinare
PROS:
– will revolutionize energy policy by teaching America to harness "invisible wind" power
– will never, ever say anything embarrassing to the campaign
– and yet, remarkably eloquent!
CONS:
– predictable "France-lover" attacks
– tendency to get stuck in invisible box
– tends to see world in black-and-white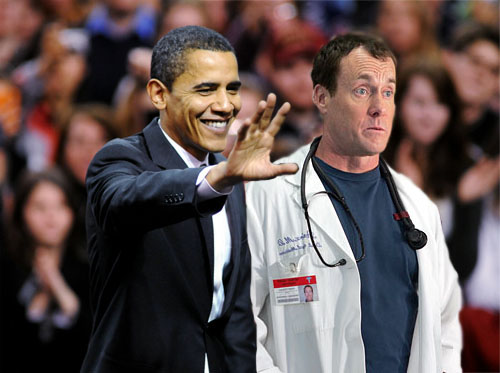 Dr. Perry Cox
PROS:
– antiwar credibility: opposed war from beginning
– almost always right about everything
– gives additional credibility on healthcare reform
– likely to be absolutely overpowering in vice-presidential debate
CONS:
– kind of a jerk
– personal life (unmarried common-law relationship with two kids) somewhat colorful for a potential nominee
– predilection of calling Obama "Newbie"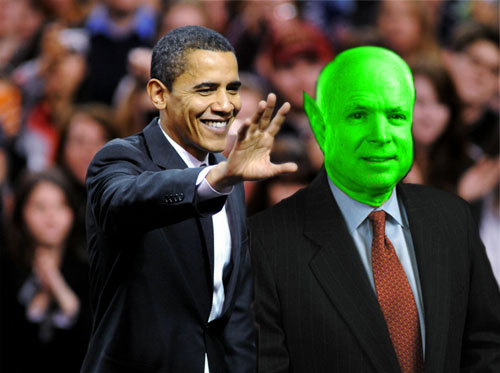 M'Kha-ane, AKA "The Martian John McCain"
PROS:
– Sacrificed greatly in Spleeg-Vurtm War, was in Spleeg prisoner of war camp for 27 astrocycles but did not talk; shows character
– Telepathic powers of great tactical value to the campaign
– Will bring a lot to the table in interplanetary trade agreements
– makes Obama seem less exotic
CONS:
– religious beliefs (member, Church of Xygyyszzz the Conqueror Undying) may prove thorny issue in campaign
– refuses to share vital raygun technology with Army researchers
– feeds exclusively on juices found in human spleen
– cannot lift arms above head due to differences in Martian anatomy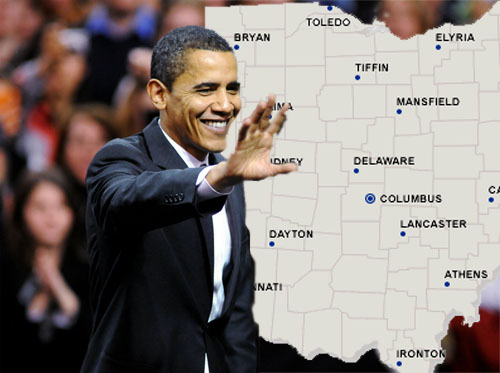 The Entire State of Ohio
PROS:
– guarantees crucial swing state of Ohio in November
– earns points with neighboring states which will feel more important
– two words: fried cheese
CONS:
– Ohio kind of sucks
– you just know Florida is going to get jealous
– difficulty of fitting entire state into Naval Observatory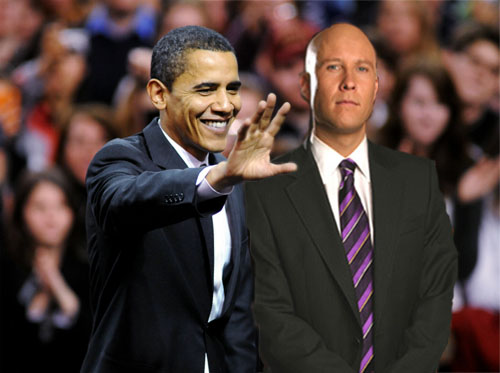 Lex Luthor
PROS:
– captain of industry, genius scientist
– swings Kansas firmly into Democratic column
– can fund many downticket races on his own dime if asked
CONS:
– may force Superman to support Republican candidate
– obsession with Kryptonite collection worrying
– serial cake theft evidences potential kleptomania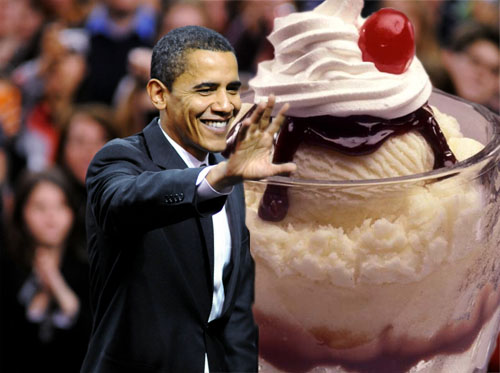 An Enormous Sundae
PROS:
– gains support of entire dairy industry
– as well as corn industry (syrups)
– is extremely delicious
CONS:
– promotes unhealthiness in American diet
– may alienate millions of lactose-intolerant Americans
– engages partisanship in base, who would prefer to see Gigantic Stack Of Waffles as nominee instead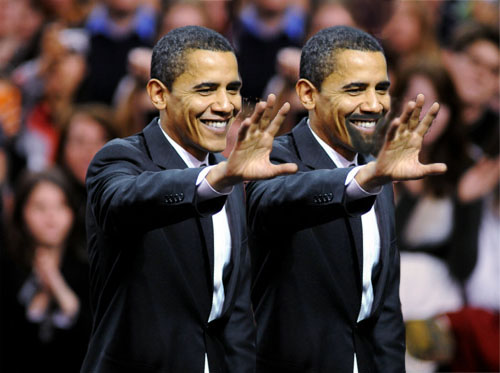 Kcarab Amabo, AKA The Mirror Universe Barack Obama
PROS:
– All of the genius and inspiration of Barack Obama
– Just as likeable as Barack Obama
– In a pinch can replace Barack Obama if he shaves his goatee
CONS:
– Evil
– Like, whoa, totally evil
– We are so not kidding about the evil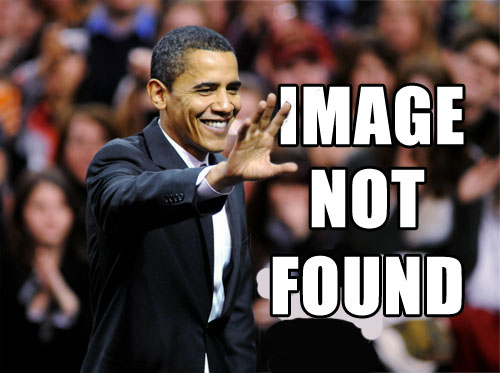 SENATOR HILLARY CLINTON
PROS:
– yep, there are some
CONS:
– yep, there are some