Action Comics #309 is noteworthy among Silver Age Superman comics. The story is nothing particularly out-of-the-ordinary – your usual "Superman is being celebrated by the public and Lois/Lana use the opportunity to try and prove that he is also Clark Kent but he comes up with a clever method of fooling them" story. (The fact that a trope this complex is a stock Superman plot is one of the many things that is gloriously weird about the Silver Age.) Lois and Lana are prepared for all of Superman's previous tricks and eliminate Superman Robots, Batman posing as Clark Kent, Chameleon Boy of the Legion of Super-Heroes shapeshifting into Superman, etc., by process of elimination.
But despite all of this, Superman and Clark Kent manage to appear in the same room, and naturally the secret is revealed in the final page of the story: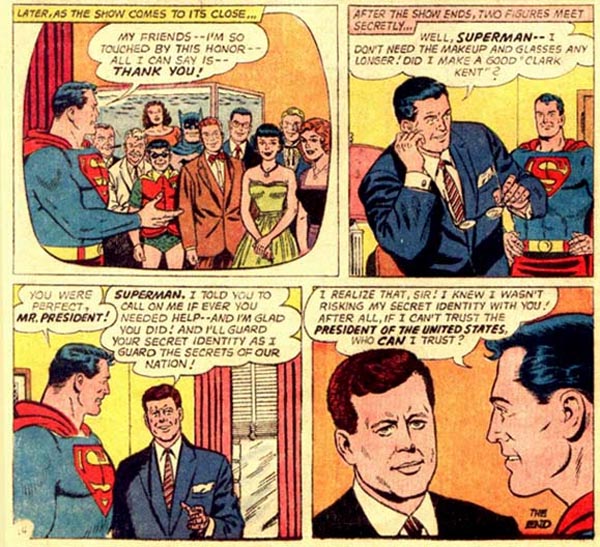 However, what is not generally known is that Edmond Hamilton wrote additional pages of the story, which were edited out. Although Curt Swan's pencilled pages have, according to all reputable sources, been destroyed, I recently had the opportunity to see the original final pages of Hamilton's script. Although I wasn't able to get them to a scanner – the person in possession of the pages wasn't willing to trust me with them – he did allow me to photograph them, and they are still mostly legible.
This is an important part of comics history, and I feel privileged to share it with you. It is worth remembering that the Silver Age was as often subversive as it was wacky.