In relation to Betty Cooper's obvious insanity, I give you this, brought to my attention by Jaime Weinman: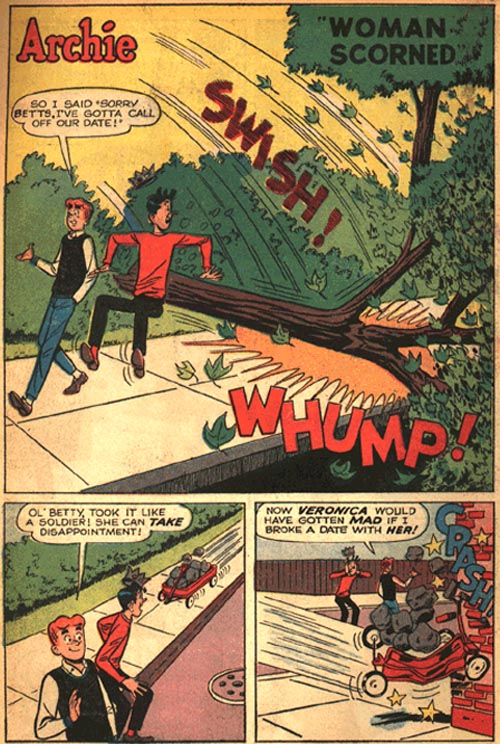 This would be Betty, trying to murder Archie, because Archie had the temerity to blow off a date with her.
What's worse is that Archie clearly has no idea about how crazy Betty is, and Jughead clearly sees it. Poor Jughead must spend half his time trying to warn Archie and the other half worried for his life. He sips his malteds down at the Chok'Lit Shoppe, eyes darting about, staying alert for the crazy blonde bitch who's determined to fuck and ritually slaughter his buddy (and possibly not in that order). Does she know he knows? Is she, even now, planning his death? 1
Imagine the conversations we never see.
ARCHIE: So that Mr. Weatherbee, huh? What a crazy old guy.
JUGHEAD: Yeah, Archie, that's great. Say, how about Betty?
ARCHIE: Right! I totally asked her out Friday night like you said I should.
JUGHEAD: I said you should go talk to the police about Betty. How did you get from that to "ask her out?"
ARCHIE: Man. I don't know. Why should I talk to the police about ol' Betty?
(JUGHEAD rubs his face exhaustedly.)
JUGHEAD: She painted a mural of you, naked, on the side of the school, with the words "Worship Him" underneath.
ARCHIE: Now come on, Jug ol' pal. There was that fig leaf.
JUGHEAD: Arch, you're not getting it. Betty is –
(Enter BETTY.)
JUGHEAD: – here! Betty! Hello! How ya doin'?
BETTY: (ignoring him) Archie, I just wanted you to know that Friday night, I'm going to do something very special for you.
ARCHIE: That's great, Betts! Your cookies are always fantastic! But be sure to bring enough for everybody?
BETTY: …for everybody?
ARCHIE: Yeah, for the beach party? The one we're going to? Ronnie and Moose and Reggie and everybody will be there.
BETTY: Ronnie will be there.
ARCHIE: Yeah, Jug and I were talking and –
JUGHEAD: And Archie, Archie all by himself, thought maybe the whole gang should meet up Friday. And then he went out and invited everybody without even consulting with me! Or I would have said, "Arch, maybe you should just take Betty."
(BETTY stares at JUGHEAD, long and emotionlessly.)
BETTY: I see.
JUGHEAD: Good. That's good.
BETTY: Well, I'll be sure to bring plenty of… cookies Friday night. Hey, do you know what Ronnie will be wearing?
ARCHIE: She said something about a skimpy bikini.
BETTY: I bet she did.
JUGHEAD: Whoa, look at the time! We'll be late for class!
BETTY: We can't let that happen, can we? Bye, guys!
(BETTY exits.)
ARCHIE: Man, I can't wait! Seeing my two best girls in skimpy bikinis!
JUGHEAD: Christ, you're an idiot.
Top comment: You are all fooled. Archie isn't an idiot. He knows exactly what's going on. He's playing the entire town because that's how he get's his kicks.
He knows Betty is batshit crazy and striving for attention. He knows Jughead will always be trying to warn him of stuff that is absolutely obvious. He knows Veronica is vying for his attention because she doesn't possess him yet. He knows all this attention thrown at him makes Reggie insane with jealousy.
Betty's not a threat to Archie because he knows that all he has to do is mention that it was Jughead that made him choose Veronica and then alert the cops to Jughead's place. True, Jughead would be lost in the transaction, but Moose is always waiting in the wings.
Archie is playing them all like a cheap fiddle. He's the one calling this dance. The only reason he's giving into Veronica's attention is because he needs money to enact his master plan.
Whatever that may be. — Zenrage
The pins on Jughead's hat have their tips dipped in various antidotes. Jughead knows that Betty has studied extensively on rare and exotic poisons. Should one of his burgers come with a "special surprise," he'll be ready to jab himself and live. [↩]