No Who's Who this week, as momentous events necessitate a pause: namely, the publication of Archie #600, the now-notorious "Archie proposes to Veronica in an imaginary story" issue.
Now, back when the issue was first announced, I took the opportunity to make fun of Betty being insane, and that took on a life of its own to be sure. But I genuinely like Archie comics; at their best they're clever comedy set pieces, intelligent absurdity told in five pages. Full-length issue stories tend to be… not so good, really. The world of Riverdale works best in small doses. But nonetheless, I was interested to see what Archie Comics did with it…
…until I saw Stan Goldberg's name on the solicit.
Now, Goldberg is a veteran Archie artist, there's no question about that. He's done a lot of good work over the years – maybe not on the level of the true greats like Dan DeCarlo (who is owed a huge artistic debt by Goldberg, I believe), or Harry Lucey and Samm Schwartz (I prefer Lucey to Schwartz, although I know many disagree with me on that score), or Bob Bolling, but he definitely did a lot of work over the years that was greatly worthy of applause; I also think more than any artist he's really responsible for the development of the Archie house style, taking the visuals Bob Montana created and DeCarlo refined and more or less creating the points for future artists to imitate. By no means is Goldberg anything other than a respected elder of the comics industry. Come on, the guy did Archie vs. The Punisher! You have to respect that.
But the problem is that "a lot of good work over the years" only works if by "the years" you mean "prior to, oh, 2000 or so." Goldberg's art – which was never brilliantly inspired but at least was solid draftsmanship – has gone downhill terribly. And by terribly, I mean – oh, just look.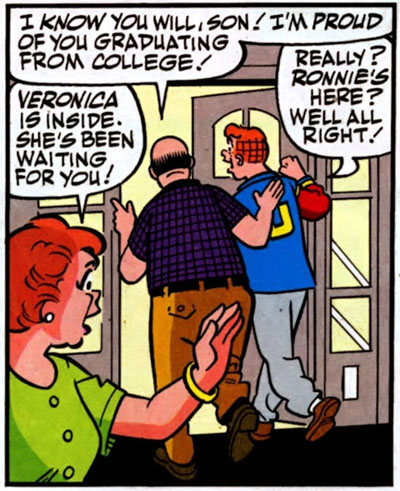 Look at Archie's Mom there. What the hell is with her face?
Now, understand that many Archie artists have used the trick of running lines along the side of the face to connect jawline to cheekbone. DeCarlo did it all the time. Heck, Goldberg's use of it back in his prime was excellent. It's a perfectly valid stylistic choice.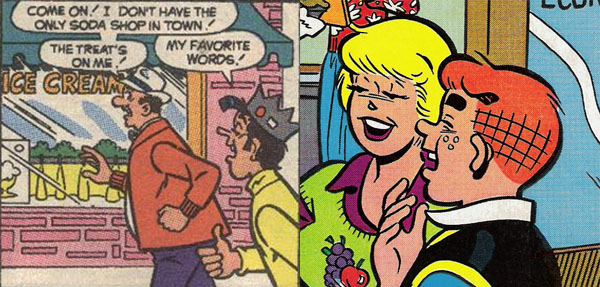 But compare DeCarlo and Goldberg's work above with some of Goldberg's work in Archie #600. Seriously: look at this shit.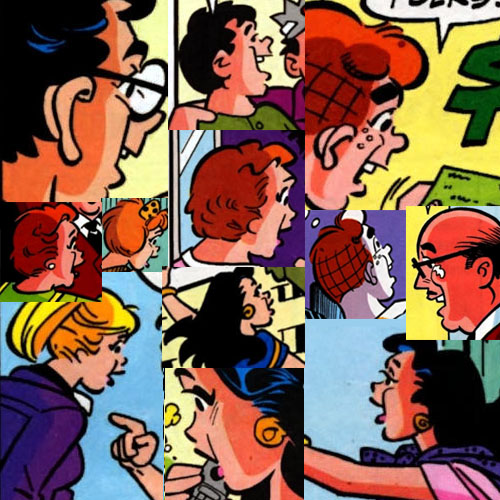 The net result is the idea that everybody in Riverdale has massive, massive jowls. Alternately, everybody in Riverdale is descended from the Tin Man in The Wizard of Oz. I can't be the only one who thinks this looks ridiculous. Some of those jowl-lines are so pronounced that they're practically spikes. Still, if this was the only problem with Goldberg's work nowadays, I expect there wouldn't be any issue. Much like how John Byrne has two faces he uses over and over again (one male, one female), it could be written off as artistic quirk rather than gratuitous error.
But.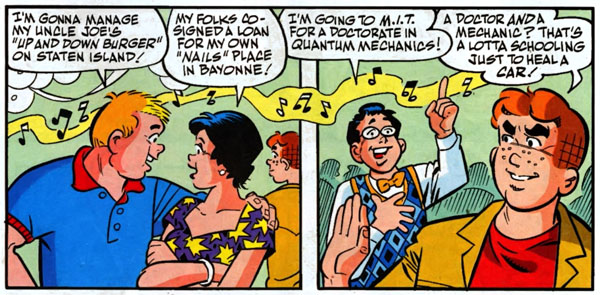 Midge – pointy jowls. Moose – jowls, and also he looks really fat when he doesn't look that way in any other panel. Archie, meanwhile, appears to be preparing for a guest appearance on The Sopranos – Riverdale.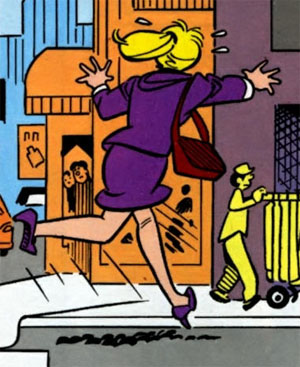 Betty was so distraught by the news of Archie and Veronica's nuptials that her foot fell off!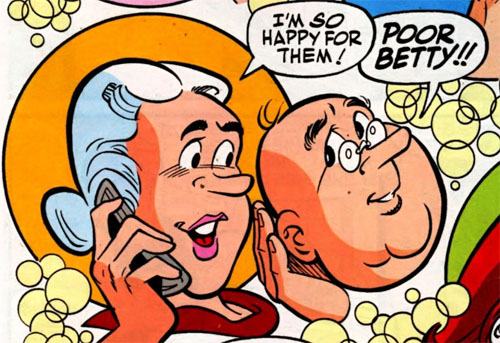 I note that apparently now Miss Grundy wears makeup all the time. Lipstick? Really? On Grundy? That is freaking me out.
What is with Archie's foot there? Is Rob Liefeld ghosting for Goldberg now? (No, no: if Liefeld were ghosting for somebody, everything would look suspiciously like an old Dan DeCarlo comic, badly traced.)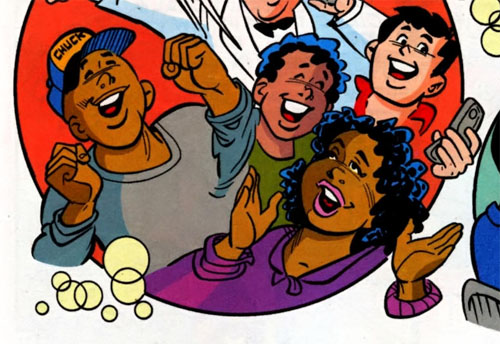 There is so much wrong with Cheering Black Girl's face I'm not sure where to begin, but I just keep looking at it and thinking that her head looks like a potato.
(Also, Goldberg has helpfully given Chuck a baseball cap with his name on it, so we do not mistake Chuck for the plethora of other young black male characters in Archie comics.)
AGH KILL IT WITH FIRE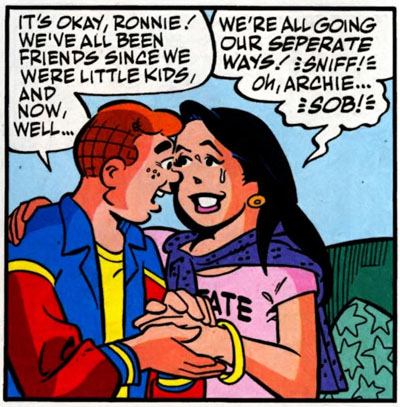 What the HELL? Look at Veronica's face. It is deformed. It looks like she is so happy to be with Hinge-Jaw Archie there that her skull has started expanding. Oh well, maybe when we switch to the closeup –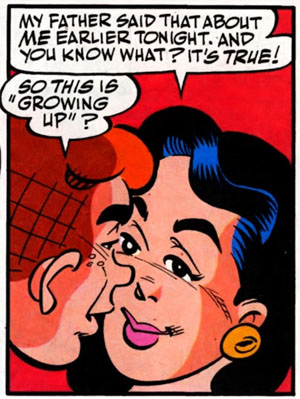 …no, apparently in closeup Veronica not only has a radically deformed skull but also her entire face is off-center to the left. (Understand that this is one of the big romantic beats of the comic, too; Goldberg's art is actively working against the story at this point by being so odd.)
I could go on at length – there is plenty of bad art in Archie #600. But that's not surprising because Goldberg hasn't been up to his previously established level of quality for years now; it's so bad that it genuinely looks like a different artist. Look at this panel from a 1979 Laugh: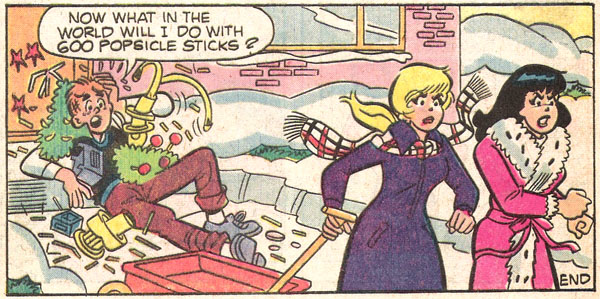 Naturalistic but vibrant: even an Archie stuck in a mound of trash conveys the just-previous motion of Betty and Veronica throwing shit at him and knocking him over, and Betty and Veronica's stride looks realistic – the abstract nature of the cartooning conveys their movement skillfully. Now look at this: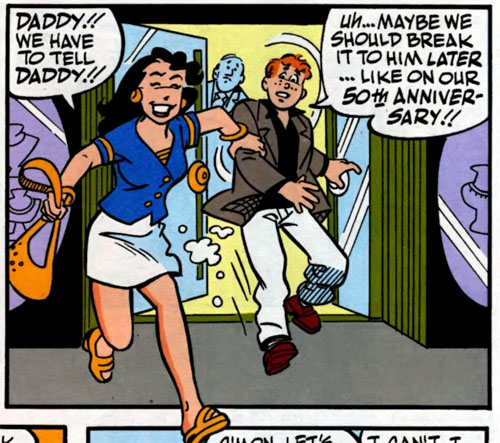 See what I mean?