Okay so you are going to a nerd place where the nerds are and you are thinking "right I need a costume." Everybody understands this. If you are going to be in a giant roomful of nerds then clearly the thing to do is stand out, and you can't do that by wearing a black T-shirt with an ironic saying on it.
So what con costume will you choose? There are so many options. And with options, come mistakes. Avoid any of the following:
Just about anything from Lord of the Rings. If you and three friends decide that you will altogether march around in costume as the Witch-King riding his giant evil lizard dragon thingy, that is about the only thing that is not played out from this franchise.1 Do not go as Legolas or Aragorn or Third Hobbit On The Left or one of the zombie kings or an orc or an Fightin' Uruk-Hai or any of the wizards. All the con people will be all "oh, Lord of the Rings, that is SOOOOOO 2006" and then you will not get nerd-laid, which is mostly the point of going in costume to begin with, right? See also: Jack Sparrow, Ben Affleck Daredevil, Xena, anybody from that show with Hercules where they were in space. I think it was called Hercules In Space.
A really, really obscure superhero. When you are leafing through your comics encylopedias and mint copies of The Complete Handbook To The Marvel Universe and wondering if you will ever find love, ask yourself a simple question: will somebody only kinda interested in comics recognize your costume? There's a reason you see so many people dressed up as mid-90s X-Men at cons. The yellow-and-green Rogue costume hasn't been in use for years now but you always see thirty or forty yellow-and-green Rogues at a con cause that is when that girl thought Jim Lee was really cool. If you have to explain that you are Lamprey from the Squadron Supreme to everybody, you are already That Guy. Do not be That Guy.
You can make an exception for guys who are obscure but really funny looking. Like Hypno Hustler, for example. People might think you are one of the Fat Albert kids instead of Hypno Hustler, but you will have a giant Afro either way and they will think that it is awesome.
Razor Fist. Or anybody else who does not have hands, or has replaced their hands with thingies. You know what sucks? Not having hands. Me, I like not having to ask people to help me pee. Maybe you can deal with that. If so, then Razor Fist away! But make sure your razor fists aren't too sharp or you will probably hurt people other than yourself. Actually you'll probably poke somebody's eye out no matter how blunt you make the razor fists. Actually I take it back, you should probably just avoid Razor Fist altogether.
Anybody with an eyepatch. Yeah I get that Nick Fury is awesome and everything, but depth perspective is surprisingly important when you are navigating crowds. You are bobbing and weaving along and then a Wolverine is in front of you but you don't know how far away his crappy looking fake claws are, and how come every Wolverine costume has the claws popped anyhow? I mean, aren't the weird muttonchops and maybe a cigar enough to say "I AM WOLVERINE"? If I were Wolverine I'd be totally depressed because everybody thinks it's all about the claws. I bet he has dreams of things other than clawing. Maybe he wants to open up a traveling sushi restaurant. You don't know him!
Anybody with a moustache. I'll just break it to you right now: you can't pull it off. Goatees are okay. But your traditional pencil-thin moustache, or your handlebar moustache, or your Tom Selleck moustache…? These are a recipe for disaster. The bad kind of disaster. I want you to do me a favour, you go look at your high school yearbooks right now. Find the picture of you when you were sixteen and tried to grow a moustache. It will never get any better than that. At least then you didn't know better!
The Joker from The Dark Knight. Because you will look like a douchebag.
So, with these guidelines in mind, what is the bestest costume ever?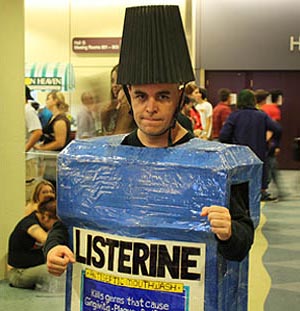 Obvious!
Okay, maybe you could go as the giant flaming eyeball on top of the tower, but that's one very blocky costume. [↩]