So occasionally I tweet something about a board game I have played recently and I got a few emails asking for more comprehensive run-downs, so why not.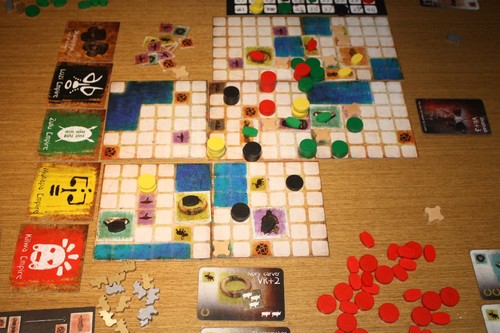 The Great Zimbabwe is Splotter Spellen's latest game – it was introduced in September at the Essen games fair, and shipped shortly thereafter. (As an addendum to the Splotter post: they have, in the last year, become much more diligent about reprinting their popular games and you can now order most of their titles through their website. It is still quite pricey, to be sure, but you can get them.) I ordered it immediately because there is no Splotter title I have played that I have not loved immediately. The Great Zimbabwe does not break this streak.
At first glance, The Great Zimbabwe is your standard race-for-VPs game: you're building temples to get VPs, very straightforward. But the trick is that everybody starts with a VP target of 20 – and then, as you start taking improvements to better yourself in the game (selecting a god who gives you a bonus, selecting a tribal specialist who gives you a different bonus, buying the craftsmen who let you improve the temples) your VP target to win the game increases, so now you are balancing advantages against your ability to win the game. On top of that, the game has a very clever economic engine, wherein most of the players' expenses each turn for operating stores or purchasing specialist benefits are paid directly to other players – so maybe you take that mask carver early even though it's going to increase your VP target, because now everybody will be buying masks from you, especially since early on you're going to lay down mask carver shops near all the available wood and make it difficult for anyone else to get value from mask carving. Because you need that money to bid for turn order every turn and make sure you go first, so you get your pick of shops to improve your temples.
It's all a very clever and wide-open economic game with an interesting area aspect to it – it's not area control by any means, but it's definitely area-influenced. Like most Splotters it gives you lots of options and strategies and generally leaves play options wide open. And like most Splotters, it is excellent. This was well worth the (stupid high) price.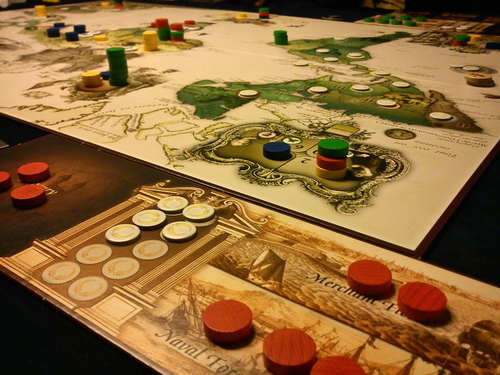 Colonial debuted at Essen last year; there was a recent Kickstarter for a North American reprint, which then tied into the designer releasing "second edition" rules which – having played both versions now – are both much more well edited and balanced than the first edition was. The prominent issue from the first edition is still there – this is a game where "beat up the leader" is still very much a thing. However, it's also not a game which falls into "takes forever" because of its beat-up-the-leader play; instead, it is a game that rewards cunning diplomatic skill, which is as it should be for a game which is fundamentally about European colonialism.
Gameplay features up to six identical "nations" playing a variety of cards each turn in player sequence. These cards each have two different abilities, which both limits player choice of action in an interesting way and which allows for a little improvisation during play (which is kind of neat, if you were planning to use the Explorer but then realize, hey, the Ambassador might be a better pick). You have a pool of wooden counters, which is your money when it's in the bank and your colonists when they're on the board and your ships when they're in your fleets and your goods when you're importing from the colonies, which is a very nice abstraction of bringing every aspect of colonialism down to raw economics.
Players can trade goods (their own or other players' – the latter of which helps both players, which can be advisable at times), advance their science tracks to become better sailors or economic powers or what have you, take out loans for quick influxes of cash (which is both very useful and also limiting, because you can't win the game while you have debt), explore the world to form colonies, emigrate your people to those colonies (or to other people's, much in the way that Nieuw Amsterdam eventually became New York), inspire rebels to rise up against colonists, convert the natives to Christianity to prevent rebellions or, yes, go to war with other players. This last is particularly important because the method of winning the game is gaining ten prestige points, which are mostly gained by exploring or by establishing colonies, which would turn the game purely into a race – except that wars let you steal prestige points directly from other players. But there's also a diplomacy track, and you have to play nice because you can't declare war on somebody who's further along the diplomacy track than you. (Or you can play dirty and then make up the difference by using ambassadors to bullshit your way back into acceptability.)
In case it's not clear: Colonial absolutely oozes theme in a way that many Euros do not. There are all sorts of Eurogames about Europe colonizing the rest of the world and most of them are dry and boring affairs, but Colonial captures almost every aspect of the colonial race (yes, even slavery) and boils it down into mechanics that, while not quite simple, are elegant. There's also a five-player "Nations" variant (that wasn't balanced in first edition and, with the second, now works) that lets players take on special in-game powers to represent the Spanish, Portuguese, English, French and Dutch. I haven't given it a go yet, but I am looking forward to it.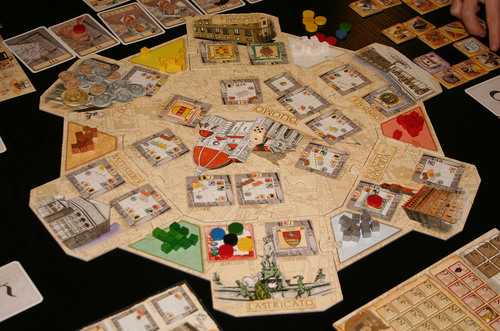 Florenza was… kind of disappointing. There are a lot of gamers out there who admire the gameplay of Caylus but wish it tied more closely to its theme, and so they create their own takes on Caylus' pure, brilliant worker-placement engine but with more flavour, or at least more of what they consider flavour, and the result is always the same: a game that is not quite as good as Caylus is. (Lords of Waterdeep is an excellent example of this and one of the better attempts to turn Caylus into something more themey – but it's just not as good a pure gaming experience as Caylus is, because the base game does not really offer the variant victory paths that Caylus does, so everybody just sort of does the same thing.)
Florenza is about merchant families building elaborate buildings in Renaissance-era Florence – I know what you're thinking, "a Eurogame about merchants in Renaissance-era Italy? What are the odds?" Players build workshops that have powers on them that you can send workers to for things, just like in Caylus. You can build fancy monuments for VPs, just like in Caylus. And to make it more thematic, you compete for the skills of famous Renaissance-era artists and religious leaders, and since it's set in Florence Assassin's Creed players will recognize most of the names.
The problem is that Florenza gives players too many options in their worker placement. Worker placement, as a game mechanic, works when players are forced to compete for worker uses and have to decide where they want to place their worker on their turn because odds are the next time they get to place a worker, other players will have snapped up all of the other good stuff they're considering. In Florenza, by midgame, each player has typically built 4-6 workshops, which means you can always get a lot of resources for your workers – and the area where you send workers to trade resources for other resources (so you can get the right combination of resources to build the Big Fancy Building That Gets You A Lot Of Points) is non-exclusive so you can just send a worker there any time. Which means that in the core of the game, there isn't that much tension – and without that tension it just becomes an exercise in cubepushing.