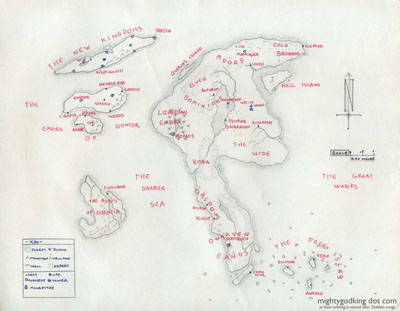 Click on thumb to see full
Oh, man, this thing.
I would've been about 14 at this point and it really does show: the map is mostly a conglomeration of D&D cliches (separate kingdoms for elves and dwarves and orcs and even lizardmen and Snake People), ideas lifted wholly from the low-grade fantasy I was reading ("the Wide" is a direct ripoff of Algaria from David Eddings' Belgariad books, as is the Moors – man, couldn't I come up with a name for my fantasy moors than simply capitalizing "Moors"? – and the idea of Snake People was stolen from the Fighting Fantasy books), and names that are either painfully generic ("Riverport," "Alfheim," "Coast Town," "Hell Island") or just awful ("Dontor," "Twilldove," "Fligit," and personal least favourite "Wiv" – yes, one of the dramatic upstart New Kingdoms is called fucking Wiv, what the hell).
But right smack dab in the middle there is Boka, and my idea for it was pretty much the same as what you're seeing in Al'Rashad now. Granted, at the time it also had jungle dwarves (as per the Forgotten Realms), but the basic idea of a world-dominating medieval African-ish kingdom was one that I liked – even when I was young and thought any reasonable empire would name a city "Nendle Bar." The Free Isles – although they haven't appeared in the comic proper as of yet – are there too and the idea was, as I recall, much the same as it is now.
And "Doomtooth" is just a rocking name, so good on my 14-year-old self.
Also: Consider this an open challenge/dare to all the other nerd bloggers out there. I know all of you did a world map of your D&D campaign world at some point! And I bet most of you can still find them.