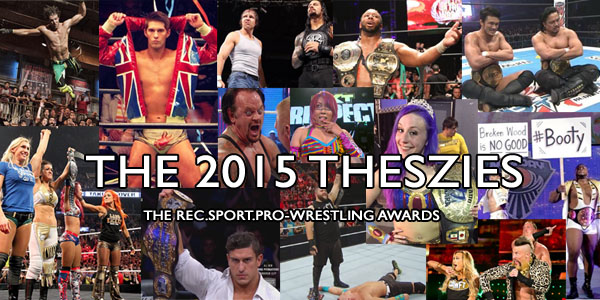 This is the Call for Votes for the 2015 Theszie Awards. You can vote here.
The Theszie Awards are the oldest fan awards in pro wrestling history, going back to 1990 (when Mr. Perfect quite appropriately won Best Wrestler and Junkyard Dog v. Ric Flair at Clash XI won Worst Match). They offer a record of wrestling fan opinion lasting decades, and although we may not agree with some awards in retrospect, what matters is that they offer a snapshot of every year of wrestling as the fans loved it. We think that's pretty cool.
As usual, following the nominations period, we have compiled all of the nominations into pulldown menus to make voting faster and easier (since the pulldown menus should include most, if not all, of the most popular candidates for each award), while still allowing for write-in votes for those who don't see their favorite choices as nominees. We do this strictly to streamline the voting process; this should not be construed as favoritism towards any wrestler for being nominated, as we do not nominate wrestlers ourselves.
(We have edited the nominations to remove some nominations that we thought were inappropriate, mistakes/errors, or unlikely to get enough votes to justify the nomination – for example, someone nominated Adam Rose for Worst Babyface, and whatever one thinks of Adam Rose he turned heel in 2014 and hasn't been a babyface since – however, this does not mean people cannot vote for those wrestlers in those categories.)
We've also used TECHNOLOGY to let you save your ballot and return to it later, if need be. Finally, we've also given fans the opportunity to include their own commentary on their voting choices for each award or just The State of Wrestling in General in 2014.
A note on category changes: This year, after deliberation, we have removed four categories, three negative and one positive, in order to streamline the voting process further. Most Deteriorated was axed after we decided the category is frankly just depressing; voting for "which wrestler aged the worst" is simply not fun and we don't need to bother with it. Worst TV/Youtube Show was killed for two reasons: firstly, we killed Worst Promotion in 2013 because we felt it was too generally negative in a broad-brush-tarring sort of way and Worst TV/Youtube Show seemed to have the same problem, and secondly, there really aren't a lot of truly bad wrestling shows lately so there is insufficient competition.
Finally, we decided to axe Best and Worst Promotional Move. This was the toughest decision since the idea of awards specifically focused on the "business" side of wrestling is appealing. However, in practice, what happens is that most of the time these awards end up being awards for booking decisions and angles, because that's what common wrestling viewers interact with most regularly. It's true that a booking decision can be the best possible thing, business-wise, that a promotion does in a given year (for example, pushing Hulk Hogan in 1984 is what turned the WWF into the unstoppable wrestling juggernaut it is today) but these moments are rare, and signing decisions, TV deals, and other things fans don't have as much familiarity with are, most of the time, more important. Basically, these awards were smark awards in a bad way, so we nuked them. You're welcome.
The deadline for entering votes is February 7, 2016. Have fun!