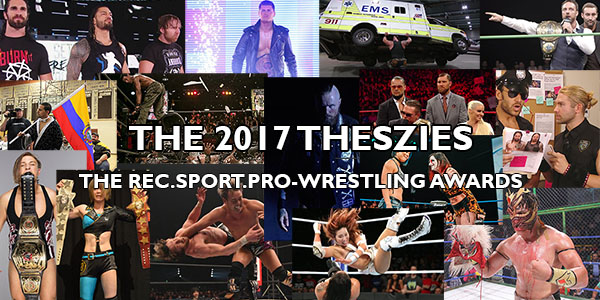 This is the Call for Votes for the 2017 RSPW (Theszie) Awards. You can vote here.
The Theszies are the oldest fan awards in pro wrestling history, going back to 1990 (when Mr. Perfect quite appropriately won Best Wrestler and Junkyard Dog v. Ric Flair at Clash of the Champions XI won Worst Match). They offer a record of wrestling fan opinion lasting decades, and although we may not agree with some awards in retrospect, what matters is that they offer a snapshot of every year of wrestling as the fans loved it. We think that's pretty cool.
As usual, following the nominations period, we have compiled all of the nominations into menus to make voting faster and easier (since the menus should include most or all of the most popular candidates for each award), while still allowing for write-in votes for those who don't see their favorite choices as nominees. We do this strictly to streamline the voting process; this should not be construed as favoritism towards any wrestler for being nominated, as we do not nominate wrestlers ourselves. We have edited the nominations to remove some nominations that we thought were inappropriate, mistakes/errors, or unlikely to get enough votes to justify the nomination, as well as culling the nominations somewhat to make the ballot more manageable.
Remember, though: if your candidate for an award isn't nominated, you can always write him in.
We've also used TECHNOLOGY to let you save your ballot and return to it later, if need be. Finally, we've also given fans the opportunity to include their own commentary on their voting choices for each award or just The State of Wrestling in General in 2016.
The deadline for entering votes is February 10, 2017. Have fun!