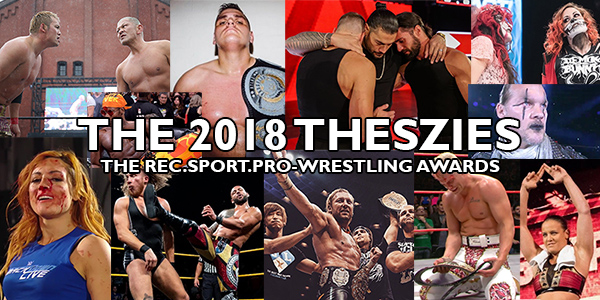 Welcome to the results of the 2018 Theszies / Rec.sport.pro-wrestling Awards.
Anyway. Here, we present the "best" Awards – those Awards which celebrate the greatest things in wrestling during 2018. If you would rather be a Negative Nancy and go read the "worst" Awards, they're over here.
This year we had 508 voters participating. As always, for next year we encourage all of you wrestling media people to nominate yourselves and your favorites, and try to get your fans out to vote for you. Fair is fair!
As always, thank yous to Justin Henry, Christopher Robin Zimmerman, Herb Kunze and all those who have previously run the Awards and contributed to their legacy; everybody who chipped in to promote the awards; all of you voters, of course; and finally and most importantly an extra-double-sized thanks to mgkdotcom's Tech Guy, James Young, without whose invaluable assistance these Awards would almost certainly have failed to be anywhere near as successful and user-friendly as they in fact were.
And without further ado…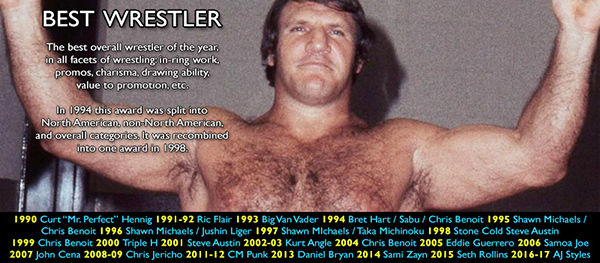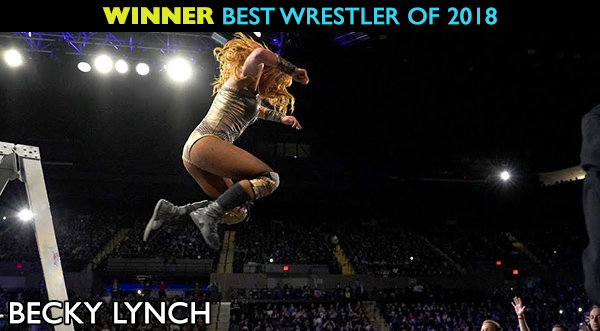 | NOMINEE | 1st | 2nd | 3rd | TOTAL |
| --- | --- | --- | --- | --- |
| BECKY LYNCH | 122 | 63 | 52 | 903 |
| Kenny Omega | 86 | 44 | 35 | 632 |
| Johnny Gargano | 61 | 51 | 39 | 536 |
| Daniel Bryan | 34 | 36 | 33 | 344 |
| Tommaso Ciampa | 24 | 36 | 32 | 292 |
Full results here.
RHENCH: Making the Smackdown Women's Title the talk of the wrestling world might be enough to win this alone, but Becky Lynch deserves this for so many reasons. She stepped to women and men alike, from Rousey to Asuka to Cena to anyone who dared address her on Twitter, and came up aces in everything she did. She turned on Charlotte and got a huge swell of support for doing so, and nothing she could do from then on would possibly make them hate her. She wrestled like a woman possessed and crowning herself The Man lit the world's attention up.
SORCERESS KNIGHTAS: What Buddy Murphy did was incredible. He took a show on the verge of failure after the champion had the worst moment of 2018 (and it was entirely his own fault, was only a warm body on the show for an extra slot in a tournament, and just by being so fucking awesome in the ring BROUGHT THE SHOW BACK FROM THE EDGE.
TONY HUDSON: 2018 was Kenny Omega's year. Starting with Wrestle Kingdom, when he was part of Chris Jericho's first ever five-star match, he kept up a level of quality that few could get close to. He and Okada had the best pro-wrestling match in any promotion at Dominion and then the former Bullet Club leader went on to have a series of terrific bouts during the G1 tournament. He slowed somewhat towards the end of the year but had done more than enough by then to be the top choice by a considerable distance.
JOSHUA BROWN: I mean, I guess I could explain my vote, or I could just point out that she's Meiko f**king Satomura.
DANIEL GRONSKY: The Man has come around, and I think we all have to recognize it.
SEISON: It is really hard not to vote for Johnny Gargano in the top spot this year. He may not be "the best" but it seems like every match he had on NXT TV or on a Takeover special this year was special or a match of the year candidate and I don't think any other performer in 2018 did that.
CHRISTOPHER BIRD: FICKLE! FICKLE! CHANGE IT!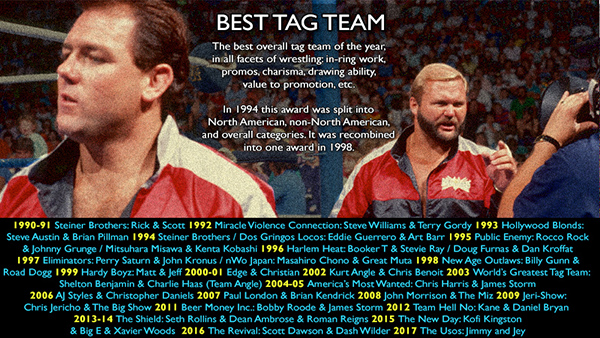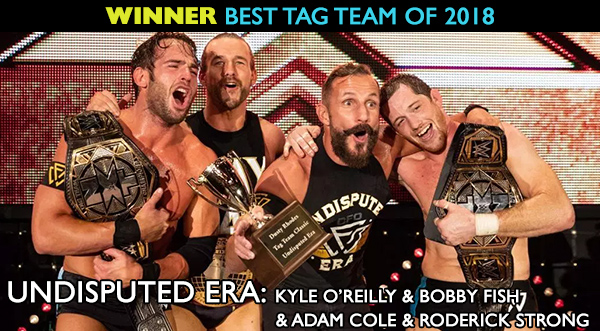 | NOMINEE | 1st | 2nd | 3rd | TOTAL |
| --- | --- | --- | --- | --- |
| UNDISPUTED ERA: KYLE O'REILLY AND BOBBY FISH AND RODERICK STRONG AND ADAM COLE | 115 | 76 | 52 | 907 |
| Young Bucks: Matt and Nick Jackson | 57 | 45 | 28 | 476 |
| Moustache Mountain: Tyler Bate and Trent Seven | 44 | 57 | 36 | 463 |
| Golden Lovers: Kenny Omega and Kota Ibushi | 46 | 37 | 34 | 409 |
| New Day: Kofi Kingston and Xavier Woods and Big E | 29 | 32 | 40 | 320 |
Full results here.
CAP'N ANDY: Yes, I know they're basically a comedy duo. But they're a really really good comedy duo, and that's why my vote this year is… *poses wildly* IICONIC.
RHENCH: The Young Bucks moved to the Heavyweight class, won those titles, proved they can do more than high spots for wrestling, and started a wrestling company. They continue to prove that you don't need to be in WWE to be successful wrestlers, in part by having an almost exclusive understanding of how to handle marketing via social media. But they also showed this year that they can tell stories. Not just with their video series, but by having Nick sell his foot in a huge match, and especially by Matt selling his back for the better part of the year it seemed. The Bucks are the genuine article, and they are by far the tag team with the best understanding of the business, which I hope suits them well in the actual business element of a wrestling company.
VANDAMDAZ: EVIL & SANADA established themselves as the next big tag team in Japan this year with some fantastic matches. They're on their way to being the next Tenzan & Kojima.
TONY HUDSON: There are few guarantees in the world of pro wrestling, but one appears to be this: Put the Undisputed Era in a NXT Tag Team title match at a Takeover and get magic. It doesn't matter that they're heels: they get the biggest pops of the night. Expect technical excellence, hard-hitting strikes, high flying brilliance and terrific storytellying. That's undisputed.
TOBY SNEDECOR: The "drawing value to the promotion" category kills me, because I got to see American Alpha go up against the Revival at a house show a few years ago, and those two teams took the non-NXT watching friend I brought from "who are those guys" to "OH MY GOD THAT WAS AMAZING" with nothing but staggering in-ring genius.
GANGSTIST: LAX's rivalries with the OGz and the Lucha Brothers were key programs for Impact in 2018, and their performances were consistently never anything less than excellent.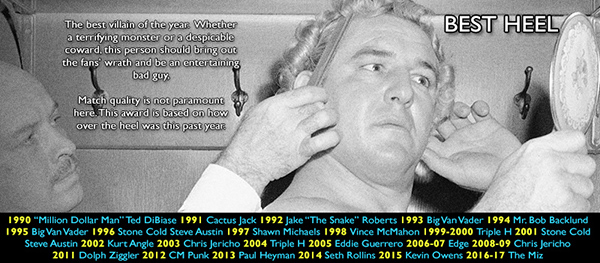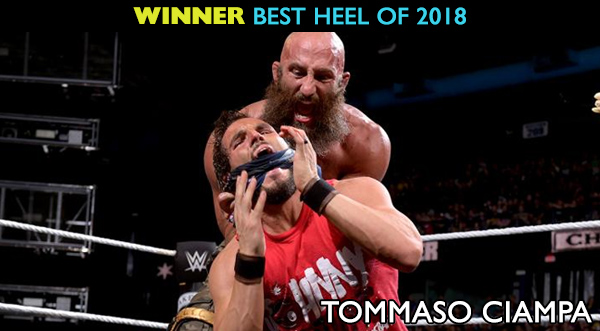 | NOMINEE | 1st | 2nd | 3rd | TOTAL |
| --- | --- | --- | --- | --- |
| TOMMASO CIAMPA | 262 | 61 | 25 | 1543 |
| Daniel Bryan | 42 | 69 | 35 | 487 |
| Shayna Baszler | 25 | 48 | 40 | 349 |
| The Miz | 32 | 26 | 30 | 298 |
| Jay White | 18 | 24 | 25 | 212 |
Full results here.
JOHN A. SAWYER: It was easy to forget, after his WWE underdog babyface run as Daniel Bryan, just how amazing Bryan Danielson is at being an asshole. Thank you, New Daniel Bryan, for reminding us of that.
COREIF: Zack Gibson makes people hate him so much that they take their shoes off.
R. MANNING: Is there any doubt who #1 goes to this year? The classic entrance theme "FUCK YOU CIAMPA! in E" pretty much secures this one. Even Cornette said the only reason he wouldn't call Ciampa's heat true old-school heat is because people weren't willing to go to jail to get at him; otherwise, he got the most genuine hatred I've ever seen Full Sail give someone not named Eva Marie – and this was "I wanna see him DIE IN THAT RING!" hate, not "Get the fuck off my TV!" hate.
FLIPDAWG: Shayna Baszler is the most awesome bully prick in wrestling by a country mile and it's not particularly close. She's just so great at being an arrogant and mean yet terrifyingly competent dickhead.
TOBY SNEDECOR: "So, Tommaso, what do you want your new entrance music to be?" "It's going to be thousands of people booing me." "…okay. How do you want us to record that? Do you want an intro sting?" "No, we're going to do it live. I'm just going to walk out and bask in their hatred."
ERIC SHEPHERD: Wennnnnnnnnnndy.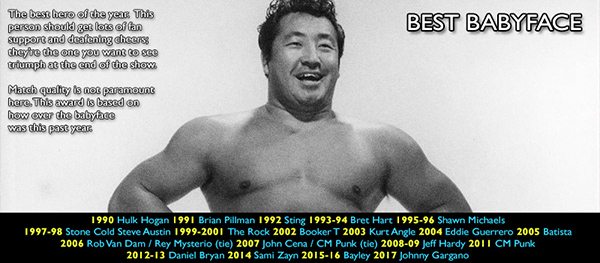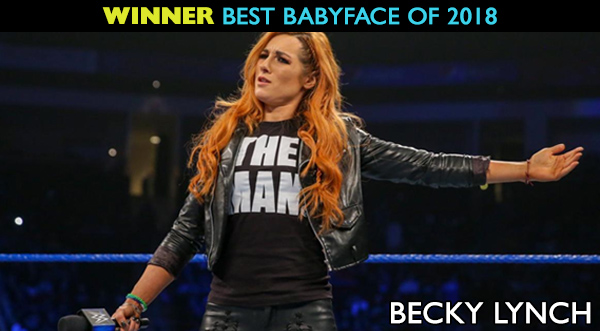 | NOMINEE | 1st | 2nd | 3rd | TOTAL |
| --- | --- | --- | --- | --- |
| BECKY LYNCH | 198 | 46 | 27 | 1182 |
| Mustafa Ali | 39 | 49 | 28 | 398 |
| Seth Rollins | 33 | 37 | 31 | 338 |
| Johnny Gargano | 33 | 34 | 19 | 305 |
| Hiroshi Tanahashi | 36 | 23 | 21 | 291 |
Full results here.
ETRIGANZOLA: The best, purest babyface in all of wrestling is Pakistani-Indian and was a street cop, and neither of those things is his gimmick. That's talent, is what that is.
ICOM: I'm writing in Kazuchika Okada, because the guy got cheered just for returning to the Rainmaker trunks. That tells me he should've been in the noms for best babyface.
RHENCH: I'm sure some people will argue that Becky Lynch is a tweener, but they're wrong. They turned Lynch heel on Charlotte and people cheered her so damn much that they had to basically let her organically 'turn' back face because she was getting cheered on RAW (a show she wasn't on) during promo time for Ronda Rousey (who was previously the hottest female act in WWE), during a segment that had nothing to do with Becky. It's crazy how much people, including myself, want to cheer this woman. Her straight-shooting Twitter comments, her new persona of The Man, her willingness to do anything to prove she's the best, not just for titles but for bragging rights on merch sales and with guys like Cena; all of these these things just scream to me that she could be the biggest act in wrestling, and people love her.
FLIPDAWG: For about five months this year Braun Strowman could do literally anything, no matter how ridiculous, and get an insane pop for it. He wrestled a tag title match with a ten-year-old child as his tag team partner, at WrestleMania for god's sake, and made it work. And then, of course, they pissed all of that away.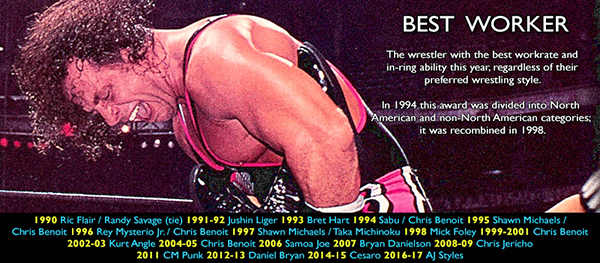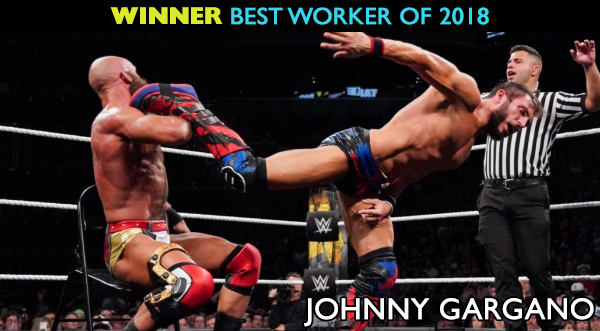 | NOMINEE | 1st | 2nd | 3rd | TOTAL |
| --- | --- | --- | --- | --- |
| JOHNNY GARGANO | 83 | 36 | 35 | 593 |
| Kenny Omega | 71 | 38 | 32 | 533 |
| Seth Rollins | 46 | 36 | 26 | 390 |
| AJ Styles | 40 | 29 | 26 | 339 |
| Kazuchika Okada | 32 | 34 | 21 | 304 |
Full results here.
SEISON: Someone could and probably will make an argument for every Takeover match Johnny Gargano had in 2018 as match of the year and they probably wouldn't be wrong.
DAVID GLEASON: Buddy Murphy is probably the biggest surprise to me this year. He absolutely lived up to his Best Kept Secret moniker, and made ample use of the opportunities he was given to put on fantastic clinics with the likes of Mustafa Ali and Cedric Alexander.
ARYEHHS: It's insane that Okada wrestled the entire year with mostly the same moveset and yet felt like a completely different wrestler after losing the title. THAT's workrate to me.
RHENCH: AJ Styles had a solid run as the top guy on Smackdown, having good matches with just about everyone, with a few absolute gems along the way. His counters are clever, his transitions are always interesting to watch, and he rarely makes mistakes. Granted, the stories behind many of the matches were often crap, which is why I'm only putting him in the Best Worker spot, but the actual work was always entertaining – even if we know he and Nakamura can do better together than they did.
DANIEL GRONSKY: Go back and look at every match Mustafa Ali had this year. You won't find any match that's even just regular good – every match he's had has been excellent.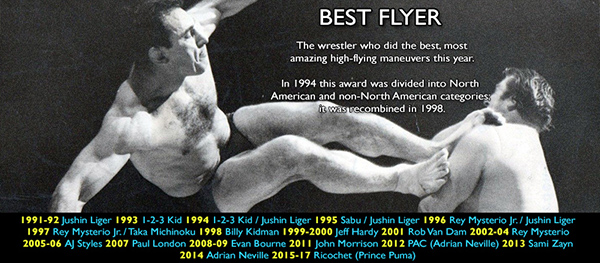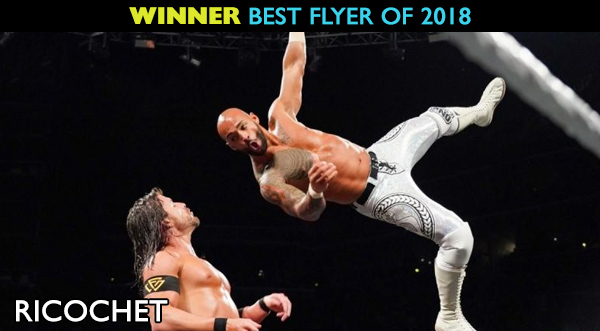 | NOMINEE | 1st | 2nd | 3rd | TOTAL |
| --- | --- | --- | --- | --- |
| RICOCHET | 226 | 78 | 27 | 1418 |
| Will Ospreay | 60 | 50 | 40 | 530 |
| Mustafa Ali | 45 | 64 | 46 | 509 |
| Rey Fenix | 25 | 32 | 40 | 301 |
| Kota Ibushi | 19 | 33 | 34 | 262 |
Full results here.
M.B. KERRDOG: I cannot foresee anyone ever becoming a better high flier than Ricochet without gravity dampening fields being employed. The stuff that this man does in the ring is borderline physically impossible, and the logical extreme that the sport has been building towards since the first dropkick was thrown.
FLIPDAWG: Mustafa Ali came up with stairs spots that made the crowd chant "MORE STAIRS." That's probably a rarer chant than "FIGHT FOREVER."
RHENCH: I don't recall an Ospreay match where I didn't see something I've never seen before. He comes up with moves I frequently doubt whether are physcially possible, then adds another rotation at some ridiculous point later.
PEASKEEPER: Kota Ibushi does all the crazy shit that Ricochet and Ospreay do, except he knows how to make it work inside a match better than they do. And they're both pretty good at that to begin with.
CHRISTOPHER BIRD: Ricochet has won this award for four years straight now, and this was only the first year where he was wrestling for WWE; before, he was winning the award based on indie work, New Japan stuff and Lucha Underground appearances, and WWE is a whole other ball game. I have no idea how long he's going to keep up this winning streak. I'm guessing at least another three years.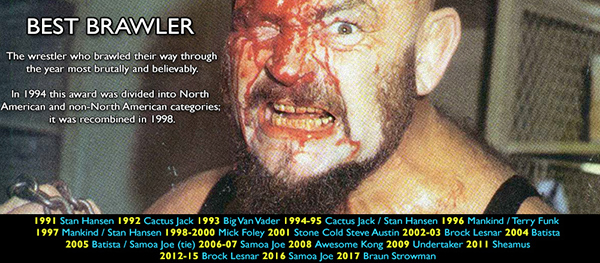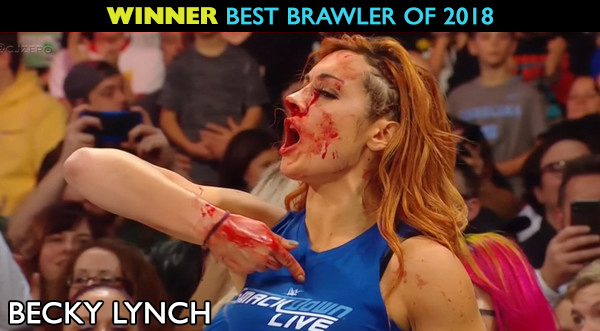 | NOMINEE | 1st | 2nd | 3rd | TOTAL |
| --- | --- | --- | --- | --- |
| BECKY LYNCH | 61 | 32 | 20 | 441 |
| Tomohiro Ishii | 62 | 30 | 19 | 438 |
| Samoa Joe | 40 | 47 | 44 | 429 |
| Aleister Black | 45 | 34 | 24 | 375 |
| Minoru Suzuki | 31 | 40 | 18 | 311 |
Full results here.
DANIEL GRONSKY: The Last Woman Standing match really showed where Becky is at her best – punches and determination.
ERIC LINGENFELTER: Masashi Takeda is the best deathmatch wrestler in the world, bar none. His insane Light Tubes, Giga Ladder & Glass Board Deathmatch with Isami Kodaka from June was a Match of the Year Candidate, even for people who don't normally watch deathmatches. His equally insane No Canvas & Glass Board Deathmatch with Jun Kasai for Jun Kasai's 20th Anniversary show was even better, imo. He's the only person who has ever held the BJW Deathmatch Heavyweight Championship and the King of Freedom Championship at the same time. That's how valuable he is to the Japanese deathmatch scene. I know he won't win this because Japanese deathmatch wrestling is a niche within a niche within a niche (and it's a "sometimes food" even for a bloodthirsty ghoul like me), but Masashi Takeda deserves some recognition.
ROBERT HEDLEY: Tomohiro Ishii managed to make multiple MOTY candidates just by hitting people really hard.
RHENCH: Not only will Minoru Suzuki choke you or work a limb, he'll just stand there and hit you with whatever part of his body is handy. And then he'll dare you to hit him back and take it with relish. The man is frightening as fuck, and is the best version of "heel with a code but only he really understands what that code is and also fuck you" I've ever seen.
CAP'N ANDY: Write-in vote for Ronda Rousey, who – say whatever else you like about her – always looks like her punches can kill you, because they probably legitimately can.
FLIPDAWG: Aleister Black is basically "what if the Undertaker did kung fu" and his kicks and strikes are legitimately savage.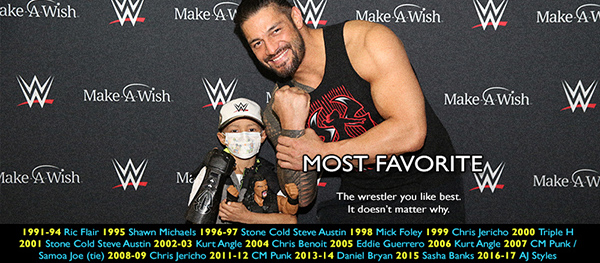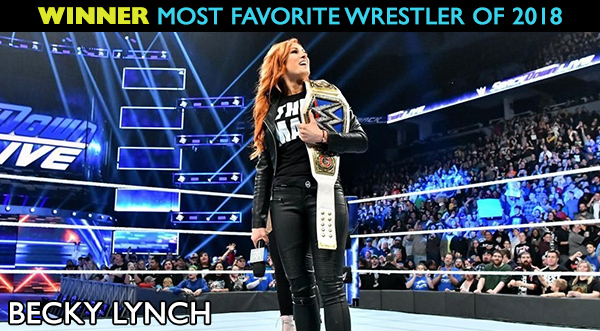 | NOMINEE | 1st | 2nd | 3rd | TOTAL |
| --- | --- | --- | --- | --- |
| BECKY LYNCH | 126 | 46 | 27 | 822 |
| Daniel Bryan | 37 | 45 | 18 | 356 |
| Velveteen Dream | 34 | 35 | 25 | 325 |
| Kenny Omega | 27 | 17 | 7 | 200 |
| Johnny Gargano | 20 | 8 | 16 | 156 |
Full results here.
VANDAMDAZ: The fact Joey Hayes remains unsigned is baffling. He's an absolutely tremendous wrestler, who can have a good match with basically anyone and everyone. Here's hoping someone gives him a chance in 2019.
DIQUAN DANIEL: Velveteen Dream makes me believe like a kid again. I root for him from my core.
CAP'N ANDY: Daniel Bryan's back? Then Daniel Bryan gets my vote, it's that simple. DEATH TO ALL BOOMERS! BRYAN IS WRONG ABOUT NOTHING!
ERIC LINGENFELTER: After the year Joey Janela had in 2018, I'm shocked that I had to write him in here. He's a weird, wonderful in-ring talent and a genuine creative genius. Did I think I wanted a PCO revival? No, but Joey showed me that I should have. Did I think I'd want to see commercials from an old VHS taping of an Ernest movie in the middle of a wrestling show? No, but Joey put them in there, and I'll be damned if I didn't laugh my ass off. Did I think I'd ever see David Arquette shoot on Nick Gage? Absolutely not, but Joey booked the match that gave me that moment. He had the funniest match of Wrestlemania weekend when he teamed up with Penelope Ford to fight Orange Cassidy and Session Moth Martina at Beyond Wrestling: Lit Up. He had one of the best barbed wire matches I've ever seen against David Starr at Beyond Wrestling: Americanrana '18. He stole the whole goddamn show at All In with Adam Page. When he blew out his knee at GCW Live Fast, Die Young, I was super bummed because I wanted to see what crazy-ass thing he'd bust out next. Best of luck to him now that he's signed to AEW. I can only imagine what shenanigans he'll be able to pull with that kind of backing.
PEASKEEPER: Is this where I chant BECKY BECKY BECKY until my throat gives out? If so, BECKY BECKY BECKY (continued on next page)
TONY HUDSON: Zack Sabre Jr. has a style unlike anyone else in the business. He doesn't fall victim to predictability as so many others can and, as a result, you never know when the finish of his matches will come from. It makes watching him an absolute delight. Also, his promos are low-key some of the best in the world… dickhead.
CHRISTOPHER BIRD: Tommaso Ciampa has been so, so good this year, and because he's the heel – not a heel, the heel – his job isn't just to be good but to make everybody else better. There are better fliers, there are better brawlers (some of them, anyway), there are better workers (a few at least), there are even a few better promos, but nobody else is the complete package like he is. If he were three inches taller he'd own RAW right now.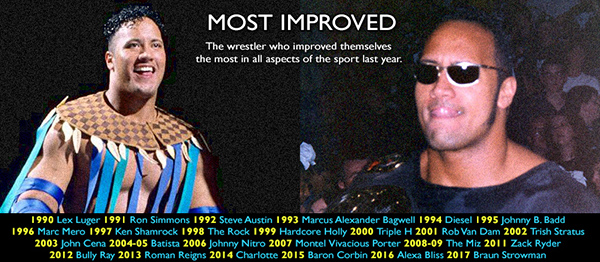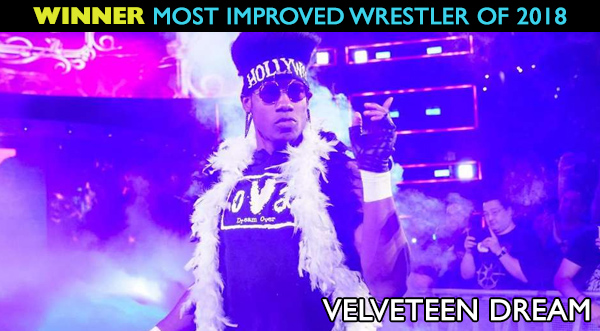 | NOMINEE | 1st | 2nd | 3rd | TOTAL |
| --- | --- | --- | --- | --- |
| VELVETEEN DREAM | 73 | 57 | 33 | 602 |
| Becky Lynch | 100 | 22 | 17 | 600 |
| Buddy Murphy | 60 | 46 | 41 | 520 |
| Ronda Rousey | 33 | 41 | 21 | 330 |
| Carmella | 31 | 23 | 36 | 296 |
Full results here.
AULAYAN: I was going to vote for Jay White because his work is leaps and bounds above what it was last year. But c'mon. David Arquette. DAVID ARQUETTE!
CAP'N ANDY: My vote here does not mean that Becky Lynch was not previously great. She was. Which makes it all the more impressive that she somehow got exponentially better this year, when she was starting from "great" and somehow managing to improve on it steadily all year. Between her stellar social media work, solid booking, and one very lucky punch to the face, this is the year Becky Lynch became… well, you all know damn well what.
RHENCH: I don't like Ronda Rousey outside the ring: transphobia and flat-earth promotion should not exist in this day and age. That said, she's had the best year as far as being a WWE superstar that anyone could have asked for. Her match at Wrestlemania wasn't just the best one ever by a non-regular performer (at the time), it was the best match of the night. She's somehow both got a fearsome presence and an 'aw-shucks' face thing going on at the same time. She's got a good grasp of working the crowd. She's clearly really trying to incorporate WWE moves into her arsenal, not just relying on what she already knows. She's amazing to watch in the ring, and I hope she can continue to have great matches and elevate opponents, rather than just running them over.
SURIEL: Buddy Murphy has made one heck of a transformation from being the less interesting member of the snooze-inducing Dubstep Cowboys to being a beast of a worker and the legitimate centerpiece of an entire TV show. All it took was ditching the neon pink, engaging in some marathon workout sessions with Alexa Bliss and stealing most of Kenny Omega's signature moves. If Jim Neidhart were still alive, I'd be advising him to take note.
TOBY SNEDECOR: Becky Lynch made the leap from awesome under-appreciated superstar to global sensation, but Velveteen Dream went from "oh, jeez, this guy again" to must-see television. We already knew that Becky was amazing; now everyone does.
CHRISTOPHER BIRD: Rhea Ripley was forgettable and bland in 2017, and then in 2018 she turned herself into this fucking Colossus of the women's division in WWE. She's learning ridiculously fast and she's gonna be around, one can hope, for a long, long time – and her Twitter game shows she knows how to heel it up with the best of them.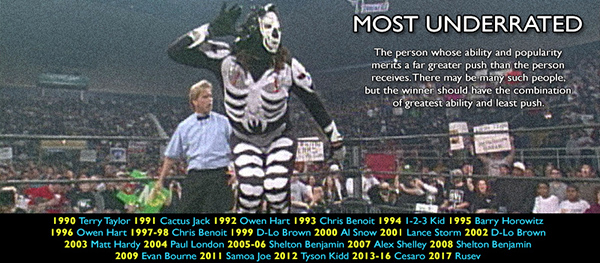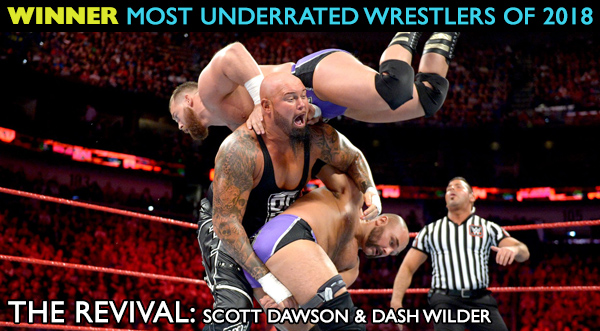 | NOMINEE | 1st | 2nd | 3rd | TOTAL |
| --- | --- | --- | --- | --- |
| THE REVIVAL | 93 | 55 | 29 | 688 |
| Chad Gable | 57 | 34 | 38 | 463 |
| Tyler Breeze | 23 | 36 | 48 | 319 |
| Rusev | 34 | 23 | 15 | 269 |
| Kevin Owens | 22 | 22 | 13 | 202 |
Full results here.
DANIEL GRONSKY: With a company like WWE, it's always going to be a murderer's row of talent that's just sitting around and not really doing anything, but Sami Zayn is arguably the best wrestler in the world and they have him side-kicking Kevin Owens (who doesn't need it). It's a questionable decision, even for that company.
SHANE STEELE: Aiden English. The man can wrestle, sing, act and married a Guerrero. What more does he need to do?
RHENCH: The way I see it, Dakota Kai is like an alternate universe version of Bayley. Loveable, enthusiastic, talented, and sure to be a big hit with the young girl demographic – except someone at WWE heard me say this and decided that booking her like a loser, the same thing they ruined Bayley with, was the way to go. Instead of actually telling the redemption story where she overcomes Baszler and claims the title, she got to lose again. Why even continue the story? Why make her afraid of Shayna only for her to lose? She's so much better than this.
ROBERT HEDLEY: The Revival are the best tag team on the goddamn planet, and they're losing to Gable and Roode and the B-Team on preshows.
TOBY SNEDECOR: If all the RAW tag teams leave WWE and went to AEW, I'll buy in to AEW just on the hope that they'll use the Revival properly.
TONY HUDSON: When given enough time and a semi-decent story to tell, Sasha Banks is one of the best. The problem is that she's been booked as either a chump or an afterthought for the majority of the year. The fact that she has retained some semblance of popularity is a testament to her talent.
FLIPDAWG: I look forward to Rusev finding yet another hilarious and awesome way to get ridiculously over with the crowd in 2019 and then watching WWE fuck it up for… are we on the fourth time now? The fifth? I lose track.
CHRISTOPHER BIRD: I shall forever be one of his Wannabreeze, and thus am not objective, but fuck it: Tyler Breeze is the single biggest waste of talent in pro wrestling, if only because the Revival are two people.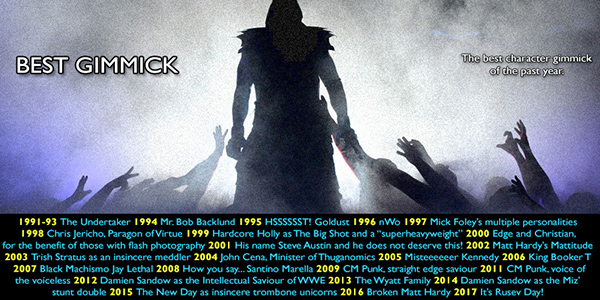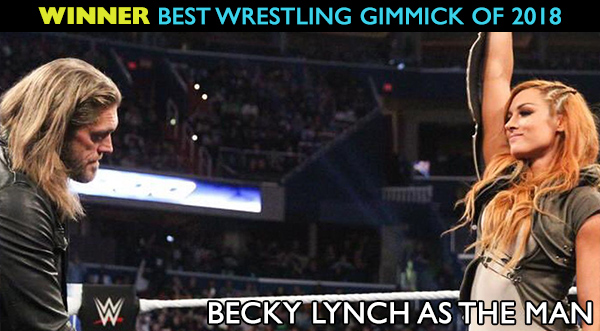 | NOMINEE | 1st | 2nd | 3rd | TOTAL |
| --- | --- | --- | --- | --- |
| BECKY LYNCH AS THE MAN | 243 | 55 | 31 | 1442 |
| Velveteen Dream | 62 | 66 | 44 | 596 |
| The New Daniel Bryan | 43 | 72 | 51 | 533 |
| Johnny Gargano is sure he's the hero | 16 | 44 | 44 | 300 |
| Tommaso Ciampa is obsessed with his title and also Johnny Gargano | 13 | 35 | 37 | 244 |
Full results here.
ARYEHHS: Watching the Jay White character evolve from a punk playing a psycho to New Japan's ultimate scumbag edgelord traitorface was my favorite bit of wrestling all year.
DESINMAN: New Daniel Bryan is a stroke of freakin' genius. Essentially little change in motivation, but his character has changed so damn much. Who'd thought we'd be booing him this time of year? Oh, and also Joey Ryan came back from the dead with penis druids. That's all.
TONY HUDSON: Wrestling fans often complain about how titles don't seem as important any more. Well, New Japan addressed this brilliantly when Okada lost the IWGP Heavyweight Championship. He had an emotional breakdown that lasted months: dying his hair red, carrying balloons to the ring. He was totally lost without that title. That's how to make it feel important.
RHENCH: I think Paige's amazing job as a GM is going to get overlooked, but it really was good stuff. She didn't succumb to the easy tropes like dealing too much with her old faction. She held firm when dangerous men threatened her because she wielded actual power with actual consequences. She was firm and authoritative without resorting to being a bitch (Stephanie). She balanced Shane out when he was acting selfish and heelish. She was one of, if not the single most entertaining and enjoyable face authority figure in WWE history.
PEASKEEPER: Becky's going to win this in a walk and she deserves to win this in a walk. Along with a bunch of other awards.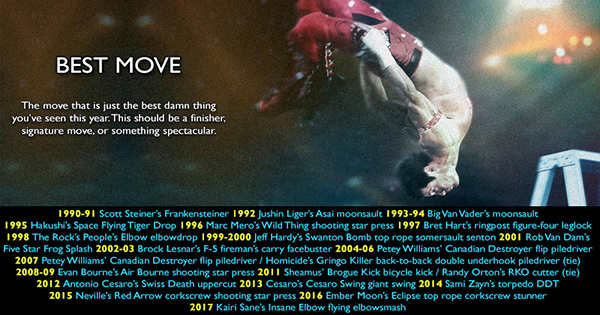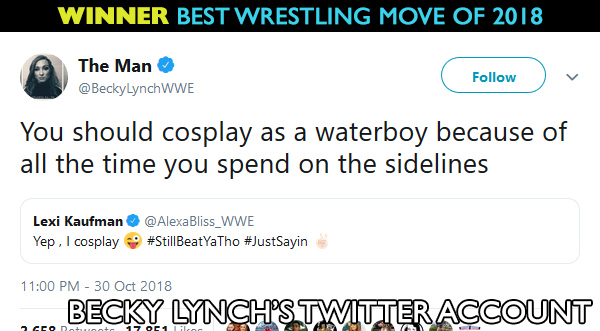 | NOMINEE | 1st | 2nd | 3rd | TOTAL |
| --- | --- | --- | --- | --- |
| BECKY LYNCH'S TWITTER ACCOUNT | 115 | 27 | 47 | 750 |
| Aleister Black's Black Mass roundhouse kick | 42 | 28 | 20 | 334 |
| Kairi Sane's Insane Elbow flying elbowdrop | 35 | 35 | 7 | 294 |
| Ricochet's 630 senton | 29 | 27 | 26 | 278 |
| Kenny Omega's One Winged Angel one-handed electric chair driver | 27 | 11 | 15 | 198 |
Full results here.
(EDITOR'S NOTE: This is the truth: we actually intended to not include "Becky Lynch's Twitter account" as a nominee when we were drafting the forms, and after collecting all the nominations and cutting them down to a manageable number, we simply missed it when we were deleting the cuts. And then it won massively, so we're not going to invalidate anybody's vote, but it's not going to be eligible next year.)
RYAN TAYLOR: There's only one reason why Wendy's & Becky Lynch's Twitter accounts haven't interacted – the ensuing clash would surely trigger Armageddon (and I don't mean the PPV).
PEASKEEPER: The Black Mass is so protected that when Aleister Black hits it I wonder if his opponent legitimately died.
R. MANNING: The one commonality in my choices: They all routinely got a "HOLY SHIT!" reaction out of me. Yes, I voted for Becky's Twitter account. Yes, I know it's not technically a wrestling move. No, I don't care.
RHENCH: I am unsure that the laws of physics apply to Dragon Azteca Jr. when he does his satellite DDT.
ARYEHHS: I don't even watch WWE and I'm voting Becky's twitter.
ROBERT HEDLEY: Io Shirai's moonsault is so good no one else should be able to do moonsaults because they'll always pale in comparison.
ETRIGANZOLA: Am I voting for Becky Lynch too much? No. I'm not voting for Becky Lynch enough.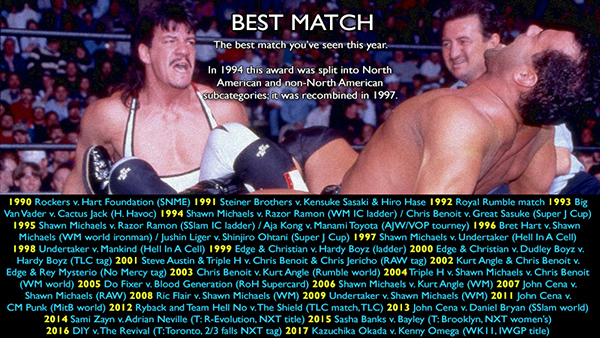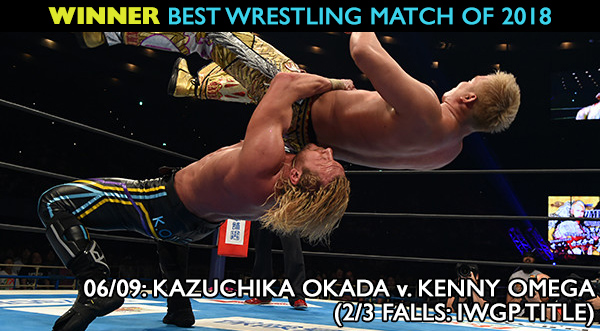 | NOMINEE | 1st | 2nd | 3rd | TOTAL |
| --- | --- | --- | --- | --- |
| 06/09: KAZUCHIKA OKADA v. KENNY OMEGA (2/3 FALLS: IWGP TITLE) | 95 | 24 | 13 | 573 |
| 04/07: Johnny Gargano v. Tommaso Ciampa (unsanctioned) | 68 | 48 | 29 | 542 |
| 01/27: Andrade 'Cien' Almas v. Johnny Gargano (NXT title) | 65 | 42 | 30 | 511 |
| 10/28: Becky Lynch v. Charlotte Flair (Last Woman Standing: Smackdown women's title) | 37 | 26 | 30 | 323 |
| 04/07: EC3 v. Lars Sullivan v. Killian Dain v. Adam Cole v. Velveteen Dream v. Ricochet (ladder: NXT NA title) | 20 | 26 | 21 | 220 |
Full results here.
RHENCH: Okada and Omega's 2/3 falls match at Dominion is possibly the best match of all time to conclude the best feud of all time. I don't know what else could possibly compare.
SEISON: Omega's big win over Okada is the difficult but correct choice for #1 but "every Johnny Gargano Takeover match" is probably tied for second place.
FLIPDAWG: I don't think there has ever been a better "big-ass schmozz with ladders and shit" match, ever, than the six-man ladder match at Takeover: New Orleans. Just holy shit moment after holy shit moment. Yeah, okay, Omega/Okada is probably better overall as a pure wrestling match, but it did not have six guys going through two ladders in the space of twenty seconds or Ricochet doing a springboard shooting star press to the floor or Adam Cole superkicking five guys in a row or Velveteen Dream doing a fifteen-foot high Purple Rainmaker, now, did it?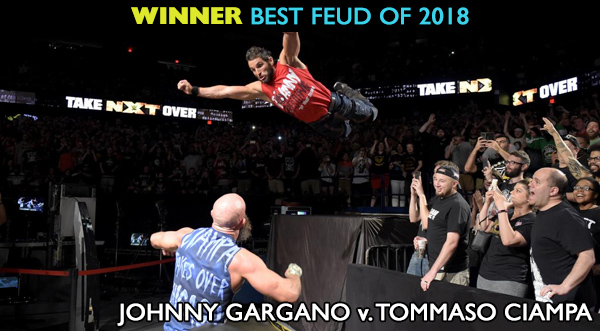 | NOMINEE | 1st | 2nd | 3rd | TOTAL |
| --- | --- | --- | --- | --- |
| JOHNNY GARGANO v. TOMMASO CIAMPA | 250 | 60 | 22 | 1474 |
| Becky Lynch v. Charlotte Flair | 61 | 77 | 41 | 618 |
| Becky Lynch v. Ronda Rousey | 37 | 61 | 32 | 432 |
| Shayna Baszler v. Kairi Sane | 9 | 33 | 46 | 236 |
| Kazuchika Okada v. Kenny Omega | 16 | 32 | 29 | 234 |
Full results here.
ERIC LINGENFELTER: I wasn't going to vote for Cody v. Kenny Omega at first, but then I thought about it and realized that, though the actual matches where Kenny fought Cody weren't exactly seven star barn burners, that feud sowed the seeds of many of my favorite wrestling moments of the year (and, frankly, of all time): the Golden Lovers reunion, which happened because Cody couldn't stop himself from fucking with Ibushi; Kenny's feud with the Young Bucks, which was egged on by Cody; Being the Elite Episode 100, which was shockingly emotionally complex; and Kenny's win over Kazuchika Okada, which was made possible by Ibushi blessing Kenny with THE POWER OF LOVE, which would not have happened if the Golden Lovers hadn't reunited, which would not have happened if Cody didn't fuck with Ibushi.
PEASKEEPER: Kairi Sane getting in Shayna Baszler's head was the best, because cocky arrogant confident heels are the best, except when a virtuous babyface gets in their head, which is when they get even better.
RHENCH: With the best introduction of a non-wrestler to WWE at Mania, actually giving Stephanie her comeuppance, and a segue for Ronda Rousey into the start of her actual wrestling career, this feud set the stage for a phenomenal top of the card star in Rousey.
ETRIGANZOLA: This is my one "only-one-vote" of the year, because Ciampa/Gargano is unbeatable.
CHRISTOPHER BIRD: Buddy Murphy and Mustafa Ali wrestled six matches in 2018 and every single one was a banger, and that's the definition of a good feud.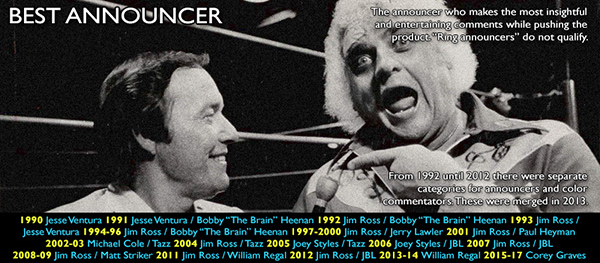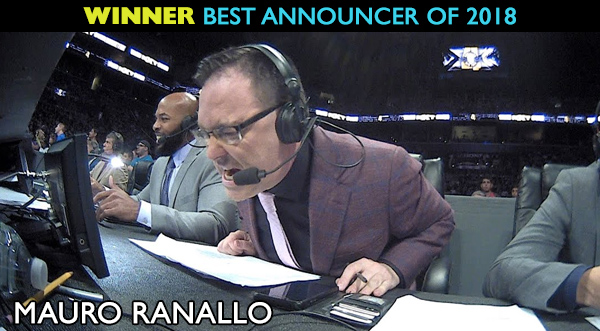 | NOMINEE | 1st | 2nd | 3rd | TOTAL |
| --- | --- | --- | --- | --- |
| MAURO RANALLO | 144 | 70 | 33 | 996 |
| Corey Graves | 121 | 65 | 50 | 900 |
| Nigel McGuinness | 50 | 73 | 73 | 615 |
| Don Callis | 26 | 38 | 29 | 302 |
| Renee Young | 21 | 35 | 37 | 284 |
Full results here.
RHENCH: Tom Phillips somehow manages to be a reasonable-sounding human being while announcing for WWE, a feat that is completely unfamiliar in this day and age. When Graves makes a rare salient point, he can agree. When Graves spouts nonsense, he can tell him off. His voice is pleasant and his calls never distract from the wrestling.
PGJ847: Chris Charlton deserves this solely for how much he stepped up to the plate and knocked it out of the park when faced with having to contain Lanny Poffo's insanity for an entire Korakuen Hall show.
ARYEHHS: I truly don't like Kevin Kelly's voice or style – but it's a testament to just how much work he puts in and how good a job he does in his role that he's my runaway number one.
FLIPDAWG: People who complain about Mauro Ranallo's "MAMMA MIA" calls are the same people who were too cool for Jim Ross during the Attitude Era. Don't be those people.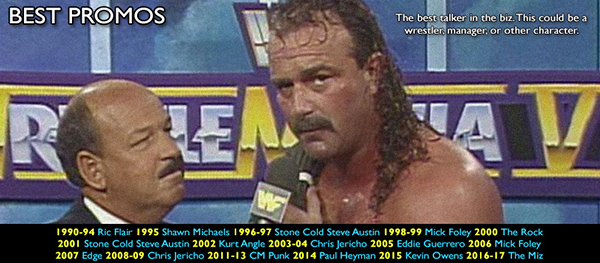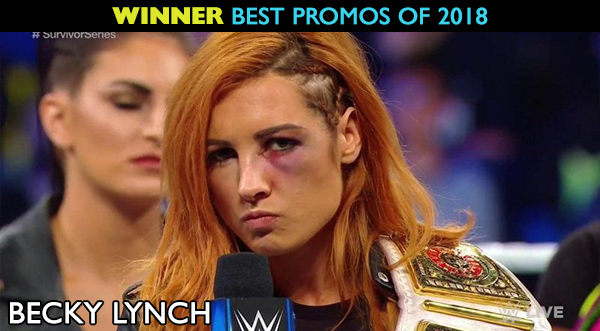 | NOMINEE | 1st | 2nd | 3rd | TOTAL |
| --- | --- | --- | --- | --- |
| BECKY LYNCH | 161 | 70 | 33 | 1081 |
| Daniel Bryan | 55 | 68 | 45 | 569 |
| Velveteen Dream | 32 | 38 | 38 | 350 |
| The Miz | 31 | 37 | 31 | 328 |
| Samoa Joe | 32 | 32 | 21 | 298 |
Full results here.
ERIC LINGENFELTER: Nick Gage: "I FUCKIN LOVE YOU MOTHERFUCKERS I WILL FUCKIN FIGHT EVERY MOTHERFUCKIN LAST ONE OF YOU MOTHERFUCKERS IN THE FUCKIN PARKING LOT THANK YOU FOR COMING I LOVE YOU AND I WILL KILL YOU."
RHENCH: Between murdering everyone she can on Twitter, carrying Rousey to the hottest feud that hasn't materialized in a match and spitting painful truths at Charlotte, Lynch has just turned everything she says into gold this year.
TOBY SNEDECOR: "WE GOT OUR TOP SUSPECT, TOMATO CHAMPS" is pure poetry.
GALLERS94: Minoru Suzuki is, quite properly, the guy who has benefitted the most from New Japan subtitling their backstage interviews.
CHRISTOPHER BIRD: FICKLE! FICKLE! CHANGE IT!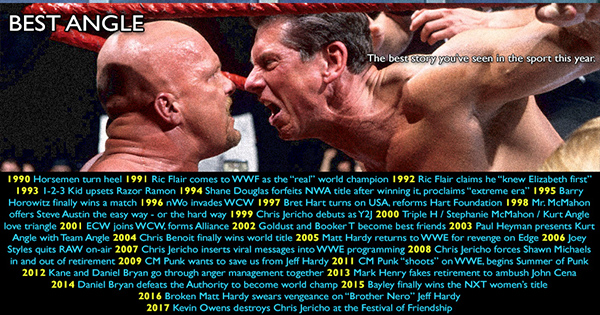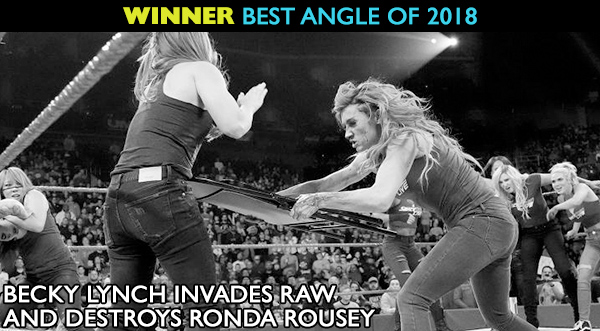 | NOMINEE | 1st | 2nd | 3rd | TOTAL |
| --- | --- | --- | --- | --- |
| BECKY LYNCH INVADES RAW AND DESTROYS RONDA ROUSEY | 158 | 63 | 38 | 1055 |
| Tommaso Ciampa returns to destroy Johnny Gargano's career | 74 | 67 | 52 | 675 |
| Becky Lynch finally loses her patience and attacks Charlotte Flair | 46 | 53 | 35 | 461 |
| Daniel Bryan returns to the ring | 45 | 41 | 23 | 394 |
| Daniel Bryan snaps and declares himself the New Daniel Bryan | 21 | 52 | 50 | 361 |
Full results here.
DANIEL GRONSKY: Who Killed Aleister Black? was just so unusual for a WWE production that I have to vote for it for 1st place. Reviewing the footage for secret suspects was an absolute blast.
JONATHAN KIEHLMAN: I literally watched and rewatched Bryan's return to the ring promo to psyche up and prepare for a med school interview. They were, admittedly, less than impressed by my praise of Brie.
RHENCH: Lynch invading RAW was so ridiculously hype that a broken face and blood everywhere could only make things better. She got one over on Rousey, someone who has looked pretty unstoppable, she defied the rest of the roster to do something to her, and took an injury while continuing to look like a badass. The Man was just on fire. And Lynch turning on Flair was something that so many people wanted to see that it forced her heel turn to abort midway through. They had her come out and ask where the fans were for not buying her merchandise exactly once before they realized fans were going to cheer her no matter whether she was portrayed as a heel or a face. The thing that launches your biggest story of the year deserves a nod as a strong angle.
SEISON: Ciampa vs Gargano is the long burning feud or angle of the year – but the two best moments of the year are Cody winning the NWA title at All In and Becky Lynch's bloody, beautiful and smiling face at the end of Smackdown's invasion of Raw.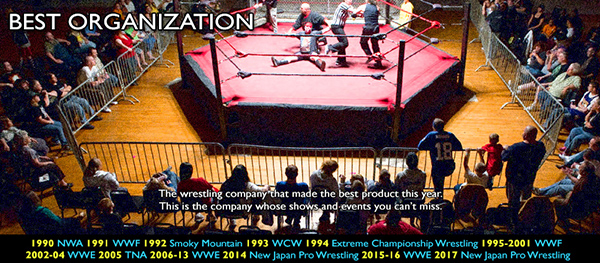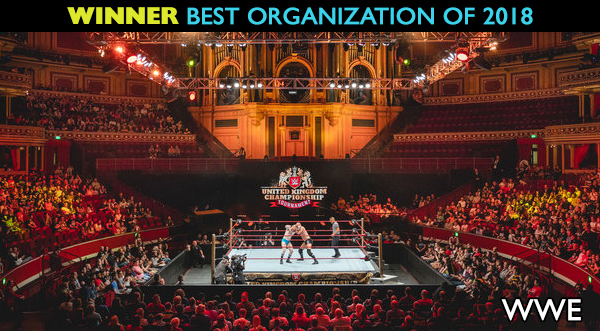 | NOMINEE | 1st | 2nd | 3rd | TOTAL |
| --- | --- | --- | --- | --- |
| WWE (INCL. NXT / NXT UK / 205 LIVE) | 221 | 88 | 39 | 1447 |
| NJPW | 150 | 137 | 26 | 1213 |
| Lucha Underground | 17 | 26 | 45 | 253 |
| Impact Wrestling | 9 | 17 | 36 | 168 |
| RoH | 1 | 15 | 31 | 112 |
Full results here.
DANIEL GRONSKY: Nobody wants to vote for Global Wrestling Monopoly, but it's the wrestling that's on TV.
ERIC LINGENFELTER: I'm kind of surprised that Game Changer Wrestling didn't get nominated. They've been putting on some of the most talked about shows of the year. I know their deathmatch stuff isn't everyone's cup of tea, but I figured their Joey Janela vanity shows would at least get them a nod, since those seem to get a fair bit more attention than many of the choices on this list. But maybe that's just my weird corner of the internet. Who can even tell if they're in a bubble anymore?
EWZZY1: Olde Wrestling is my organization of the year for telling the story of a corrupt southern judge losing his fortune in the Wall Street Crash of 1929 and failing to win it back by cheating his way through a battle royal commissioned by then Chief Justice of the United State William Howard Taft.
PEASKEEPER: WWE has cleverly created a situation where they have two full-fledged indie side promotions (with the promise of more coming) that are among the best in the world, so even when RAW is shit, like it has been for the past three and a half years, you still have to consider them the best wrestling company in the world.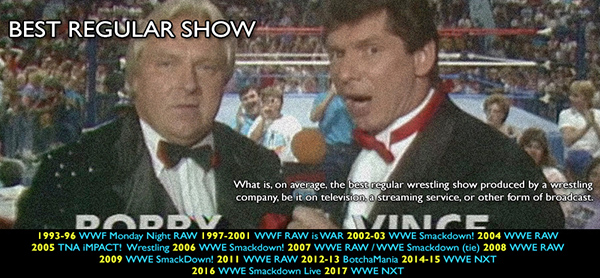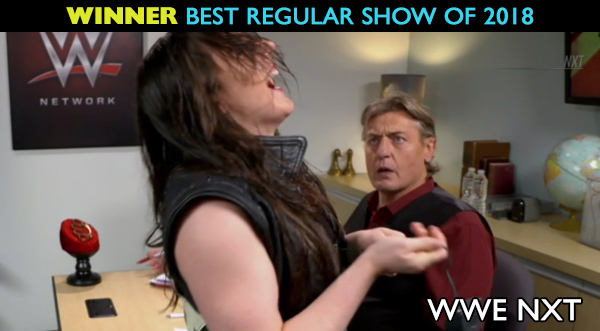 | NOMINEE | 1st | 2nd | 3rd | TOTAL |
| --- | --- | --- | --- | --- |
| WWE NXT | 261 | 79 | 33 | 1613 |
| WWE Smackdown Live | 39 | 77 | 58 | 542 |
| Being The Elite | 43 | 36 | 39 | 401 |
| NJPW G1 Climax 28 | 37 | 38 | 21 | 341 |
| WWE 205 Live | 18 | 24 | 43 | 248 |
Full results here.
DANIEL GRONSKY: Bell to bell, there is no better hour of television than 205 Live. I know a lot of people get burnt out on 5+ hours of regular WWE television, and it's easy to say that 205 doesn't matter, but FOR REAL: if you love wrestling, catch this show on a regular basis. One good match, one segment, one GREAT match – every week.
THE WRESTLING ESTATE: MLW Fusion. It's pro wrestling presented like a sport ala the heyday of the NWA, mixed in with fleshed-out characters, compelling storylines and weekly marquee main events.
ARYEHHS: People trashed this G1, but I found it to be the breeziest, easiest watch in a while. In previous years I suffered from BIG SERIOUS MATCH fatigue, but this year's tourney did a great job spacing those out with story-driven bouts.
CHRISTOPHER BIRD: NXT isn't just the best regular wrestling show on television; it's one of the best wrestling shows of all time. It's amazing how good it is. I feel genuinely spoiled watching it.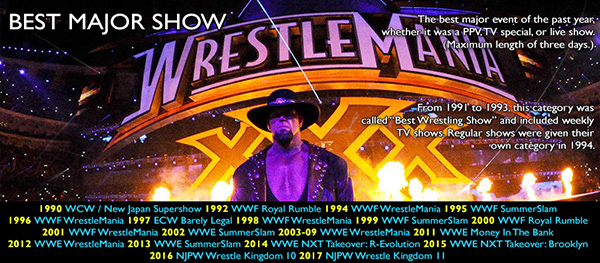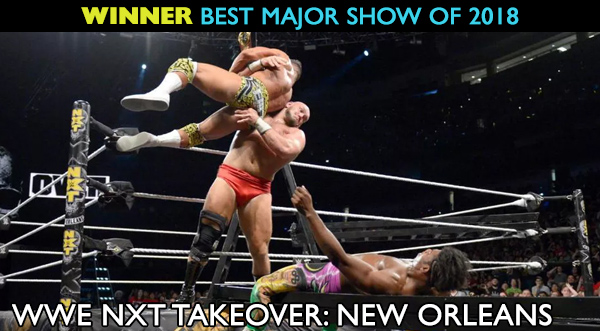 | NOMINEE | 1st | 2nd | 3rd | TOTAL |
| --- | --- | --- | --- | --- |
| WWE NXT TAKEOVER: NEW ORLEANS | 102 | 55 | 46 | 767 |
| All In | 65 | 39 | 43 | 528 |
| NJPW Wrestle Kingdom 12 | 57 | 38 | 34 | 467 |
| WWE NXT Takeover: WarGames 2 | 35 | 39 | 41 | 374 |
| WWE Evolution | 34 | 33 | 29 | 327 |
Full results here.
DANIEL GRONSKY: NXT always takes these anymore, but it's really saying something that I still picked two Takeovers against the Royal Rumble, a legitimately very good WWE main roster PPV that I enjoyed all the way through.
ETRIGANZOLA: Did Evolution have the best ring work? No. Was it an apology for Crown Jewel? Yes. Did it wrap up or advance or start new storylines? Not really. But it was still my favorite thing.
CAP'N ANDY: The Royal Rumble was really really good last year. Just because they squandered both winners when Vince woke up from his nap and started yelling racial slurs about Asian champions (I mean, I'm assuming, but he's a 70+ year old Republican so it's a pretty safe bet), the show itself was really good!
CINCY43235: All In was the show wrestling fans had been waiting for since WCW closed. Seventeen years! I hope that AEW will become the number two promotion in the US!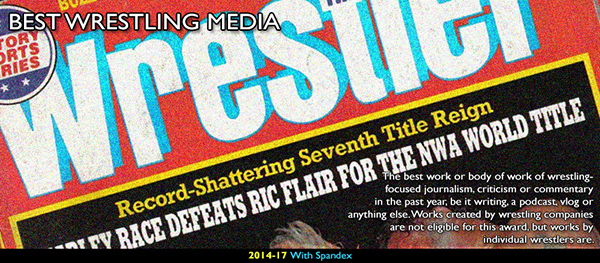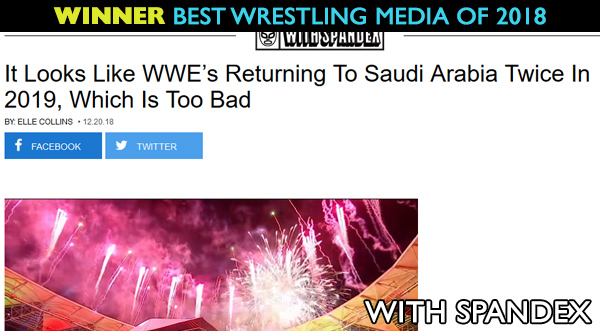 | NOMINEE | 1st | 2nd | 3rd | TOTAL |
| --- | --- | --- | --- | --- |
| WITH SPANDEX (INCL. MCMAHONSPLAINING PODCAST) | 224 | 40 | 19 | 1278 |
| Botchamania | 33 | 52 | 35 | 391 |
| Scott Keith's Blog of Doom! | 20 | 18 | 9 | 172 |
| r/SquaredCircle (Wreddit) | 11 | 27 | 16 | 168 |
| Wrestling Observer (incl. Bryan and Vinny Show) | 18 | 9 | 19 | 155 |
Full results here.
(EDITOR'S NOTE: Next year will probably be the last year for this award unless we see dramatic change in the participation levels, because, well, we like With Spandex too but if nobody else is competitive with it, et cetera…)
RAGNAROK: For my write in, I'm going with "What Happened When," Tony Schiavone's delightfully irreverent podcast full of wrestling history, watchalongs, and so many laughs.
RHENCH: Bad News Llama started as a Facebook group between some friends to talk about wrestling somewhere less toxic than the common places. It has evolved into having podcasts, 50/50 raffles, promotion for charities, and generally been the main thing that has stoked my love of wrestling for the past several years. It can get incredibly serious, and incredibly ridiculous, and I think that's mostly what wrestling fans are looking for.
PSYCHO GOLDFISH: Brandon Stroud deserves some kind of award for having to deal with the major upheavals that happened at UpRoxx earlier this year. The man is possibly the best wrestling blogger around and deserves so much better.
ERIC LINGENFELTER: Marty and Sarah Love Wrestling is just about the funnest wrestling podcast there is. It's like a cross between a regular wrestling podcast and Comedy Bang Bang. Marty and Sarah chat about the wrestling news of the week (some of which they're involved in, because Marty is buds with Colt Cabana and they both do work for AAW) and get interrupted every so often by their army of "buddies," like The Ghost of Andre the Giant, Ric Flair, Billy Corgan, Ryback, Alexa Bliss, Sasha Banks, Becky Lynch, Brad the Alien, Kyle the Choir Boy, and others. Marty and Sarah are both charming and hilarious, and their impressions are spot on. It's a great podcast for people who don't take this wrestling stuff so dang seriously.