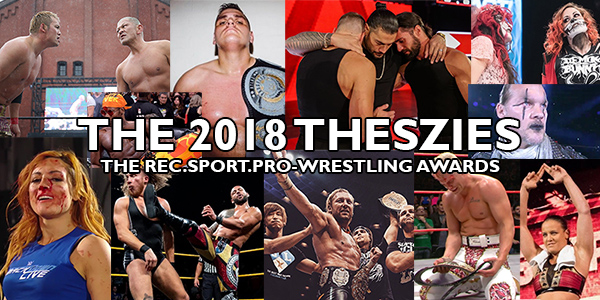 Welcome to the results of the 2018 Theszies / Rec.sport.pro-wrestling Awards.
Anyway. Here, we present the "worst" Awards – those Awards which celebrate the awfullest things in wrestling during 2018. If this disturbs your chakras, you can go read the "best" Awards here.
This year we had 508 voters participating. As always, for next year we encourage all of you wrestling media people to nominate yourselves and your favorites, and try to get your fans out to vote for you. Fair is fair!
As always, thank yous to Justin Henry, Christopher Robin Zimmerman, Herb Kunze and all those who have previously run the Awards and contributed to their legacy; everybody who chipped in to promote the awards; all of you voters, of course; and finally and most importantly an extra-double-sized thanks to mgkdotcom's Tech Guy, James Young, without whose invaluable assistance these Awards would almost certainly have failed to be anywhere near as successful and user-friendly as they in fact were.
And without further ado…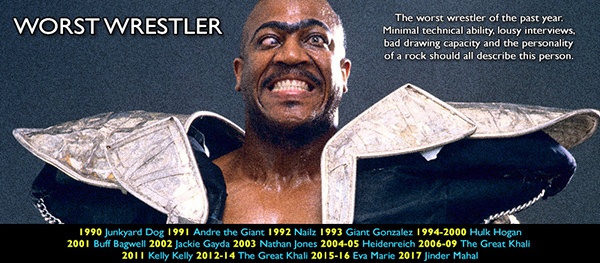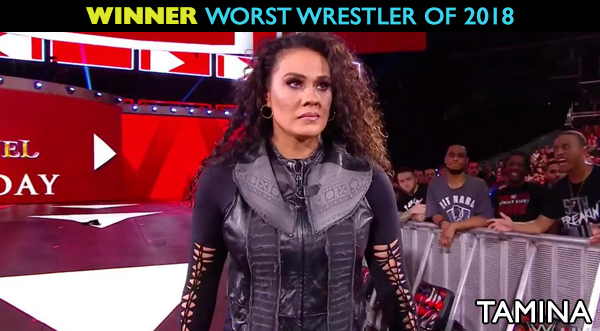 | NOMINEE | 1st | 2nd | 3rd | TOTAL |
| --- | --- | --- | --- | --- |
| TAMINA | 74 | 55 | 41 | 617 |
| Nia Jax | 63 | 37 | 34 | 494 |
| Brie Bella | 48 | 43 | 38 | 445 |
| Big Cass | 43 | 42 | 36 | 413 |
| Shane McMahon | 40 | 36 | 34 | 376 |
Full results here.
WOODSY: If Kona Reeves is the best WWE can do out of the non-established wrestlers at the Performance Center then they should just shut it down.
RHENCH: They won't let Tamina within fifty feet of a microphone. They won't let her hit any real wrestling moves on their biggest cash cow Ronda Rousey, presumably out of fear she will injure her. That is, if she even knows any wrestling moves at this point. Her return has been a huge disappointment, and her pairing with Nia Jax only accentuates how bad both of them are.
HOFEIZAI: I am incapable of watching Shane McMahon wrestle without thinking of other things I could do with my time.
TONY HUDSON: Can someone explain to me the appeal of Nia Jax? In a division with as much talent as WWE's women, why has she consistently been front and centre? Nothing she does looks like it hurts… except the things that actually do hurt her co-workers. Sloppy at best, unsafe at worst. Ugh.
FLIPDAWG: The thing about voting in the "worst" categories is that, as a fan, I don't want any of these people to be bad. Take Big Cass. I wanted Big Cass to get better than he was, because as a very tall guy with a decent enough look, I knew he was the sort of guy who could have a long career in wrestling, and I wanted him to succeed, like I want most wrestlers to succeed. And then, instead of getting better, he just sort of relaxed and sucked at everything.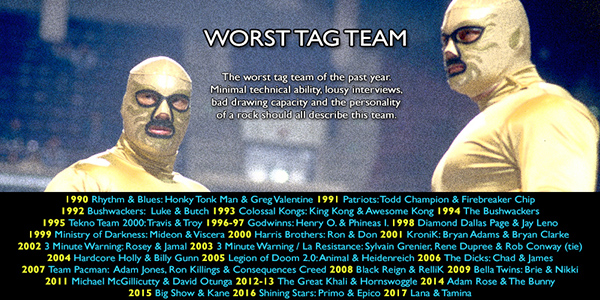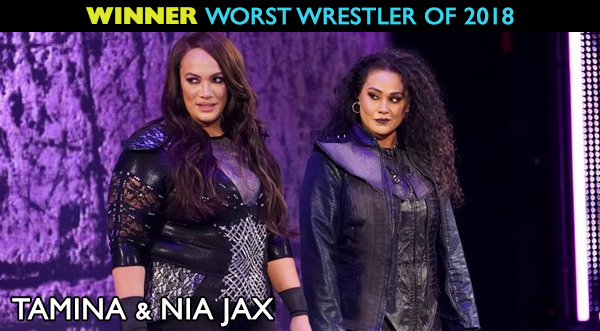 | NOMINEE | 1st | 2nd | 3rd | TOTAL |
| --- | --- | --- | --- | --- |
| TAMINA & NIA JAX | 110 | 85 | 47 | 899 |
| Bella Twins: Nikki and Brie | 80 | 29 | 31 | 549 |
| Braun Strowman and Nicholas | 64 | 43 | 25 | 499 |
| D-Generation X: Shawn Michaels and Triple H | 47 | 32 | 37 | 405 |
| Forgotten Sons: Wesley Blake and Steve Cutler and Jaxon Ryker | 27 | 25 | 35 | 280 |
Full results here.
(EDITOR'S NOTE: We are considering removing this award for next year, given that for the past few years it has primarily been awarded to makeshift temporary teams of wrestlers. Feedback is appreciated.)
R. MANNING: If we still had the "Most Deteriorated" award, it would have to go to D-X this year.
TOBY SNEDECOR: The Forgotten Sons are the equivalent of default CAWs being controlled by the computer.
CAP'N ANDY: Ha ha ha we devalued our tag team championships by giving them to a literal 8 year old, and it doesn't even have the mitigating factor of providing a title run for Braun Strowman (something he, shockingly, has yet to have) because he gave the titles back less than 24 hours later, thus devaluing them even further! Ha ha ha ha holy God how obvious do we have to make our cries for help before you people notice?
ARYEHHS: I really, really don't like Michael Elgin, and I'd really like if New Japan cut him loose – but all that aside, that team with Cobb is really boring.
PEASKEEPER: Tamina is the worst wrestler in the company by quite a large margin now that Enzo Amore is gone, and they would have to pair her with a brilliant athlete to cover her flaws. Instead, they paired her with Nia Jax and played them off as the Skyscrapers/Natural Disasters of the women's division, except that Tamina isn't imposing because she can't hit any of her moves and Nia just… isn't scary.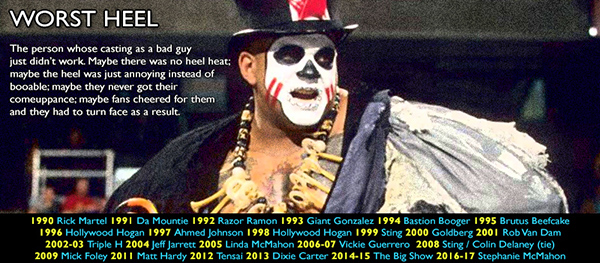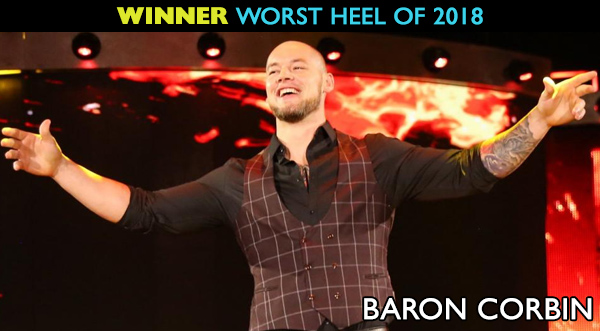 | NOMINEE | 1st | 2nd | 3rd | TOTAL |
| --- | --- | --- | --- | --- |
| BARON CORBIN | 86 | 40 | 27 | 604 |
| Nia Jax | 44 | 48 | 37 | 438 |
| Enzo Amore | 41 | 27 | 25 | 336 |
| Tamina | 25 | 32 | 37 | 295 |
| Stephanie McMahon | 34 | 23 | 16 | 271 |
Full results here.
BLOODSPIKE: Bobbt Lashley has all the personality of a lobotomized housecat, and watching Jinder Mahal makes me want to slam my head in a car door. Bonus points to Jaxon Ryker for managing to find a way to be more boring than Gunner.
R. MANNING: Nia Jax was only able to get heel heat through legit injuring Becky Lynch this year. And it was the most heat of *any* sort I've seen her get. She just plain sucks.
SORCERESS KNIGHTAS: I value in this topic the heels where the heel turn bombed so poorly they were forced to throw it away and keep them babyface because the fans REFUSED TO BOO THEM. So, by voting Becky and Strowman 1-2, that's a COMPLIMENT.
RHENCH: I used to say that Dolph only worked as a cocky heel, until I realized that doesn't work either. His forfeiture of the US Title was basically unexplained, his return was without fanfare and he was immediately thrown out of the Rumble unceremoniously anyway, and his connection to McIntyre made negative sense as a story. He just whines about how he's the best and no one cares, despite his main wrestling style being to take ridiculous bumps forever and prove what an iron man he can be, which is a very face style to have. Also, who believes that someone is playing themes on vinyl back stage so that the record scratch thing makes any sense?
JAMES HIRSBY: Dean Ambrose is someone the fans were open to booing since his turn on Rollins (and the circumstances of that night) were just so drastic. Plus, all the old Jon Moxley fans were eager to see Ambrose finally get a big heel run. And the result was just so, so, awful. It's to the point where I wouldn't be surprised if Ambrose is gone by WWE by this time next year.
TONY HUDSON: You know what will make Raw truly can't-miss-TV? 904 Baron Corbin segments! Oh, have the ratings come in? Let's see… Oh. I guess there just wasn't enough Baron Corbin!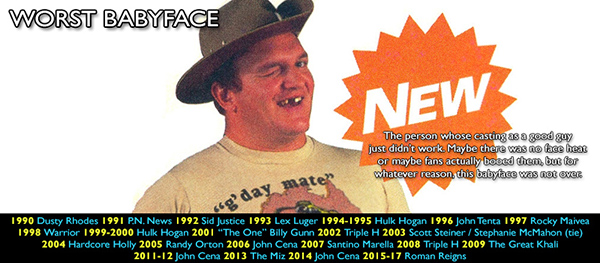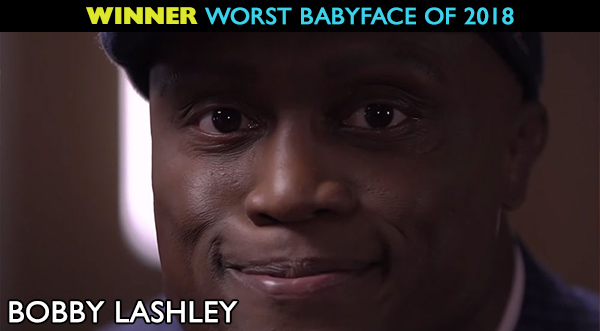 | NOMINEE | 1st | 2nd | 3rd | TOTAL |
| --- | --- | --- | --- | --- |
| BOBBY LASHLEY | 89 | 53 | 34 | 672 |
| Shane McMahon | 59 | 58 | 35 | 539 |
| Bobby Roode | 39 | 55 | 38 | 436 |
| Nia Jax | 35 | 36 | 37 | 357 |
| Charlotte Flair | 31 | 19 | 28 | 268 |
Full results here.
BENR: "My friends are fighting? I'll beat them both up" – Travis Banks
CAP'N ANDY: Charlotte is an amazingly talented wrestler and one of the best heels in the business, but she's not a babyface. A Flair can never be a babyface. STOP TRYING TO BOOK HER AS A BABYFACE.
JONATHAN KIEHLMANN: I have every respect for the man, but the wrestler Roman Reigns was a horrendous babyface who got unbelievably booed and poorly booked for the first half of the year. Nothing personal. Get well soon.
KEVIN LEE: Working every match as a handicap match in your favor is a bad babyface gimmick, Lucha House Party!
TOKYO MAGNUM: For Ronda Rousey, it seems like at every turn she's trying to be an edgy Attitude Era top babyface – but that shit is unbelievably dated.
SORCERESS KNIGHTAS: Anyone who books Michael Elgin as a babyface should be ASHAMED OF THEMSELVES.
PEASKEEPER: Bobby Lashley's "I love my sisters" is just the latest iteration of Vince McMahon's eternal belief that bland, universal "real life" is the key to getting over babyfaces, because babyfaces are just like us! But they're not: they're supposed to be better than us, which is why we cheer for them. If we didn't cheer TJP for being homeless at one point, we sure as shit weren't going to cheer for Bobby Lashley because he loves his sisters. Anyway, remind yourself of this when they push Lacey Evans as a babyface because she's a single mom who used to be a soldier person!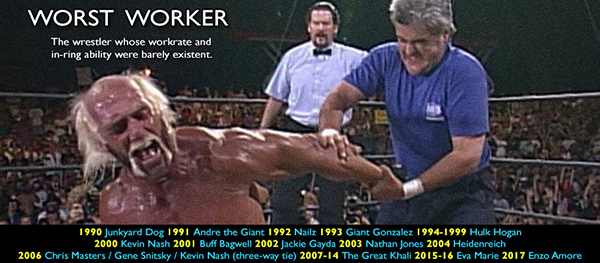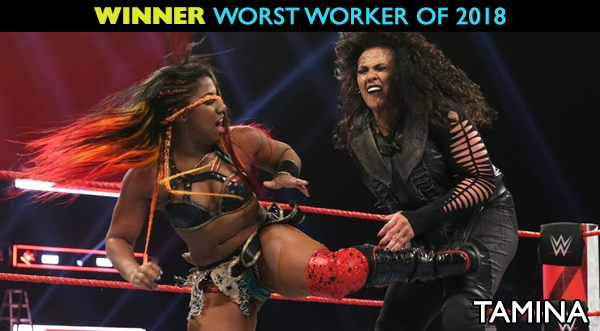 | NOMINEE | 1st | 2nd | 3rd | TOTAL |
| --- | --- | --- | --- | --- |
| TAMINA | 98 | 52 | 41 | 728 |
| Brie Bella | 65 | 71 | 29 | 596 |
| Nia Jax | 78 | 44 | 35 | 592 |
| Big Cass | 50 | 50 | 52 | 504 |
| Shane McMahon | 33 | 40 | 23 | 331 |
Full results here.
TOKYO MAGNUM: Shane McMahon 2018 is what happens when the only thing you've really been good for is taking crazy bumps and you can't do them anymore. There was probably a time in my life where I was like "man, it'd be great if Shane came back" and I'd love to go back to that time and smack that me upside the head.
EVAN J. ROSS: "BRIE MODE!" (trips over ropes and lands face first on the mat)
DAVID GLEASON: Tamina is objectively the worst worker in WWE at the moment. She's been in the WWE since 2010 and still can't work a decent match.
FLIPDAWG: Tamina is remarkably bad in the ring, with no sense of match pacing, poor selling ability and a bland, badly executed array of moves, but she at least has one move she can usually hit properly and looks good (her superkick). Brie Bella does not even have that.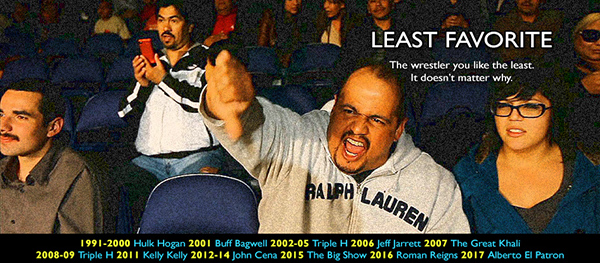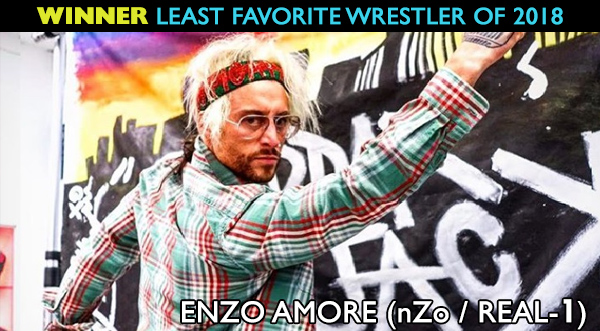 | NOMINEE | 1st | 2nd | 3rd | TOTAL |
| --- | --- | --- | --- | --- |
| ENZO AMORE (nZo/REAL-1) | 46 | 47 | 30 | 431 |
| Hulk Hogan | 47 | 16 | 24 | 331 |
| Baron Corbin | 37 | 27 | 24 | 314 |
| Nia Jax | 33 | 27 | 24 | 294 |
| Alberto El Patron | 33 | 30 | 11 | 277 |
Full results here.
RHENCH: Adam Cole is nothing more than a catchphrase that everyone loves to say. He's not terrible in-ring, but he's not deserving of the level of push that he's gotten in NXT. His promos are boring, tired, and uncaptivating. Calling him 'discount Shawn Michaels' is an insult to both Shawn Michaels and discounts.
ROBERT HEDLEY: There is no wrestler I am less interested in watching than Brock Lesnar. Show me two dudes in their backyard just hitting each other and it'd be a better match than anything Lesnar did last year.
BLOODSPIKE: Hulk Hogan is eligible, and I hate him more than I hate poison oak, ant bites and that smell in the fridge that won't seem to go away, but Tamina Snuka is terrible in every aspect of wrestling other than being related to someone who was once famous at it. So, she wins.
WOODSY: Hogan ruining Gawker and libel laws in this country continues to have repercussions far worse than the McMahons could ever come up with on their own.
TONY HUDSON: I popped so hard when Shane McMahon returned to WWE. Oh how the mighty fall. Now, every time his entrance music starts up my eyes roll so hard I can see my own brain.
PEASKEEPER: The Enzo Amore redemption saga has already started on social media, as he and Big Cazz or whatever Cass calls himself now are touring indie shows together and releasing small video vignettes and stuff, and if you squint a little bit they look like Enzo and Cass back in the day. But Enzo's still a piece of shit, and Cass only marginally better. Fuck 'em both and their redemption too.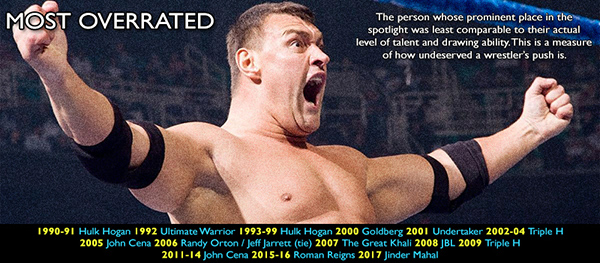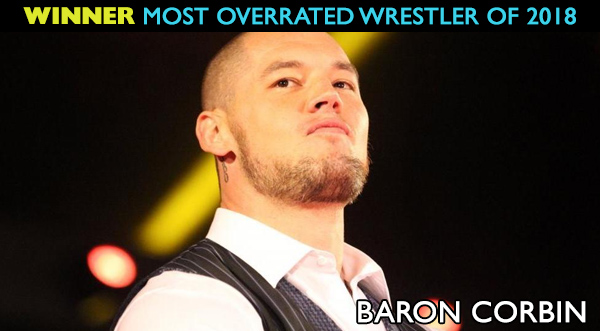 | NOMINEE | 1st | 2nd | 3rd | TOTAL |
| --- | --- | --- | --- | --- |
| BARON CORBIN | 62 | 31 | 18 | 439 |
| Shane McMahon | 43 | 45 | 38 | 426 |
| Brock Lesnar | 56 | 25 | 20 | 395 |
| Nia Jax | 32 | 36 | 34 | 336 |
| Bobby Lashley | 20 | 23 | 26 | 221 |
Full results here.
DANIEL GRONSKY: Baron Corbin's an okay guy with a middling skill-set. He can move, he can talk a little bit, and he's a good guy to have somewhere on your bench, to plug in when you need him. I just do not understand the investment this company has put into him as a project, or why they expect me to care so much about him.
ERIC LINGENFELTER: There is no reason that a 48-year-old non-wrestler should be at all competitive with people who fight professionally every single day. Shane McMahon getting into a wrestling ring should be like CM Punk getting into the octagon. He should be destroyed immediately every single time. I just can't suspend my disbelief for his matches nowadays. They're all stupid.
TOKYO MAGNUM: My #1 write-in vote is for Jake Strong, who may go down as the final Lucha Underground champion and that's an absolutely embarrassing end for what was at one point the most exciting product in wrestling. How are you going to push a dude who couldn't even have a fun match with Aerostar to the top of your lucha-style promotion?
ARYEHHS: I'll say it again: Kenny shouldn't have been the one to break Okada's title reign. He's a good draw but he's been creatively flaccid all year and his ambivalence toward his home promotion was visible the entire time. Ibushi, Naito, and White would all have been better choices.
PEASKEEPER: Brock Lesnar keeping the belt and never defending it has killed most of an entire year for most of WWE's topcard on RAW, forcing them into endless 50/50 booking and making them all feel pointless. Braun Strowman, Drew McIntyre, Seth Rollins, Dolph Ziggler and Dean Ambrose all feel neutered because there is literally nothing for them to do other than beat each other up again.
TONY HUDSON: Nia Jax should not be anywhere near as prominent as she has been throughout 2018. She's a bad babyface. She's a bad heel. Her promos are terrible and her in-ring work is worse than everyone else on the roster (besides Tamina). Send her to OVW (not NXT, I like NXT).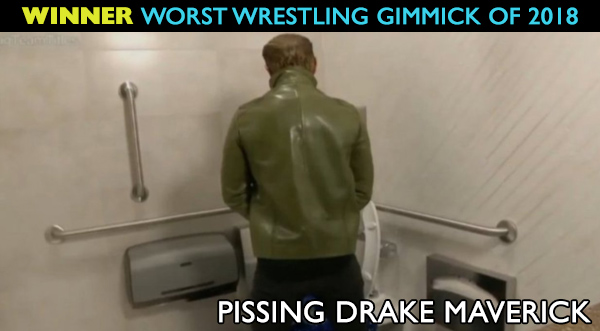 | NOMINEE | 1st | 2nd | 3rd | TOTAL |
| --- | --- | --- | --- | --- |
| PISSING DRAKE MAVERICK | 64 | 50 | 46 | 562 |
| Shane McMahon is the Best In The World | 58 | 50 | 33 | 506 |
| Constable Baron Corbin | 44 | 33 | 34 | 387 |
| Bobby Lashley loves his sisters | 41 | 36 | 30 | 373 |
| Big Cass – he's tall | 35 | 28 | 25 | 309 |
Full results here.
JOHN SAWYER: How to ruin Lucha Underground in four easy steps: Step 1 – Hire a WWE has-been. Step 2 – Put him over literally all of your existing talent in glorified squash matches. Step 3 – Put the belt on him. Step 4 – There is no step 4. At this point, I also hope there will be no Season 5. Or that Mil Muertes literally eats him in the first episode.
DESINMAN: WWE took their biggest signing to headline WrestleMania only to make him punch people in the balls.
TONY HUDSON: A grown man pisses himself? What possible purpose did that serve? It got nobody over. Quite the reverse: it made everyone involved (including the people who laughed in backstage segments afterwards) looked like preschool children.
RHENCH: I don't get any of what they were doing with Lucha House Party. Why they're on two shows, why they're huge cheaters, why that is supported by whoever is making the matches (presumably Corbin, but don't put even more unnecessary blame on him, he was doing a fine job at what they gave him), why why why.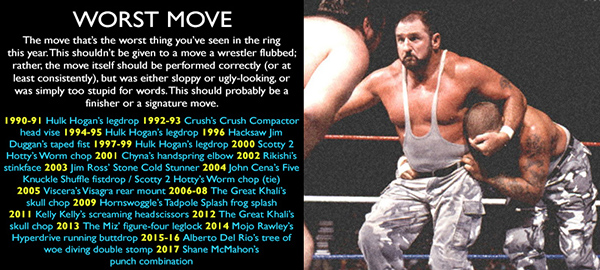 | NOMINEE | 1st | 2nd | 3rd | TOTAL |
| --- | --- | --- | --- | --- |
| SHANE McMAHON'S PUNCH COMBO | 93 | 63 | 52 | 758 |
| Brie Bella's suicide dive | 91 | 49 | 41 | 684 |
| Brie Bella's Yes Kicks kick combination | 41 | 45 | 30 | 400 |
| John Cena's Lightning Fist pose-and-punch | 33 | 27 | 28 | 302 |
| Charlotte's moonsault | 23 | 29 | 26 | 254 |
Full results here.
SORCERESS KNIGHTAS: I'm not a fan of people using finishers that other people use as a regular move, but I can buy it sometimes for a superkick or a DDT. Those, yeah. I can buy they trained harder for it. But…come on. It's a PUNCH. Literally EVERYONE in the company does punches. What makes Nia Jax's or Lacey Evans' punches so much more special? And if it is, why are they punching with less important punches during the match and not going straight for that punch, every single move they make?
TONY HUDSON: Has Charlotte ever hit that moonsault? Ever? It never looks like it actually connects.
CAP'N ANDY: Shane McMahon's baby punches. Am I the only one who'd like to see him try to literally punch his way out of a wet paper bag? Am I the only one who'd bet money on the bag? I bet not.
FLIPDAWG: Write-in vote for Will Ospreay's Stormbreaker double underhook into Canadian backbreaker rack into corkscrew neckbreaker, because look what I just fucking wrote. Do a fucking splash, Will. Just do a fancy fucking splash.
CHRISTOPHER BIRD: I almost admire John Cena's dedication to trolling fans in search of the lowest common denominator. For years he did the Five Knuckle Shuffle to pop little kids and enrage smarks, and that's fine. Now he's doing the Lightning Fist, which is ten times stupider than the 5KS ever was, in order to increase his profile in the Chinese market. You have to give him props for the sheer shamelessness of it.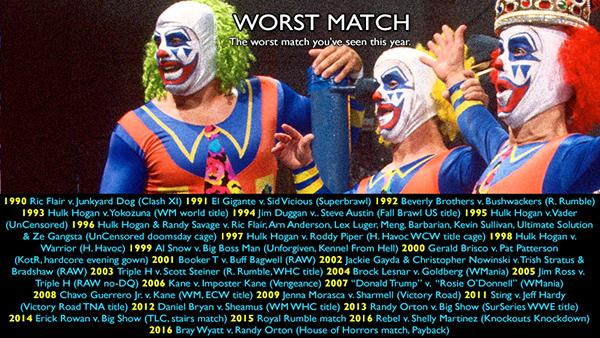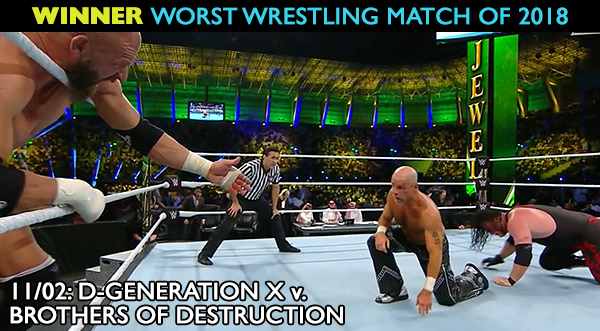 | NOMINEE | 1st | 2nd | 3rd | TOTAL |
| --- | --- | --- | --- | --- |
| 11/02: D-GENERATION X v. BROTHERS OF DESTRUCTION | 121 | 54 | 32 | 831 |
| 11/02: Shane McMahon v. Dolph Ziggler (WWE World Cup final) | 31 | 39 | 21 | 314 |
| 04/08: Braun Strowman and Nicholas v. The Bar (RAW tag titles) | 33 | 24 | 24 | 285 |
| 04/08: John Cena v. Undertaker | 32 | 23 | 27 | 283 |
| 10/06: Triple H v. Undertaker (no DQ) | 36 | 25 | 12 | 279 |
Full results here.
PSYCHO GOLDFISH: Remember when Shawn Michaels came out of retirement for a meaningless nothing match to benefit a government that actively murders people?
TOBY SNEDECOR: I forgot how mad I got about the fact that Asuka didn't just murderkick Carmella into a pulp and walk out with the title thirty seconds later. Man, that was a bad feud.
JONATHAN KIEHLMANN: I wouldn't blame anyone for voting entirely for Reigns-Lesnar title matches. (Wait, was every Lesnar title match this year nominated?!) But the Wrestlemania match was dire, made no sense and was just stupid.
RHENCH: HBK coming out of retirement to be a part of the Saudi show was shit, the match was shit, the promos were shit, the whole thing was shit. HBK had the only unsullied retirement I've ever known of in wrestling, and in order to satisfy the Saudis after Cena and Bryan pulled out thanks to having a better sense of decency than most fans (including me) who paid to see this travesty of a show, it turns out money was all that was missing from an HBK return to ruin his own legacy.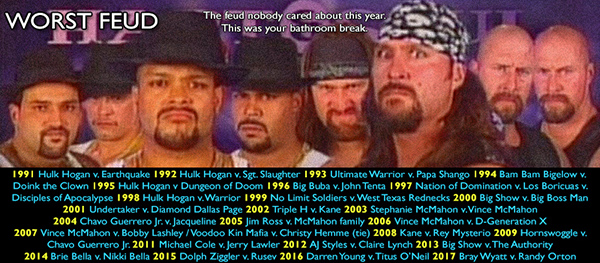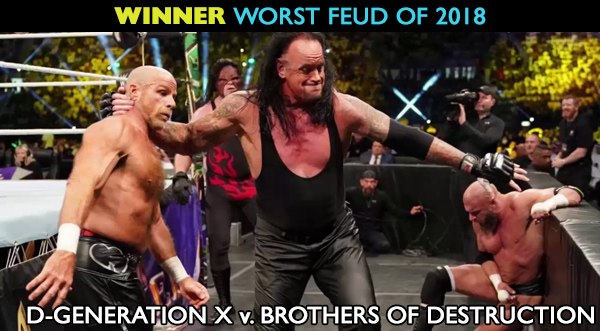 | NOMINEE | 1st | 2nd | 3rd | TOTAL |
| --- | --- | --- | --- | --- |
| D-GENERATION X v. BROTHERS OF DESTRUCTION | 81 | 42 | 38 | 607 |
| Bobby Lashley v. Sami Zayn | 54 | 34 | 18 | 408 |
| Shane McMahon v. Kevin Owens and Sami Zayn | 38 | 22 | 24 | 304 |
| Daniel Bryan v. Big Cass | 19 | 29 | 35 | 252 |
| Bayley v. Sasha Banks | 22 | 23 | 22 | 223 |
Full results here.
(EDITOR'S NOTE: "Dean Ambrose v. Seth Rollins" was accidentally nominated twice in this award (once as Seth v. Dean and once as Dean v. Seth). We have removed duplicate votes – IE, a few people who voted for both entries, taking the higher vote in each instance – and combined the entries into one, which ended up placing eleventh overall.)
ERIC LINGENFELTER: I had to throw in a vote for Bullet Club OGs vs. The Elite because it never actually went anywhere. NJPW set it up like it was gonna be one of the biggest storylines of the second half of 2018, but it just… wasn't. It never came to a conclusion. There was no blowoff. The Elite just decided, on their own, to separate from Bullet Club, and then they went away. That's it. The Bullet Club OGs ended up in a great position going into 2019, but they got there because of the Jay White vs. Okada storyline, not this one. I can't think of another NJPW storyline that came in with such fanfare and then went out like such a fart in the wind.
SORCERASS KNIGHTAS: DX vs. Brothers of Destruction was Lemonparty: The Wrestling Feud – a bunch of old men have a circlejerk together and no one wants to see it.
FLIPDAWG: They spent eight months going back and forth on whether Bayley and Sasha Banks would feud and finally said "forget it." Eight. Months.
PEASKEEPER: Three hundred years from now, archeologists will spend decades trying to figure out when the Finn Balor/Baron Corbin feud started, because it will still be going on then.
CHRISTOPHER BIRD: The sole saving grace of the "Sami Zayn brings out men dressed up as Bobby Lashley's sisters" angle was that now Sami has a truly shit moment to contrast everything else good he does against, which makes him look all the better.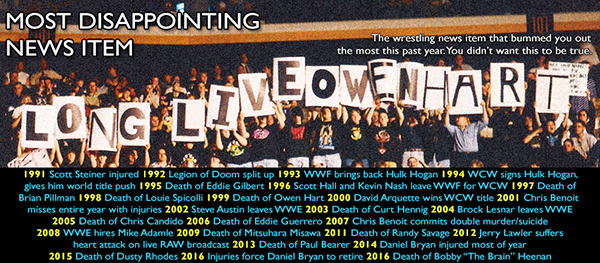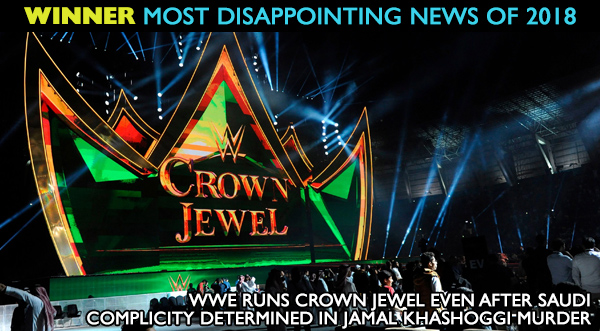 | NOMINEE | 1st | 2nd | 3rd | TOTAL |
| --- | --- | --- | --- | --- |
| WWE RUNS CROWN JEWEL EVEN AFTER SAUDI COMPLICITY DETERMINED IN JAMAL KHASHOGGI MURDER | 162 | 94 | 67 | 1226 |
| Roman Reigns announces he must leave wrestling due to his leukemia reoccuring | 150 | 90 | 44 | 1108 |
| Paige forced to retire from in-ring competition due to neck injuries | 18 | 54 | 57 | 366 |
| Hiromu Takahashi breaks his neck | 29 | 37 | 38 | 332 |
| Death of Vader | 23 | 23 | 26 | 236 |
Full results here.
JONATHAN KIEHLMANN: Enzo accused of sexual assault, specifically the "people on the internet decide that Enzo's definitely innocent and the victim was not wronged and entirely spiteful because the police did not have enough evidence to take it to court" strand, is third after Crown Jewel and Roman's leukemia.
DAVID GLEASON: Vader dying was sad. Hiromu breaking his neck was sad. WWE running Crown Jewel and doubling down on ties with the Saudi government and shilling for them even after it was basically confirmed that they were complicit in Khashoggi's murder was and continues to be disgusting.
SORCERESS KNIGHTAS: With AAW… that shit was deliberate.They did it at a secret show. THEY KNEW DAMN WELL what they were doing booking Elgin, they knew it would piss everyone off, and they didn't have the balls to admit what they were doing by announcing his booking. Even if they said "we had to book this guy to get Tetsuya Naito, if anyone is unhappy with Elgin being here, we'll refund your money", at least that would show some courage to stand by a troubled AAW star. It's not enough AAW gave Elgin a big booking, AAW compounded the problem by being gutless cowards about it.
JOHN SAWYER: STOP HIRING SEXUAL ABUSERS FOR YOUR WRESTLING SHOWS. I DON'T CARE HOW GOOD THEY ARE. THERE IS LITERALLY SO MUCH TALENT OUT THERE THAT THEY CAN EASILY BE REPLACED. JUST STOP HIRING THEM. JUST STOP. IT DOESN'T HAVE TO BE LIKE THIS.
ERIC LINGENFELTER: WWE's involvement with Saudi Arabia finally made me give up on them forever. WWE has done a lot of horrible shit over the years that probably should have made me stop watching, but taking tens of millions of dollars to do propaganda for a dictator was what finally did it. Fuck Vince McMahon. Fuck WWE. Never again.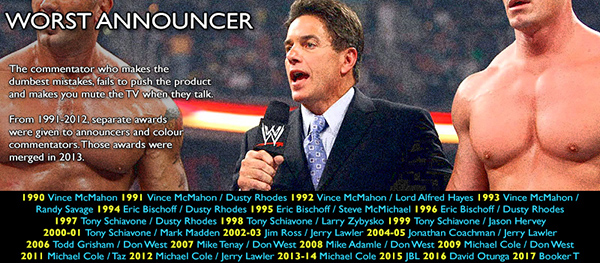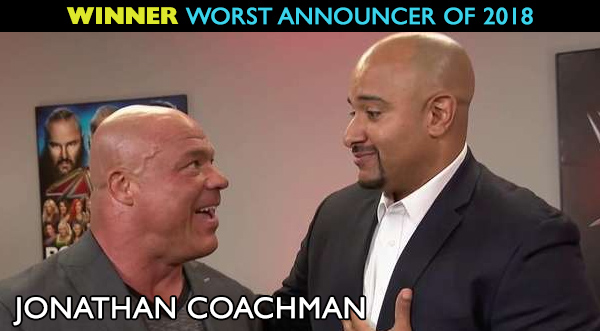 | NOMINEE | 1st | 2nd | 3rd | TOTAL |
| --- | --- | --- | --- | --- |
| JONATHAN COACHMAN | 143 | 57 | 30 | 946 |
| Michael Cole | 67 | 46 | 25 | 523 |
| David Otunga | 28 | 43 | 45 | 359 |
| Byron Saxton | 29 | 48 | 32 | 353 |
| Booker T | 32 | 22 | 22 | 270 |
Full results here.
ARYEHHS: Lanny was incompetent, but he at least gave us a couple memes. Ross and Barnett grumped and shot their way out of a cushy New Japan gig and good riddance.
R. MANNING: How in hell did Coachman manage to come back to WWE even worse than he was originally? That defies several laws of physics and thermodynamics.
SURIEL1981: Percy Watson combines the tedious sanctimony of early '90s Gorilla Monsoon with the mannerisms of a brain-damaged Gary Coleman. If Jesse Ventura's soul goes to hell, his punishment will be to call matches with Watson for eternity. "WHATCHU' TALKING 'BOUT, JESSE! YOU KNOW HE'S CALLED TITO SANTANA, NOT CHICO SANTANA!"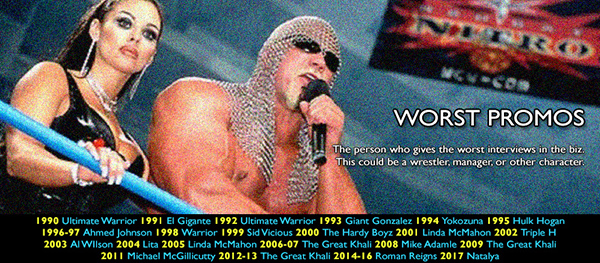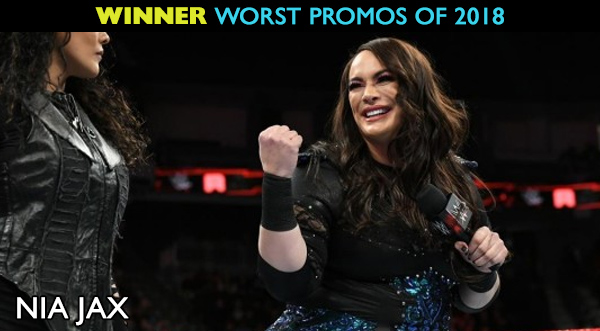 | NOMINEE | 1st | 2nd | 3rd | TOTAL |
| --- | --- | --- | --- | --- |
| NIA JAX | 90 | 44 | 32 | 646 |
| Big Cass | 65 | 53 | 37 | 558 |
| Bobby Lashley | 46 | 42 | 37 | 430 |
| Natalya | 30 | 41 | 29 | 331 |
| Ronda Rousey | 38 | 28 | 25 | 324 |
Full results here.
RHENCH: There are people in their first year or so of being on the main roster, like Sarah Logan, who have an excuse for not being great at promos. Natalya is not one of them, and she cuts every promo like she's never been on camera before. Even in talking about her late father, she's boring, she jumbles her words, and she's not entertaining. In that way, she's a perfect Hart, because none of them other than Owen were ever any good on the mic.
PSYCHO GOLDFISH: Every time I listen to a Rousey promo I cringe. It got to the point that I've started muting my TV when she's onscreen in 2019.
GRANADOS: WHY. DOES. BIG. CASS. TALK. LIKE. HE. IS. ANSWERING. A PUZZLE. ON. WHEEL OF FORTUNE?
PEASKEEPER: Nia Jax is… not good at promos. I want her to be good. I liked her size-positive message and thought it was a good one for her. But as a babyface she was given consistently weird character motivations (which is not her fault) and then floundered with them (which is, to a certain extent, her fault). Still, one could consider this the fault of bad booking were she not then given a heel role, which she completely muddled despite it being far easier for her to manage. Is she supposed to be a monster heel or a cocky coward? I'm genuinely not sure. It changes by the day.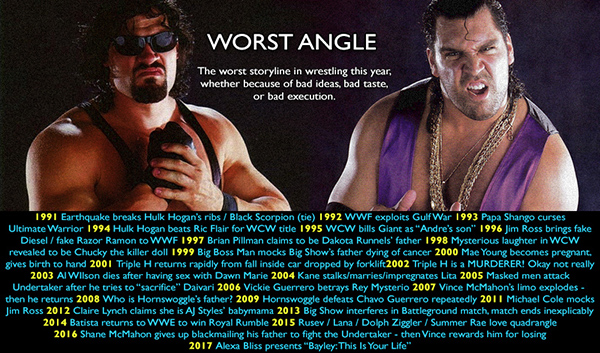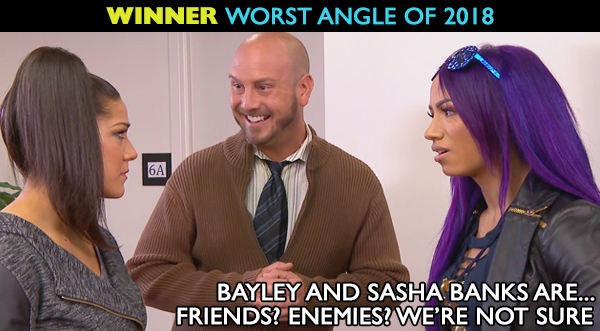 | NOMINEE | 1st | 2nd | 3rd | TOTAL |
| --- | --- | --- | --- | --- |
| BAYLEY AND SASHA ARE FRIENDS? ENEMIES? WE'RE NOT SURE | 39 | 28 | 34 | 347 |
| WWE hails the Bella Twins as pioneers of modern women's wrestling | 40 | 26 | 33 | 344 |
| Asuka wins the first women's Royal Rumble and then WWE ignores it to introduce Ronda Rousey | 48 | 19 | 14 | 325 |
| Drake Maverick pees himself out of fear of the Bar | 25 | 32 | 25 | 271 |
| Hulk Hogan returns at Crown Jewel | 31 | 23 | 18 | 260 |
Full results here.
TOKYO MAGNUM: WWE took one of NXT's greatest rivalries in Bayley vs. Sasha Banks and turned it into a weird meandering mess where they repeatedly stumbled on a great moment or interesting development and then proceeded to forget it so they could either have the two of them cost each other matches or, eventually, form a regular old tag team. Given how bad Raw's women's title scene was all year it's absolutely criminal that both of them were sequestered out of it to hit the same beats for seven straight months.
ARYEHHS: That Bobby's Sisters segment was transphobic as shit.
ROBERT HEDLEY: DX/Brothers, Hulk Hogan, and Shane McMahon being Best in the World were the worst things in wrestling this past year, and they all happened in the same show.
BLOODSPIKE: I love Sasha and Bayley, so voting them number 1 here is no reflection on them, but on the piss-poor storytelling that they were forced to try and get across. No one knew where this would go (obviously), so it went nowhere: the worst place of all.
SURIEL: So WWE has abandoned its narrative that the Fabulous Moolah was the progenitor and paragon of women's wrestling. Now it's the fucking Bella Twins.
CAP'N ANDY: It takes a unique brand of awfulness to make something as generic as "heel GM abusing their powers" stand out from the crowd. Baron Corbin is exactly that awful.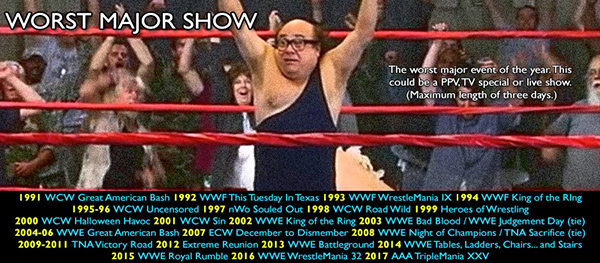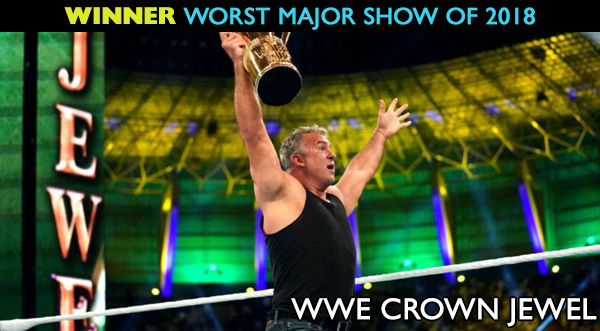 | NOMINEE | 1st | 2nd | 3rd | TOTAL |
| --- | --- | --- | --- | --- |
| WWE CROWN JEWEL | 307 | 60 | 4 | 1723 |
| WWE Greatest Royal Rumble | 35 | 174 | 51 | 799 |
| WWE Backlash | 23 | 30 | 34 | 273 |
| AAA Triplemania | 23 | 13 | 31 | 216 |
| WWE Super Showdown | 3 | 24 | 40 | 167 |
Full results here.
JOHN SAWYER: If you're going to take blood money from a brutal dictator who butchers journalists and tortures dissidents, at least have the courtesy to spend that money to put on a show that isn't the drizzling shits.
SORCERESS KNIGHTAS: Crown Jewel was the worst concept for a show of this year. The worst buildup – in and out of wrestling – for a show this year. Three of the worst matches of the year. And somehow Backlash was worse. Crown Jewel, you could at least argue that maybe WWE put on a deliberately bad show to try and kill the town so they didn't have to go back and could make the Saudis break the deal. Backlash was merely WCW 2000-level bad.
TONY HUDSON: There may have been worse shows than Crown Jewel from an in-ring perspective, but none will compare to the travesty that was WWE's decision to go ahead with the event. The fact that it took place spoke loud and clear: Money is more important than the life of a journalist. Shameful.