When last we left Tintin, he was being ushered into a gangster den that he thought was very possibly a police station, because Tintin is a fucking idiot.
Anyway, the gangster, Bobby Smiles (the "number two gangster in America"), offers Tintin a lot of money to kill Al Capone. Tintin says "heavens no, I came to America to take out all you crooks, not become one" (this, by the way, on page sixteen, is the first time in the story anybody has heard Tintin explain anything about why the fuck some Belgian kid reporter is in America in the first place).
How does Bobby Smiles react?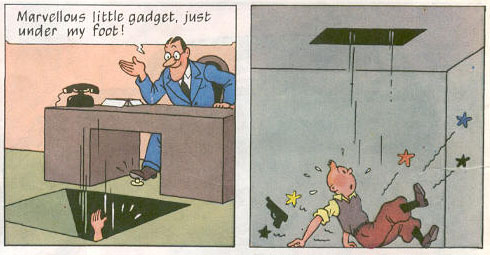 …okay, does every gangster in Chicago have an elaborate system of trap doors? How does anybody get around in this city? You'll just be walking down the street, and suddenly WHOOMP, you're ten feet below ground level. From the shadows, an apologetic voice: "Aw, sorry 'bout dat. I thought you wuz Frankie the Knife. Just take da stairs up on da left and we pretend you never saw nothin', okay?"
Anyhow, Tintin escapes Bobby Smiles' various deathtraps and assassination attempts, mostly (as per usual for early Tintin) through sheer, unadulterated luck. (The highlight: when they use the wrong knockout gas on him, then try to drown him – but it is the type of knockout gas that stops working when people are dunked in water. No. Really.) Finally, Tintin works with actual for-real police to bring Bobby Smiles down, but Bobby Smiles escapes into the vastness of America's interior.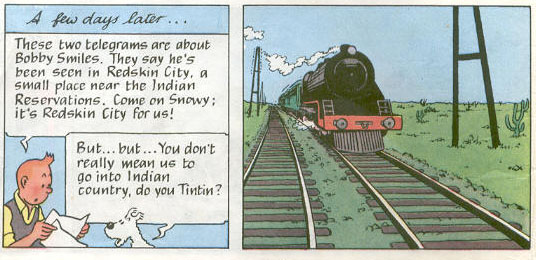 Redskin City.
Redskin City.
Redskin City.
As people here have previously commented: Herge was in many ways a racist.
So once in Redskin City (yeesh), Tintin gets himself some cowboy clothes, so as not to stick out (good plan there, Boy Reporter With Trusty Dog Sidekick), and a horse, and goes after Bobby Smiles.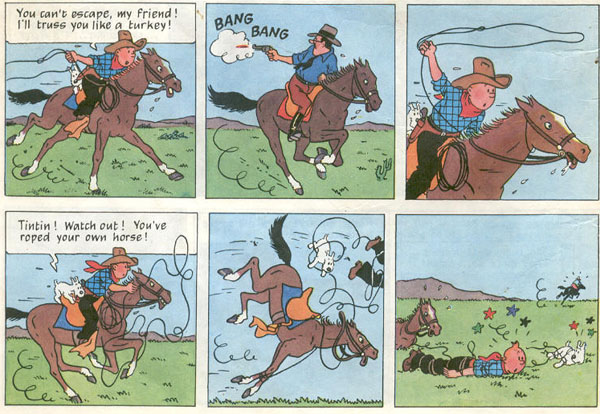 Ironically, this is about Tintin's level of competence through the entire goddamned book. Herge must have realized in the later stages of his career that his hero was clinically moronic and decided to fix it. Anyway, what happens while Tintin is busy trying to un-hogtie himself?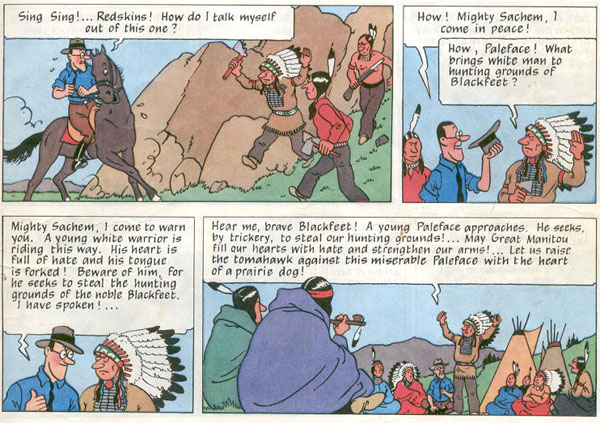 BOW HOWDY THOSE NATIVE AMERICANS SURE ARE DUMMIES.
In case you didn't believe Herge the first time when he pointed out that these ignorant savages trusted the first white man they saw, there then follows an extended sequence where the Injuns can't go to war against Tintin because they can't find the ceremonial war tomahawk, and how can you go to war against a white man without a ceremonial war tomahawk? Finally, one of them trips over it, because it was stuck in a bit of ground in plain sight. Oh, those Injuns!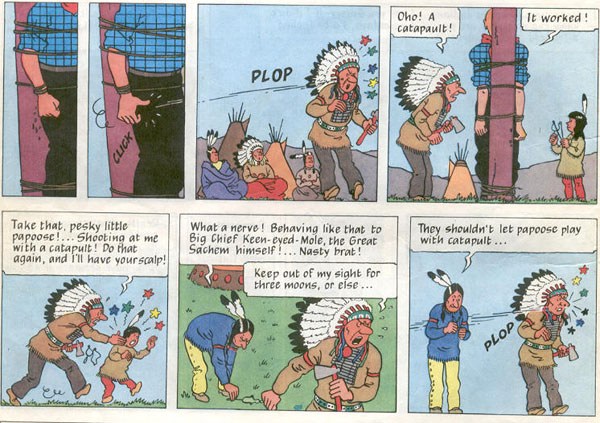 In fairness, however, Herge was writing a story where his Aryan hero was even stupider. The reason Tintin is tied up here? No, not because Herge had a bondage fetish (I mean, I hope not, but); Tintin is tied up because when the Indians came out of the rocks with death in their eyes, he thought it was a quaint local custom, and when they yelled about how they were going to kill him, it was a funny joke.
I'm not kidding.
Anyway, Tintin comes up with a blitheringly stupid plan here, using the resin and the slingshot mistake to basically get the entire village fighting each other, and then he escapes over the edge of a cliff and finds a secret tunnel.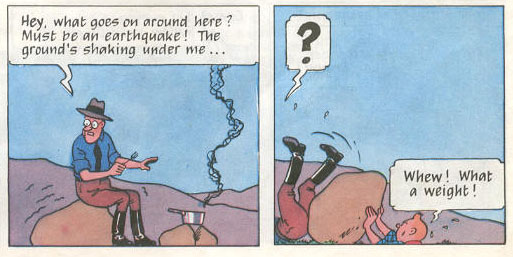 Amazing how Tintin easily lifts a rock as big as he is with a guy sitting on top of it. Anyway, Bobby Smiles goes and gets the Indians to once again stop their newfound blood enemy Tintin, and they get a REALLY BIG ROCK and sit a warrior on it just to be sure. Tintin tries to blow up the rock by taking all the gunpowder from his bullets and making an explosive charge, but in a shocking moment of realism, Tintin's plan to blow up a enormous rock weighing many tons with five grams of gunpowder does not work. So he tries something else.

And he digs right into an oil strike.
I shit you not.
And this isn't even the luckiest moment Tintin has in this book. I haven't even gotten to that part yet.
Now, a genuinely on-purpose amusing digression as Herge, a smug Frenchman, betrays his inner prejudices about Americans.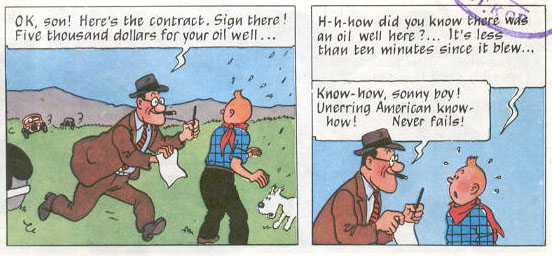 But Tintin is honest, so he tells the oilmen that this land belongs to the Indian tribe.
Herge is nothing if not equal-opportunity when it comes to cultural mockery at this stage of his career.
TO BE CONTINUED when I feel like it