At the tail end of my last I Should Write The Legion, I promised that this one would feature the "biggest badass" in the Legion, and the guesses were predictable: Brainiac Five, of course, but also Superboy and Star Boy, plus a couple of emails betting it was Wildfire.
All of them are cool, mind you, but when you're talking sheer badass that is off the charts, there's only one nominee.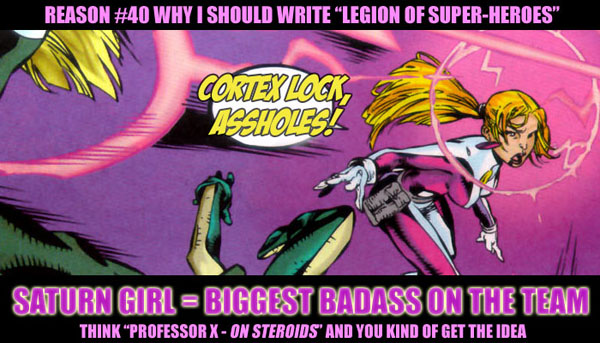 She's a ridiculously powerful telepath. Her mental abilities have at times managed to hold off gods. She's made entire groups of Legionnaires believe that missing comrades were alongside them for months at a time, lobotomized enemies, beaten other top-league telepaths like rented mules. In terms of sheer power, Imra Ardeen is near the top of any scale upon which the Legion can be judged.
(Aside: I remember someone once asked me to explain the appeal of the Legion. The conversation went like this. "Do you like Magneto?" "Yeah." "Professor X?" "Yeah." "Superman?" "Yeah." "Wolverine?" "Yeah." "Imagine all of them on the same team, together, plus Iceman and Firestar and Mr. Fantastic minus the stretching and a bunch of other equally powerful characters. That's the Legion. They kick ass.")
But what makes Saturn Girl the biggest badass in the Legion isn't that she's powerful. Lots of Legionnaires are powerful, after all. What makes her the biggest badass in the Legion is her inherent pragmatism – recently pointed out quite adeptly by Jim Shooter when she calmly mind-controlled Timber Wolf to stop him from killing somebody in a fit of rage, then mindwiped all the onlookers to make them forget that Timber Wolf snapped. Is this a violation of both T-Wolf and the assorted citizen's mental dignity? Yes, that's exactly what it was – and she did it anyway because it was necessary.
In his run initiating the current Legion, Mark Waid placed Cosmic Boy and Brainiac Five in opposition to one another. I always felt this missed the mark, because Cosmic Boy has the Captain America role in the Legion – he's the guy the team rallies around, the purest and most natural leader, the one who is, by definition, going to be on the right side. Placing someone in opposition to Cosmic Boy is like, I dunno, putting Captain America on one side of a superhero-versus-superhero conflict and then asking readers not to think of the other side as the de facto "bad guys." It made Brainiac Five seem almost villainous.
However, Brainy does need a counter in the Legion, because his intellectual and moral role within the team is so powerful, and Saturn Girl is exactly the person to take on the job. She's tough and smart, and her steady pragmatism is the perfect foil for Brainy's powerful idealism. The way I see it, there are things Brainiac Five just will not do as a matter of principle, even if they are necessary. (A great story in the initial-reboot Legion had him refuse to use the Metal Men's responsometers to help the timelost Legion get home without their permission, once he realized they were sentient intelligences.)
Saturn Girl, on the other hand, is a lot more willing to bite the bullet. It's just who she is. Which in turn means the two of them will be at odds with one another frequently. Not team-dividing warfare or anything; simply the collision of two equally valid yet ultimately opposed perspectives.
(Oh, and since I know people will ask: she's with Lightning Lad because Garth is, in many ways, the Captain Carrot of the Legion – he's not brilliant, but he's moral and upright and just plain good, through and through. Do you really think a telepath could manage to be with anybody else?)
EDIT TO ADD: I didn't want to elaborate too much on why Saturn Girl is pragmatic, but Brad pretty much explained it for me in comments below:
Saturn Girl isn't pragmatic, because it's an extention of her desire for control, or peace, or some kind of moral imperitive – she's just been raised in a society that's to some extent a psychic open-book. Much of our laws about freedom and rights (and justice) are because we can't ever know what someone's actual intent is behind their actions or what their capacity to act on those intents are. Titanians have no such limitations.
Exactly.