So, it is a little less than one year since Marvel Comics felt the need to reboot or revamp or re-something Spider-Man by having their signature flagship superhero make a deal with the Devil and give up his marriage and totally fuck with continuity.
But was it a good idea?
From a sales standpoint, very likely. Tom Brevoort claims that at this point Amazing Spider-Man is profitable solely on the basis of subscriptions. Even if we assume that Tom Brevoort is a lying sack of shit (nothing personal against Mr. Brevoort, but let's be honest -as an executive editor for a major comics company, it is more or less his job to be a lying sack of shit), a simple glance at sales figures shows us that Amazing Spider-Man's sales have dropped from the general sales range of 90K/issue that the title tended to hang around prior to the changearoo, and now sit at a level of 65-75K depending on who you ask and who's writing and drawing the comic in any given month. This sounds bad until you remember that the two additional issues of Amazing per month replaced the lower-selling titles Peter Parker, Spider-Man and Friendly Neighborhood Spider-Man, which both sold in the 40-45K range by the end of their run.
Bottom line: Regular series Spider-Man comics used to sell about 180K issues per month, combined. Now, a year later, after the big stunt, they are selling more in the neighborhood of 200K-230K. In an industry where every sales trend for just about everything is "slow and steady crawl towards death," that is a big win.
But is that because they got rid of the marriage? I don't think it is; I think it's because they made a big deal about Spider-Man and because comic readers like to buy into a weekly (or mostly-weekly) series, and because they got back to core Spidey principles, IE, not having him be a superstar Avenger with a public identity living in a fancy skyscraper.
Make no mistake: the past year or so of Spider-Man has been a reasonably decent run of comics. Not particularly remarkable for the most part, really; the occasional inspired turn of artwork from a Marcos Martin or a John Romita Jr., an occasional storyline that particularly just works in the way that good Spidey stories can. And it is welcome to see the soap-opera-ish style of plotting the lives of Spidey's supporting cast return as a storytelling strategy, and equally welcome to see the writers creating new villains (even if they don't all quite work as well as one might hope).
But really: there hasn't been anything deeply memorable. The main stories (IE, the main plot, centering around Spidey) have mostly been throwaways of varying levels of quality. The obvious desire to return to How Spider-Man Comics Used To Be is so palpable on the part of some writers that it comes across as desperate; Peter being totally luckless and broke just isn't cute any more, not when he's still to all appearances in his mid-to-late twenties. At this point it's just pathetic, and there's really no excuse; speaking as someone whose mid-to-late twenties were frankly kind of depressing on the "personal success" front, there are tons of ways to make Peter's life hard (and I totally believe that Peter should have a difficult life; that's part and parcel of being Spider-Man) without making him into a slacker bum.
Look at the stories we've had and consider this. In rough order we've seen:
– the reintroduction of Harry Osborn being not dead and all
– introduction of Jackpot
– the takeover of the Daily Bugle, Jonah's heart attack
– introduction of the Negative Man
– fighting with Menace (multiple times)
– fighting with Freak (twice)
– that three issue thing with Wolverine and the sorta-devil-worshipping-guy
– Peter becomes a paparazzi, fights Paper Doll
– Spidey deals with the Bookie
– Peter goes to work for Ben Urich's paper
– "Kraven's First Hunt," introducing new Girl Kraven
– "New Ways To Die" – Spidey vs. Thunderbolts
– Jackpot revealed to not be Mary Jane, but instead be… I dunno, just some girl who gets killed because she can't survive taking MGH to get superpowers
– Eddie Brock becomes Anti-Venom
– Flash Thompson gets legs blown off in Iraq War
– return of Hammerhead
– single issue Punisher hijinks
– and most recently, the return of the Shocker and introduction of Jolly Jonah Sr.
Now, some of those stories were great. Some of them were pretty shitty (Flash Thompson as crippled Iraq vet is one of the most spectacularly dumb ideas Marvel's had in a while, and the whole Jackpot mess was executed so badly it should stand up for all time as an example of How Not To Do That). But, with the exception of Jackpot, here's the one thing they all had in common: not a single one of them demanded that Peter be single.
Seriously: not a single goddamned one of them. The "Brand New Day" and beyond Spidey is just modern storytellers taking a relatively old-school approach to writing Spider-Man; soap opera plotting, knowing to use the extensive Spidey rogue's gallery that exists beyond the Green Goblin, adding new villains whenever possible (even if only for an issue to get their asses kicked, but the occasional new ambitious addition is always worth a shot), and keeping Peter in the place of relative hard-luck underdog, the Charlie Brown of the superhero set. Fine and good, but not one element that I just listed cannot co-exist with him being married.
It's worth noting that for all the foofarah about Peter now being a swinging single again, all that we've seen on that front, in an entire year of mostly-weekly comics, is:
– a few issues of mild flirtation with Jackpot (who then dies because she isn't MJ – thus wasting the only possible point of the goddamned character, incidentally)
– a bit of flirtation with the blonde science girl who has since fallen back into the background
– Harry's girlfriend throwing herself at Peter for no apparent reason other than to set up iteration X of Harry mistakenly hating Peter
– and a one-off gag in the most recent issue with Peter meeting a supermodel and fucking it up because he is Peter Parker and has bad luck
Now, granted, that last gag was pretty funny. But it's not like you couldn't do it with him married.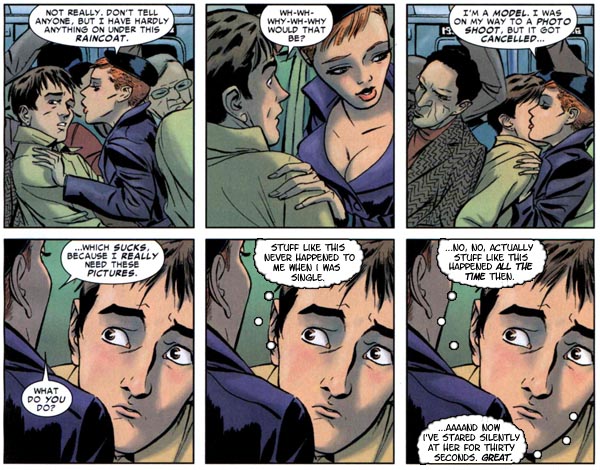 (I could probably do it more elegantly with a little rework, but fuck it, I'm trying to make a point, not rewrite the issue.)
Moreover, it wouldn't matter if the Spider-writers had devoted more time to Peter's lovelife. It wouldn't have worked. Know why? Because we already know "what's supposed to happen." Peter ends up with MJ, just like Clark ends up with Lois and Batman… well, Batman probably ends up alone and/or dead, but let's not dwell on that for now. Apart from those few super-hardcores who think the death of Gwen Stacy was a mistake and ruined the character, the consensus on "Peter ends up with MJ" is pretty resolute. You can bring back the Black Cat or have him date Silver Sable or introduce the Sexsational She-Spider and it's not going to matter, because we already know how the story goes and those people will just be placeholders.
(As an aside, the almost total removal of MJ – one of the strongest and most beloved female characters in comics – from the book just seems ridiculous. At a time when comics are starved for female readership, you kick MJ to the curb? MAKES NO SENSE.)
And one more thing: There is now wide consensus that "One More Day" was an atrocious story which led to reasonable comics, and this is true in every sense but one; namely, that whenever the issue of what Mephisto actually did is raised, it just holds itself up like a big fucking red flag. Does Peter remember making the deal with Mephisto? (We're not sure.) Does anybody remember Peter's secret identity? (It seems kind of like Iron Man did in that most recent issue of Iron Man where Spidey guest-starred, but who knows. Eddie Brock pointedly didn't seem to remember, nor did Norman Osborn. I think at this point Marvel editorial is just letting writers handle it however they think best, and thankfully "best" in most cases is "avoid with ten-foot pole.")
Realistically, one would say "well, it doesn't matter, comics" except that from a storytelling standpoint, it does matter; the reader can anticipate how someone who knows Peter's identity will react to Spidey doing stuff as compared to someone who doesn't. It's the reason why, back in the day, when Spidey and Daredevil would show up in each other's comics, that was a big deal; because Spidey knew Daredevil was Matt Murdock and Matt knew Spidey was Peter Parker, and that gave their scenes together added impact. This isn't an argument for restoring that (with DD's identity essentially quasi-public now, a lot of that is gone permanently barring a linewide revamp); it's simply an argument for clarity, rather than, say, teasing the reader with meta-storytelling about whether or not Peter remembers the events of issue number whatever.
So in conclusion, I'd have to say that the reworked Spider-continuity is at best a muddled success, mostly because of core competence on the parts of the creators putting together the competence rather than the new editorial consensus being a good idea (because it wasn't). The comics themselves have ranged from quite decent to quite lousy. The upside of the high-rate publishing schedule (lots of Spidey and a high degree of editorial consistency) outweigh the downside (staggering creators leads to a lack of sense of continuity; the year's worth of books sometimes feels more like a lot of issues of Spider-Man's Tangled Web than the core book).
Which isn't a decisive answer one way or the other, of course. But that's what happens when you take an essentially bad idea and try to make it as good as possible.