Hi, I'm Jaime Weinman, of Something Old, Nothing New and TV Guidance; thanks to MGK for inviting me into his domain.
Now, I love snarky comments about Betty Cooper's insanity, or Archie comics panels and the improvement thereof. But I'm also interested in trying to learn more about the non-official history of Archie as a company and a force in comics, something that can drive a person almost as crazy as Betty Cooper. Trying to do research on Archie comics is frustrating for two reasons. One is that the company's great artists and writers — and they really did have some of the best in the '50s and '60s — mostly died without being interviewed by anybody. Harry Lucey's mastery of body language and comedy has been rediscovered in the last few years, but he died in a town in Arizona without so much as an obitiuary or a press release from the company. Samm Schwartz (Jughead) was one of the funniest cartoonists in comics history, but there was only one short article on him in his lifetime, and at least one book mentions him mainly as a guy who didn't like Steve Ditko's artwork when he was an editor at Tower Comics. (Interesting, but not really the most important aspect of his career.)
The other problem is that the company itself has always treated artists as interchangeable cogs, even more so than most comics companies, and even now they have little interest in promoting the reputations of particular artists and writers. This is, after all, a company that made up the story that John Goldwater "created" Archie once Bob Montana was no longer alive to point out otherwise.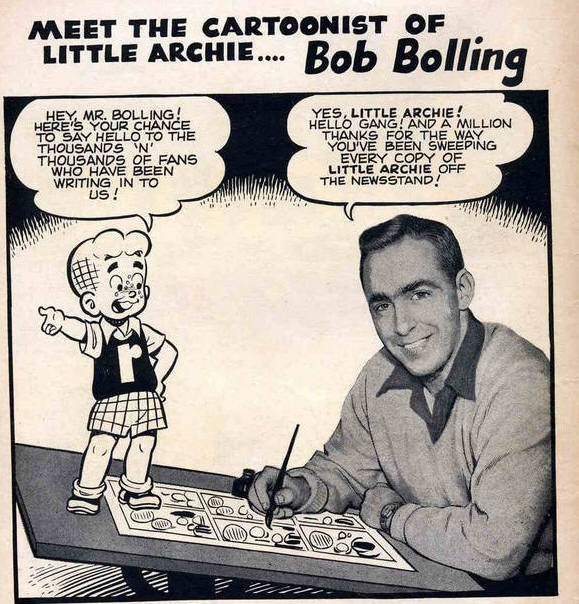 A happy exception is Bob Bolling, creator of Little Archie. Bolling is the exception to a lot of rules. The Archie company allowed him to sign his work at a time when almost nobody else got that privilege; they let him cultivate an extraordinarily personal, quirky style of writing and drawing in their pages, and they've even given him some promotion, as you can see in the image above (from his second issue of Little Archie). The happiest part is that he's still alive and working, and therefore has been able to give interviews and get some acclaim for being one of the greatest and most distinctive talents in comics.
The story of Bolling on Little Archie is better-known than it used to be, but it's worth a quick recap: he had been at the company for only a couple of years when the publisher, John Goldwater, decided he wanted to do a kiddified Archie series to compete with Dennis the Menace and Peanuts. Harry Shorten, who had been the editor of MLJ/Archie since the beginning (and is an important figure in comics history for other reasons), surprised the relatively untried Bolling by asking him to design the characters and, when the designs were approved, write and draw the comic. Little Archie was a success and was changed to an 80-page quarterly, with Bolling doing about half the stories in each issue (the other half were by another young artist-writer, Dexter Taylor).
After the first few issues, Bolling began to depart from the Archie formula, adding many characters who had no equivalent in the teen comic, mixing in fantasy, action-adventure and mystery, and changing the designs of the characters depending on what kind of story he was doing. (There must have been like six different Fred Andrews designs, ranging from a goofy dad to a rugged ex-football-star. I assume that Little Archie's mom, being as she is the hottest person in Riverdale, keeps marrying different dudes and calling them all "Fred.") He had no length limit on his stories, and never did a story conference on them; he would do some pages, send them to Harry Shorten or his successor, Richard Goldwater, for approval, and then ink and letter them himself. Among the characters he created were Ambrose, a kid who gets picked on and exploited by Little Archie and the other kids (he may have been an unconscious inspiration for Butters on South Park):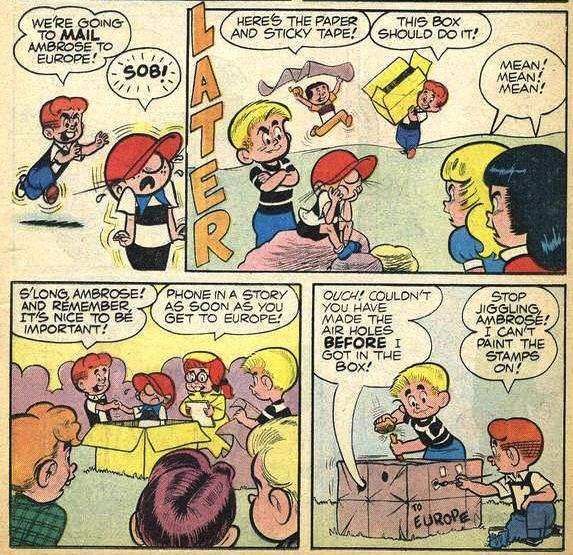 And the strangest pair of serio-comic villains ever, Mad Doctor Doom and Chester, a green-skinned mad scientist and a teenaged greaser out to conquer the world. Oh, and Mad Doctor Doom was introduced at virtually the same time as that other Doctor Doom; nobody knows who was created first.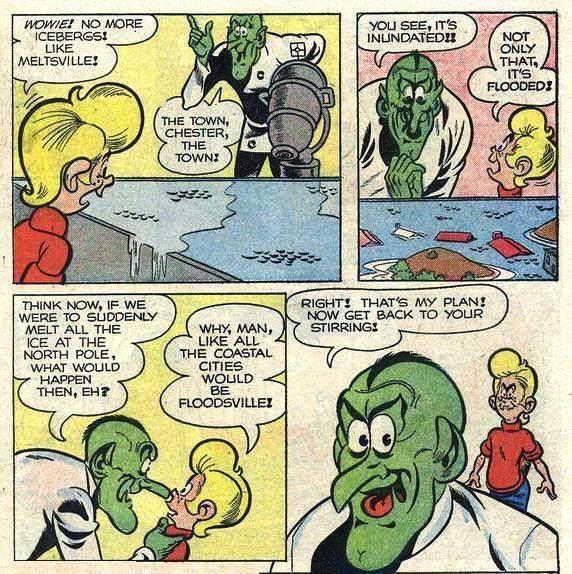 Bolling's work on Little Archie is often compared to Carl Barks' on Donald Duck, and rightly: they're both imaginative artist-writers whose work transcended the franchises they were working for. But his style is often quite different from Barks'. The word I once heard someone use to describe Bolling's style is "mystical." He's preoccupied with the power of the natural world and the simple acceptance of the fantastic and inexplicable in everyday life. He was personally interested in reincarnation, and strongly connected with his childhood, which he saw as the most important part of his life: "I still worry about things I did in second grade," he said.
He also treats places and land as having a strength and character of their own; his stories abound in geographical references, including a map of all the specific place names he created for the previously-uncharted Riverdale. Barks is brash and extroverted; Bolling is strangely contemplative and a little melancholy even in slapstick stories, as if there's an underlying sad reality that the kids can't see: childhood is fantasy, growing up is reality, and the fantasy is about to come to an end. He even made this explicit in a story where the kids are horrified at the realization that, by some mysterious force, they will probably fall in love and get married when they grow up and there's nothing they can do to stop it.
That's why though Bolling is known for doing two types of stories, comedy and action-adventure, his very greatest stories are the ones that are sort of in-between, where regular reality has a dose of the supernatural just beneath it. His own favorite story is "The Long Walk", which shows how much more rounded and interesting his characters are than their teen counterparts (Little Archie learns his lesson, but he acts with the thoughtless cruelty of a real little boy), but also uses the device of having three inanimate objects comment on the story like a Greek chorus. My own favorite Bolling is "Caramel Has a Tale", where another one of his creations, Betty's cat Caramel, starts talking to the kids, and tells the semi-realistic story of what cats have to go through to survive.
And here's another example: "210 Oak Street" (Little Archie 27) has haunted me since childhood. The tale of a pair of glasses that turn back time for anyone who wears them has a bit of a Twilight Zone quality to it (that show was still on the air at the time), but the overall impression the story left on me had less to do with the plot and more of the sense the images convey that there may be other worlds within the world we can see. Those images — especially the old woman becoming her younger self when the kids put on the glasses, and on the last page, her seeing Ambrose through the glasses while the rest of the panel stays in "reality" — have never left my mind. On a more prosaic note, I think this is one of the last stories with Ambrose in it until the '80s; he appeared less often as Bolling concentrated more on action-adventure. And my favorite moment of the story has always been the moment Ambrose begins to cry upon seeing what the glasses can do; the reaction just felt so real and true, like that's how a real kid would react.
A story that has the "mystical" element even though there's no fantasy in it is "Sled With a Mission," from Little Archie # 30. Little Archie is assigned by his boss, the Dickensian "Midas Mudge," to deliver some groceries; the sled gets away from him and winds up conveying the groceries to the town's poorest residents, the Stringlys. (It also features the return of Jimmy Lee, a local reporter who had already appeared in one of the adventure stories. Bolling had a lot of continuity within his own stories.) There is no magic in the story, but as the title implies, there's a sense that fate is driving what happens, that something wants this to turn out the way it does. I also remember, as a child, being impressed by the plausibility of Midas Mudge's change of heart. He doesn't change from a mean person into a nice one; the incident just reminds him of a good deed he did in his own childhood, and he connects with the person he was as a boy, rather than the man he has become. It's like Ratatouille without the overbearing Michael Giacchino music.
(Prosaic note # 2: this story contains an early example of a gag that is now commonplace: two guys carry a piece of glass across the street, and the sled doesn't break the glass the way we would expect.)
Other Bolling stories are peppier and happier than this, of course; he did lots of slapstick stories, and his adventure stuff was so exciting that he briefly got a spinoff called "Little Archie Mystery Comics." What seemed to carry him through all these experiments was his confidence in his ability to make any story work, no matter how unlikely it sounded. One of the Little Archie issues I own is # 24, which contains five Bolling stories (a good haul; some of the other issues only have two or three): the first is a realistic yet eerie story about Little Archie learning judo and using his new skills to protect his mom from a mugger; the second is a suburban situation comedy starring another Bolling creation, Betty's beautiful older sister Polly; the third is a mix of action and comedy, with the first appearance of Mad Doctor Doom; the fourth is a whimsical fantasy where Little Archie gets a flickering "ghost" like a malfunctioning TV set, and the last is a crime story where Little Archie actually gets shot, though the bullet just "grazes his skull."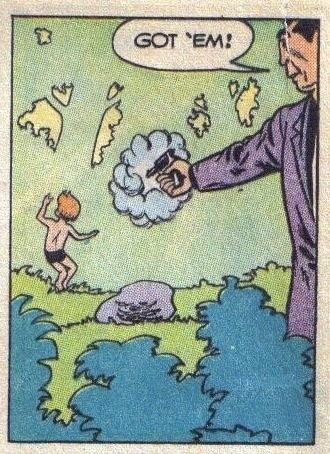 Every one of these stories has a different drawing and staging style depending on the subject matter; the crime story is fast, violent and suspenseful; "A Chance of a Ghost" is crazy and a little mean-spirited (Betty and Veronica take turns kicking Little Archie like a real TV set); in the Mad Doctor Doom story, he gets the tone just right, halfway between serious adventure and a parody of adventure comics. (A comics creator has to have some serious balls to take a story and character that crazy and make it seem logical.) While the Polly story, taking place at night, makes slapstick comedy seem almost beautiful and balletic, and features a sweet observational touch in the panel where Betty imitates her big sister's gestures: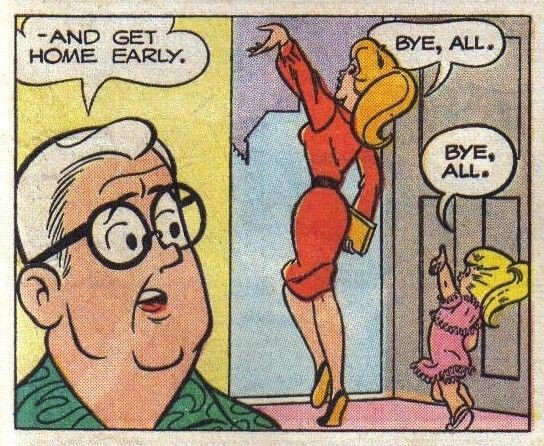 He kept the title on this level from the late '50s through the mid-'60s, and then it was suddenly over. The last Bolling story for the original run of Little Archie appeared in issue # 38, a Mad Doctor Doom adventure called "The Terible Tornado Machine." After that, the title was all Dexter Taylor, who had done some good work on the earlier issues but soon got really bland really fast. (In fairness, the company apparently ordered Taylor to make all the characters act exactly like their teen counterparts, which is why Little Archie creepily started "dating" Betty and Veronica even though he was too young to date.) It was not Bolling's decision to leave Little Archie; he was pulled off the title in a move that was emblematic of the dubious talent decisions editor Dick Goldwater made in the late '60s.
Like many a comics editor then and now, Goldwater seems to have made this decision purely on the basis of efficiency: Bolling was good at drawing the regular teen stories, while Dexter Taylor was not. So it was decided that Bolling would move to the teen titles while Taylor would handle the Little Archie comic exclusively. If you prioritize artistry over efficiency, the decision is insane: in Bolling's Little Archie stories the company had some of the best comics being done anywhere, at any company, in the early '60s, and they re-assigned him to stories that didn't make the same use of his talents. But of course the idea of prizing artistry has not been a big thing at Archie, or any other major comics company really.
Bolling drew many stories for the company for the next decade and a half, some from his own scripts, some from others', but never with the kind of freedom he'd enjoyed on Little Archie; on teen stories, he mostly had to follow the regular house formula and length. The late '60s and '70s Bolling stories are recognizably his, but they're not as unique, and sometimes they have to get so much storytelling done within the six-page limit that the story is over before it begins. Though he did occasionally get to work in his own characters, like a 1969 cameo by Little Archie's old nemesis Weasel Williams, or appearances by the apparently ageless Spotty and Caramel.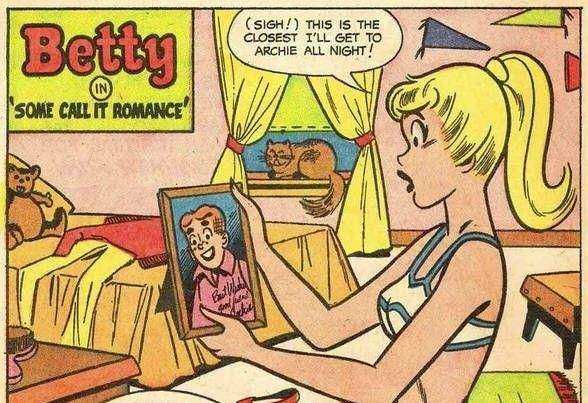 Part of Bolling's problem may have been that, by his own admission, he was not a fast worker. In 1985 he told the Miami Herald that he didn't make much money because every story "takes me a long time. I talk slow. I think slow. I'm just like Archie. Sometimes, I'm a little behind him." He could never have a monthly title all his own because he wasn't the type of guy who could produce that volume of stories, even after he stopped doing his own inks and letters. But in the early '80s the company was making its last attempt at relevance ("We're trying to get Archie into today," Bolling said in 1983); like most such periods, it's been written out of the company history, but this was the era where they tried to make the kids hipper, and where Frank Doyle wrote a story where Betty teaches girls that it's OK to invite a boy over to make out.
And this was also the period where they finally started giving Bolling some opportunities to let loose. In what I take to be an intentional strategy, they started assigning him to low-selling titles that were in danger of cancellation: Sabrina, Archie and Me and finally the first new Bolling Little Archie stories since the '60s. (As fans of Jack Kirby's tenure on Jimmy Olsen can tell you, a conservative company will sometimes give an artist/writer more freedom on their lower-selling titles.) In between Archie assignments, their former editorial assistant Tom DeFalco hired Bolling to create "Wally the Wizard" for Marvel's Star Comics imprint, providing the only interesting title in what was otherwise a slew of Harvey ripoffs.
These '80s stories don't quite match up to Bolling's earlier work, partly because he didn't do the inking and lettering and partly because Bolling over-indulged his biggest weakness as a writer, a taste for terrible puns. ("It's a pine tree." "Are you needling me?") But some of them are very fine. His Sabrina stories, where he simply ignored everything that had ever been done in the series before and re-vamped it as a Little Archie-style fantasy/adventure, are some of the trippiest comics of the '80s. His new issues of Little Archie were even heavier on the mysticism than the earlier ones. And the Archie and Me stories took the Little Archie continuity and style and applied it to the teen characters: one story was narrated by a talking owl, another had Archie meeting the ghost of a woman who was killed by a drunk driver.
Exactly who Bolling's successors are today, I have no idea. One of the things that makes Bolling so interesting is that he's a stand-alone figure, almost freakish, in a company that discouraged individuality (again, even more than most comics). And I think one of the things that drives us Bolling cultists is that we can't quite figure out how he did what he did, because it just shouldn't work. Some of his stories sound ripe for snark when you describe them. But when reading them, his obvious conviction, the power of his images and simple, almost childlike language can make you surrender your urge to be snarky and just become a kid again. When he does a satirical story about a beatnik bongo-playing octopus from the planet Venus who needs to drink ammonia to survive, we buy it. When he does a realistically drawn adventure story where Little Archie is menaced by a sea monster, and resolves the plot by having a rock n' roll song turn out to be the monster's mating call, the mashup of adventure and comedy comics should be stupid; it's not, because he knows just how far he can take the silliness without killing our involvement in the story; he makes us share his own strange outlook. I wouldn't recommend that anybody else try something like that, because it only worked for Bob Bolling. But I'm glad he did it.