I keep meaning to post about how fanboy nerds are treating girls awfully but the problem is that I sit down to write the post and then BAM something new happens. Like, there was that "I hate fangirls" tee-shirt brouhaha and I was going to post about that but then like not two days later somebody tried to break into Janelle Asselin's bank accounts because they didn't like how she pointed out that a shitty comic book cover was shitty, and when it's not comics nerds it's corporations more or less saying girls can't be Spider-Man and it never ends. Writing a pithy post that adequately sums up my feelings about all of this is essentially impossible because a certain subsection of nerds seem determined to never, ever stop being terrible people, and put all of their energy into being terrible people, and make sure that they win simply by exhausting anybody who's even halfway decent.
Anyway. I am mostly powerless about this, but I do have one response, and that is to take a page from Kurt Cobain: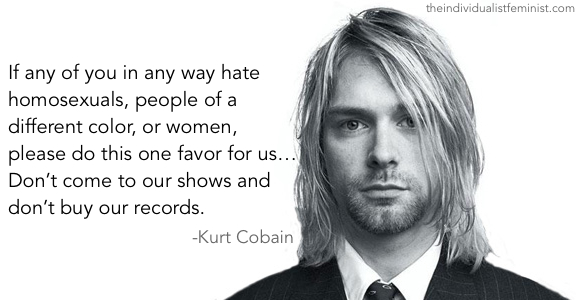 I write a blog, I does a Twitter, I make comics. And this one goes out to the dickheads out there who seem determined to make life as difficult as possible for fangirls and geek girls and girls generally: don't read my stuff. Just pass it by. I will make do without your eyeballs, attention, and (when there is opportunity for you to spend) monies. You are not needed; you are the fleshy little wart on the ass of Life, purely extraneous and mostly unpleasant, and I don't want your business.
And for everybody else who makes comics – or other nerd stuff – you should be telling these people the exact same thing. You've probably been implying it anyway, but it's time we all vocalized it.